Popular
Sep. 29, 2017 12:20PM EST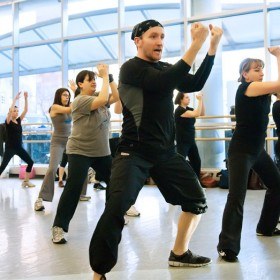 While I've trained in many dance styles (including ballet, jazz, modern, hip hop and Indian dance), my new love is Zumba! This Latin and international dance-inspired fitness program incorporates easy-to-follow choreography to get your heart rate up with intense exercises to keep your muscles working. This weekend I was licensed to teach Zumba, which will be a nice added activity to my awesome summer internship at Dance Spirit. Here are ten reasons that I'm obsessed—and why you should be too!
1. It feels like a party. After a long day of classes, work or my DS internship, the last thing I want to do is spend an hour on the treadmill. Zumba is all about "partying yourself into shape." Now, who doesn't like a good dance party?
2. It's the perfect class to take with friends. While I love group fitness classes like step aerobics, I'm often so focused on trying to avoid falling off the step that I don't pay attention to anyone around me. Zumba is another story. My friends and I claim our territory in the back of the classroom, salsa with each other and sing along to the music. Zumba is social (although my friends and I might go a little overboard).
3. It uses international music. Where else can you dance to salsa, merengue, reggaeton, cumbia, bollywood, bhangra, belly dancing, African and hip-hop music in one class? At my Zumba instructor training session, I learned that at least 70% of the music used in class should be international.
4. It's for everyone. There's no ideal body type for Zumba. You can be male or female, tall or short, young or old, a professional dancer or someone with two left feet. I've even seen a girl dance alongside her mother and grandmother in class, each of them kickin' it to the best of their ability.
5. It's my favorite form of cardio. No amount of Britney Spears (and I absolutely live for anything Britney) can seem to get me through an hour on the treadmill, elliptical or bike. But I actually look forward to getting my heart rate up for 60 minutes of Zumba class.
6. I don't even realize all the calories I'm burning. I don't think I've ever left a Zumba class where I haven't been dripping with sweat. And I love sweating! It shows that I've had a productive workout.
7. It works out my core. I get more than just a cardio workout—I'm strengthening my muscles as well!
8. My brain gets a workout too. I often find my mind wandering while running or bicycling, but in Zumba, I'm 100% focused on the choreography. While it's simple enough to follow along (even for absolute beginners), I still have to pay attention to timing, my form and my alignment, especially during the strengthening exercises. It's one of the only fitness classes where I can completely tune everything else out and focus on having fun.
9. It's perfect for dancers. While other exercise classes, like kickboxing or step aerobics, incorporate basic combinations and choreography, Zumba is one of the few classes that builds up to an entire routine. It's based on repetition, so it's easy to follow, but I still feel like I'm in a dance class as opposed to just a fitness class.
10. It makes me smile. Don't get me wrong, I love feeling like Superwoman in a good kickboxing class, but Zumba involves a more feel-good approach that I can definitely appreciate.
June 19th marks the start of NYC Dance Week 2014—a.k.a. a huge perk for dancers spending their summer in the Big Apple. For 10 days (until June 28th), NYC Dance Week offers free(!!) and discounted dance and fitness classes throughout the city. So if you're in or around NYC, be sure to check out these highlights: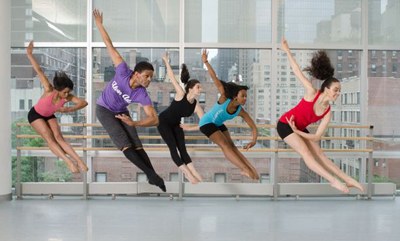 Contemporary class at The Ailey Extension
(Photo Kyle Froman)
Channel Elle Magazine's recent fashion feature and stop into an Ailey Extension class at the Ailey Studios. This Friday, TweetBoogie is holding a free hip-hop class from 6:30–8:30 pm. The Ailey Extension is also offering an extra free class to any studio newbies, and returning students can take advantage of discounted class cards.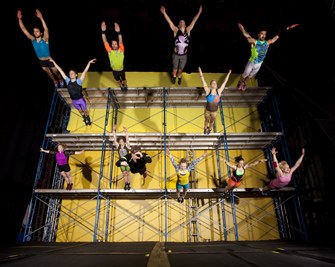 STREB in rehearsal for Human Fountain.
(photo courtesy City Center)
Other major studios are also getting involved: Peridance Capezio Center, Mark Morris Dance Center, Ballet Academy East and Gina Gibney Dance Center are all offering free and discounted classes. But you might consider stepping out of your comfort zone—the classes are free after all. Get your flipping, tucking and Parkour-ing on with a free session at STREB@SLAM, the home of Elizabeth Streb's company STREB EXTREME ACTION.
Want to add in some fitness? There are countless Zumba, yoga and Pilates classes on the list—great for cross-training to prepare for your summer intensive. And if you have any questions about an injury or nutrition, bring them to one of The Harkness Center for Dance Injuries free Q&A and injury prevention seminars.
For the full list of events and classes in styles ranging from capoeira to Bollywood to tap to something called Ballet Gymnastics (um, yes please!), visit the NYC Dance Week website. See you in class!
First, there was Jazzercise...
Then, there was Zumba...
And Bhangra...
And probably a bunch of other dance fitness crazes I've never heard of. My point is, people have been getting fit by shakin' what their mommas gave them since way before our time.
And do you blame them? I mean, dance is fun and it's exercise. I don't know about you, but I usually don't think about how exhausted I am until after a dance class is pretty much over. (Well, maybe when the teacher makes us repeat petit allegro five bajillion times, I begin to realize that I'm a bit winded...but you catch my drift.)
So that's why Paul Mavi and Johann Verheem introduced Bokwa to the dance fitness scene.  Bokwa combines hip hop, step aerobics and South African dance into a fun cardio class. But here's the kicker: there's no choreography. Instead, each "move" is based on a letter or a number. So instead of memorizing steps or counts, you just dance the digits.
Have you ever seen a dancer with an amazing bod and wondered how she keeps it up? While dance is one of the best ways to stay in shape, lots of professionals supplement dance classes with workouts and healthy eating habits. We got these top-shape dancers to spill their tips and tricks!
Liana Blackburn: dancer from Cirque de Soleil in CRISS ANGEL Believe.
Body Secret #1
Sweat It Out: "If you're not sweating, you're not working out!" Liana says. She says cardio and strength training (she prefers small reps with light weights and pilates) are especially important for dancers to do supplement classes and performances. She also does 15 minutes of cardio before shows.
Body Secret #2
Eat Often: "Snacking keeps my metabolism going even when I'm not dancing or exercising." Her favorites? Rice cakes with peanut butter, fruit or a homemade protein shake, which keep her energy pumping.
Kristine Bergasse: Broadway performer and dancer with the M. Stuart Dance Theatre, based in NYC
Body Secret #1
Try an Intense Class: Kristine takes weekly kung fu classes! If she can't make a trip to the gym, she jumps rope for 30 minutes for "an amazing full-body workout that also keeps up my stamina," she says.
Body Secret #2
Don't Overdo It: "Listen to your body. It's okay to take a day or more of rest, especially if I've just been through an intense physical period."
Mandy Jiroux: dancer for Miley Cyrus
Body Secret #1
Eat Breakfast: "I don't skip breakfast because it's a really important part of the day. If you don't have breakfast, you might eat too much later on." Mandy's morning choices? "Fruit, almonds, veggies and eggs."
Body Secret #2
Exercise Outdoors: You don't need a gym membership to work out. "I go running outside and do workouts that I've learned before. I actually use a lot of ballet technique to keep lean and fit!"
Jenny Mendez: Pilobolus Dancer
Body Secret #1
Detox by Sweating: Jenny takes Bikram Yoga, which is practiced in a room heated to 105 degrees!
Body Secret #2
Get Your Daily Dose: "Daily vitamins and lots of protein!"
Kelsey Hellebuyck: Boston Ballet corps dancer
Body Secret #1
Be Prepared: "Always have a healthy snack in your bag, like an apple, some nuts or a granola bar. If you let your blood sugar get too low, you'll be so hungry that you'll reach for whatever is near—which might not be a healthy option."
Body Secret #2
Enjoy Yourself: Kelsey prefers exciting workouts. She chooses "anything fun and upbeat, like a cardio dance workout—something that make you break a sweat and still have a blast!"
Zumba Is the New Jazzercize
"Ditch the workout, join the party!" is the slogan for the newest dance-fitness craze, Zumba (ZOOM-bah). With its innovative and dynamic combination of Latin flavor and aerobic intensity, Zumba is quickly taking over gyms, studios and even physical education classes. Zumba founder Beto Perez, a Miami-based dancer/choreographer, mixed cumbia, merengue, salsa, reggaetón, hip hop, mambo, rumba, flamenco, calypso and salsaton to create one of the spiciest dance concoctions. The hour-long cardio dance routine helps tone, stretch and sculpt your body. Instructor Melissa Marcketta says an average class can burn 500 to 800 calories and noted that cheering is highly encouraged! Log on to zumba.com to watch videos, search for classes near you and even find Instructor Training Classes to add to your dance resumé. You can also check out Zumba Toning, a sculpting program using weighted sticks that sound like maracas. —Marnie Fish
Did You Know?
Three more reasons to choose carrots over chips for a crunchy snack:
A carrot provides more than 200 percent of the recommended daily dose of vitamin A, which prevents "night blindness."

Carrots have no fat content.

Carrots are 90 percent water.
Munch away!
Herbal ice cubes recipe: Brew chamomile tea, fill an ice tray with it and freeze. Post-dance, rub the cubes around your face and neck to cool off.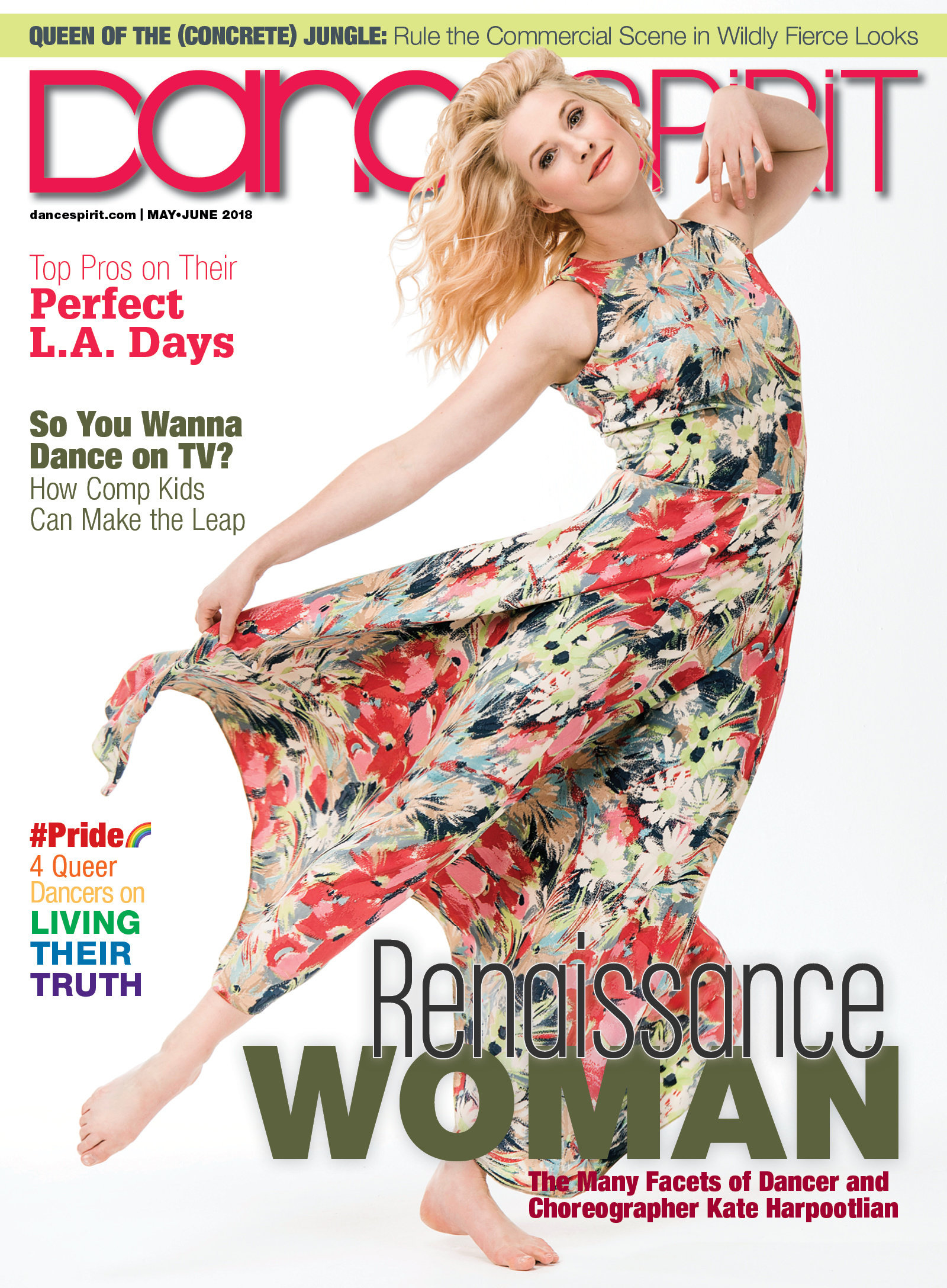 Get Dance Spirit in your inbox