Oct. 01, 2014 10:00PM EST
The Syncopated Ladies filming their "So You Think You Can Dance" appearance (photo courtesy Syncopated Ladies)
Elegance, precision, crystal-clear sound: They're the ingredients for a stellar tap performance. What do you get when you top them off with an effortless sexiness? The Syncopated Ladies.
From tap festivals to viral videos to the "So You Think You Can Dance" stage, these sassy, sultry tappers bring a distinct "girl power" vibe to everything they do—and the dance world is taking notice. Their current success has been more than 10 years in the making, but founder Chloé Arnold is grateful for every step along the way. "I've always wanted to bring female tap artists to the forefront," she says. "Now, I'm living what I've been dreaming, and that's a beautiful thing." Here's how her dream became a reality.
Starting Strong
The Syncopated Ladies trace their roots back to 2003, when they started jamming together at the Debbie Allen Dance Academy in L.A. "I was dancing with this amazing group of women," Arnold remembers, "and I realized we should do something bigger!" Some of the group's original members, including Sarah Reich and Arnold's younger sister, Maud, were still teens at the time. Nevertheless, Arnold says, they all brought something to the table: "Everyone was highly skilled at tap, but they also had training in other styles."
At first, Arnold focused on Latin-infused choreography. Then, after dancing in a video for rapper Sean Paul in 2006, she added dance hall moves to the mix. Bit by bit, the Syncopated Ladies started to come into their own. "As the group was developing, I was having these experiences in my solo career that changed my perspective and helped my choreography evolve," Arnold says.
Among those experiences was a job assisting her friend, director Melina Matsoukas, on a music video for Beyoncé in 2007. "I was so inspired watching Beyoncé," Arnold says. "The way she commands the space, her energy, her music, her movement. She has fire and passion and presence, while simultaneously being kind and an extremely hard worker. I said to myself, 'I want to see that in my choreography and dancing.' "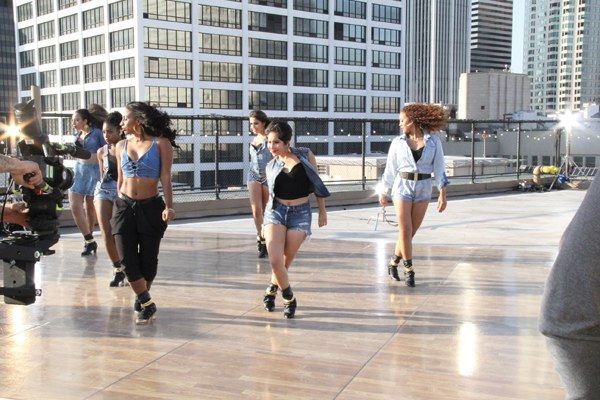 The Ladies working it for the "So You Think You Can Dance" cameras (photo courtesy Syncopated Ladies)
Picking Up Steam
Energized by working with Beyoncé, Arnold took her new ideas to the rest of the Syncopated Ladies. "I told them, 'I want to rock out!' " she says. Reich remembers that conversation as a turning point for the group. "Some of us were finishing up high school, and we knew that now was the time to jump in and do this," she says. "We thought, 'We really can change the way people see tap dance.' "
One of Arnold's Beyoncé-inspired thoughts was to raise the Syncopated Ladies' profile by making music videos. As a graduate of Columbia University's film school and as co-director, with her sister, of the production company Chloé and Maud Productions, Arnold had the tools she needed to create high-quality films. The Syncopated Ladies put out stylish video covers of Rihanna's "Where Have You Been" in 2012 and Beyoncé's "End of Time" in 2013. In between, the group created a full-length concert for the Vancouver International Tap Festival, showcasing its newfound style.
Their biggest break came courtesy of the same superstar who'd helped Arnold find the last piece of the Syncopated Ladies puzzle. Early in 2014, Beyoncé shared the Syncopated Ladies' "End of Time" video with her fans, along with three words: "They killed it." Within 36 hours, the clip had more than half a million views. "For tap, that's enormous. For ladies in tap, that's even more enormous. And for the Syncopated Ladies—it was everything," Arnold says. "Beyoncé brought us to the masses."
Standing in the Spotlight
Not long after Beyoncé sent their video viral, "SYTYCD" came calling to invite the Syncopated Ladies to participate in a new Season 11 segment, in which dance crews battled for chances to appear on the live show. "We were excited to get the opportunity not just to perform, but also to share the story behind what we're doing," Arnold says. The Ladies ended up dominating their first battle—against a crew that had already won "America's Best Dance Crew"—and gave a blazing-hot live performance on the July 9 show.
So what's next? The group is in the process of developing original music as a tap band, with the members acting as musicians, dancers and vocalists. It hosted its first Syncopated Ladies Boot Camp—an intensive workshop for female tappers—in L.A. this July, and plans are in the works for boot camps in other cities. In November, the Ladies will premiere their next concert in NYC, and they'll be at the D.C. Tap Festival in March.
"At this point, a decade after those jam sessions in 2003, I know what my vision is and how to bring it to life," Arnold says. "Although there have been many exceptional women in the history of tap, women haven't always had a leading voice in our art form. Now, the Syncopated Ladies are here, and we're here to stay."
Meet the Syncopated Ladies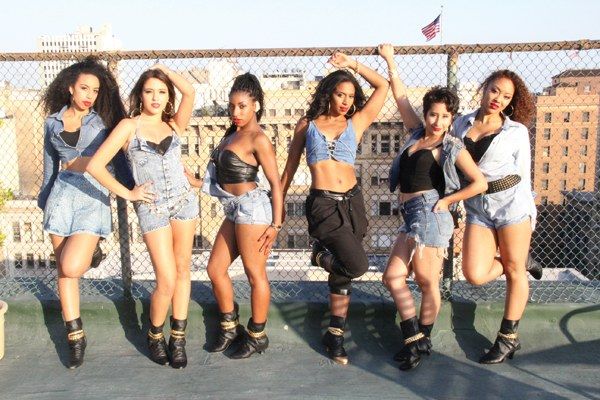 (Photo courtesy Syncopated Ladies)
Maud Arnold
Nickname: Maudiepooh
Years tapping: 20
Signature move: Cramp rolls
Dance idols: Gregory Hines and
Debbie Allen
Non-dance talent: Writing
Most memorable onstage moment: "Receiving the official Mayoral Proclamation making April 12 D.C. Tap Fest Day!"
Advice for Dance Spirit's readers: "Always love and believe in yourself first."
Melissa Naves Tannús
Nickname: Mel
Years tapping: 15
Signature move: Samba
Dance idols: "My Syncopated sisters"
Non-dance talent: Playing the guitar
Most memorable onstage moment: "Dancing a solo dedicated to my mom right after she passed away. I cried through the whole performance."
Advice for Dance Spirit's readers: "Believe in yourself. You are capable of doing anything you want if you believe in it."
Anissa Lee
Nickname: Charles
Years tapping: 10
Signature move: Over-the-tops
Dance idols: Clayton "Peg Leg" Bates and Mable Lee
Non-dance talents: Fashion illustration and design
Most memorable onstage moment: "My first time dancing with the Syncopated Ladies when I was 15 years old, during the L.A. Tap Fest."
Advice for Dance Spirit's readers: "Work hard now and play harder later!"
Chloé Arnold
Nickname: Chlo
Years tapping: More than 20
Signature move: Pull-back rhythm turn with a hair toss
Dance idol: Debbie Allen
Non-dance talent: Filmmaking
Most memorable onstage moment: "The closing night of my one-woman show—one of the scariest and most vulnerable endeavors of my life."
Advice for Dance Spirit's readers: "Love every minute of the journey—the ups and the downs. Dream beyond your imagination. Work your hardest at all times. Never give up!"
Sarah Adrianna Reich
Nickname: Sour or Saracita
Years tapping: 20
Signature move: Back crossing shuffles
Dance idols: Dormeshia Sumbry-Edwards and Anissa Lee
Non-dance talent: "I love painting! Another form of self-expression."
Most memorable onstage moment: "Sharing the stage for the last time with my mentor, Harold Cromer, at the D.C. Tap Fest in 2013. He passed away three months later."
Advice for Dance Spirit's readers: "Stay humble and be thankful for the people and opportunities in your life! It's all about perspective. Be nice to everyone."
Pamela Faith Yasutake
Nickname: Pammy
Years tapping: 15
Signature move: "Sigidigy soogoo dah DAH!" (double pull-back)
Dance idols: Michael Jackson and Jimmy Slyde
Non-dance talents: Singing and cooking
Most memorable onstage moment: "When the Syncopated Ladies performed at the Vancouver International Tap Festival in 2013."
Advice for Dance Spirit's readers: "Strive to be your best at all times."
Melinda Sullivan (Not pictured)
Nickname: "I am mistakenly called 'Melissa' so much that I will actually respond to that name. Now, I tell most strangers that I'm 'Mel.' "
Years tapping: More than 20
Dance idols: Ann Miller and Gregory Hines
Signature move: "Probably a step I've stolen from Ann Miller or Gregory Hines."
Non-dance talent: Eating
Most memorable onstage moment: "I was 7. My costume fell off at one of my first dance competitions. Unforgettable, in every way."
Advice for Dance Spirit's readers: "Dance like nobody's watching. Because nobody's watching—they're all on their phones."
Jun. 15, 2019 10:12AM EST
(From left) Darriel Johnakin, Diego Pasillas, and Emma Sutherland (all photos by Erin Baiano)
Congratulations to Dance Spirit's 2019 Cover Model Search finalists: Darriel Johnakin, Diego Pasillas, and Emma Sutherland! One of them will win a spot on Dance Spirit's Fall 2019 cover. Learn more about the dancers on their profile pages, and then vote for your favorite below. You can vote once a day now through July 15.
We also want you to get social! We'll be factoring social media likes and shares into our final tallies. Be sure to show your favorite finalist some love on Facebook, Instagram, and Twitter, sharing their profile pages and using the hashtag #DanceSpiritCMS.
Cover Model Search
Jun. 13, 2019 02:20PM EST
Photo by Erin Baiano
Imagine attending American Ballet Theatre's prestigious NYC summer intensive, training among classical ballet legends. Imagine taking the stage at New York City Dance Alliance Nationals, competing against some of the country's best contemporary dancers. Now, imagine doing both—at the same time.
Welcome to Madison Brown's world. This summer, she's in her third year as a National Training Scholar with ABT, while also competing for NYCDA's Teen Outstanding Dancer title. (She's already won Outstanding Dancer in the Mini and Junior categories.) The logistics are complicated—ABT's five-week intensive overlaps with the weeklong NYCDA Nationals, which translates to a lot of cabs back and forth across Manhattan—but Maddie is committed to making the most of each opportunity. "I love contemporary and ballet equally," she says. "While I'm able to do both, I want to do as much as I can."
Maddie has an expressive face, endless extensions, and a quiet command of the stage. She dances with remarkable maturity—a trait noted by none other than Jennifer Lopez, one of the judges on NBC's "World of Dance," on which Maddie competed in Season 2. Although Maddie didn't take home the show's top prize, she was proud to be the youngest remaining soloist when she was eliminated, and saw the whole experience as an opportunity to grow. After all, she's just getting started. Oh, that's right—did we mention Maddie's only 14?
Cover Story
Jun. 16, 2019 07:00AM EST
Corbin Bleu in rehearsal for "Kiss Me, Kate" (Jenny Anderson, courtesy Roundabout Theatre Company)
If you're a hardcore Broadway baby, today is the worst Sunday of the year. Why, you ask? The Tony Awards were last Sunday, so basically there's nothing to look forward to in life anymore—no James Corden being James Corden, no teary acceptance speeches from newly minted stars, no thrilling excerpts from the hottest new shows. Oh yeah, and there are 50 more Sundays to go before our humdrum lives are once again blessed with the next annual iteration of Broadway's biggest night.
Musical Theater