May. 16, 2014 11:45AM EST
Teen Vogue's Amy Astley on "Strictly Ballet"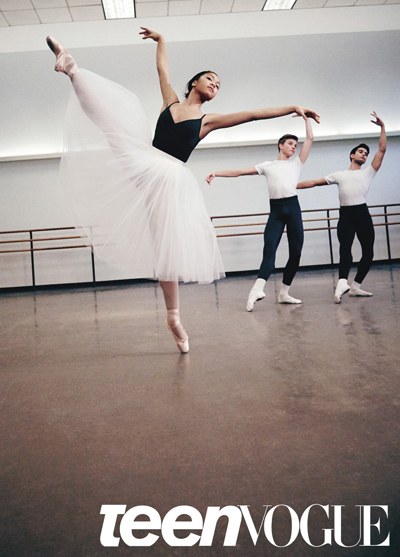 Jasmine Perry with Alec and Victor of "Strictly Ballet"
Photo Will Davidson/Teen Vogue
You already know just how much we love it when the fashion world enters ours (excluding the recent Free People, um, snafu). So it's no surprise that we're ecstatic about Teen Vogue's newest venture: a web series (premiering today!) following six students at the School of American Ballet. Also awesome? The show lets us catch up with Jasmine Perry, who, since making her debut on "Dance212," has shed her braces and continued to develop into an utterly gorgeous dancer.
"Strictly Ballet" is an online companion to Teen Vogue's print feature, "Rhythm Nation," which highlights some of the freshest faces in dance today (including Lil Buck)—all of them dressed to the nines, naturally. Hopefully this dance-in-the-mainstream streak continues. And it just might: Turns out dancers have an unexpected advocate in Teen Vogue editor in chief Amy Astley, who's responsible for the magazine's latest foray into the world of intense ballet training. As a teen, she was a bunhead herself, studying at the Joffrey Ballet in NYC and at Central Pennsylvania Youth Ballet's summer program. Dance Spirit caught up with Astley to get the inside scoop on "Strictly Ballet." (You can watch the extended trailer and first episode below!)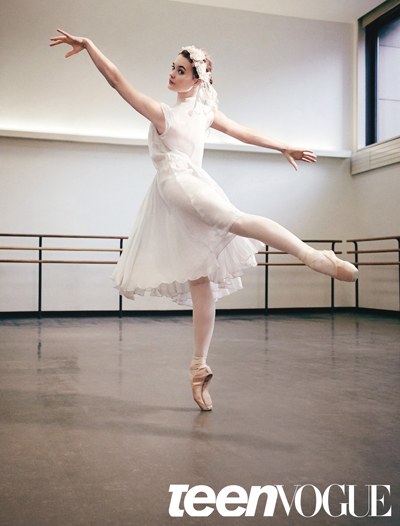 SAB student Emily wears a Rebecca Taylor dress.
Photo Will Davidson/Teen Vogue
Dance Spirit: Why did you want to make "Strictly Ballet"?
Amy Astley: I've been asking myself what I can give back to ballet, since I got so much from it. And I thought that the best thing I can do is promote it.
Ballet dancers should get a lot more attention in pop culture than they get. They're so beautiful! And I find dancers to be insanely grateful. Their humility is refreshing.
DS: What did your ballet training teach you that you still use today?
AA: In ballet, you can never say "I can't." You have to work through everything, so you learn how to do your best even when you're extremely challenged. I say this to my kids and to the people I work with. The moment I find myself thinking I can't, I'm like, "Wait a second. You can! What's wrong, what's the problem, and how can I work through it?"
DS: What's your goal for the series?
AA: I really hope that people—who aren't necessarily all bunheads—will get engaged with this series. I've definitely spent enough time in my life watching movies about baseball, and I don't know much about that sport. I think ballet should be the same way: It should be fascinating on its own, even to people who don't know a lot about it.
(Watch the extended trailer for "Strictly Ballet" above.)
DS: How will "Strictly Ballet" be different from AOL's "city.ballet." or The CW's "Breaking Pointe"?
AA: I didn't want a reality show that dug into the super-personal aspects of the dancers' lives. It's just meant to celebrate the kids as aspiring artists, and highlight their extreme dedication and talent. It's amazing to be interviewing kids who are 14 and 17 who know exactly what they want to do.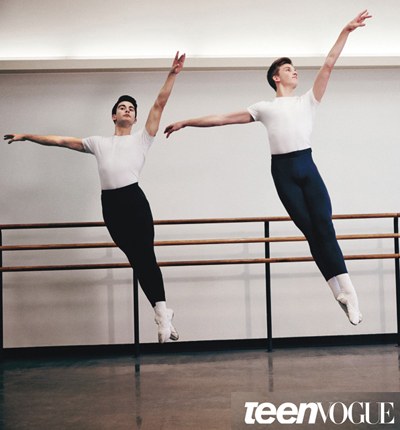 (L to R) Victor and Alec of "Strictly Ballet"
Photo Will Davidson/Teen Vogue
DS: As a ballet fan, what has been your favorite part about this process?
AA: I got to meet Peter Martins, which was such a great thrill since I grew up watching him dance with Suzanne Farrell. Peter Martins was one of my all-time favorite dancers, along with Suzanne, Natalia Makarova, and Baryshnikov, of course.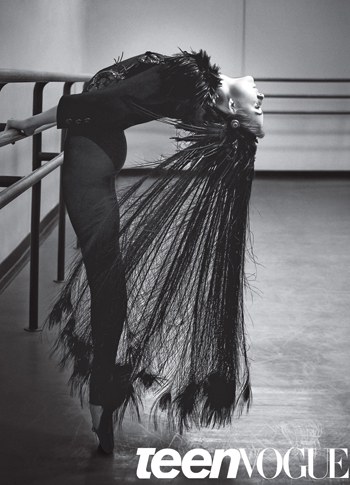 SAB's Mimi wears a Louis Vuitton jacket and headdress in Teen Vogue.
Photo Will Davidson/Teen Vogue
DS: In your editor's note this month, you write that you quit ballet at 18. How did you make that decision?
AA: During my summers at CPYB, I saw what the talent was like out there since I was dancing with girls from NYC and SAB. I was in their level, but I was never really as good—I was sort of at the bottom of the top. I didn't have what it took to be in the companies I wanted to join, and the regional ballet scene wasn't as strong then as it is now. It was an extremely hard time for me. I had barely even applied to colleges. I did end up going to school back in Michigan, but I can relate to students who aren't sure if they're ready for professional life, as well as to those who aren't sure if they even want it.
DS: Knowing what you know now, what would you tell those dancers?
AA: Whatever you decide, remember that studying your art has been time well spent. You get so much from those years. And keep dancing if you love it. Whether you're studying modern, tap, jazz or ballet, the training is great for your brain and your body. You'll probably grow up to be one of the people supporting the arts and keeping ballet companies alive—I go to the ballet very regularly, to see both NYCB and American Ballet Theatre. I just love it. I never got ballet out of my system.
Watch the first episode here:
Dance News
Apr. 19, 2019 03:37PM EST
Gabriel Figueredo in a variation from Raymonda. VAM Productions, Courtesy YAGP.
This week, over 1,000 young hopefuls gathered in New York City for the Youth America Grand Prix finals, giving them the chance to compete for scholarships and contracts to some of the world's top ballet schools and companies. Roughly 85 dancers made it to the final round at Lincoln Center's David H. Koch Theater on Wednesday. Today, the 20th anniversary of YAGP came to a close at the competition's awards ceremony. Read on to find out who won!

Dance News
Apr. 19, 2019 07:00AM EST
After a string of ballet-company rejections, Jennifer Sydor (here in Laura Peterson's "Failure") found success in other areas of the dance world. (Stephen Delas Heras, courtesy Jennifer Sydor)
In her senior year at Butler University, Jennifer Sydor auditioned for more than a dozen regional ballet companies—and got a string of "no, thank you" responses. "I have an athletic build, and my movement quality isn't the typical ballet aesthetic," Sydor says. "But I'd been laser-focused on ballet. When I didn't get a ballet contract, I was heartbroken."
Her one job offer came from Kim Robards Dance, a small modern company based in Aurora, CO. After attending KRD's summer intensive, Sydor ended up accepting a yearlong position with the troupe. "I was relieved and happy to begin my career," she says. She's been working as a contemporary dancer ever since.
In the dance world, rejection is part of the package. That doesn't make it any more pleasant. But whether you didn't get the Nutcracker role of your dreams or you weren't picked for a job despite feeling like you aced the audition, you can emerge from even the most gut-wrenching "no" smarter and stronger.
Mind
Apr. 18, 2019 07:13PM EST
Ballet West principal Beckanne Sisk as Kitri (Luke Isley, courtesy Ballet West)
Guess who's baaaaack?! Your resident Dance Spirit astrologers! And on the eve of the Youth America Grand Prix awards ceremony, we thought it was the perfect time to pair each zodiac sign with a variation commonly seen during the competition. After many painstaking hours spent researching, consulting the stars, and staring wistfully into the sky, we compiled our data and present you with the definitive list of each star sign as a YAGP variation! As we said last time, don't @ us if you're not happy with your pairing—the stars don't lie, baby!
Dancer to Dancer