Feb. 02, 2016 03:23PM EST
Gabe De Guzman and Kaycee Rice Are a Stage Match Made in Hip-Hop Heaven
Photo by Joe Toreno
The stars aligned back in 2013, when two young dancers walked into Tricia Miranda's class at International Dance Academy in Hollywood. Kaycee Rice, then 10, and Gabe De Guzman, then 12, plowed their way through an intricate hip-hop combo to Rihanna's "Right Now," showing dancers twice their age what it means to go full-out. Miranda, one of the industry's most sought-after choreographers, was captivated. "I remember thinking, 'Wow, these kids are aliens,' " Miranda says. "It's so rare to find a student who's mastered both performance and technique, and here I had two."
---
Miranda knew she had to choreograph a piece for the pair. So began the magical partnership of Gabe and Kaycee: They danced their first Miranda duet, "Monster," at The PULSE on Tour in 2013—and a YouTube clip of the performance went viral.
Kaycee and Gabe backstage at "America's Got Talent" (courtesy of Laura Rice)
The folks at NBC's "America's Got Talent" took notice, and asked the duo to perform the piece at an audition for Season 9. With Miranda's help, Gabe and Kaycee made it as far as the NYC boot camp round before getting cut. "Being in NYC was such an incredible experience," Kaycee says. "Our days were packed with performances, interviews, lighting rehearsals—it was intense."
More doors opened up when Miranda found out she'd be choreographing for Missy Elliott at the 2015 Super Bowl XLIX halftime show. "Kaycee and Gabe were the first kids I booked, because I knew they would kill it," she says. And kill it they did, while basking in the enormity of the experience. "It was unreal to perform in front of such a big audience," Gabe says. "We danced our hearts out and made history."
It's safe to say the teenage power couple will continue making history. (They're only a power couple onstage—offstage, their vibe is more protective big brother–cute kid sister.) Both were crowned Elite Protégés at The PULSE on Tour last summer, for starters. "To be honest, I was a little upset when Gabe hit his growth spurt, since they used to be the same height, which was so perfect," Miranda jokes. "But I'll keep using these kids for everything I do."
Kaycee's Story
Now 13, Kaycee fell in love with dance at age 5 in a hip-hop class. But when her mom opened Studio 13 Dance in Simi Valley, CA, in 2008, hip hop took a backseat to tap, lyrical jazz, ballet and tumbling training. Armed with limitless flexibility and a natural expressive quality, Kaycee carved out her place in the competition world as a versatile technical dancer.
Ready for the Superbowl halftime show (courtesy of Laura Rice)
She didn't lose her hip-hop spark, though. In 2012, when Miranda visited Studio 13 to set a piece on the company, "I saw Kaycee and thought, 'Oh, you're mine,' " Miranda says. She choreographed Kaycee's first hip-hop solo, "Werk," for the 2013 competition season—which launched Kaycee into internet stardom when pop star Katy Perry stumbled upon the video and retweeted it.

Kaycee soon found herself landing major gigs, like Meghan Trainor's "All About That Bass" music video and Pharrell Williams' 2014 Oscars performance. Today, she continues to train tirelessly at Studio 13 and Millennium Dance Complex in Hollywood. And the titles keep coming: In addition to earning Elite Protégé at The PULSE last summer, she won International Teen Miss Dance Icon at Thunderstruck International Finals, which sent her to compete in Paris in October.
Gabe's Story
Fourteen-year-old Gabe's dance journey began at age 5, when he took his first hip-hop class at Temecula Dance Company in Temecula, CA. He joined the studio's team at age 9, and experienced instant success on the competition circuit, earning titles such as Mr. Petite KAR (Kids Artistic Revue) in 2010 and National Junior Champion at Hall of Fame Dance Challenge in 2011.
An August 2011 performance with Bruno Mars at Macy's Passport Glamorama marked Gabe's professional debut. By that time, he'd begun to cultivate his signature freestyle: lightning-fast, razor-sharp tricking with a touch of old-school swag. He began booking gigs with everyone from Justin Bieber to Ariana Grande, as well as national commercials.
Today, Gabe balances his professional dance career with his school work—he's a freshman at Vista Murrieta High School. That often means traveling two hours to L.A. for after-school rehearsals, auditions or extra hip-hop classes at International Dance Academy, Millennium and EDGE Performing Arts Center. Add on tumbling, acting and vocal coaching—and his new role as a PULSE Elite Protégé—and you've got one seriously busy dancer.
Kaycee on Gabe
What was your first impression of Gabe?
"This little boy is crazy amazing. OMG, I have to dance with him."
What makes him a good partner? "His energy. When he goes full-out, it makes me go even harder."
Does he do anything that drives you crazy? "He's always whipping and flipping, and I'm like, OK, Gabe…"
What would be his spirit animal? "A cheetah, because he's so fast!"
How do you say "Gabe" in emoji?
😝 😜 😎
"He's goofy and cool."
Gabe on Kaycee
Why do you like dancing with Kaycee?
"She picks up choreography really quickly—and she can do any style of dance you throw at her."
Do you have any nicknames for her? "I call her 'fun-sized' and 'rice bowl.' "
Does she do anything that drives you crazy? "She's too nice! Whenever we ask her opinion in rehearsal, she just shrugs her shoulders and giggles."
What's Kaycee's superpower? "She's like Elastigirl from The Incredibles. She's that flexible."
How do you say "Kaycee" in emoji?
😂 💣 ✨
"She giggles a lot, she's bomb at dancing and she rhinestones everything!"
In a twist on our "Letter to My Teenage Self" column, we asked hip-hop wunderkinds Gabe De Guzman and Kaycee Rice to say hey to the Gabe and Kaycee of the future. Check it out below—and click here to read the full story today!
Photo by Joe Toreno
Hi, 2026 Kaycee,

When you read this, I want you to think about everything you accomplished before turning 13. In 2015 alone, you performed with Missy Elliott and Katy Perry at the Super Bowl and appeared on "Dance Moms." You even went to France to compete at Disneyland Paris!
But I'm wondering what you're up to now, future me. I hope you've choreographed for Studio 13. I hope you've landed a big gig in the industry. I hope you're still auditioning, and that you've expanded into acting. Please don't forget that your biggest dream at 13 was to dance with Beyoncé!
Never give up. If you're ever feeling hurt or tired, keep pushing through. You can handle whatever life throws at you. And remember to always be weird and unique in your own way. Don't let anyone or anything bring you down. You'd better still be wearing those "Weirdo" beanies!
I know you'll do great things. Stay humble, never be mean and keep your head up.
Love,
2016 Kaycee
Photo by Joe Toreno
Hey, 2026 Gabe!
I hope, as you're reading this letter, you're a super-well-rounded Juilliard School graduate living the life of a famous choreographer, teaching major artists around the world how to hit those steps right. Did you ever move into that mansion in Beverly Hills, or find a house on that super-cool L.A. street you used to drive by on your way to auditions?
Remember these wise words from your old studio director, Jimmy Peters: "Early is never late!" Don't forget to push yourself to be your best, because you never know who's watching you. Always remember where you started—and thank your mentors, because they helped shape you into who you are today.
Never stop learning, because there's always room to improve your craft. And finally, never lose the love for dance you had as a kid. Life is always better and brighter when you're passionate about something. I hope you're living a great life, and that you continue to grow as a dancer, choreographer and person.
Love,
2016 Gabe
American Ballet Theatre principal dancers Sarah Lane and Daniil Simkin (courtesy ABT)
Last May, we told you about a special exhibition of the Mark Ryden artwork that sparked Alexei Ratmansky's sweet-treat of a ballet, Whipped Cream. Well, hold on to your tiaras, bunheads, because there's a brand-new exhibit featuring actual costumes from this megahit production. The Nutcracker's Land of Sweets has some serious competition!
Keep reading...
Show less
via @kyle_vanny on Instagram competing on World Of Dance
Kyle Van Newkirk is a tap dancer you probably remember from the premiere season of NBC's World of Dance. In case you missed it, he is also one of Showstopper's incredible convention teachers. What makes Kyle stand apart from some of today's other incredible tappers? He isn't afraid to change what tap means to his audience and even himself. This modern view of tap dancing is important because it shows us that tap dancers are just as versatile and dynamic as dancers of any other genre. We sat down with Kyle to get his advice on bringing tap dancing into the 21st century.
Keep reading...
Show less
What did I just hear you say? You think all dancers are weak and delicate? PLEASE SAUT DE CHAT OUT OF MY LIFE. (Giphy)
Sure, dancers definitely have some unique identifying characteristics. (We're all obsessed with Center Stage? FACT.) But we're also subjected to all kinds of annoying, inaccurate stereotyping. Here are 10 dancer stereotypes that we never want to hear again.
Keep reading...
Show less
University of Minnesota Dance Team (courtesy University of Minnesota)
They say there's no "I" in "team"—and nowhere is that truer than the world of college dance teams, where precision reigns, uniformity is key, and a single misstep from any given "I" can cost a group a championship trophy. So it's unsurprising that securing a spot on one of the best dance teams in the country is no easy feat.
Members of these highly athletic teams rehearse for hours every week—on top of academic classes and commitments—and perform at football and basketball games, annual concerts, and nationally televised competitions (hi, ESPN). And "no I" rule notwithstanding, each of these top teams is made up of highly trained, highly technical, highly hard-core individuals, who come together to create a ready-for-victory pack.
These six teams aren't one-off success stories—they're consistently strong, and earn the top spots at major competitions like UDA and NDA nearly every year. Up for the challenge? Here's what to know before you go to auditions.
Keep reading...
Show less
Lol, same. (Screenshot via YouTube)
Picture this: You've scored tickets to Ellen DeGeneres' hit show, "Ellen." The day has come, the show is as hysterical as ever, Ellen is debating the biggest hot-button issue since the blue/black or white/gold dress, "Laurel vs. Yanny" (side note: it's LAUREL, people), and tWitch is killing it over at the DJ booth, as always. Ellen decides it's the perfect time to single out an audience member and, lo and behold, that person is "SYTYCD" champ ( and December 2017 cover star!) Lex Ishimoto.
Keep reading...
Show less
May. 16, 2018 02:26PM EST
Ema Peter
The Glorya Kaufman International Dance Center is the 54,000 square foot home of the USC Glorya Kaufman School of Dance, one of the largest facilities dedicated to dance on a private university campus. Designed for their innovative new curriculum, that supports a range of dance styles, the school's staff designated Harlequin to provide wall-to-wall flooring for the large 3,500 square foot Performance Studio as well as five dance studios in their new state-of-the-art building.
Keep reading...
Show less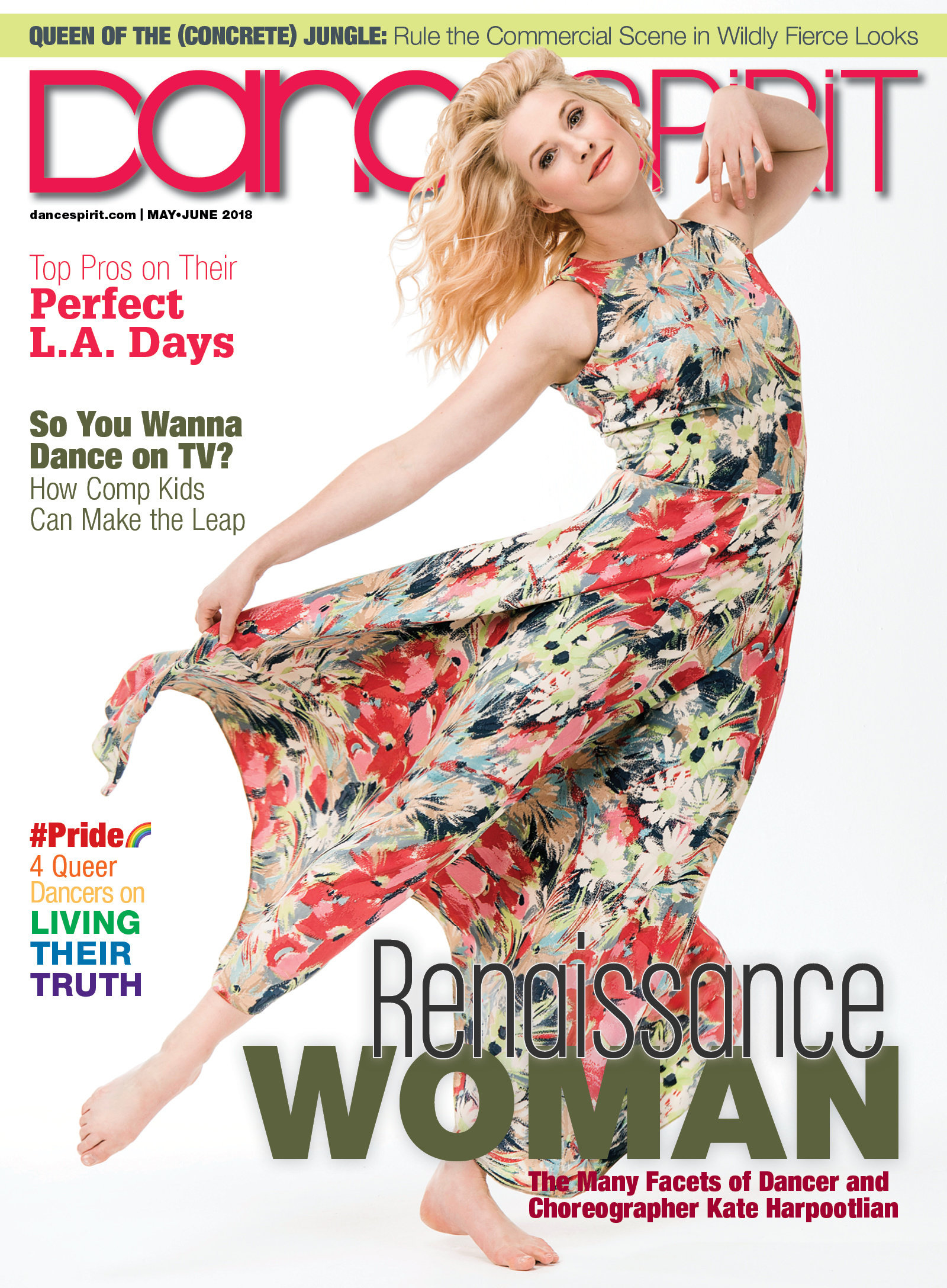 Get Dance Spirit in your inbox