Mar. 23, 2017 01:34PM EST
That's So L.A. (Dance Project)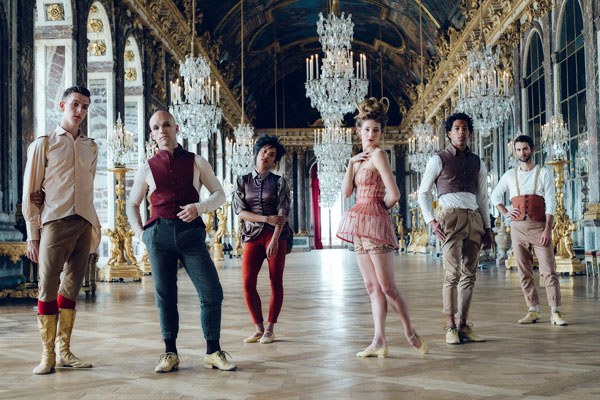 The company in the Hall of Mirrors at the Palace of Versailles (photo by Morgan Lugo, courtesy LADP)
Not many dance companies get to perform at a palace—let alone the glamorous Palace of Versailles outside Paris, the former home of Marie Antoinette and ballet enthusiast King Louis XIV. But L.A. Dance Project isn't your average dance company. They like unique spaces, unexpected collaborations and performances with a twist. Last spring, LADP danced at Versailles with a special guest: Lil Buck, who twirled around the majestic grounds in a gold coat.
The performance—an edgy mix of contemporary dance, classical ballet and street styles at a one-of-a-kind location—perfectly represents the adventurous spirit that has been attracting new and younger audiences since LADP was founded in 2012. Other examples of their out-of-the-box thinking include a site-specific work with an experimental opera company at L.A.'s Union Station, partnerships with the Ace Hotel in downtown L.A. near the company's studios and vibrant, dramatic films on the fashion and culture site Nowness.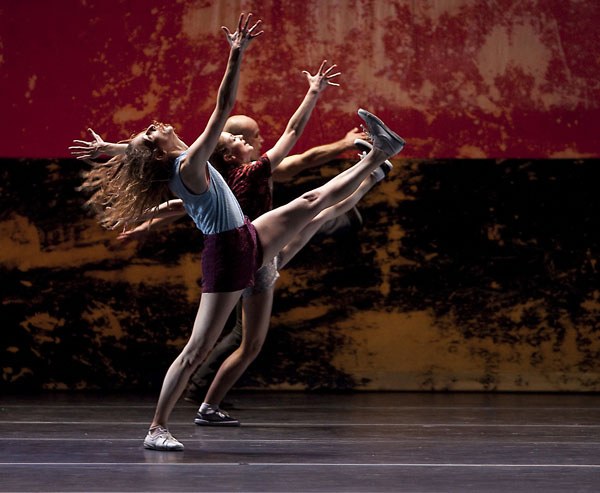 LADP in Justin Peck's Murder Ballades (Photo by Rose Eichenbaum, courtesy LADP)
From the beginning, LADP generated a lot of buzz, thanks to its ambitious vision and its big-name founding partners, including Benjamin Millepied, the former New York City Ballet principal and choreographer, and composers Nico Muhly and Nicholas Britell. But just a few months after LADP's first performance, Millepied was announced as the new artistic director of the Paris Opéra Ballet, a position he began this fall, leading everyone to wonder: Would he stay involved? And what would
become of LADP?
To answer the first question: Absolutely. His initial mission was to build a strong administrative team—including James Fayette, the company's managing director. Fayette, also a former dancer with New York City Ballet, is part of a large family of former NYCB-ers that has relocated to L.A. to be part of Millepied's vision. Other members include Fayette's wife and former NYCB principal, Jenifer Ringer, who runs the affiliated Colburn Dance Academy; and another husband-and-wife pair, Sébastien Marcovici (now LADP's ballet master) and Janie Taylor, who designs some of the company's costumes and FOR LADP, a fashion collection inspired by LADP's chic onstage outfits. 
Millepied also recruited Carla Körbes, the recently retired star of Pacific Northwest Ballet, as associate artistic director. Just two weeks after her last performance in Seattle, Körbes resettled in L.A., drawn to the LADP by its entrepreneurial spirit and impressive repertory. "It's really a 21st-century company," she says. "I've never seen a company like this before."
It's an exciting time for LADP: The group now boasts nine dancers, up from the original six. And Millepied frequently invites his dancers to be part of the creative process. "Benjamin has these amazing ideas and lets us help bring them to life," says Julia Eichten, a founding LADP dancer who's had several opportunities to choreograph. "To have that acknowledgment is amazing."
LADP is also eager to focus more energy on its hometown. "We've been touring and building rep over the last three years," Eichten says. "Now it feels like we can sink our toes in the sand a bit more in L.A." Part of that effort includes crossing paths with L.A.'s commercial-dance community. Eichten and fellow dancer Nathan Makolandra come from a competition background. Eichten is friendly with the Shaping Sound guys
(she and Kyle Robinson attended Juilliard together); Makolandra has taught class at Edge Performing Arts Center, and a few of his solo creations have appeared on "So You Think You Can Dance."
Given these successful projects, an expanding team of new talent and more innovative performances ahead—like a collaboration with the avant-garde dance and visual art duo Gerard and Kelly—it's now easy to answer the question, "What will become of L.A. Dance Project?" The answer: It'll thrive.
The Colburn Connection
Several years ago, Benjamin Millepied invited Jenifer Ringer and James Fayette
to envision a dance program for students ages 14 to 19. The result is the new Colburn Dance Academy in downtown L.A., designed to match the high standards of the Colburn School's famous music program. Its curriculum demands strong classical technique but also offers classes by top-notch commercial choreographers, like Galen Hooks. And the school takes advantage of its connection to L.A.   Dance Project.
Each Saturday over the past year, in addition to rigorous daily training with some of the top ballet teachers in the world, the 13 students of the new academy took a contemporary dance class from then–L.A. Dance Project rehearsal director Charlie Hodges. Classes were held in the LADP studios, and Colburn Dance Academy students frequently observed company rehearsals, too. "We wanted to get them out of the ballet studio mind-set," says Ringer, the former New York City Ballet principal dancer who now heads the school with her husband, fellow former NYCB dancer and LADP managing director James Fayette.
In addition to classes at LADP, students frequently get the chance to visit neighboring institutions, like the Museum of Contemporary Art and the Walt Disney Concert Hall.
"We want dancers that are willing to throw themselves into other experiences, like going to the museum and taking music lessons," Ringer says. "Those experiences will give new layers to their dancing."
Ayo &Teo incorporate cotton swabs in their dancing to bring awareness to blood caner (courtesy DoSomething.org)
Rapping, dance duo Ayo & Teo may still want "ice on their wrists so (they) look better when (they) dance," as they're 2017 chart topping song, "Rolex" says, but the two are featuring a more unusual accessory in their recent dance routine: The cotton swab. After teaming up with DoSomething.org for the Give A Spit About Cancer campaign, Ayo & Teo are encouraging people to join the national bone marrow registry and donate marrow for those suffering from blood cancer.
Keep reading...
Show less
Looking for your next audition shoe? Shot at and in collaboration with Broadway Dance Center, Só Dança has launched a new collection of shoes working with some pretty famous faces of the musical theater world! Offered in two different styles and either 2.5" or 3" heels, top industry professionals are loving how versatile and supportive these shoes are! Pro tip: The heel is centered under the body so you can feel confident and stable!
Lealand Eve
As a teenager, contemporary dancer Eveline Kleinjans felt like nothing she did was good enough. Auditioning for university dance programs paralyzed her: "I was so focused on every move I made and what people would think that I wasn't able to be free, to be myself," she says. And her intense perfectionism had real repercussions. "I'd get negative feedback saying, 'We don't see you.' "
Perfectionism is extremely common in the dance world, because dancers hold themselves to terrifically high standards. It's easy to get a little discouraged when you aren't improving as quickly as you want. But there's a difference between healthy self-criticism and an unhealthy obsession with perfection. How can you tell when your drive to be better has crossed the line—and what can you do to get back on track?
Keep reading...
Show less
Moira Shearer as Victoria Page in the 1948 film The Red Shoes
Q: "Why do you want to dance?"
A: "Why do you want to LIVE?"
Ahhh, so iconic! If you know those lines (slash, embody them on a daily basis), you're already a fan of the 1948 film The Red Shoes. The second line, as spoken by Red Shoes heroine Victoria Page, just perfectly captures the kind of crazy, all-consuming love so many of us feel for this incredible art form.
The Red Shoes turns 70 (!) this year. And Harper's Bazaar decided to celebrate that birthday in an oh-so-glamorous fashion: They decked out three of today's most beautiful ballerinas—American Ballet Theatre's Misty Copeland and Isabella Boylston and New York City Ballet's Tiler Peck—in gorgeous couture inspired by the film. (Obviously, Louboutins were involved.)
Keep reading...
Show less
Artyon Celestine and Paige Glenn showing their lift skills (photo by Kristin Glenn, courtesy Glenn)
Yes, they're quite possibly the cutest dance duo since, well, ever. But put Paige Glenn and Artyon Celestine onstage, and it's immediately clear they mean business. That was apparent to millions across the country last summer, when Artyon and Paige's unbelievable extensions, fearless turning, and infectious energy propelled them to the quarterfinals of "America's Got Talent." They've also appeared (together or individually) on "Little Big Shots," "Lip Sync Battle Shorties," "The Ellen DeGeneres Show," and "Access Hollywood Live"—not to mention the competition titles they've won as a pair.
"Simon Cowell came backstage during 'AGT' and told us, 'Go out there and do your best. They're going to like you.' "—Artyon
Keep reading...
Show less
Popular
Apr. 02, 2018 10:14AM EST
Showstopper's National Finals Opening Number Performance
Showstopper has been making its impact on the dance world since 1978. Before then, dancers didn't have a stage to perform on, the opportunity to learn from peers, or a competitive outlet like most sports. Debbie Roberts recognized this missing piece in the dance community and that is how America's first and longest running dance competition, Showstopper, was born. Debbie taught dance for over 26 years and owned and operated her own dance studio for 20 years. She is now the owner and National Director of Showstopper, along side her husband, Dave Roberts. Dancer, teacher, business owner, author, and mother, Debbie has made dance her life's career.
Keep reading...
Show less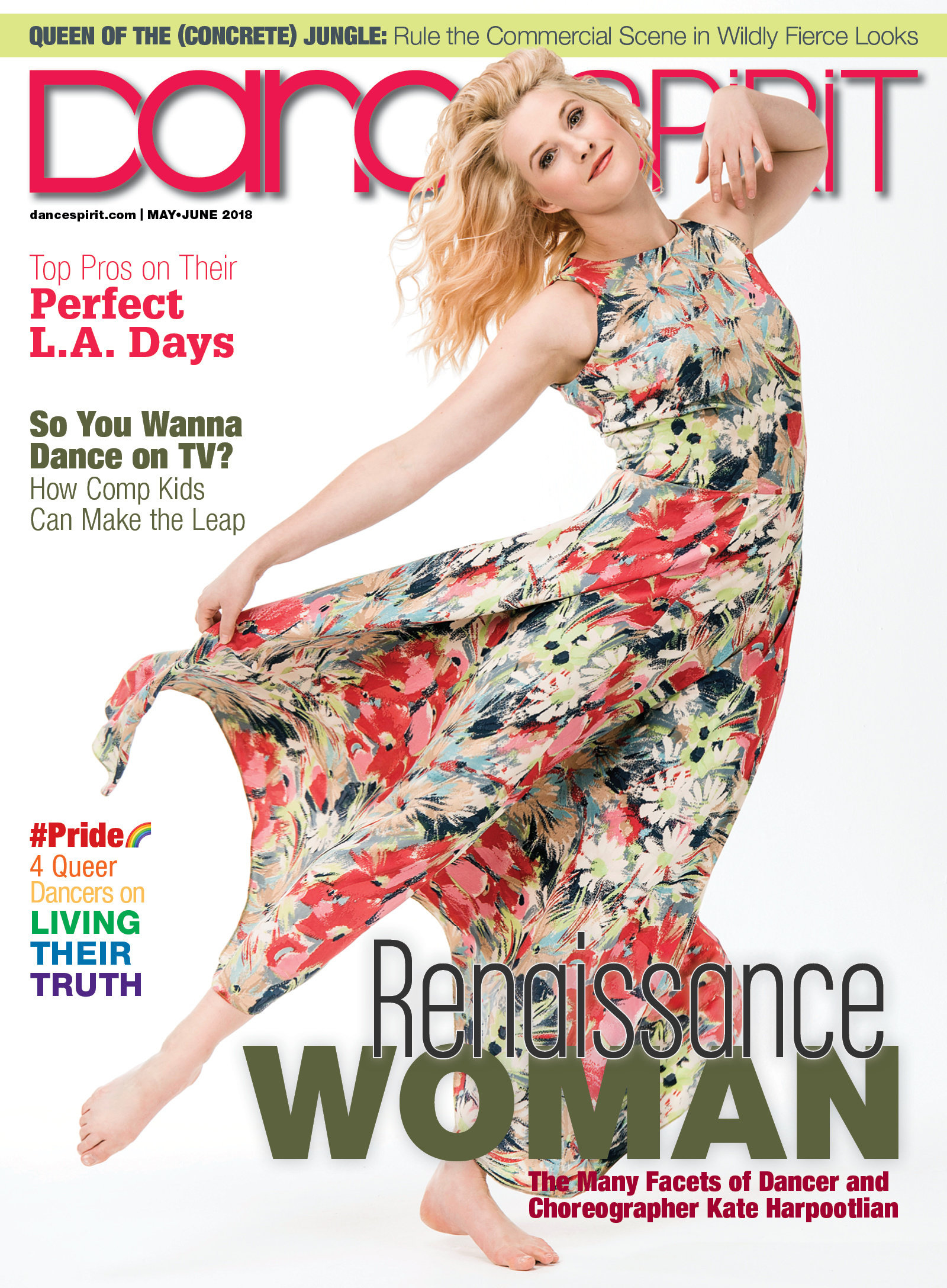 Get Dance Spirit in your inbox