"A dancer's body is her instrument"—we've all heard the saying. But for steppers, who use their bodies to emulate rhythmic drumming, that saying is everything.
Step swept the U.S. last summer with the release of the documentary STEP, which followed three members of the Baltimore Leadership School for Young Women step team. The team also made it onto the "So You Think You Can Dance" Season 14 stage, after member Blessin Giraldo's audition ended in an invite from Nigel Lythgoe himself.
For dance fans, it may have seemed like the summer of step. But this art form has been around for well over a century. What is it, where did it come from, and why is the wider dance world taking notice?
---
Shaped by History
While step as we know it today emerged in the early 20th century, its roots go way deeper. In the 1500s, the Portuguese brought the first African slaves to the Americas from the West African region known as Senegambia. "The dance tradition in this region incorporated foot percussion, swift movement, leaps, and simultaneous body movements," says Dr. Ofosuwa M. Abiola, assistant professor of history and theory in the Theatre Arts Department at Howard University. This formed the foundation of African-American dance. Starting in the 17th century, the British and French began bringing in slaves from west-central Africa, which had its own unique dance tradition. "Their movement had a closer orientation to the earth, isolating the upper body and emphasizing the hips down," Abiola says. These two traditions blended in American slave communities, and the resulting circular dance became essential to Southern plantation life.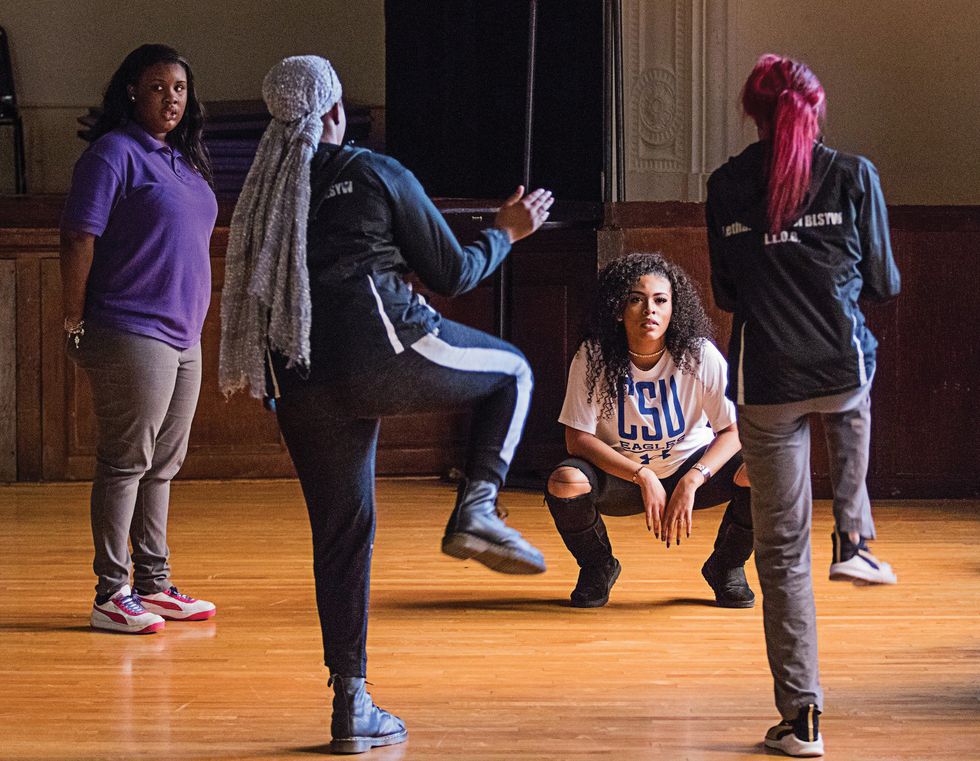 Blessin Giraldo (second from right) and the Lethal Ladies in the film STEP (photo by William Gray, courtesy Twentieth Century Fox Film Corporation)
The dance took on its distinctly percussive style following the 1739 Stono Rebellion in South Carolina. The rebellion began with 20 slaves, who banged on drums as they walked down the streets. The sounds of the drums drew other slaves to the revolution, and by the time they were done, their numbers had grown. "Once that rebellion was squashed, lawmakers outlawed drumming or even owning a drum, realizing it could be used to communicate," Abiola says. "Immediately after the ban, you began to see more percussive dances, as the body replaced the drum." Over time, African-American experiences continued to shape the development of step's precursor, which came to be known as juba.
Getting Greek
The change that really made step what it is today began in the early 1900s, when a small number of African Americans began entering college. "In 1906, a group of seven students at Cornell University formed a fraternity, Alpha Phi Alpha," Abiola says. "They began using juba to help connect with and support one another as they confronted overwhelming racism." The fraternity provided a safe haven for the African-American students at a predominantly white institution.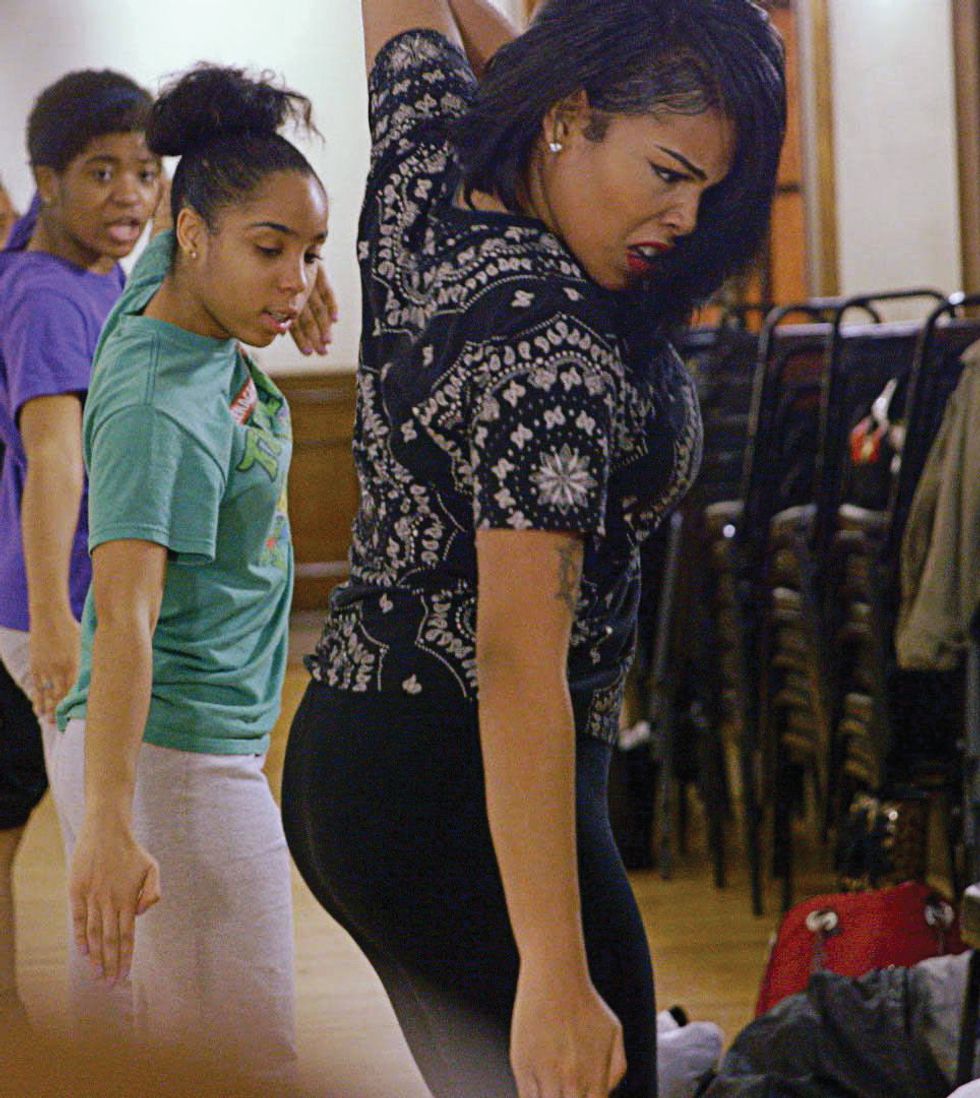 The Lethal Ladies in the film "STEP" (courtesy Fox Searchlight Pictures)
Alpha Phi Alpha became part of the National Pan-Hellenic Council, made up of nine historically African-American sororities and fraternities. Also known as the "Divine Nine," these groups transformed juba into step. "The Greeks brought extreme precision, with distinct arm movements, pointing, and chanting," says Edward "King Leo" Nelson of The Players Club, a professional step company that's performed everywhere from "America's Got Talent" to the White House. "They made it into a form of entertainment, and really brought step to the mainstream."

Stepping Off-Campus
Fast-forward to the 21st century, and step remains a central part of African-American Greek, university, and high school life. But its influence now extends beyond campus. When the members of Howard University Step Team aren't busy winning competitions, they spend their time volunteering in the DC community. "Going out to the community is an essential part of step," says head coach Tennese Gardiner. Whether performing at the Kennedy Center for National Dance Day, teaching step at local middle schools, or volunteering at DC Central Kitchen, these steppers never lose sight of the community connection.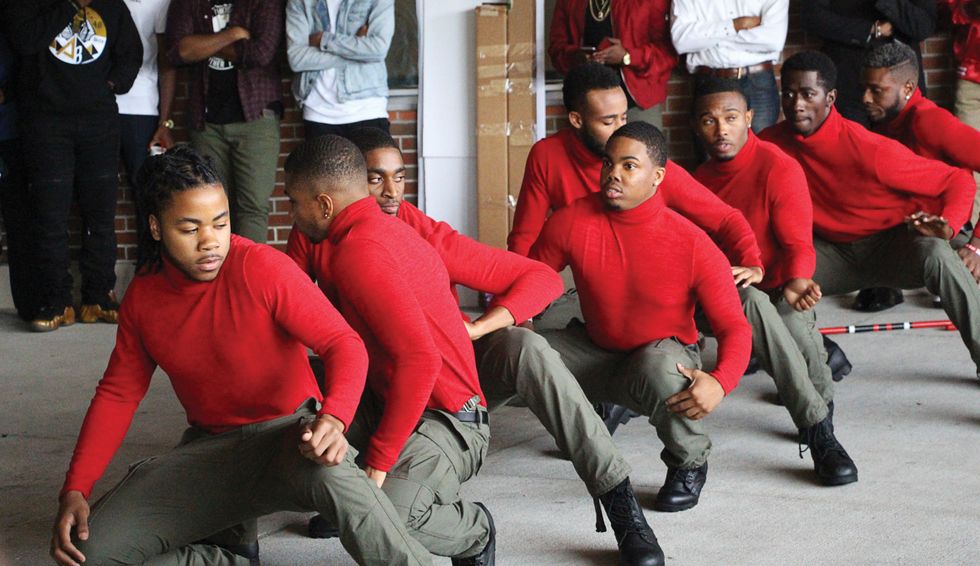 A group performing at the Florida Invitational Step Show at University of Florida (courtesy Florida Invitational Step Show)
The Black Student Union at the University of Florida has also learned to capitalize on the community-building aspect of step. This February, the union hosted its 29th annual Florida Invitational Step Show, which brought step teams from campuses across the Southeast and beyond to compete. "Step is such a cultural thing for African Americans on campuses," says FISS 2018 director Luckso Joacius. "This event is almost like a Carnival for our community."
Finding Your Rhythm
Step as it's practiced today contains no codified movements or rhythms. "It all depends on who you learn it from," says Nelson. While some teams stick to traditional African rhythms, others experiment with popular music and dialogue. Howard University Step Team performs a mixture of traditional, contemporary, and original rhythms, with each choreographer taking a different interpretive approach. "Some begin with rhythm, some with movement or a concept, like floor work or chairs," Gardiner says. "But no matter what, it has to sound good."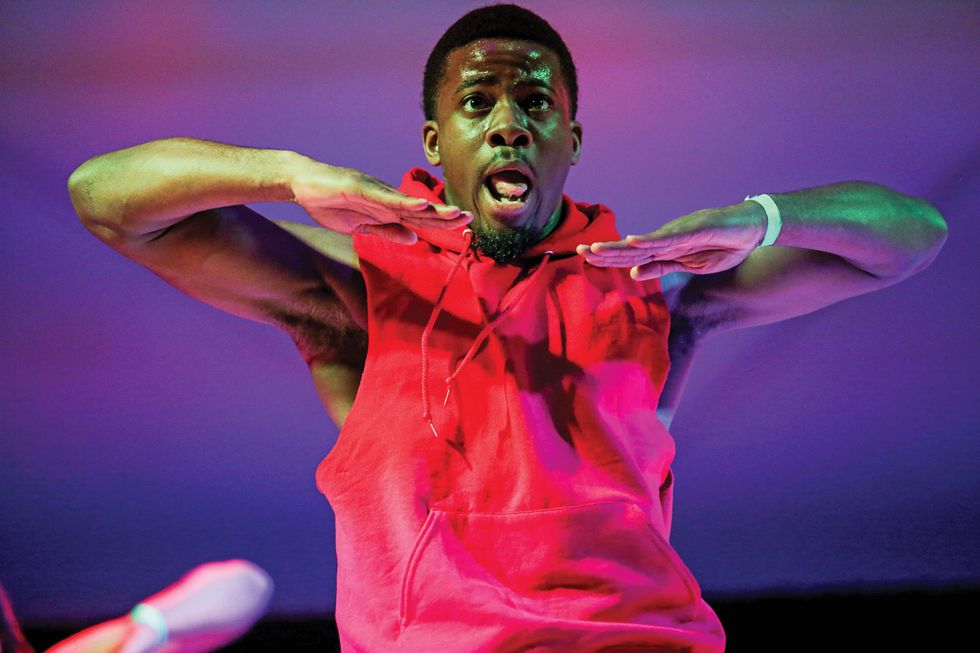 Assistant head coach Jacquize Stewart stepping during the Howard University Step Team performance (courtesy Howard University Step Team)
As the founder of The Players Club, Nelson likes using popular beats that his audiences might recognize. "When I first started out, I was inspired by Timbaland," he says. "I would try to find a way to interpret his beats with my body." The Players Club also incorporates quotes from familiar commercials or movies to enhance the entertainment factor of their performances. "At the end of the day, we want everyone who watches us, whether or not they're African-American, to look at what we do and think, 'That looks fun—I want to try!' "
A version of this story appeared in the April 2018 issue of Dance Spirit with the title "Step By Step."