She's a Ballerina. And a Quantum Physicist. And Maybe an Astronaut.
The multitalented Merritt Moore (photo by James Glader, courtesy Moore)
For the past decade, Merritt Moore has been living a double life as both a professional ballerina and a quantum physicist. While dancing with Zurich Ballet and Boston Ballet, she received her undergrad degree from Harvard in physics, and she's currently pursuing a PhD in quantum physics at Oxford while performing with English National Ballet and London Contemporary Ballet.
Now, Moore is hoping to add another ball to her juggling act: becoming an astronaut. She's one of 12 contestants competing on the BBC reality show " Astronauts: Do You Have What It Takes?" For six weeks, Moore and her competitors face a series of demanding physical and psychological challenges to see if they're astronaut material. (Show mentor Chris Hadfield, former Commander of the International Space Station, will recommend the winner to space agencies recruiting for astronauts.) Even in a cast of extremely accomplished people—the contestants include a military pilot, a surgeon, and a dentist who has summited Mount Everest—Moore's unusual combination of skills stands out.
We leveled with the renaissance woman about how she's managed to pursue all her different passions.
---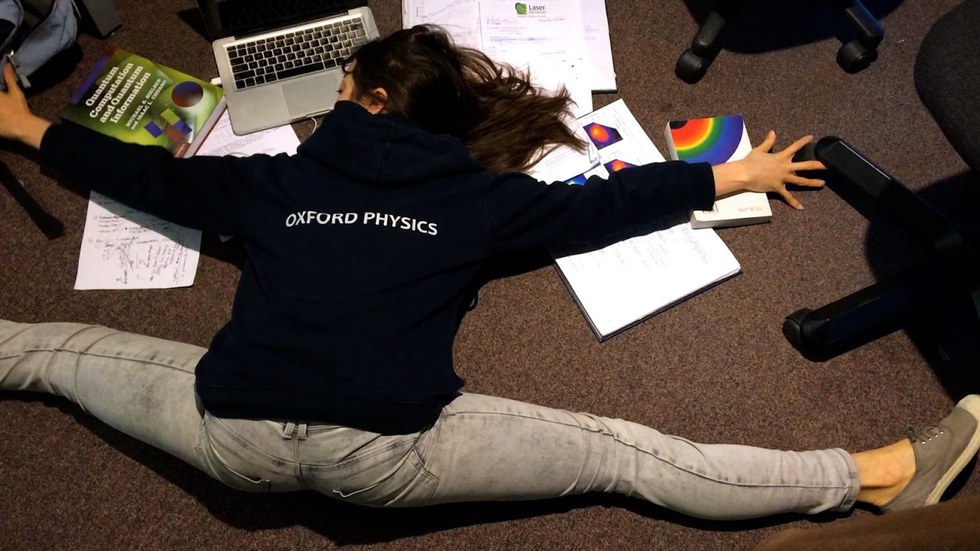 Moore gets her stretching in while she studies (courtesy Moore)
How do you balance such a demanding schedule?

It takes a lot of persistence and patience. I've secretly done abs and feet exercises during seminars, I've fallen asleep on foam rollers, I've brought lacrosse balls to massage out my back during dinners, and I've done floor barres at the back of the bus during my two-hour commute between Oxford and London. My roommates are surprised if I'm sitting at my desk rather than studying in the splits on the floor or with a leg up in a doorway.
What keeps you dancing?
I've tried retiring 10 times. I've burned the pointe shoes; I've thrown out the leotards. But dance always draws me back. I'm not me without it—I have much lower energy, I can't concentrate, my grades drop. There's a wonderful euphoria that I only experience when I dance.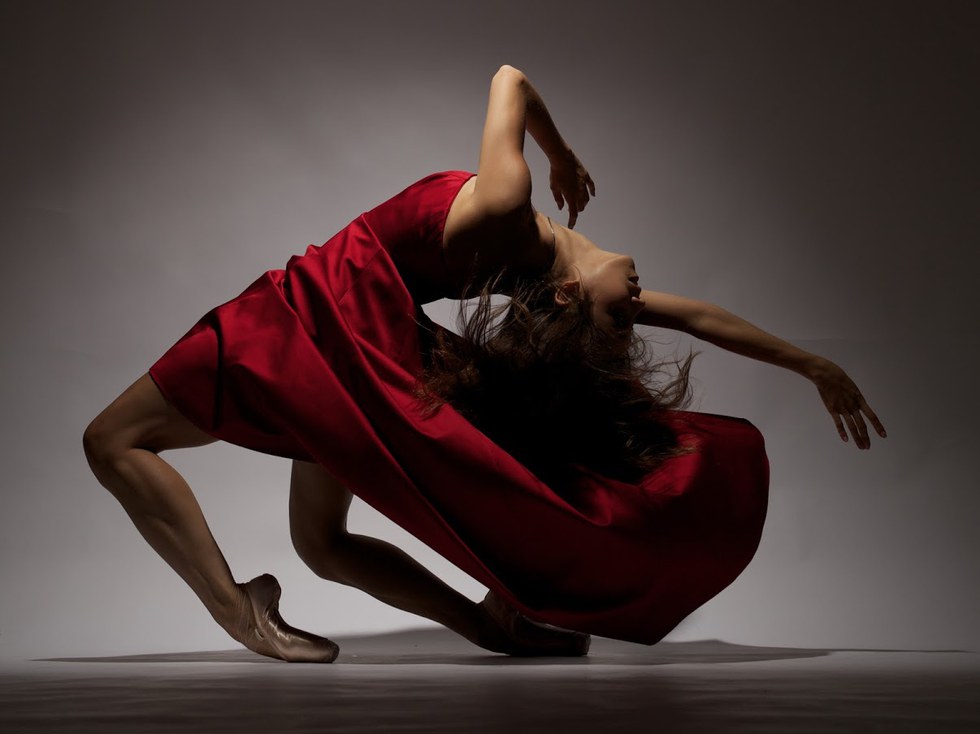 James Glader, courtesy Moore
What drew you to physics?

Physics brings to light so many mysteries, whether they be in the night sky or on a very small scale in the quantum realm. It requires imagination to understand difficult concepts, and creativity to figure out ways to solve problems. I loved puzzles and math as a kid. Physics combines those two passions, and there's the added bonus of it being applicable to the real world.
What's your advice for people who want to dance professionally, but also have other passions?

I highly recommend that every dancer have a second passion. I'm convinced it makes you a better dancer. Having that non-dance interest keeps things in perspective and makes you really appreciate what a privilege it is to dance. We all know the dance world can be a bit crazy sometimes, and inevitably we feel judgement, negativity, or insecurity. But if you have a second passion or career, that gives you the freedom not to care so much. It keeps you hungry to get back into the dance studio, and inspires new movement.
Trust your body. Your body is smarter than you think it is. When you can't find time to get to a dance class, be creative. For example every morning I turn on music and improv in my room. (I post some examples @physicsonpointes on Instagram, with the hashtag #mymorningroutines.)
How has your involvement in the arts affected your career in science?
Today, I think it's silly to categorize people as either having an analytical brain or a creative brain. Creativity is needed all the time in the lab to think of new solutions and to visualize problems in different ways. And in the dance world, being analytical allows you to stretch the limits of your physical abilities while finding new, innovative forms of movement.
Do you have plans to combine your dance and physics work somehow?
Yes! I'm determined to do so. Once I submit my PhD thesis in the next month, I'm going to dance full time, and focus on projects that merge physics and dance. At the moment I'm working on a dance piece for London Contemporary Ballet Theater that involves robotics, which will be at the Victoria & Albert Museum next month. I'm also pursuing a virtual reality project fusing physics and dance. And I'm brainstorming a children's book series with my sister about a dancing physicist, focusing on empowering young girls.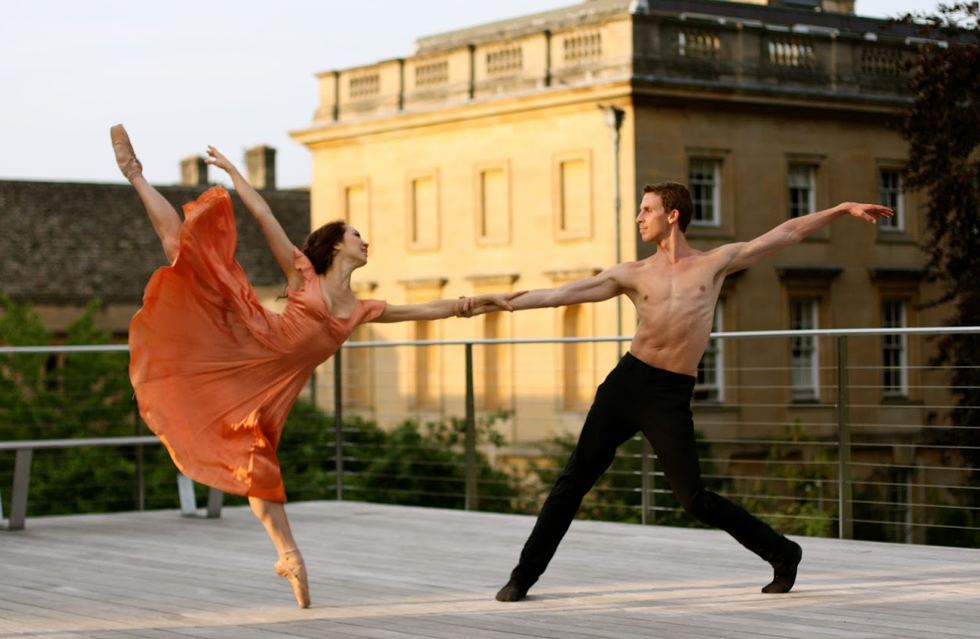 Moore and Michael Waldrop (Niina Tamura, courtesy Moore)
Have you always been interested in space?
I've dreamed of being an astronaut since I was very young, when I would identify constellations at night with my dad and read books about astronauts with my mom. That led to my fascination with physics, but I never thought becoming an astronaut would be a real possibility. The minute I heard about the BBC program, that dream was rekindled. A friend mentioned it at a dinner party, and I immediately got up from the table and applied from the hallway without thinking twice.
It sounds like the challenges the show puts you through are taxing both mentally and physically. How did ballet help you deal with these situations?
Ballet taught me persistence, and that's by far my greatest strength. As dancers, we have to think on our feet. Live performances are never perfect, but we have to keep a level head and make do with whatever comes our way. I'd never experienced any of the tasks I encountered throughout this astronaut process. I often felt overwhelmed, but I persisted.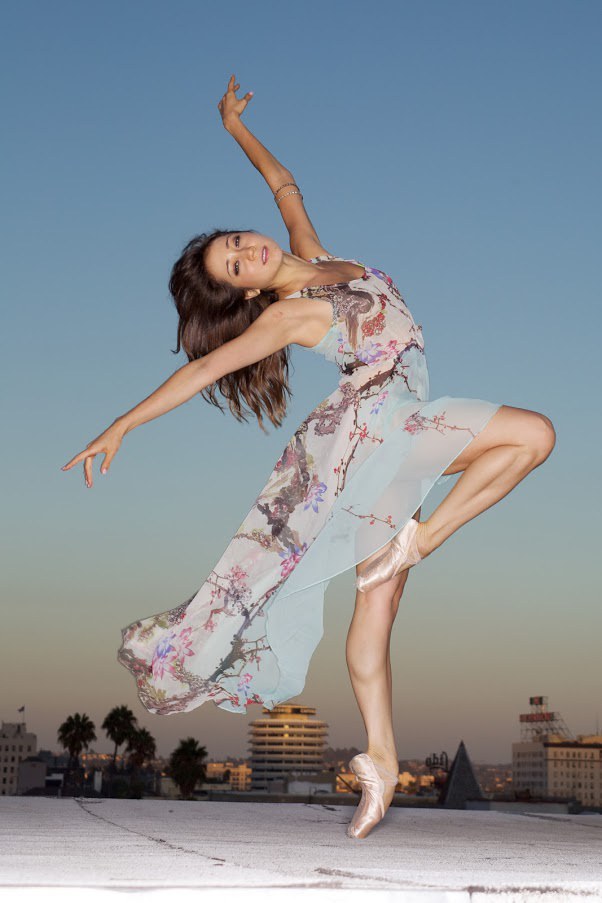 James Glader, courtesy Moore
What was the biggest challenge for you on the astronaut training program?
Being mic'd up with cameras in my face while doing difficult tasks took me out of my comfort zone. I'm used to quietly working in a ballet studio or in a dark lab, with no one else around. And to be given one chance at unfamiliar tasks was beyond intimidating! I spend years preparing for ballet performances or physics exams, so to have only a few minutes to digest a task —like hovering a helicopter—and then perform it under pressure was really tough.
What did you enjoy most about the reality program?
The thrill of the challenges! The whole process was a shock to the system in an invigorating way. The adrenaline rush was addictive. It was also great to meet the candidates. They're all incredibly impressive, and really lovely human beings.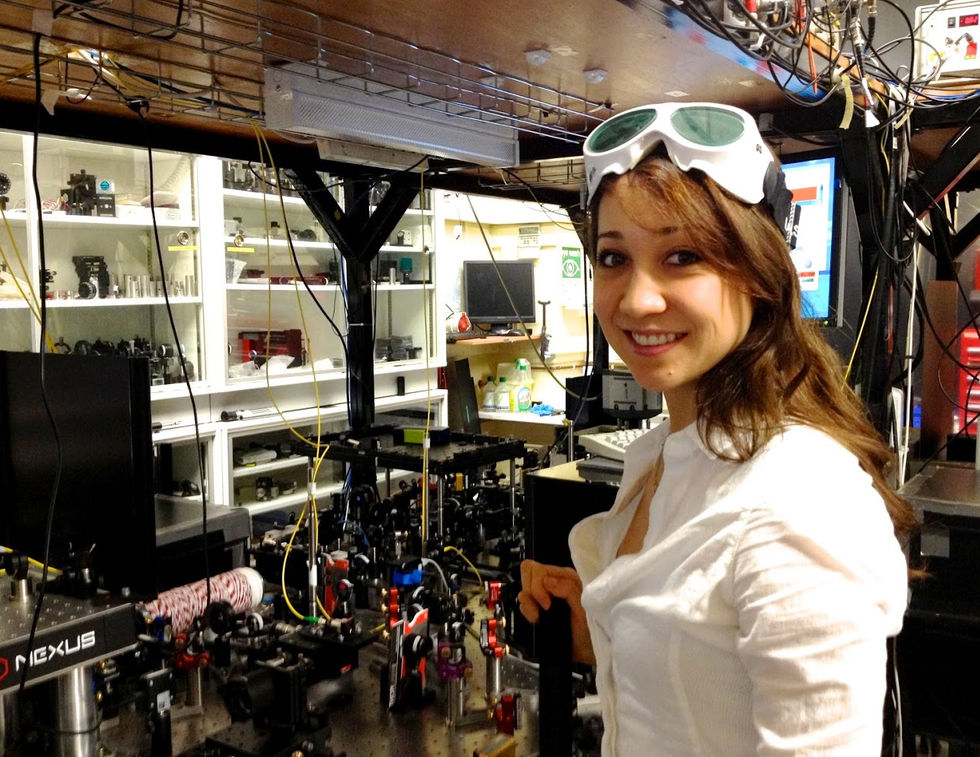 In the physics lab (courtesy Moore)
Will you apply for a position as an astronaut if you win?
Whether I win or not, I'll continue training to apply to be an astronaut. The average astronaut is hired in her mid-thirties, so I've got some time. I've started piloting lessons, and hope to get a license in the next couple years. Even though one can never count on being an astronaut (less than 0.15 percent make the cut), the pursuit of it will challenge me to improve every day.
Ayo &Teo incorporate cotton swabs in their dancing to bring awareness to blood caner (courtesy DoSomething.org)
Rapping, dance duo Ayo & Teo may still want "ice on their wrists so (they) look better when (they) dance," as they're 2017 chart topping song, "Rolex" says, but the two are featuring a more unusual accessory in their recent dance routine: The cotton swab. After teaming up with DoSomething.org for the Give A Spit About Cancer campaign, Ayo & Teo are encouraging people to join the national bone marrow registry and donate marrow for those suffering from blood cancer.
Keep reading...
Show less
Looking for your next audition shoe? Shot at and in collaboration with Broadway Dance Center, Só Dança has launched a new collection of shoes working with some pretty famous faces of the musical theater world! Offered in two different styles and either 2.5" or 3" heels, top industry professionals are loving how versatile and supportive these shoes are! Pro tip: The heel is centered under the body so you can feel confident and stable!
Lealand Eve
As a teenager, contemporary dancer Eveline Kleinjans felt like nothing she did was good enough. Auditioning for university dance programs paralyzed her: "I was so focused on every move I made and what people would think that I wasn't able to be free, to be myself," she says. And her intense perfectionism had real repercussions. "I'd get negative feedback saying, 'We don't see you.' "
Perfectionism is extremely common in the dance world, because dancers hold themselves to terrifically high standards. It's easy to get a little discouraged when you aren't improving as quickly as you want. But there's a difference between healthy self-criticism and an unhealthy obsession with perfection. How can you tell when your drive to be better has crossed the line—and what can you do to get back on track?
Keep reading...
Show less
Partnering is hard enough as it is: You're trying to untangle technical snafus and synchronize your movements with those of another dancer, not to mention building the delicate trust required to catch and be caught, lift and be lifted. Throw a hostile or uncooperative partner into the mix, and you might wish you could take a pass on pas de deux. But don't give up! We asked the experts for tips on how to solve partnering's "relationship problems" as gracefully as possible.
Keep reading...
Show less
Artyon Celestine and Paige Glenn showing their lift skills (photo by Kristin Glenn, courtesy Glenn)
Yes, they're quite possibly the cutest dance duo since, well, ever. But put Paige Glenn and Artyon Celestine onstage, and it's immediately clear they mean business. That was apparent to millions across the country last summer, when Artyon and Paige's unbelievable extensions, fearless turning, and infectious energy propelled them to the quarterfinals of "America's Got Talent." They've also appeared (together or individually) on "Little Big Shots," "Lip Sync Battle Shorties," "The Ellen DeGeneres Show," and "Access Hollywood Live"—not to mention the competition titles they've won as a pair.
"Simon Cowell came backstage during 'AGT' and told us, 'Go out there and do your best. They're going to like you.' "—Artyon
Keep reading...
Show less
Popular
Apr. 02, 2018 10:14AM EST
Showstopper's National Finals Opening Number Performance
Showstopper has been making its impact on the dance world since 1978. Before then, dancers didn't have a stage to perform on, the opportunity to learn from peers, or a competitive outlet like most sports. Debbie Roberts recognized this missing piece in the dance community and that is how America's first and longest running dance competition, Showstopper, was born. Debbie taught dance for over 26 years and owned and operated her own dance studio for 20 years. She is now the owner and National Director of Showstopper, along side her husband, Dave Roberts. Dancer, teacher, business owner, author, and mother, Debbie has made dance her life's career.
Keep reading...
Show less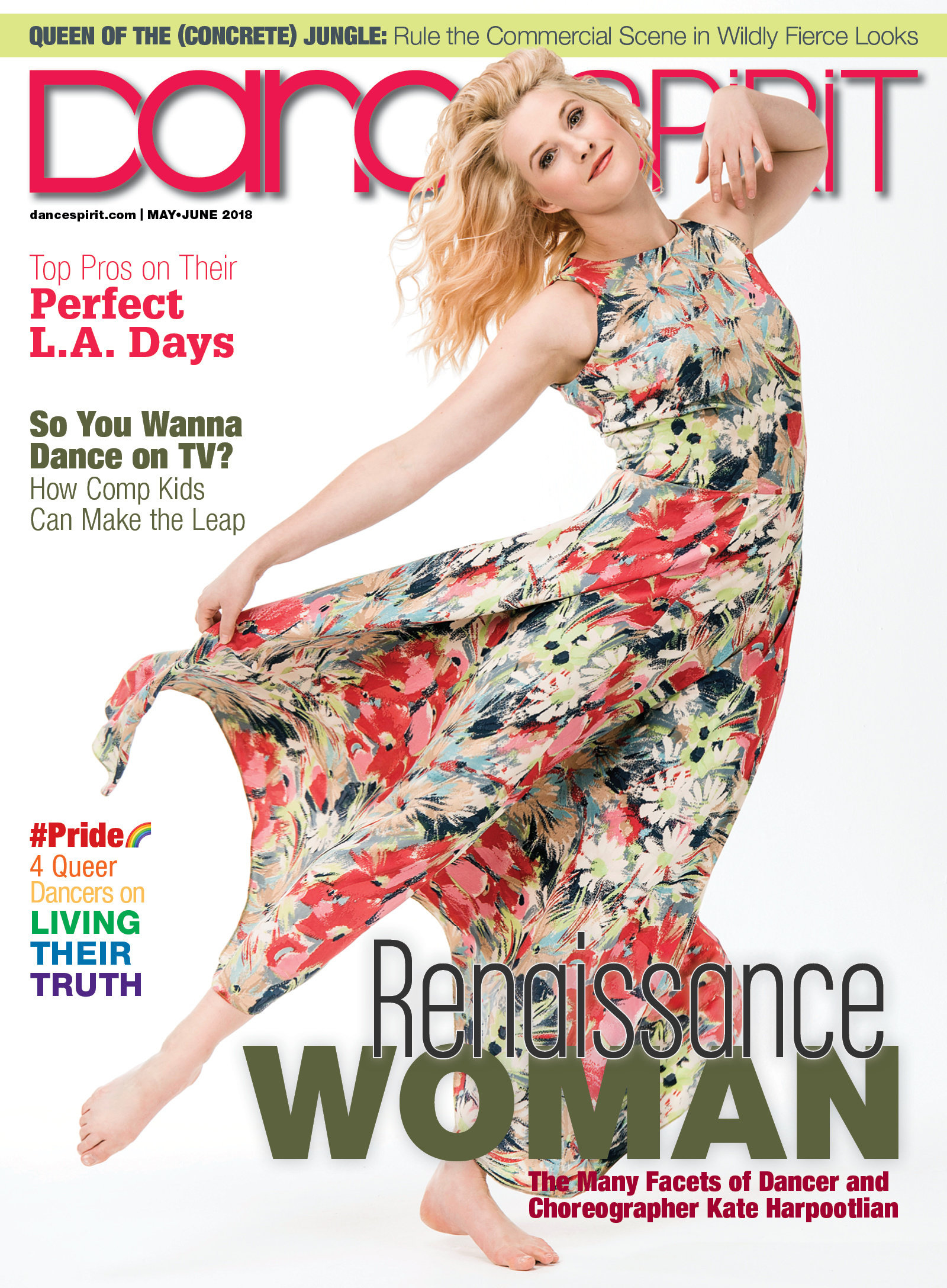 Get Dance Spirit in your inbox