Apr. 14, 2015 05:19PM EST
Imagine getting the chance to be choreographed on by Napoleon and Tabitha D'umo, and then performing in front of Nigel Lythgoe, Paula Abdul and Zendaya. Or getting invited to take classes with artists like Nick DeMoura and Tucker Barkley in L.A.
Sounds surreal, right? But these are real-life opportunities being offered by hip-hop–based organizations—Monsters of Hip Hop and Movement Lifestyle, respectively. Unlike traditional competitions and conventions, which cover everything from contemporary dance to tap, this newer wave of comps is laser-focused on hip hop, giving dancers the chance to explore its many styles, from flexing to krumping to breaking.
"The commercial hip-hop world is one of the most viable places for dancers to work professionally," says Monsters co-founder Andy Funk. "But when we started back in 2002, there weren't many opportunities for dancers outside of New York or L.A. to be seen and discovered, let alone to train." Those days are definitely over. Hip-hop–only events are quickly gaining popularity, and attendance is up in a big way. "I've seen a huge growth in hip-hop competitions and conventions over the last decade," says VIBE Dance
Competition CEO Jason Park. Thanks to shows like "America's Best Dance Crew" and "So You Think You Can Dance," Park says, "there's a vast interest in what was formerly a semi-underground community."
For choreographer Jillian Meyers, who's judged for VIBE and now teaches for both Movement Lifestyle's the TOUR as well as The PULSE on Tour, hip-hop–only events "offer a very different dynamic" from the traditional convention circuit. In addition to top U.S. dance crews, she says, "a lot of the crews come from all over the world," giving you an international perspective.
Here's the rundown on four top hip-hop comps changing the competition and convention industry.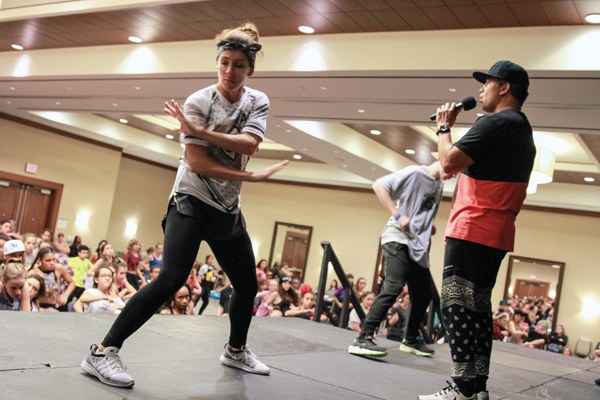 Tabitha and Napoleon D'umo teaching a Monsters class in Houston, TX (photo by Jennie Gonzales, courtesy Monsters of Hip Hop)
Monsters of Hip Hop
Directors: Andy and Becky Funk
What it is: Founded in 2002, Monsters of Hip Hop has been credited with sparking the hip-hop convention trend. Though Monsters' setup is traditional, its instructors—all seasoned industry pros—focus on commercial hip hop. Monsters alumni have worked with artists including Pharrell Williams, Lady Gaga and Beyoncé.
How it works: Monsters visits 16 to 20 cities each year, offering two-day dance workshops. In each city, four semifinalists are chosen for a chance to perform in the annual "Monsters Show" in L.A.
Classes offered: Commercial hip hop, street jazz, contemporary hip hop
Celebrity teachers: Tabitha and Napoleon D'umo, Parris Goebel, Kevin Maher, Luther Brown
Keeping it fresh: The new Choreographer's Cup competition gives rising choreographers the chance to win $5,000 and a guest teaching spot. Also awesome? Both Sony Music and Disney Talent Casting reps will be on site at many convention stops this year to scout for talent.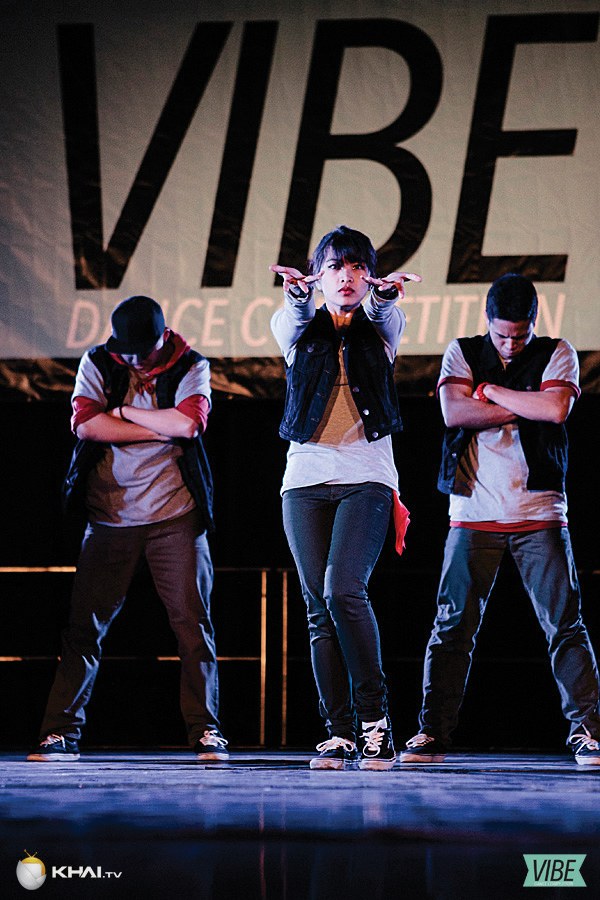 Dancers from The Company at Vibe XVIII (photo by Khai "Khai.TV." Nguyen, courtesy Vibe)
VIBE Dance Competition
CEO: Jason Park
What it is: It's easy to see why VIBE is celebrating its 20th anniversary this year—it's not only one of the very first but also one of the fiercest hip-hop competitions. Crews from all over the world gather at its two annual events to throw down for the top
prize: $2,000 cash, VIBE swag, a trophy and free registration (for U.S. teams) to the World Hip Hop Dance Championship.
How it works: A junior division competition is held in November in Redondo Beach, CA, followed by the main event, held in January in Costa Mesa, CA.
Celebrity judges: Ben Chung (from the Jabbawockeez), Natalie Gilmore (of Fanny Pak),  Hok Konishi (of "SYTYCD" and Quest Crew)
Keeping it fresh: In 2013, VIBE partnered with long-standing crew Culture Shock LA to provide funding for Culture Shock's youth dance programs.
What sets it apart: "Prior to the competition, VIBE highlights each performing crew to our fans and followers through various media," Park says. For instance, VIBE makes special online flyers that feature a crew's video footage and posts them on Instagram.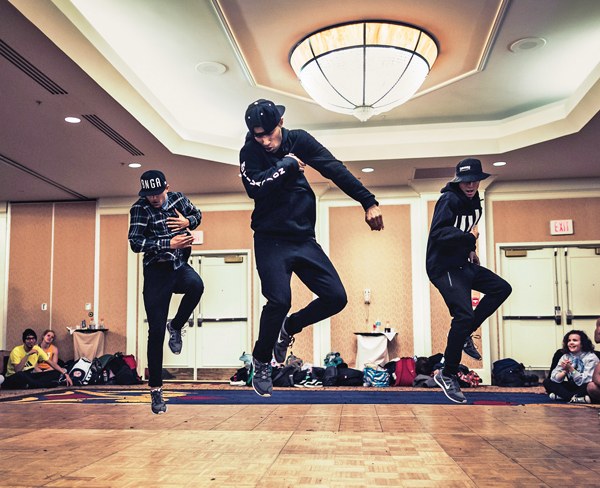 Norwegian Quick Crew dancers during an mL tour stop in New Jersey (Jino Abad, courtesy Movement Lifestyle)
Movement Lifestyle
Directors: Shaun and CJ Evaristo
What it is: Movement Lifestyle (mL) has expanded way beyond the classic competition/convention circuit structure. In addition to its nationwide tour, the company also operates two L.A.-based studios and a series of 21-day dance intensives. "We wanted to create a positive environment and a place that felt more like a home than a competition," Shaun says.
Format: Each tour stop is a two-day event, including classes and a Q&A session with the choreographers.
Styles/classes offered: Locking, popping, breaking, house and more
Celebrity teachers: Jillian Meyers, Keone and Mari Madrid, Miguel Zarate
What sets it apart: In each of the five or six cities Movement Lifestyle visits per year, no more than 300 dancers are admitted to ensure everyone receives tons of attention.
Keeping it fresh: Movement Lifestyle's recently opened second studio, mL One, is geared toward kids and adult beginners. It offers foundation classes that focus more on technique than choreography.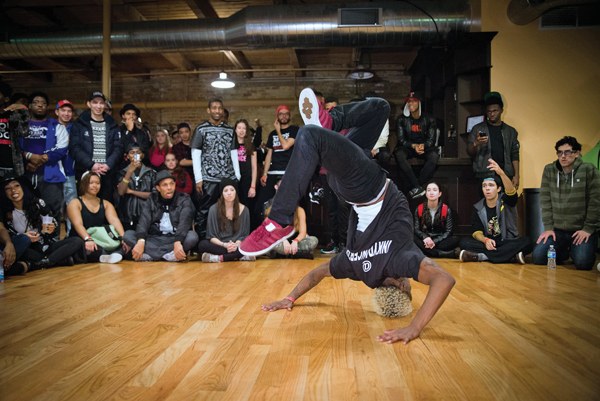 Dancers battling during WOD Chicago's Simple Mobile All-Styles event (Nathan Lee, courtesy World of Dance)
World of Dance
President: David Gonzalez
What it is: Considered the largest international urban dance competition, World of Dance hosts events that include a youth division (for crews only), an upper division (for dancers ages 18 to 25) and a celebrity exhibition, featuring "SYTYCD" and "ABDC" alums. Along with its massive event circuit, WOD also produces the WOD Network, a 350-channel online network that lets dancers showcase their videos.
How it works: WOD competitions, which tour to 40 cities each year, take place on weekends. Each event is capped off with performances by celebs like Fik-Shun, Les Twins and the Jabbawockeez.
Keeping it fresh: Last season, WOD began offering master classes in select cities on Sundays.
Celebrity judges/teachers: Chachi Gonzales (of I.AM.mE), members of the Jabbawockeez, Phillip "PacMan" Chbeeb, Jun Quemado, Parris Goebel, Lando Wilkins
What sets it apart: Along with the main-stage competition, WOD offers separate stages for dancers to battle each other and win prizes. "It's like the X Games," Gonzalez says.
via YouTube
Keep reading...
Show less
via @kyle_vanny on Instagram competing on World Of Dance
Kyle Van Newkirk is a tap dancer you probably remember from the premiere season of NBC's World of Dance. In case you missed it, he is also one of Showstopper's incredible convention teachers. What makes Kyle stand apart from some of today's other incredible tappers? He isn't afraid to change what tap means to his audience and even himself. This modern view of tap dancing is important because it shows us that tap dancers are just as versatile and dynamic as dancers of any other genre. We sat down with Kyle to get his advice on bringing tap dancing into the 21st century.
Keep reading...
Show less
What did I just hear you say? You think all dancers are weak and delicate? PLEASE SAUT DE CHAT OUT OF MY LIFE. (Giphy)
Sure, dancers definitely have some unique identifying characteristics. (We're all obsessed with Center Stage? FACT.) But we're also subjected to all kinds of annoying, inaccurate stereotyping. Here are 10 dancer stereotypes that we never want to hear again.
Keep reading...
Show less
University of Minnesota Dance Team (courtesy University of Minnesota)
They say there's no "I" in "team"—and nowhere is that truer than the world of college dance teams, where precision reigns, uniformity is key, and a single misstep from any given "I" can cost a group a championship trophy. So it's unsurprising that securing a spot on one of the best dance teams in the country is no easy feat.
Members of these highly athletic teams rehearse for hours every week—on top of academic classes and commitments—and perform at football and basketball games, annual concerts, and nationally televised competitions (hi, ESPN). And "no I" rule notwithstanding, each of these top teams is made up of highly trained, highly technical, highly hard-core individuals, who come together to create a ready-for-victory pack.
These six teams aren't one-off success stories—they're consistently strong, and earn the top spots at major competitions like UDA and NDA nearly every year. Up for the challenge? Here's what to know before you go to auditions.
Keep reading...
Show less
They got to live out their dreams onstage with Jackson during last night's Billboard Awards. (NBC)
When Janet Jackson puts out a call for new dancers, basically the ENTIRE WORLD responds. More than 75,000 people entered Jackson's epic #DanceWithJanet contest, announced earlier this spring, which let hopefuls from around the globe audition via social media for a chance to perform with the icon.
So, out of those tens of thousands, who became the newest members of the #JTribe? Meet Phillip Galbert and L'Vala "Lala" Moss, the winners of the competition. Last night, they joined Janet onstage at the Billboard Music Awards. And they more than earned their place in the spotlight.
Keep reading...
Show less
May. 16, 2018 02:26PM EST
Ema Peter
The Glorya Kaufman International Dance Center is the 54,000 square foot home of the USC Glorya Kaufman School of Dance, one of the largest facilities dedicated to dance on a private university campus. Designed for their innovative new curriculum, that supports a range of dance styles, the school's staff designated Harlequin to provide wall-to-wall flooring for the large 3,500 square foot Performance Studio as well as five dance studios in their new state-of-the-art building.
Keep reading...
Show less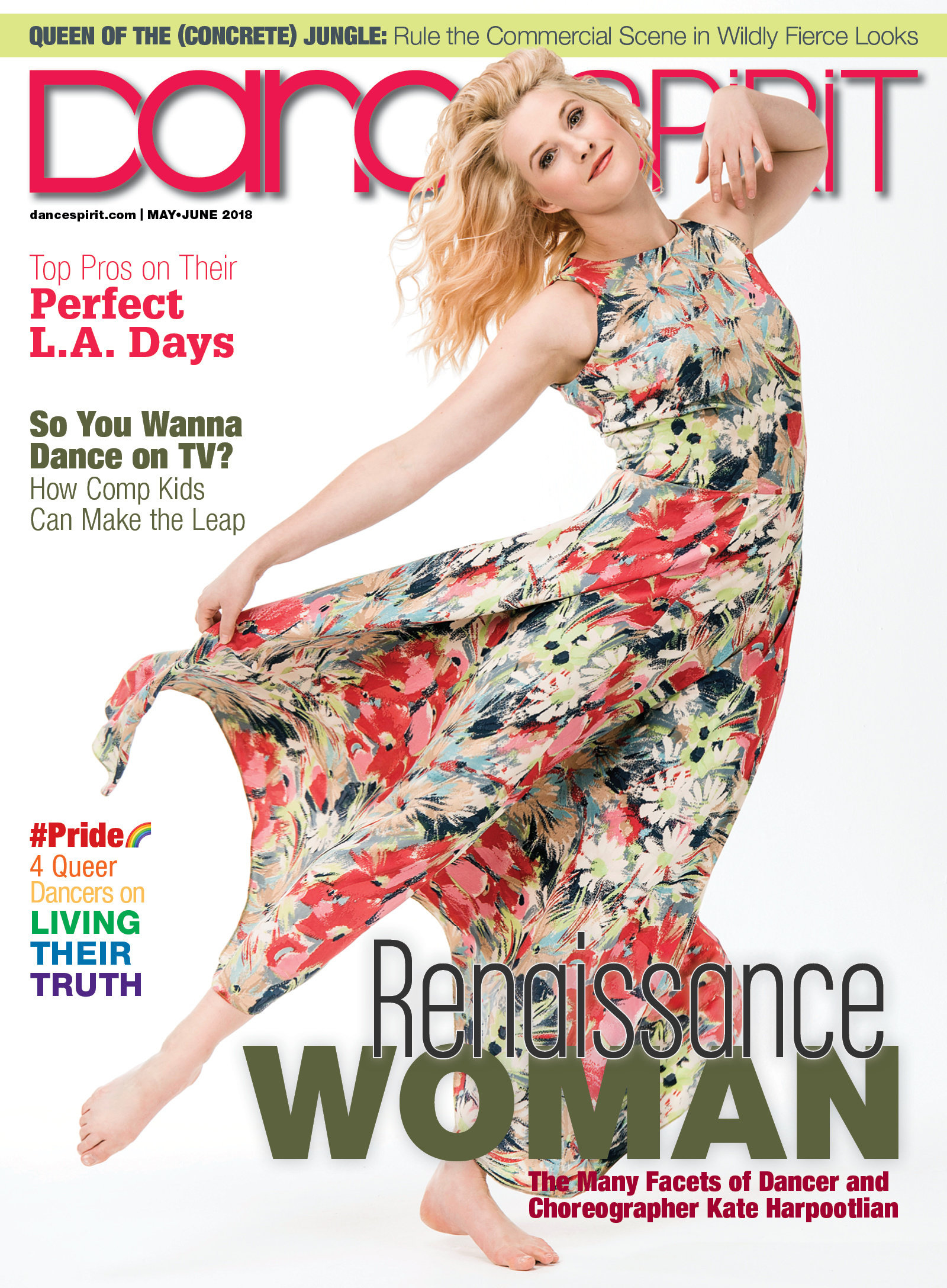 Get Dance Spirit in your inbox