Inside the Class Video Craze
Even if you've never been to L.A., you probably have a solid idea of what class at Millennium Dance Complex in North Hollywood is like. You can picture the vibrant red walls; you can feel the waves of dancers feeding off one another's explosive energy. Why? Because you—and millions of other dance fans—have watched countless class videos filmed at the center.

Class videos are a VIP pass, taking dancers and non-dancers alike inside the commercial world's hottest studios. And people are watching them obsessively, sharing them on platforms across the web, helping them rack up tens of millions of views. We turned to some of the industry's key players to find out more about what makes the class video format uniquely appealing.
---
Photo by Evolve Photo, courtesy Matt SteffaninaMatt Steffanina teaching at The Pulse
YouTube Universe

The viral class video is a pretty recent phenomenon. It's been almost a decade since choreographer Matt Steffanina began posting videos on YouTube, but it was only five years ago that he started to have his class videos go viral. "And I was one of the first dancers to get real recognition on YouTube," he says. "It's really blown up outside the dance world in the last two years." He attributes that explosion to the rising popularity of reality entertainment. "People are looking for that raw, authentic, unedited feel," he says. "They're more endeared to real people than production effects."

These days, choreographer Jojo Gomez likes to think of YouTube class vids as the new MTV for commercial dancers. "Tons of people started dancing in the '80s after watching Michael Jackson's music videos on TV," she says. "Now, class videos are doing the same thing, online."

Courtesy Jojo GomezJojo Gomez leading a class at Millennium in Salt Lake City, UT
In fact, Gomez says class videos inspired her to move to L.A. to pursue a career in commercial dance. While she received excellent training through a competition studio in her Massachusetts hometown, she felt like something was missing: "I'd procrastinate from homework by watching YouTube videos of Tricia Miranda, Kyle Hanagami, Janelle Ginestra and WilldaBeast Adams' classes in L.A.," she says. "There was something raw about their style, and I craved that energy in the studio."

Building a Brand

Starring in a class video is a potent—and relatively simple—way for dancers to earn major recognition. In 2013, Gomez appeared as a featured dancer in Adams' vid to Beyoncé's "Upgrade U," filmed by Brazil-Lionheart. Within a few days, the class video had more hits on YouTube than the official music video. "Everyone knew who I was after that," she says. "I was the blonde in the 'Upgrade U' video."
But class videos are even greater assets to the choreographers behind the steps, giving them an inexpensive way to develop a large following. When Gomez discovered her passion for teaching and choreography, she knew to turn to YouTube: "I began teaching in smaller schools in Orange County and posting 30-second clips of my choreo," she says. Eventually, she developed enough of a reputation to land a full-time teaching slot at Millennium, where she regularly puts out videos with popular producer Tim Milgram.

As a primarily self-taught dancer from a small town in Virginia, Steffanina also paved his way to teaching jobs by posting choreo clips. "I started getting contacted by East Coast schools that wanted me to teach," he says. "That's when the light bulb really went off." He continued building his brand through YouTube, and began to get commercial as well as teaching work thanks to his online presence. Singer Natalie LaRose and Taboo, from the Black Eyed Peas, are among the artists who've hired Steffanina after seeing his class videos.

Energy Is Everything

What is it about class videos that makes them so universally addictive? Dancer Allison Buczkowski, who frequently appears in choreographer Tricia Miranda's vids, chalks it up to energy. "The videos capture the vibe of the last 10 minutes of class, when we're done stressing over the steps, and we're just having a blast celebrating dance," she says.

Courtesy Allison Buczkowski Allison Buczkowski in class
Buczkowski admits that the energy in the class isn't always as explosive as it appears on screen. "But you learn to turn it on for camera," she says. Choreographers like Miranda, Adams and Gomez often have the dancers form an "energy circle," occasionally featured in the videos, before the final run-throughs of a combo. "It really helps hype everyone up," Buczkowski says. Fellow class-video favorite Kaelynn "KK" Harris agrees: "A good inspirational pep talk pre-filming helps us enter the choreographer's world and really vibe off one another," she says.

Keepin' It Real

The other key to a real, raw class video is maintaining the integrity of the class, even though cameras are present. "Filming can compromise the class experience if dancers come to be seen rather than to learn," Harris says. "YouTube fame shouldn't get in the way of the dancers' pure love of dancing."

For that reason, choreographer Eden Shabtai tries to get a two-hour slot when she's planning to film, so that filming doesn't eat into class time. "It's important to remember that it's not about the video," she says. She relies on Milgram's vision so that she can focus her efforts on teaching. "If people are truly learning and having fun, it'll make a good video."
Combos for the Camera

How do choreographers craft class combinations that read on film? Shabtai, who first blew up on YouTube with her combo "Needed Me" and has also worked on music videos, live tours and TV shows, says the formula is similar to choreographing for music videos—both require eye-popping steps and lots of energy—but there are a few adjustments. "In music videos, people are looking for signature moves and repetition," she says. A repeated sequence can visually correspond to the song's chorus, for example. In class videos, there's less of an emphasis on recurring moves. Instead, the focus is on creativity and abundance. "I try to put more choreography into class videos, without compromising moments of stillness," she says.
On-Film Firecrackers
How do you land the center spot in a viral class video? The key is to master the basics before you add personal flair. "For the first hour and 15 minutes of class, I do the combo cut-and-dry to get the choreo the way the choreographer intends," says dancer Allison Buczkowski. "When it comes time to film, then I may add extra hair flips, and more of my own personality. But you can't train that way the whole class. You don't want to alter the choreography just to be seen."
Dancer Kaelynn "KK" Harris agrees that going over the top all of the time isn't the best approach. She recommends focusing on the combo's musicality instead. "People gravitate to dancers who make them feel the music coming to life," she says. "It's what makes them want to get up and dance too!"
American Ballet Theatre principal dancers Sarah Lane and Daniil Simkin (courtesy ABT)
Last May, we told you about a special exhibition of the Mark Ryden artwork that sparked Alexei Ratmansky's sweet-treat of a ballet, Whipped Cream. Well, hold on to your tiaras, bunheads, because there's a brand-new exhibit featuring actual costumes from this megahit production. The Nutcracker's Land of Sweets has some serious competition!
Keep reading...
Show less
via @kyle_vanny on Instagram competing on World Of Dance
Kyle Van Newkirk is a tap dancer you probably remember from the premiere season of NBC's World of Dance. In case you missed it, he is also one of Showstopper's incredible convention teachers. What makes Kyle stand apart from some of today's other incredible tappers? He isn't afraid to change what tap means to his audience and even himself. This modern view of tap dancing is important because it shows us that tap dancers are just as versatile and dynamic as dancers of any other genre. We sat down with Kyle to get his advice on bringing tap dancing into the 21st century.
Keep reading...
Show less
How To
Oct. 01, 2010 04:55PM EST
(Nathan Sayers)
Turnout—a combination of rotational flexibility and the strength to properly hold that rotation—is the foundation of ballet. But it's also a source of frustration for many dancers. After all, not everyone (actually, hardly anyone) is born with 180-degree rotation. "When I first started dancing, my hip flexors were strong, but I was forcing my turnout without using the right muscles," remembers Amanda Cobb, a former dancer with The Washington Ballet.
The good news is that it's possible to both improve your turnout and to dance beautifully with less-than-perfect rotation. But there's a lot of misinformation out there about how turnout works and why it's important. To help separate fact from fiction, DS asked the experts to disprove six turnout myths.
Keep reading...
Show less
University of Minnesota Dance Team (courtesy University of Minnesota)
They say there's no "I" in "team"—and nowhere is that truer than the world of college dance teams, where precision reigns, uniformity is key, and a single misstep from any given "I" can cost a group a championship trophy. So it's unsurprising that securing a spot on one of the best dance teams in the country is no easy feat.
Members of these highly athletic teams rehearse for hours every week—on top of academic classes and commitments—and perform at football and basketball games, annual concerts, and nationally televised competitions (hi, ESPN). And "no I" rule notwithstanding, each of these top teams is made up of highly trained, highly technical, highly hard-core individuals, who come together to create a ready-for-victory pack.
These six teams aren't one-off success stories—they're consistently strong, and earn the top spots at major competitions like UDA and NDA nearly every year. Up for the challenge? Here's what to know before you go to auditions.
Keep reading...
Show less
Lol, same. (Screenshot via YouTube)
Picture this: You've scored tickets to Ellen DeGeneres' hit show, "Ellen." The day has come, the show is as hysterical as ever, Ellen is debating the biggest hot-button issue since the blue/black or white/gold dress, "Laurel vs. Yanny" (side note: it's LAUREL, people), and tWitch is killing it over at the DJ booth, as always. Ellen decides it's the perfect time to single out an audience member and, lo and behold, that person is "SYTYCD" champ ( and December 2017 cover star!) Lex Ishimoto.
Keep reading...
Show less
May. 16, 2018 02:26PM EST
Ema Peter
The Glorya Kaufman International Dance Center is the 54,000 square foot home of the USC Glorya Kaufman School of Dance, one of the largest facilities dedicated to dance on a private university campus. Designed for their innovative new curriculum, that supports a range of dance styles, the school's staff designated Harlequin to provide wall-to-wall flooring for the large 3,500 square foot Performance Studio as well as five dance studios in their new state-of-the-art building.
Keep reading...
Show less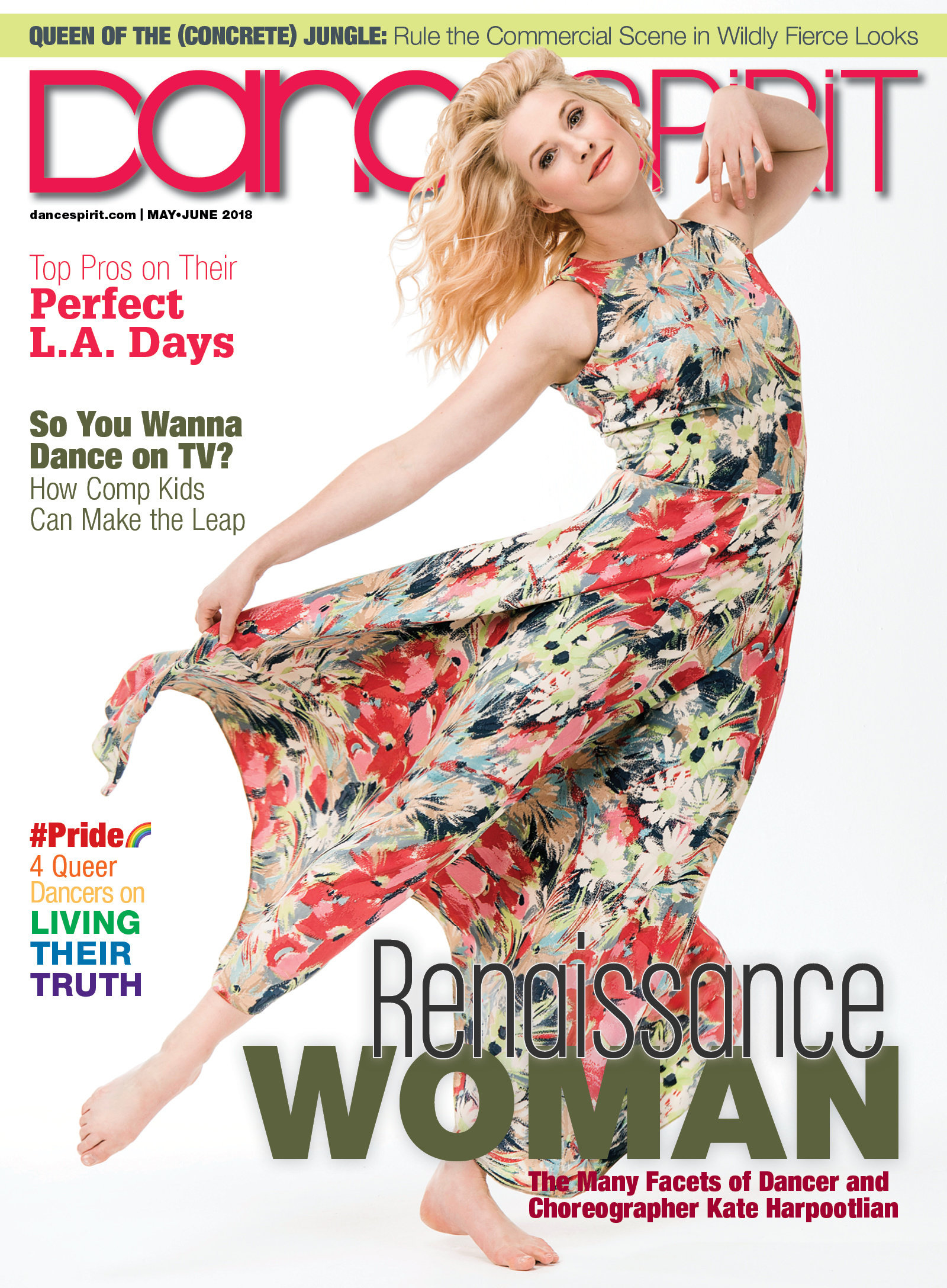 Get Dance Spirit in your inbox