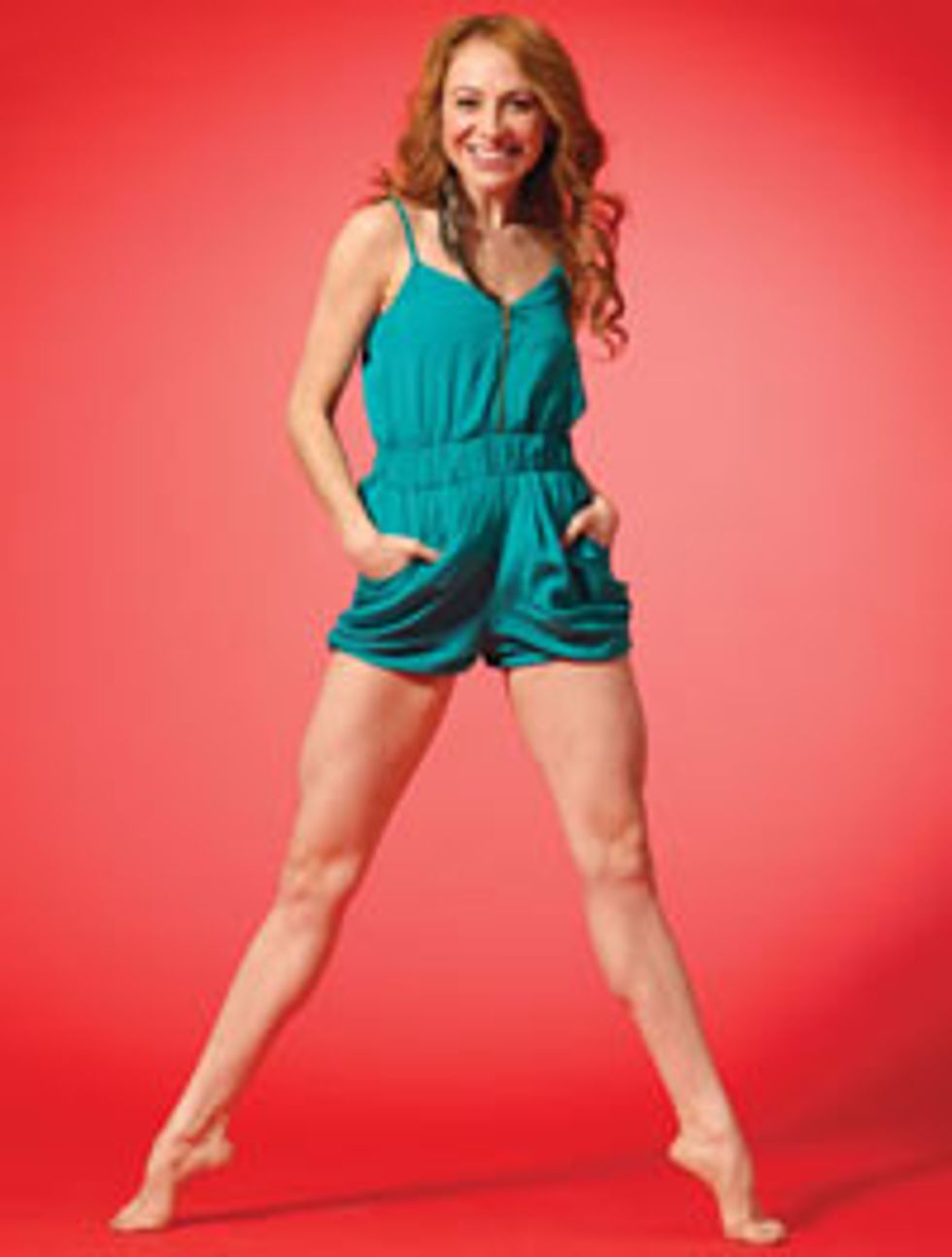 Photo by Nathan Sayers
"I call myself a commercial ballerina," says Mallauri Esquibel, who just landed her dream job in Twyla Tharp's touring production of Come Fly Away. "I trained my whole life to be a ballet dancer. But I didn't want to put my hair in a bun every night. I wanted sparkles, and I wanted to smile and shake a little bit."
At just 25 years old, this fiery redhead has seemingly done it all, from television to movies to Broadway. Now, with her new role in Come Fly Away, her years of intense training and performing are paying off. Her long legs, bendy feet and elegant poise give Mallauri the ideal bunhead look, but she's a soulful performer who's not afraid to get funky. She has the discipline of a ballet dancer, a unique look and stoic maturity. And now, Mallauri has her dream job.
Making It in L.A.
Mallauri's versatility is a result of her diverse training. Growing up in Highlands Ranch, CO, Mallauri was a competition dancer who studied ballet from the start. In high school she added in more serious jazz and hip-hop training, and also joined her high school's dance team for extra performance opportunities. Laila Hardman, Mallauri's teacher at Starstruck Dance Academy, noticed her enthusiasm right away. "Mallauri was a little fireball who danced bigger than everyone else," Hardman says.
After graduation, Mallauri moved to L.A. "I grew up thinking I would go to NYC, but L.A. had a spark that called to me—I couldn't pass it up," she says. "I had friends and teachers from the convention world who took me in and introduced me to people. It made the move easier." Mallauri signed with an agent and soon appeared in several TV shows and movies, including High School Musical 3 and The Princess and the Frog. (She was the body double for the cartoon princess; computers captured her dancing and transformed it into animation.) Mallauri's big break came in 2009 when she landed a featured dancing spot in the Marguerite Derricks–choreographed remake of Fame. She danced on pointe in the film's big ballet scene.
The Dream Jobs
When Derricks choreographed the new Broadway show Wonderland earlier this year, she cast Mallauri as an ensemble member, dance captain and understudy for the lead. Mallauri moved to NYC, where she performed eight shows a week and was responsible for giving dancers notes after each show, rehearsing understudies and training new cast members. Plus she had to sing, which she says is "scarier than dancing."
But Mallauri took it all in stride—and right after her Wonderland ride ended, she had another gig lined up. It was just her luck that Come Fly Away auditions were being held in NYC the same week Wonderland closed in May. "There was a five-hour audition in front of associate director Kim Craven, and Twyla Tharp was at the callback," Mallauri says. "A week later I found out I wasn't going back home to L.A."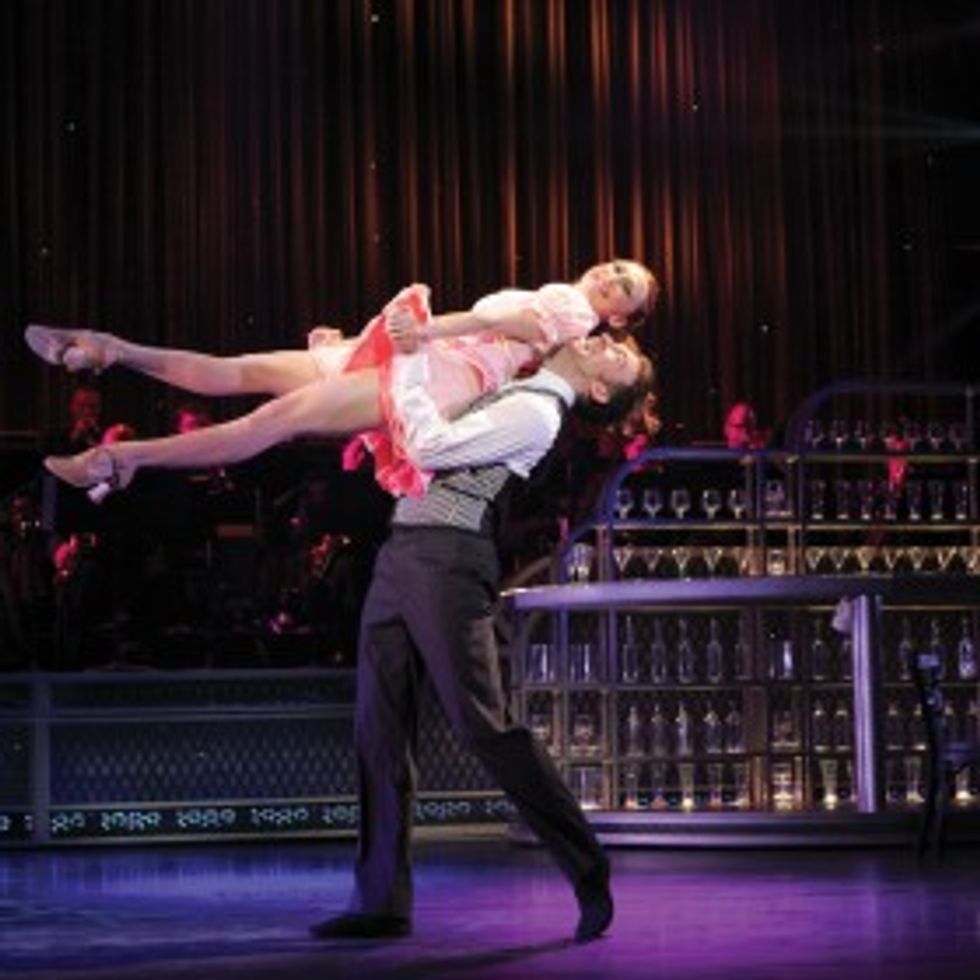 Mallauri and Ron Todorowski in Come Fly Away. Photo by Joan Marcus.
Now, Mallauri is a swing in the touring production of Come Fly Away. She knows seven parts and can be asked to perform any of those roles at any time. "In each job I take, there's a challenge," Mallauri says. "With this show I need to know a lot of dance moves, and it's all partnering. I had to learn it all in two weeks—I didn't have time to be scared or nervous."
Mallauri primarily partners with Ron Todorowski, who's been in Broadway and touring productions of Movin' Out and The Times They Are A-Changin'. "I was impressed by how quickly Mallauri learned her parts," Todorowski says. Although Mallauri has a take-charge personality, she's also a team player, he says. "There's never a moment when I feel she's working against me. She has an amazing ability to go with the flow."
Todorowski also says that Mallauri embodies Tharp's eclectic style: "Mal has the classical ballet technique—which is required to do Twyla's choreography well—and she has commercial experience. I think what defines her is that she can do it all."
Though she's worked with many artists, Mallauri admits that staying calm in front of legendary choreographer Twyla Tharp is tricky. "It's intimidating," Mallauri says. "When she walks in the room you stand up a little taller. Even if someone just mentions her name, something gets pulled out of me—it's a yearning to do better. I've always longed to work with her, but I never thought it would become a reality."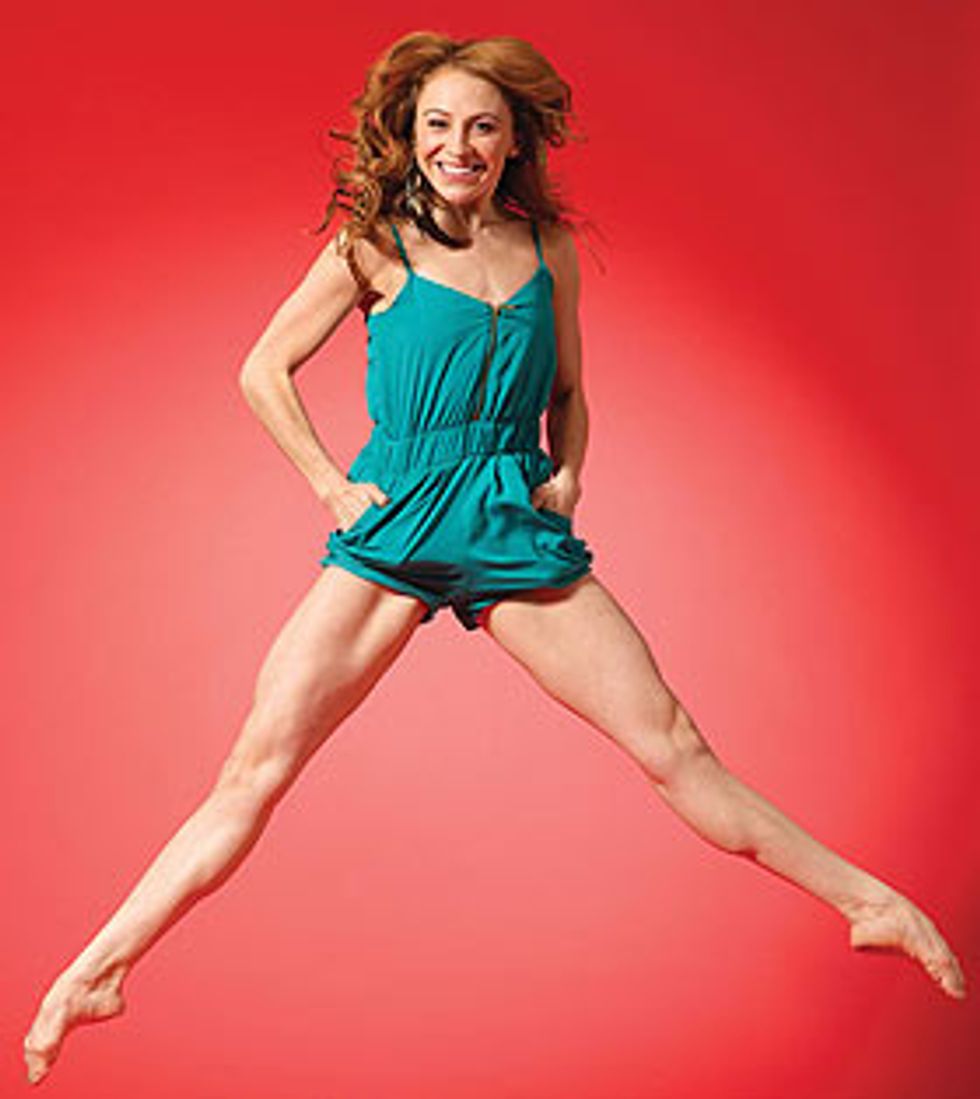 Photo by Nathan Sayers
So what's the secret to her multifaceted career? "Staying committed to class," she says. Come Fly Away holds company class daily, and Mallauri maintains her own stretching routine to stay strong, lean and limber. "I'm constantly conditioning and making sure my body is prepared," she says.
Mallauri says eventually she'd like to open her own dance studio in L.A., and her long-term goal is to conquer yet another genre: hip hop. "After singing in front of 1,600 people every night in Wonderland, I gained the confidence to step outside my comfort zone," she says. "Never say something won't happen, because here I am now, doing another thing I never thought was possible. Keep striving to go onward and upward."
Mallauri's Fast Facts:
Birthday: September 4, 1986
Favorite food: Chicken nuggets
Favorite dessert: Anything chocolate
If you weren't a dancer, what would you be? "A tennis player. I'm so bad at it, but I love watching it. I practically go into hiding during the U.S. Open in September!"
Most-played on your iPod: Lady Antebellum
Favorite movie: Pretty Woman
Favorite choreographer: Marguerite Derricks
Your dream company: "I think I'm in it!"
Dance crush: "My boyfriend, Antonio Hudnell"
Advice for Dancers: "Never limit yourself. Always remember your worth and value and that you have something to offer in everything you do. Keep pushing and never give up if this is what you want to do!"