Mar. 23, 2017 04:43AM EST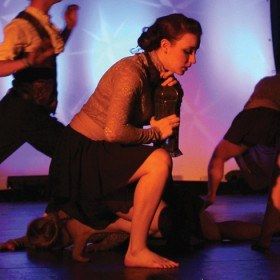 Hilary Harrison (Ricard Harrison)
Hilary Harrison always looked up to her best friend, Kayla, the star of the Michelle Latimer Dance Academy in Colorado. She wanted to be just like her, which made it hard for Hilary to grow as a dancer. "I wanted to be her instead of wanting to be myself," Hilary admits. It wasn't until she went to a convention—by herself—that Hilary stepped out of Kayla's shadow and saw the light:  She had to stop comparing herself to others if she ever wanted to reach her full potential.
It's easy for competition dancers to fall into the comparison trap. You watch and analyze each other in class, at competitions and at conventions. Somebody always has more turnout, higher extensions and stronger technique than you do. But all dancers are different, and no one else has the qualities that make you you. Read on to learn about the dangers of comparing yourself to others—and to see how you can keep it from getting the best of you.
The Trap Is Set
Competitions are all about comparisons: Who has the best solo? Who can do more pirouettes? Who's got the most charisma? Christina Morrison, a 16-year-old from Walker's Dance in Massachusetts, has been competing since she was 7. "Being backstage and watching a dance that's incredible makes me go, Wow!" she says. "But that's when I start comparing myself to that person onstage, and it kind of freaks me out."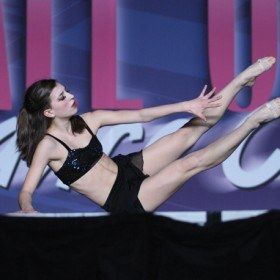 Christina Morrison (courtesy Christina Morrison)
You can get stuck comparing yourself to other dancers at your own studio, too. That's where you spend most of your time looking in the mirror and watching friends take class every day. "It's not realistic for dancers to not look at other dancers," says Dr. Jim Taylor, author of Psychology of Dance. "You're facing them at the barre or watching them onstage. Dancers compare their technique, body types and virtuosity, and those comparisons will either build or hurt their confidence."
Some teachers even pit students against each other by saying things like, "So-and-so can do this step. Why can't you?" Don't let it make you feel insecure. "There are differences in body type and development," says Dr. Linda Hamilton, wellness consultant for New York City Ballet. "Tall dancers may take longer to fully develop. Students shouldn't feel that they're losers if they're not ready for pointe work, for example. Often they just need to get stronger."
The Danger of Comparisons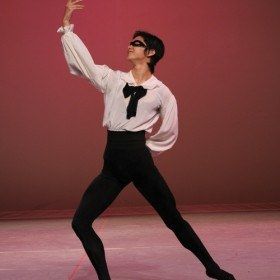 Jong Suk Park (courtesy Jong Suk Park)
Getting caught in the comparison trap can lead to low self-esteem and might affect the way you perform and train. Jong Suk Park, a corps dancer at Pennsylvania Ballet, remembers when he ran into two old classmates at a competition and they "messed with his head."
Both guys, who had just gotten jobs with European companies, went out and nailed their variations. Jong says, "They came up to me and said, 'Let's see what you can do.' I went onstage and couldn't get their words out of my mind." He didn't perform as well as he could have because he was thinking about his rivals and not focusing on himself.
These kinds of mind games and self-criticism can also be bad for your health. O'Lyvia Fuller, an 18-year-old competition dancer at the Lisa Pilato Dance Center in Massachusetts, let them affect her physical and mental well-being. "I thought I was terrible because I wasn't the skinniest girl onstage or in dance class," she says. She got depressed and started gaining weight. It wasn't until O'Lyvia felt comfortable in her own skin that she began to gain confidence. "I got happier," she says. "I realized that no matter what size I am, I can be the best one onstage. I don't have to be the smallest one."
How To Avoid the Comparison Trap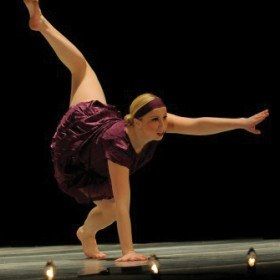 O'Lyvia Fuller (Donner Photography)
How do you keep all the comparisons from getting you down? If you're at a competition, find a quiet spot backstage. O'Lyvia likes to sit in a corner and stretch. "I try to breathe and focus," she says. "I listen to my solo music on my iPod and mark the dance through in my head so I'm super-confident with what I'm doing." Jong tries not to watch other dancers because it makes him nervous. "I've already taken class in the morning, so I get there 30 minutes before my turn to warm up," he says. "If I see someone do really well, then I feel like I have to do better than him. So it's better to watch after I get off the stage."
Christina imagines how she wants her dancing to look. "I focus on my song and my story and use the power of visualization," she says. "If I have positive images of myself dancing, then I tend to do better."
And it's not about winning or losing. "It would be nice to have a trophy,"  Hamilton says, "but your end goal is to have a career. Look at it as a learning experience." Use the opportunity to perform and get as much experience as you can.
Sometimes it takes getting out of your comfort zone to improve your self-image. "I had to step away from my studio to see that I'm an individual," Hilary says. "I was at a convention by myself in another state. I didn't know anyone, and they didn't know me. I could dance for myself."
Most dancers will get caught in the comparison trap at some point. "It's natural to look at your competition," says Taylor. "But if you're focused on other people, you're not focused on what you need to do to dance well."
What if you can't stop comparing yourself to others? Try looking at it as healthy competition. Watch other dancers to get inspired and learn from them. Set goals for yourself and remember that no one can dance exactly the way you do. Hamilton says, "Keep the focus on you."
Competition
May. 21, 2019 01:00PM EST
School of American Ballet students (Rosalie O'Connor, courtesy SAB)
Do you have a "Strictly Ballet"–sized hole in your heart? Good news: The upcoming docuseries "On Pointe" just might fill it.
The School of American Ballet is teaming up with Imagine Documentaries and DCTV for the project. Though it's not yet clear where "On Pointe" will air, we do know that it'll follow talented SAB students preparing for professional ballet careers—much as Teen Vogue's popular "Strictly Ballet" web series did back in the day. But "On Pointe" marks the first time documentary filmmakers have been allowed access to the school, and it sounds like it'll paint an even more complete picture of the dancers' lives inside and outside the studio.
Dance News
May. 21, 2019 09:54AM EST
Including, of course, "Single Ladies" (Vevo)
Choreographer Bob Fosse's signature style—with its jazz hands, inverted knees, and slouched shoulders—is still a huge influence in the dance world (and, thanks to the gloriously dancy FX series "Fosse/Verdon," the TV world). But while you know to expect plenty of Fosse-isms during a stage performance of Chicago or Sweet Charity, Fosse's legacy has also seeped into pop music culture, inspiring the likes of Beyoncé and Lady Gaga. Here are just six of the many music videos that reference Fosse's iconic works.
Dance Videos
May. 20, 2019 04:24PM EST
Gabrielle Hamilton in John Heginbotham's dream ballet from Oklahoma! Photo by Little Fang Photo, courtesy DKC/O&M
Last night, longtime theater legends (including Chita Rivera herself!) as well as rising stars gathered to celebrate one of Broadway's danciest events: the third annual Chita Rivera Awards.
The evening paid tribute to this season's dancer standouts, extraordinary ensembles, and jaw-dropping choreography—on- and off-Broadway and on film.
As usual, several Dance Spirit faves made it into the mix. (With such a fabulous talent pool of nominees to choose from, we're glad that ties were allowed.) Here are the highlights from the winner's list:
Dance News