With several Shaping Sound tours and TV credits like "So You Think You Can Dance," "Dancing with the Stars," and "Boardwalk Empire" to her name, you wouldn't expect Kate Harpootlian to be refreshingly down-to-earth. But that's exactly how she is: As soon as you start talking to the gifted dancer and choreographer, it becomes clear that she doesn't take herself too seriously. And she's happy to tell hilarious stories to prove it. (Ask her about the time she did a Mr. Peanut impression when Mia Michaels asked her to improvise, or the time she starred in a Japanese makeup commercial and had to do grand pliés wearing one pointe shoe and one flat shoe.)
That mixture of humor and grace is evident in Harpootlian's growing body of choreographic work. Her one-act show Better Late Than Never, for example, which premiered last summer, has a jazzy, West Side Story vibe, offsetting heavier moments with touches of whimsy. "There's always a balance in my work," Harpootlian says. "I want to use humor to balance out the darker aspects. It's like one of my friends once said: 'You make me laugh, and then you make me feel bad for laughing.' "
---
The Beginnings

Born and raised in South Carolina, Harpootlian started training at the Columbia Conservatory of Dance at age 4, but switched over to Columbia City Jazz Conservatory (then called Columbia City Jazz Dance School) at 6. During her time at CCJC, Harpootlian encountered many people who would become important mentors in her dance career, from artistic director Dale Lam to choreographer Jason Parsons. Lam remembers Harpootlian for her dedication and passion. "Kate used to ask if she could stay late while I was cleaning up the studio and just dance," says Lam. "She would go in there for two or three hours and just dance her life out. That's who she is."
It was Parsons who gave Harpootlian her first featured role in a group number, a decision that meant more to her than he could have known. "Around age 11, things started to go haywire—I was really skinny, weak, and couldn't remember any of my moves," says Harpootlian. "When Jason cast me, it gave me hope that I could keep going."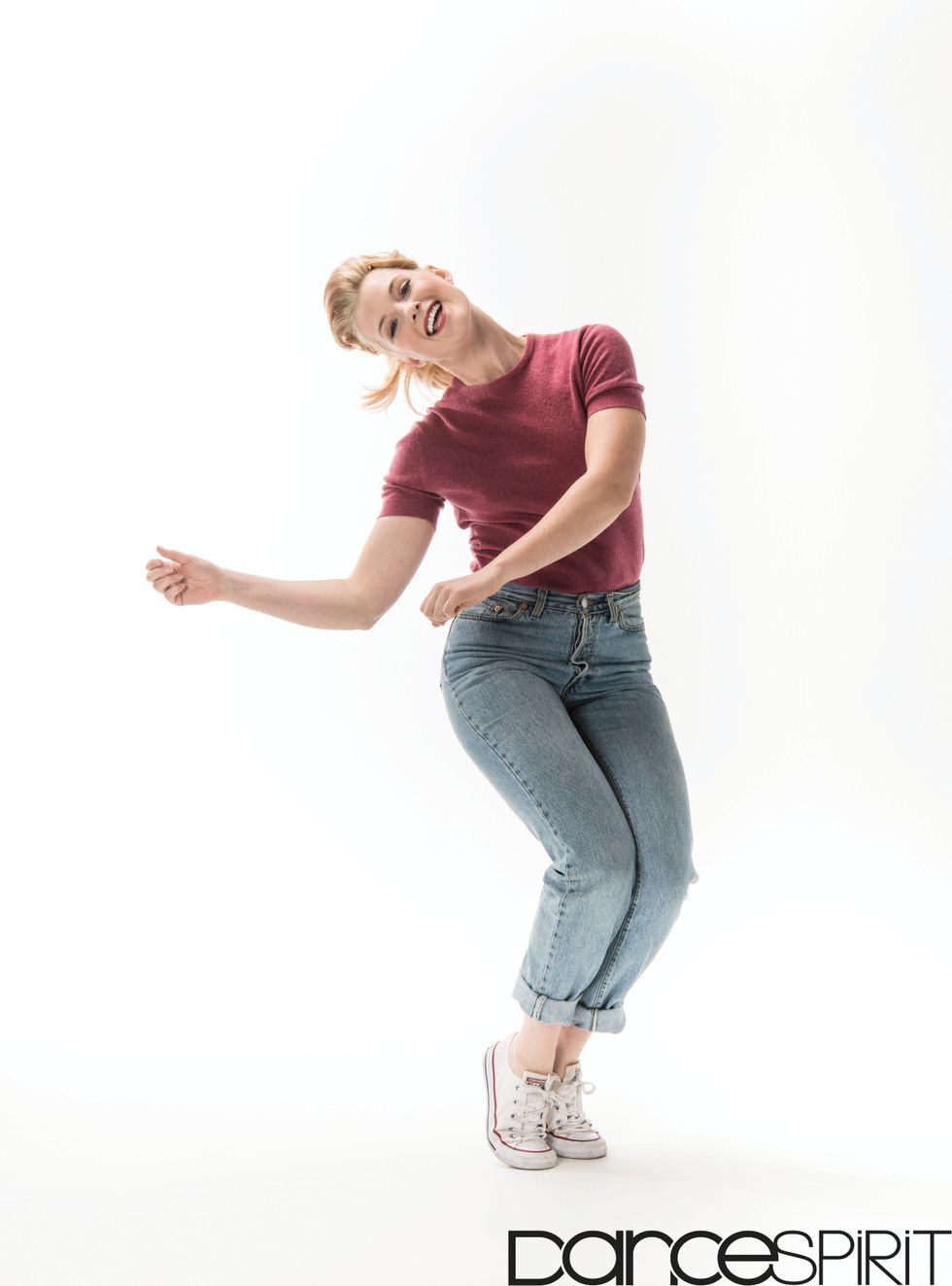 Photo by Chilczuk
Despite her physical struggles, Harpootlian continued to train and attend conventions like Tremaine, Co.Dance, JUMP, and New York City Dance Alliance, where she met future friends and collaborators like Nick Lazzarini and Travis Wall. At 14, she was officially diagnosed with a thyroid disorder known as Hashimoto's disease. "Once I got the right medication, within a year I was getting scholarships and making all of the dances," says Harpootlian. "Looking back, I'm so thankful for the disease, because I don't think I would've been strong enough to survive in this business without it."
After graduating high school early, Harpootlian thought she had her future all figured out—starting with a gig on a cruise ship. But after she moved to Virginia Beach to train with Denise Wall in preparation for that job, Harpootlian decided to switch gears, abandoning the cruise ship opportunity to keep training. "I'm a nerd," she says. "If there's knowledge at my fingertips, I have to stay and grab it. I put learning above all else, and working with Denise really opened my eyes."
Empire State of Mind
Harpootlian's course correction turned her dance dreams toward NYC, and at 19, she felt ready to move there. She found an apartment with Lazzarini and reconnected with Parsons, who hired her on various jobs. "Jason took me to shows at The Joyce Theater and Brooklyn Academy of Music," she says. "He introduced me to Juilliard, since all I knew about it was that it was Julia Stiles' school in Save the Last Dance! He really took me under his wing."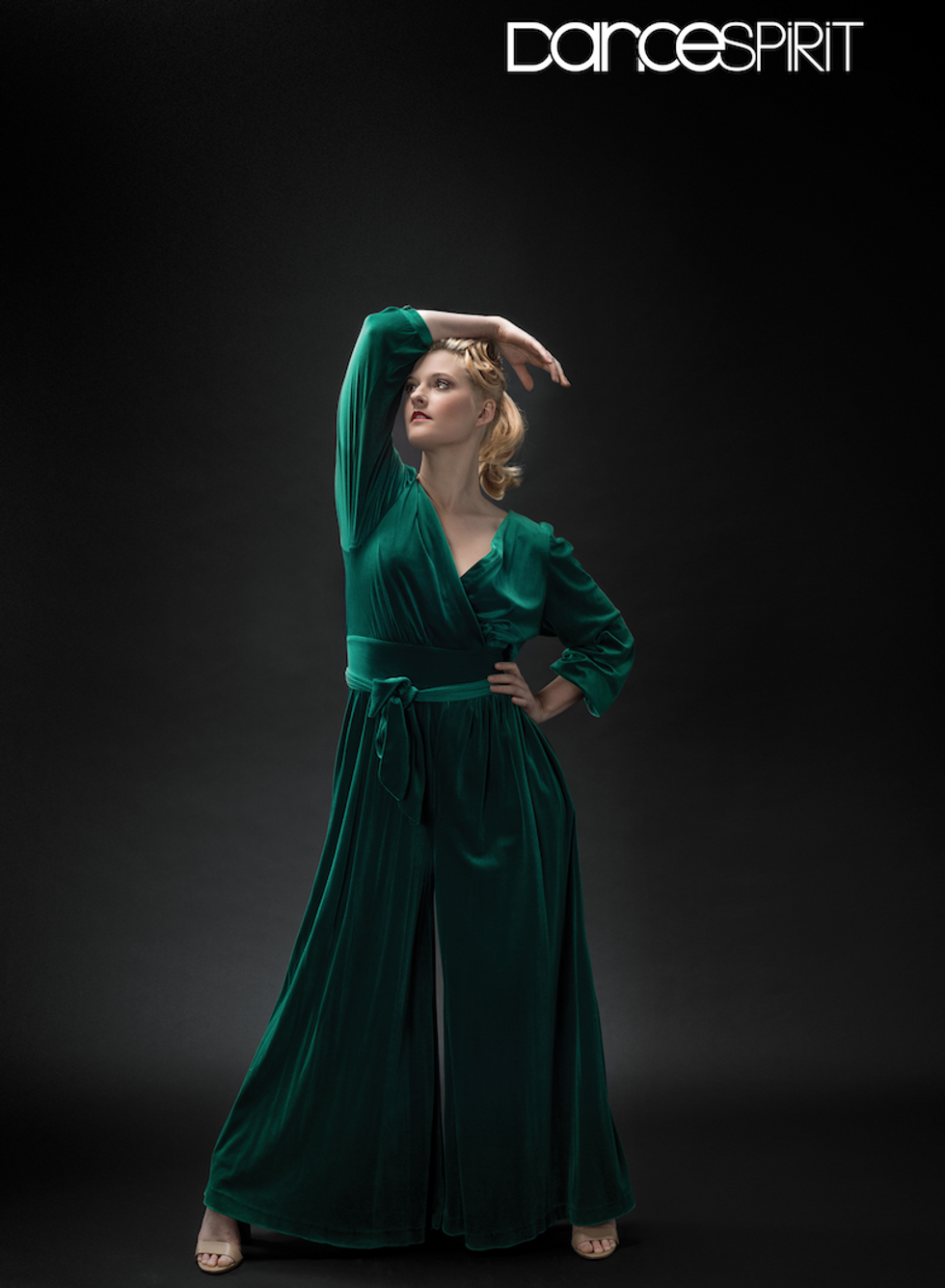 Photo by Chilczuk
To pay the bills, Harpootlian did everything from dancing at birthday parties for Upper East Side housewives to performing at bar mitzvahs in New Jersey. "My job track is hilarious to pretty much everyone," Harpootlian says. "I literally didn't say no to anything. But here and there, I was able to do jobs I really loved." Among those jobs were appearances on "Dancing with the Stars" and "Boardwalk Empire," performing in Carrie Underwood's "Something in the Water" video, dancing with Billy Bell's Lunge Collective, and, eventually, joining Wall's Shaping Sound.
West Coast Adventures
Harpootlian remembers her first performance with Shaping Sound, at DancerPalooza in 2014, as "probably the scariest thing I've ever done." She had just two days to learn the show alongside fellow new members Amy Yakima and Justine Lutz, and she also ended up having to learn Chantel Aguirre's duet after Aguirre tore her meniscus. "It was the craziest thing I've ever experienced," says Harpootlian. "That was my introduction to the L.A. dance world."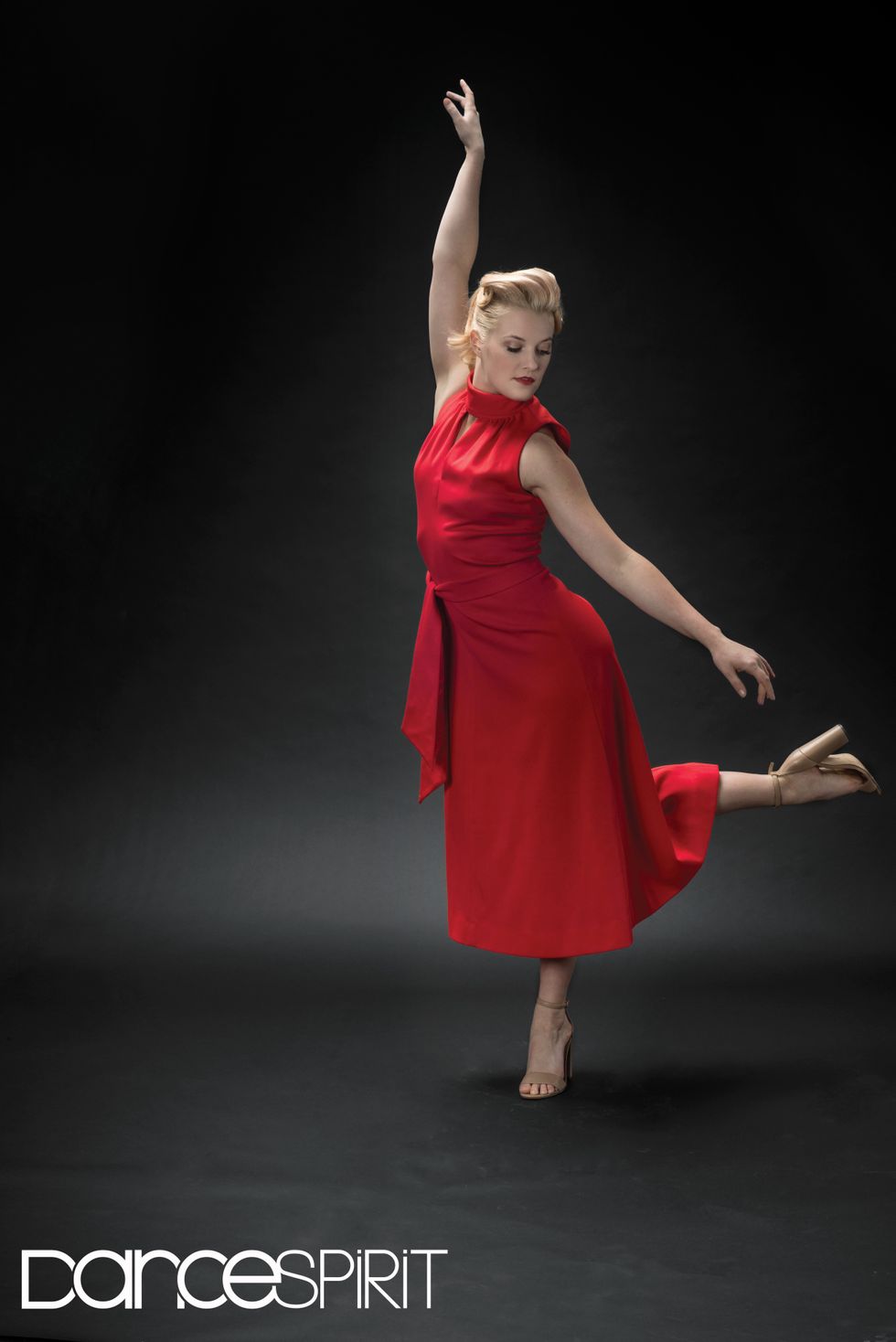 Photo by Chilczuk
2015 also marked Harpootlian's run as a contestant on Season 12 of "So You Think You Can Dance," where she made it to the Top 14 and worked with choreographers like Brian Friedman and Spencer Liff—as well as Wall, who calls Harpootlian "one of a kind." "Kate's storytelling ability makes her incredibly special," he says. "I can give her an overall direction and she'll take it and make smart and unique choices. She makes every single moment shine."
An Emerging Voice
Harpootlian's skills as a storyteller make her a natural choreographer. In 2016, she won first runner-up at the Capezio A.C.E. Awards for her piece Dignity, set to Rufus Wainwright, which Capezio hailed as "clever and theatrical." That was the moment, Harpootlian says, "where I felt like I had made it."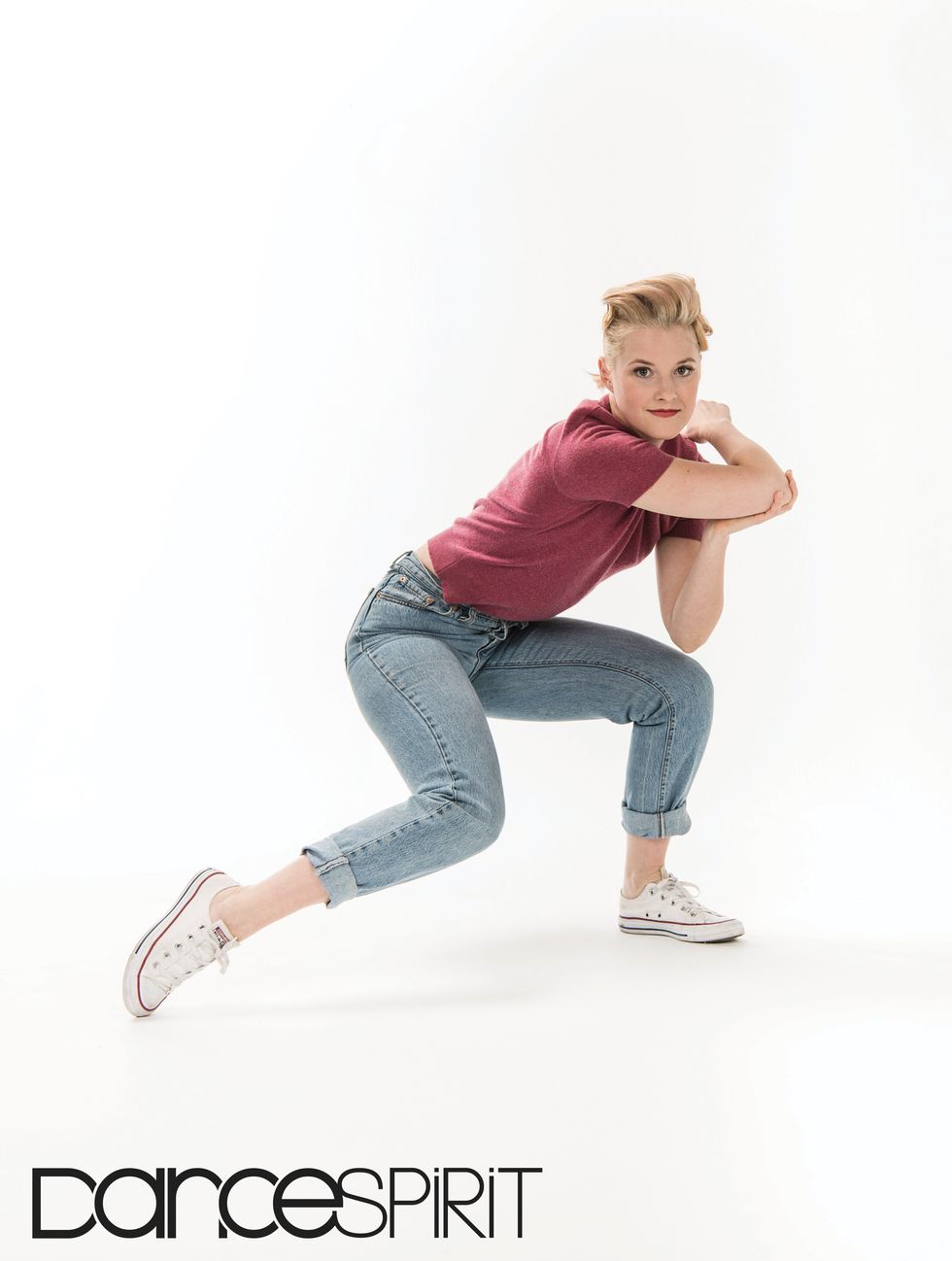 Photo by Chilczuk
That same night, Harpootlian started workshopping her next show, which became Better Late Than Never. She set out on a "'60s quest," researching the movies and music of the decade. The resulting 40-minute piece "starts very Disneyfied and ends up in hip counterculture," she says. Better Late Than Never was also a full-circle moment for Harpootlian: Her mentor, Parsons, was part of the cast. "That show helped me figure out what I want to say as an artist," Harpootlian says.
A big part of that equation is comedy, which Harpootlian calls "a smart intellectual tool that I love using in dance." She also uses humor in her teaching endeavors, happy to do things like "a standup routine about how to engage your pelvis and abdominals."
Looking ahead, Harpootlian says she has a lot more choreography "jangling around in my head and trying to get out." She also believes that the dance industry needs more compassionate leaders, and she's making it a priority to become one. As she continues to work behind the scenes, her goal is to "create a warm, safe, and real environment for dancers."
A version of this story appeared in the May/June 2018 issue of Dance Spirit with the title "Kate The Great."