Glamorous Titania in George Balanchine's A Midsummer Night's Dream. The imperious principal woman in Balanchine's Agon. These are the types of juicy, career-making roles veteran dancers aspire to—but a 19-year-old in New York City Ballet's corps has already put her distinctive stamp on both of them.
---
Meet Miriam Miller. Though the luxuriously leggy, quietly magnetic dancer only became a full NYCB company member this past January, she's already set the ballet world buzzing with her authoritative portrayals of those two principal parts. One night, she's earning ovations at center stage; the next, she's hanging out in the corps' back row. It's a fairy-tale story, the kind that, if her life were a movie, would end with Miller as the company's Next Big Thing. But this is the real world, and while Miller may be on the path to stardom, she isn't racing down it. Instead, she's steadily and thoughtfully exploring the many facets of her artistry—trying, like most teenagers, to figure out exactly who she is
From Iowa City to the Big City
Miller grew up in Iowa City, IA, which isn't exactly a dance hotspot. "As a kid, I definitely didn't know what NYCB was," she says. "I didn't know much about the dance world at all." But when Miller turned 3, her mother put her in dance classes at the University of Iowa Dance Forum (now called The University of Iowa Youth Ballet and School of Dance). Though Miller also tried out "pretty much every sport, from soccer to softball to basketball to tennis," it was ballet that stuck.
When Miller was 11, then–Dance Forum co-director Sarah Barragán—who is both an alum of the School of American Ballet, NYCB's official school, and a certified teacher of American Ballet Theatre's National Training Curriculum—founded her own studio. Miller followed Barragán there, and began taking her ballet training more seriously, learning NYCB's Balanchine technique and ABT's more generalist style simultaneously. "I felt a real connection to Balanchine," Miller remembers. "It seemed to have fewer limitations. It gives you plenty of space for expansion and play."
As a young teen, Miller spent two summers at SAB's NYC home, falling even more deeply in love with the Balanchine style. At 15, she enrolled at SAB full-time, and immediately caught the attention of Kay Mazzo, the school's co-chairman of faculty. "Right off the bat you notice Miriam, because she's so beautiful—her line just goes on and on," Mazzo says. "But you need more than that to make people keep watching you, and she has that capacity. It's a kind of authoritative calmness. The statement she makes is not 'Look at me!' but, rather, 'Here I am.' " Miller improved rapidly at SAB, and took advantage of every opportunity to see NYCB in performance. "During that period, watching the company in its element, I realized NYCB was where I wanted to be," she says. "I loved that every one of its dancers was an individual." At 18, she got her wish, earning an apprentice contract with the company.
A Dream Come True
Just a few months into her apprenticeship, Miller had a major surprise: Her name popped up on the Midsummer Night's Dream cast list as Titania, Queen of the Fairies. "I'd never even seen Midsummer, so I actually wasn't sure what the part was!" she remembers. "I was looking up YouTube videos of [NYCB principal] Maria Kowroski dancing Titania, like 'For real? This is going to be me?' " NYCB artistic director Peter Martins, however, had zero doubts about Miller's readiness. "One important aspect of my job is to identify extraordinary talent," he says. "With Miriam, it was a no-brainer." And Titania is a role well suited to Miller's personality. "I'm very waltz-y and dance-y, and naturally more flirty and sweet, which is all part of being Titania," she says.
Still, Miller's poised, natural, remarkably grown-up take on the Fairy Queen surprised critics and coaches alike. "The whole artistic staff was blown away by the maturity of her interpretation," says former NYCB principal Jonathan Stafford, who helped prepare Miller for the role. "We saw her let go onstage, allowing her instincts to take over instead of copying some other ballerina's way of dancing. She was never 'acting' acting. It was completely unforced, completely un-campy." Legendary NYCB star Darci Kistler—who was known for her elegant Titania and is one of Miller's role models—even brought Miller congratulatory flowers from her own garden. Less than a year into company life, Miller was living the dream.
Analyzing Agon
After the rush of Midsummer, Miller went back to apprentice business as usual during the company's fall 2015 season, dancing a wide variety of corps parts. "I did feel a little added pressure after Titania," she says. "But because I was just an apprentice, I think people gave me more leeway. I was still only 18, and still so new to the company. I was happy to be in the background again, absorbing everything."
She finally earned her corps contract in January 2016. Around the same time, she got her second major break: two performances as the principal woman in Balanchine's high-wire act of a leotard ballet, Agon, which is set to a complex score by Igor Stravinsky. "Agon had been one of my dream ballets ever since I first saw it as a student. Its energy is electric," Miller says. "But I never thought I'd dance it so soon, because it's incredibly difficult and completely exposed, with a spikiness that's honestly uncomfortable for me. My way of dancing is to sort of 'sing' to the music, which you can't do with Stravinsky."
Miller looked for a way to bring her natural lyricism into the part—and found her answer in footage of Diana Adams, who danced the principal woman when the ballet premiered in 1957. "Today, Agon is very acrobatic and confrontational," Miller says. "But when Diana Adams danced it, she was a little—not softer, but less aggressive. That was my way into the role."
Miller's Agon debut wasn't as confident as her Titania triumph; the intricacies of the ballet's partnering occasionally eluded her. But she loved every second of the experiment. "I'd come offstage completely buzzed!" she says, laughing. "It was a totally different thrill than the one I got doing Titania—pure adrenaline. I knew it wasn't perfect, but that's exciting, too. Hopefully, I can mature into the part down the road."
Corps Star
Despite her heady Midsummer and Agon experiences—she got a second crack at Titania in May—these days Miller still spends most of her time in the corps' traditional tall-girl spot: the back row. And she's more than OK with that. "Someday I'd love to be a principal dancer, but as long as I'm healthy and dancing, I'm happy," she says. She also finds endless inspiration in her fellow corps dancers. "Of course I admire the principals, but my role model is the entire corps," she says. "They work so, so hard; they look amazing in class every day. Watching them grow, and seeing how that work translates onstage, constantly pushes me to be better."
Beyond NYCB, Miller has done a video campaign for fashion brand Max Mara, and recently signed with the Wilhelmina modeling agency. But while modeling sounds like a super-glamorous side job, she's not interested in anything that'll keep her away from the studio too long. "I haven't really done a lot of modeling, because they always want me on set from 10 am to 6 pm, and that's not happening," she says. "It's not my passion."
Plus, she insists, she'd rather spend her downtime doing normal-girl stuff. "After a crazy day of dancing, my favorite thing to do is zone out in front of Netflix," she says. She also has to budget in some homework time: She's taking courses at Fordham University on Monday nights. "I really enjoyed a social science class I took on adult and adolescent behavior," she says. "I think eventually I'd like to do something in the psychology field."
In the meantime, it's a safe bet that there are more big dance opportunities coming Miller's way—and a safe bet that she'll handle them gracefully. "The impressive thing about Miriam is how well she's dealt with everything that's been thrown at her," Stafford says. "That sort of instant success, where you're given a lot right at the beginning, can be hard to navigate. But she's wonderfully calm under pressure. Nothing intimidates her."
Fast Facts
Birthday: November 13, 1996
Favorite music: "I get obsessed with different genres periodically. For a while it was rap—I used to be in love with Kid Cudi and Kanye West and Drake. But now I'm more into the indie scene, Ellie Goulding and Hozier and The Weeknd."
Must-see TV shows: "I like the freaky, creepy shows: 'Criminal Minds,' 'Dexter,' 'Bates Motel.' "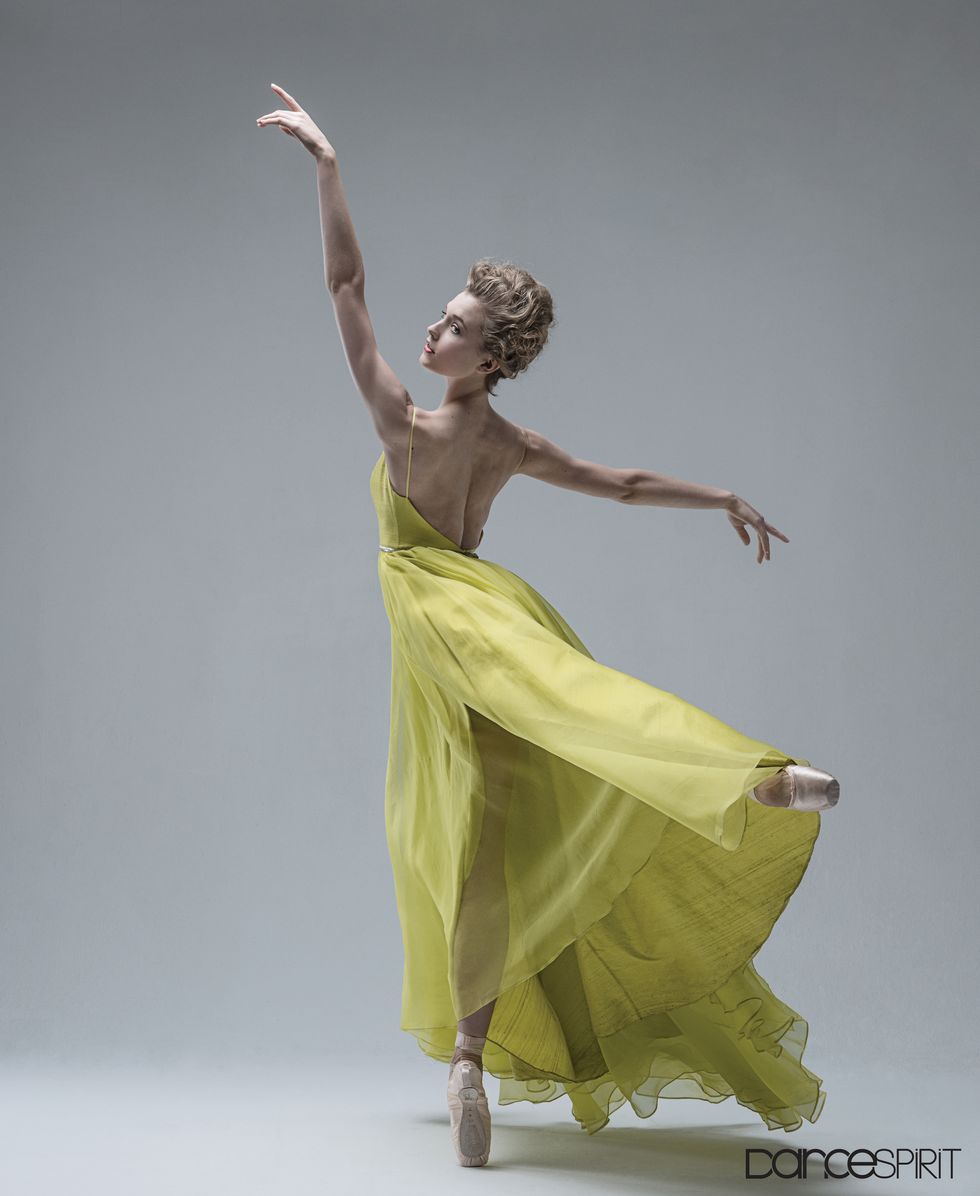 Lucas Chilczuk
Best friend: "Kaitlyn Casey, who was at SAB with me. I've never been closer to anyone,
so it was hard when she moved to Germany to join the Dresden Semperoper Ballett last year. But even though she's living on the other side of the world, she's still my bestie."
Weirdest thing in her dance bag: "I went to Turkey with my family a little while ago and brought home two 'evil eye' charms that are supposed to be good luck. They seem to be working—everything's gone pretty well since that trip!"
Celebrity doppelganger: "Maybe Karlie Kloss, the model. People say I look like her, and she did ballet, which is cool."
Dance crush: "Is it weird if I say someone in the company? I think probably Alec [Knight], who's a corps dancer. He's this beautiful, tall, blond Australian boy."
Favorite costume: "My Symphony in C tutu. It's brilliant white and covered in Swarovski crystals—the most ballerina-y tutu of all time."
Dream role: Odette/Odile in Swan Lake
Hidden talent: "I don't think I have one! I can't sing. I can't draw. I guess cooking? I definitely enjoy cooking, at least. I'm getting good at making dinner out of the random things that end up in my cabinet."
Three words that describe her as a dancer: "Flowy, soft, elongated"
Three words that describe her as a person: "Calm, collected, genuine"


Miriam's Tall-Girl Advice
At 5'9", Miller's one long-limbed lady—and she's never seen that as a disadvantage. "If you're tall, own it!" she says. "Don't be shy, because a tall dancer who moves small is the worst. Yes, you'll have to work a little harder to get your legs up and move quickly. But do Pilates, do cross-training—find the tools you need to dance as big as you can. Then you'll find that your height is an asset, not a liability."