Tap
Mar. 23, 2017 03:11PM EST
The Scoop on Sand Dancing, Tap's Cousin
Melinda Sullivan's Gone (Steve Gunther Photography, courtesy Sullivan)
Five women in leather-soled boots sweep their feet across a sand-covered stage, accenting the music in maraca-like rhythms. With its chugs, brushes, heel drops and slides, their movement looks a lot like tap dancing, but the sound is different—scratchier and rougher. This is sand dance. The scene described is from tap dancer/choreographer Melinda Sullivan's 2012 video entry to the Capezio A.C.E. Awards, Gone. (She went on to win first place at the competition.) "Experimenting with sand dancing really changed the way I tap," Sullivan says. "It's like playing a whole new instrument." Interested in giving sand dance a try? Before turning your dance studio into a private beach, read on for the need-to-know on this sub-style.
---
What is it?
"Sand dancing is tapping on sand, but your approach to the floor is completely different," Sullivan says. Whereas much of tap choreography emphasizes distinct, crisp hits, sand dancing is more about sweeping, rubbing motions; the feet tend to spend more time on the floor. "Shuffles, flaps, slides, chugs and pull-backs work really well with sand," adds L.A. tapper Kenji Igus, who was featured in Cari Ann Shim Sham*'s 2011 documentary SAND.
Traditionally, sand dance is a soft-shoe style, which means it's performed without tap shoes. "The term 'soft-shoe' can be somewhat misleading," Sullivan says. "We're actually dancing in hard-soled leather boots." Even though it isn't necessarily traditional, Igus will sometimes use his tap shoes on sand. "In a noisy theater, taps can amplify the sounds and keep them from getting lost or muffled," he says.
Tapper Kenji Igus dancing on sand (Visionarrie Photography, courtesy Igus)
Where did it come from?

If you've never heard of sand dancing before, you're not alone. "I like to think of it as the forgotten sibling of tap," Igus says. Like tap, sand dancing is a distinctly American style, tracing its roots back to African slave communication. But sand dancing was never really codified, and its lineage is much more difficult to trace. "Most people associate sand dancing with Howard 'Sandman' Sims, from the '50s and '60s," Igus says. "He wasn't the first sand dancer, but his regular performances at the Apollo Theater in Harlem really helped popularize the style."
Who's doing it today?
Sand dance has remained primarily a street style. Igus learned it from his father, Darrow Igus, who learned it from a New Jersey projects street performer named "T" back in the '60s. "Melinda Sullivan is the only choreographer I've seen use sand onstage," he says. "But I've seen it on the streets of New Orleans." Sullivan was first exposed to the style in a class setting, with master sand dancer Guillem Alonso, of Barcelona, Spain. "I was hooked," she says. "I started looking up YouTube videos of Guillem, and experimenting with the form." She notes that other prominent tap choreographers are also using sand. "Michelle Dorrance has done some really cool stuff with it, and the Syncopated Ladies' 2014 video to Katy Perry's 'Roar' was all about sand dancing with a modern edge," Sullivan says.
How do I get started?
It's tough to find a class that specializes in sand dancing, for obvious reasons. "In the ideal world, I'd dump sand all over the studio," Sullivan says. "But that isn't exactly practical."
But you can still try it on your own. Both Igus and Sullivan stress that the best way to learn is to experiment with your own body, using the tap vocabulary you already know. Sullivan likes to layer in elements from other techniques, like jazz, contemporary or hip hop. "The first step is just to take your toe and rub it in the sand," Igus says. "Then start feeling it out and let your mind run wild."
Music tips
Because the sounds of sand dancing are much quieter than taps, picking the right music can be tough. But dancing a cappella is always an option. "Sand dancing is a sound that most audiences haven't heard before," says L.A. tapper Kenji Igus. "So hearing it on its own can be really captivating for them." Tapper and choreographer Melinda Sullivan agrees: "A cappella sand dance can be complete magic," she says. —MM
You can never go wrong with a classic black leotard. Discount Dance's long-sleeve mesh leo will add a sleek edge to your studio style. Pair it with tights and a skirt for ballet class, or layer some leggings and sweats for contemporary class. Enter below for your chance to win it!
Keep reading...
Show less
via @kyle_vanny on Instagram competing on World Of Dance
Kyle Van Newkirk is a tap dancer you probably remember from the premiere season of NBC's World of Dance. In case you missed it, he is also one of Showstopper's incredible convention teachers. What makes Kyle stand apart from some of today's other incredible tappers? He isn't afraid to change what tap means to his audience and even himself. This modern view of tap dancing is important because it shows us that tap dancers are just as versatile and dynamic as dancers of any other genre. We sat down with Kyle to get his advice on bringing tap dancing into the 21st century.
Keep reading...
Show less
What did I just hear you say? You think all dancers are weak and delicate? PLEASE SAUT DE CHAT OUT OF MY LIFE. (Giphy)
Sure, dancers definitely have some unique identifying characteristics. (We're all obsessed with Center Stage? FACT.) But we're also subjected to all kinds of annoying, inaccurate stereotyping. Here are 10 dancer stereotypes that we never want to hear again.
Keep reading...
Show less
University of Minnesota Dance Team (courtesy University of Minnesota)
They say there's no "I" in "team"—and nowhere is that truer than the world of college dance teams, where precision reigns, uniformity is key, and a single misstep from any given "I" can cost a group a championship trophy. So it's unsurprising that securing a spot on one of the best dance teams in the country is no easy feat.
Members of these highly athletic teams rehearse for hours every week—on top of academic classes and commitments—and perform at football and basketball games, annual concerts, and nationally televised competitions (hi, ESPN). And "no I" rule notwithstanding, each of these top teams is made up of highly trained, highly technical, highly hard-core individuals, who come together to create a ready-for-victory pack.
These six teams aren't one-off success stories—they're consistently strong, and earn the top spots at major competitions like UDA and NDA nearly every year. Up for the challenge? Here's what to know before you go to auditions.
Keep reading...
Show less
Jenna Johnson and Adam Rippon competing during the "DWTS: Athletes" finale. (Photo by Kelsey McNeal, courtesy ABC)
Last night was both the best and the worst night of "Dancing with the Stars: Athletes." The best, because one lean, mean, dancing machine of a couple got to take home the Mirrorball trophy. The worst, because we won't be able to tune in to "DWTS" each Monday to get our weekly dose of dance mania until the fall. But all good things must come to an end, and "DWTS: Athletes" was certainly one of the best seasons yet. The remaining three couples all brought their A-games to the dance floor for the finale, showcasing two dances: a traditional ballroom routine and a freestyle. Here's the final recap.
Keep reading...
Show less
May. 16, 2018 02:26PM EST
Ema Peter
The Glorya Kaufman International Dance Center is the 54,000 square foot home of the USC Glorya Kaufman School of Dance, one of the largest facilities dedicated to dance on a private university campus. Designed for their innovative new curriculum, that supports a range of dance styles, the school's staff designated Harlequin to provide wall-to-wall flooring for the large 3,500 square foot Performance Studio as well as five dance studios in their new state-of-the-art building.
Keep reading...
Show less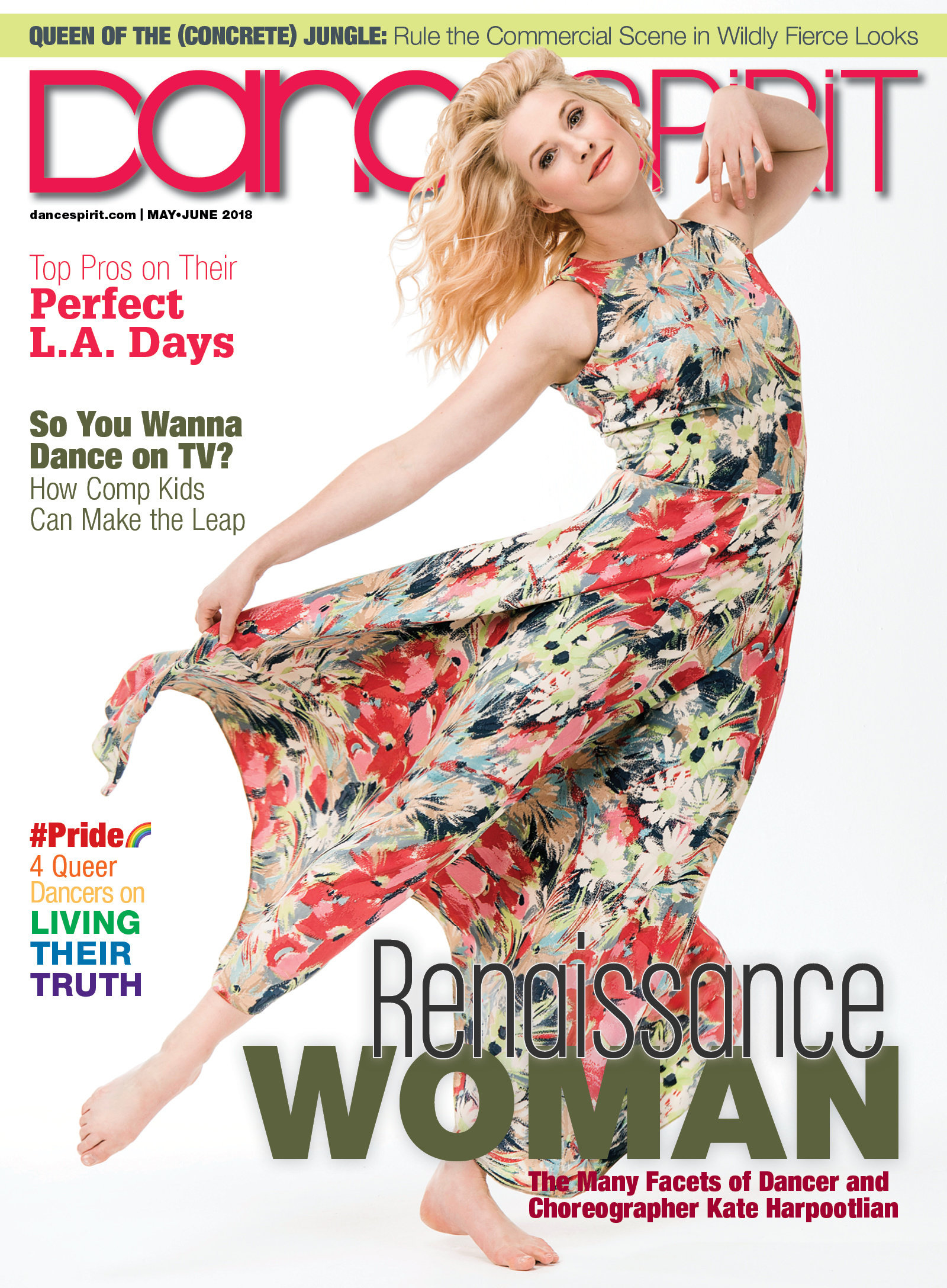 Get Dance Spirit in your inbox