Sep. 01, 2014 09:39PM EST
As a high school senior, Kathryn Van Yahres didn't think she wanted to go to college. She was serious about dancing professionally—and she'd heard that college dance programs were fallbacks for dancers not good enough to get jobs right out of high school. But after auditioning for colleges at her parents' insistence, she found herself surrounded by top-notch dancers at Point Park University. Now, as a newly minted graduate, she feels more prepared than ever to rock company auditions.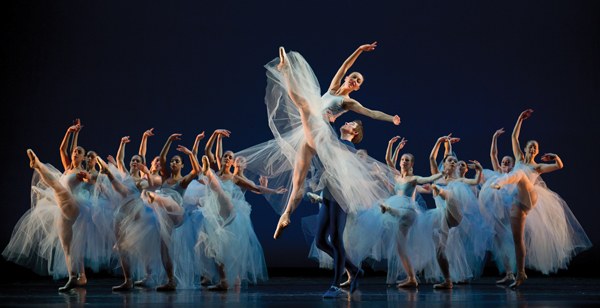 Kathryn Van Yahres and Alex Hathaway in George Balanchine's Serenade at Point Park University (photo by Jeff Swensen)
There are all kinds of myths about college—and even more rumors about what the experience is like for dancers. Having trouble telling fact from fiction? Here are six college myths, debunked.
Myth 1: College programs focus on modern dance, and modern dance alone.
"I think when we hear a program is 'modern-based,' everyone imagines rolling on the floor and never taking ballet," says Lee Buoy, a dance student at Marymount Manhattan College. "But it's really nothing like that." At MMC, for example, the program is both modern- and ballet-based. BFA students are expected to take ballet all four years, and much of the rep they dance requires a strong ballet background.
While many programs in the U.S. do focus on modern dance, more and more schools are specializing in other areas. "Butler University, Indiana University and our school are all known for their ballet programs," says Michael Tevlin, a dance professor at University of Cincinnati College-Conservatory of Music (CCM). Point Park, in Pittsburgh, PA, draws many former competition kids, and Oklahoma City University specializes in tap and musical theater dance. Utah Valley University even offers a degree in ballroom. There are all kinds of options out there.
Myth 2: You can't be on the dance team and in the dance department.
At many schools, you can—especially if you're super type-A and love keeping color-coded schedules. "We've had three dance majors perform on the dance team in the last three years," Tevlin says. "The sheer physicality of it is difficult, though." You may find yourself with a little stylistic whiplash after switching from bunhead to dance teamer and back again in the same day. But in most cases, as long as the organizations' schedules don't overlap, it can be done.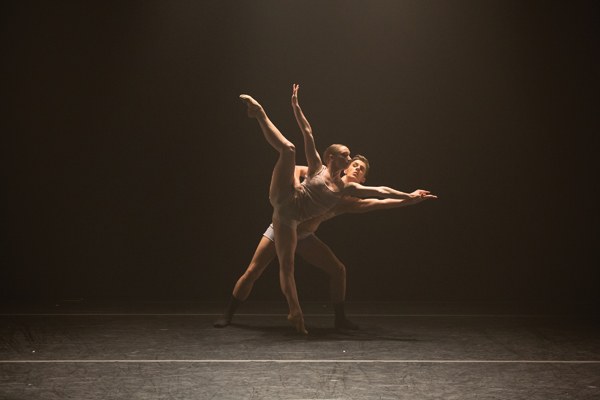 Shanna Irwin and Jarred Bosch in Dwight Rhoden's Hissy Fits at Marymount Manhattan College (photo by Rosalie O'Connor)
Myth 3: You'll gain the "freshman 15."
Some dancers do gain weight when they leave home, as they adjust to all-you-can-eat cafeterias and late-night snacking. But according to Tevlin, the problem is less pronounced now than it used to be. Cafeterias are stocking more healthy options, and students today are educated about nutrition. If you're smart and focused on fueling your body well, you shouldn't have a problem. In fact, Buoy found that he needed to eat more in college than he did before. "I actually lost weight my freshman year because I was dancing and rehearsing so much," he says.
Myth 4: College programs are a last resort for dancers who couldn't get company contracts after high school.
This rumor is beyond outdated. Today's companies require the kind of versatility and maturity you'll learn in a college program. "I would argue that most dancers aren't ready to go pro after high school," Buoy says.  "Go to company websites and read the dancers' bios—more and more of them include college degrees."
Myth 5: College means setting aside professional goals for four years.
While some schools used to advise dancers not to start professional careers until after graduation, today colleges are creating ways for students to experience professional life—and even earn college credit for it. "In their junior or senior year, students at CCM can intern with professional companies if they're offered trainee or company positions," Tevlin says. "We give them credits for the work, and whatever credits they aren't able to earn with the company they fulfill online."
At Point Park, Van Yahres took a leave of absence during her sophomore year to dance with Huntsville Ballet Company in Alabama. "The school was totally behind me taking the job," she says, "and gave me credit for all the hours I worked." She also took general education classes at a nearby community college. When she returned to Point Park the next year, she had grown as a dancer and was still on track to graduate on time.
There are other ways to kickstart your professional career in college, too. It's the perfect time to make connections that will be valuable down the road. "The professors and guest artists you work with are preparing you for great opportunities," says Sakina Ibrahim, who recently earned an MFA in dance from University of California, Irvine. "They can help set you on a career path." Buoy agrees."If you know which companies and choreographers you want to audition for after graduation, you can start taking their classes and workshops, doing their summer intensives and going to their shows," he says. "I know a dancer who did a company's intensive every summer and often took classes with them in her free time. When she graduated, she was given an apprenticeship."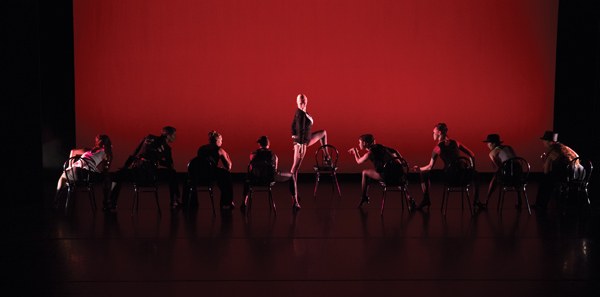 Marymount students in Al Blackstone's I Did Play the Part
(photo by Rosalie O'Connor)
Myth 6: A dance degree is pointless.
Actually, a dance degree tells people a lot of great things about you. It means you're disciplined, committed and performance-driven, and that you can pick up new skills quickly. Those are valued qualities in any profession. "Dancers are some of the smartest people on the planet," Buoy says. "We're problem solvers."
According to Tevlin, a dance degree can also work to your advantage if you decide to pursue a graduate degree—even if you're applying to law and medical programs. Dance backgrounds appeal to "schools that are really looking for diversity of background and experience," he says. A dance degree isn't a limitation, but a launching pad.
Apr. 19, 2019 03:37PM EST
Gabriel Figueredo in a variation from Raymonda. VAM Productions, Courtesy YAGP.
This week, over 1,000 young hopefuls gathered in New York City for the Youth America Grand Prix finals, giving them the chance to compete for scholarships and contracts to some of the world's top ballet schools and companies. Roughly 85 dancers made it to the final round at Lincoln Center's David H. Koch Theater on Wednesday. Today, the 20th anniversary of YAGP came to a close at the competition's awards ceremony. Read on to find out who won!

Dance News
Apr. 19, 2019 07:00AM EST
After a string of ballet-company rejections, Jennifer Sydor (here in Laura Peterson's "Failure") found success in other areas of the dance world. (Stephen Delas Heras, courtesy Jennifer Sydor)
In her senior year at Butler University, Jennifer Sydor auditioned for more than a dozen regional ballet companies—and got a string of "no, thank you" responses. "I have an athletic build, and my movement quality isn't the typical ballet aesthetic," Sydor says. "But I'd been laser-focused on ballet. When I didn't get a ballet contract, I was heartbroken."
Her one job offer came from Kim Robards Dance, a small modern company based in Aurora, CO. After attending KRD's summer intensive, Sydor ended up accepting a yearlong position with the troupe. "I was relieved and happy to begin my career," she says. She's been working as a contemporary dancer ever since.
In the dance world, rejection is part of the package. That doesn't make it any more pleasant. But whether you didn't get the Nutcracker role of your dreams or you weren't picked for a job despite feeling like you aced the audition, you can emerge from even the most gut-wrenching "no" smarter and stronger.
Mind
Apr. 18, 2019 07:13PM EST
Ballet West principal Beckanne Sisk as Kitri (Luke Isley, courtesy Ballet West)
Guess who's baaaaack?! Your resident Dance Spirit astrologers! And on the eve of the Youth America Grand Prix awards ceremony, we thought it was the perfect time to pair each zodiac sign with a variation commonly seen during the competition. After many painstaking hours spent researching, consulting the stars, and staring wistfully into the sky, we compiled our data and present you with the definitive list of each star sign as a YAGP variation! As we said last time, don't @ us if you're not happy with your pairing—the stars don't lie, baby!
Dancer to Dancer