Just like its namesake movie, the Broadway version of Frozen has warmed audiences' hearts. And the show's elaborate costumes, designed by Christopher Oram, are as crucial to its appeal as its addictive tunes and elegant dancing. The ensemble wardrobe closet features everything from blizzard-worthy winter wear to stunning ball gowns to the troll-like gear worn by the Hidden Folk of the Mountains. So who's responsible for keeping all those outfits in tip-top shape? And what's it really like to wear six different costumes a night? We followed Frozen's wardrobe supervisor Jessica Dermody, dancer Nina Lafarga, and dresser Katrina Newman around backstage as they prepared for a performance.
---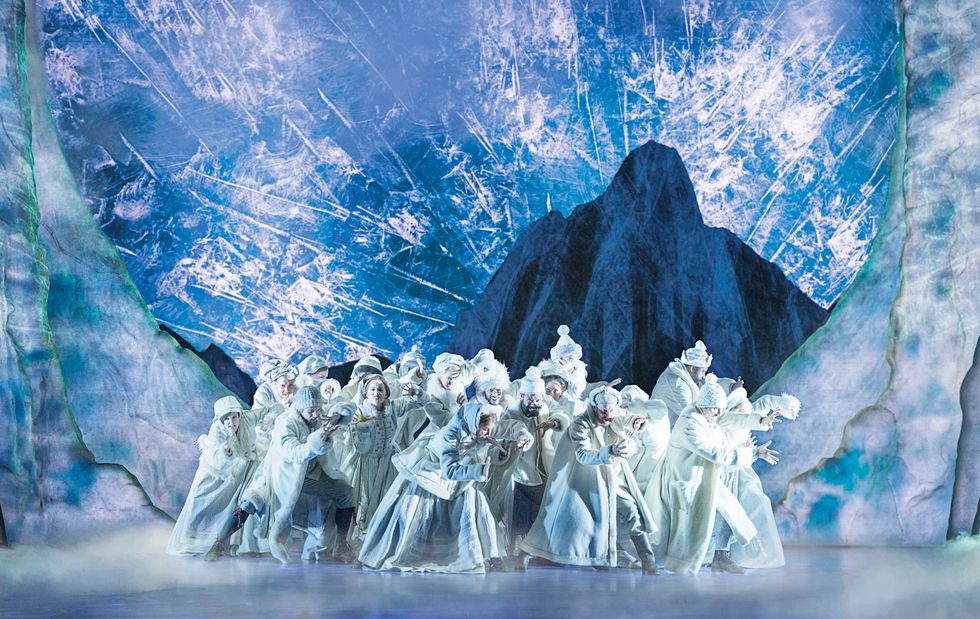 The company of "Frozen" on Broadway (photo by Deen Van Meer, courtesy Disney)
At the beginning of a production, the wardrobe supervisor is responsible for making sure the costume designs will work for the show, which often involves tweaking pieces to make them more suitable for dance or movement. "For Frozen, all of the costumes are period things you wouldn't normally dance in, like giant ball gowns," Dermody says. And they're all made from authentic fabrics, like heavy wool and taffeta. "A lot of the tweaks were replacing buttons with zippers, hooks, snaps, or Velcro, or adding stretchy material to pants so they don't rip," she says.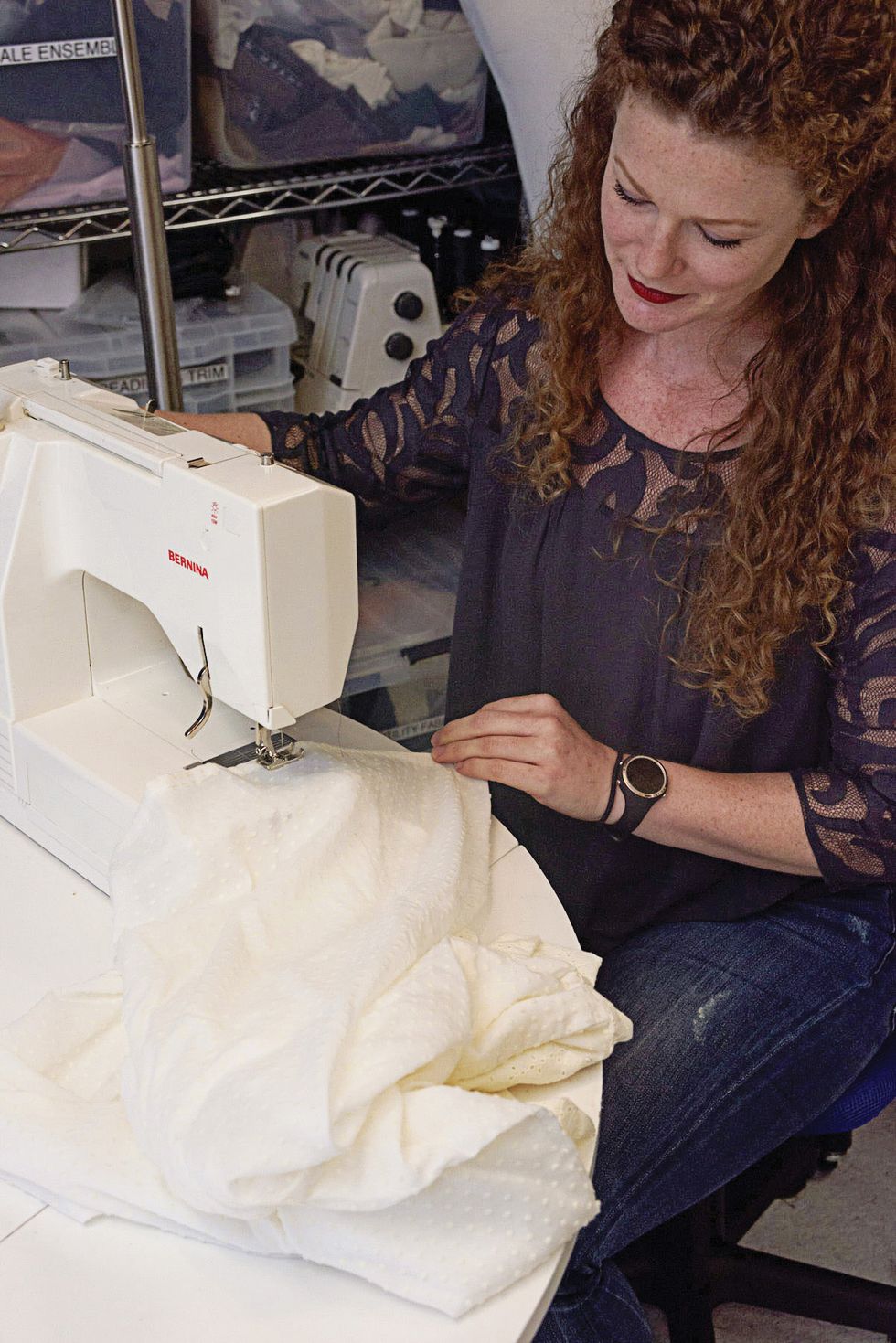 Dresser Katrina Newman making costume fixes (photo by Jim Lafferty)
There are over 300 total costumes in the show, and the cast does a total of 45 quick changes. The fastest one is .08 seconds.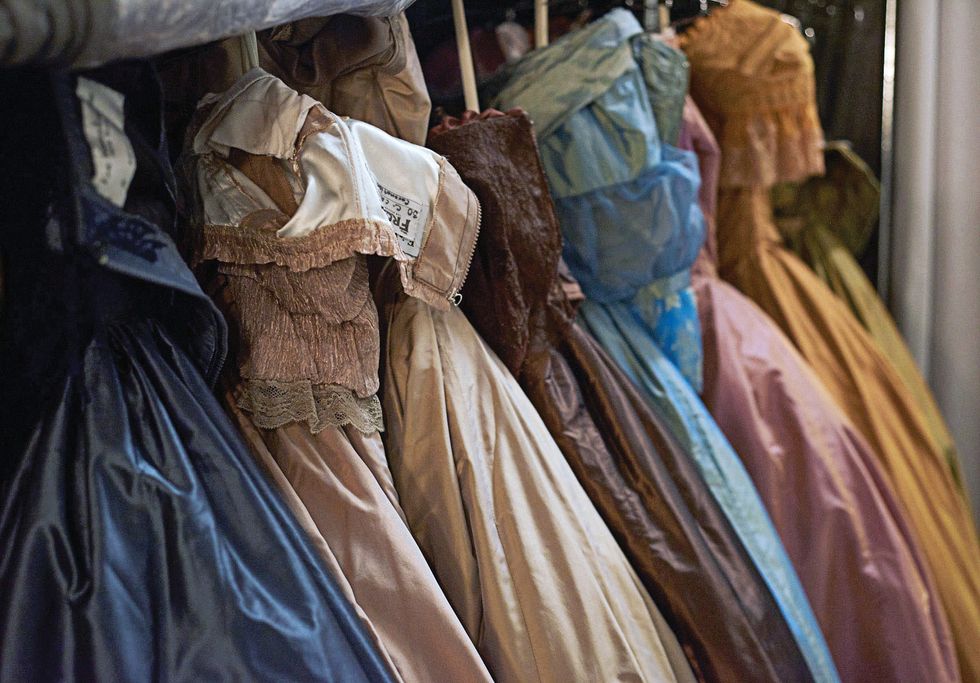 The women's coronation-ball gowns (photo by Lafferty)
The wardrobe-team call is always an hour before the actor call. They make sure all of the clothing is steamed, ironed, and looks nice for the show. Then, the dressers run through their preset duties, which includes making sure all costumes, shoes, and accessories are placed and ready to go for quick changes. "Our preset on this show is really extensive, since we have a lot of quick changes," Dermody says. "And because we don't have a lot of room on the stage level, costumes are tucked in little nooks all over backstage."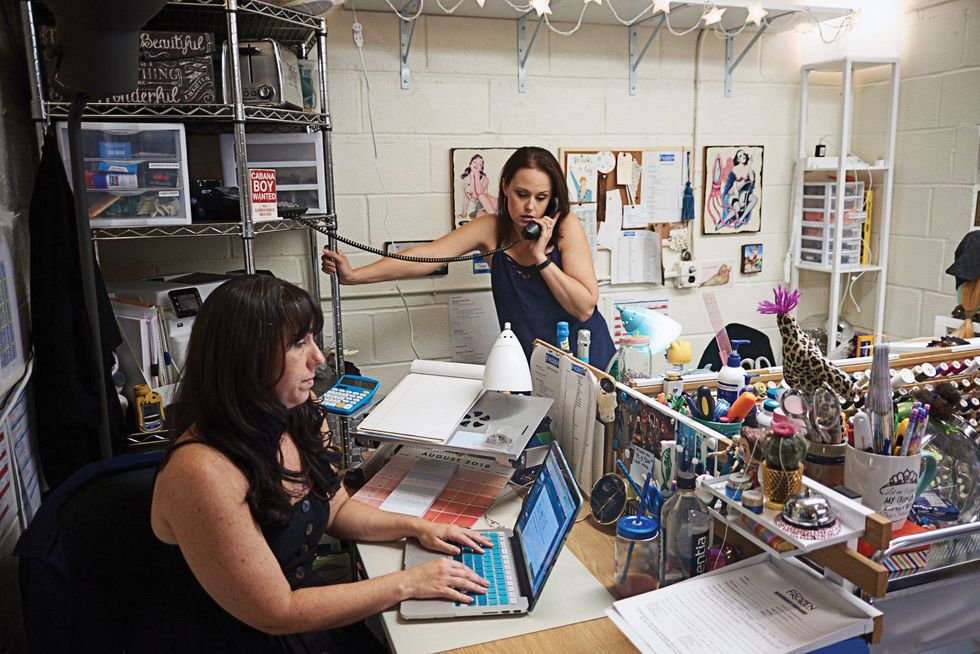 Wardrobe supervisor Jessica Dermody (left) and her assistant, Jamie Ramsden (photo by Lafferty)
Dressers have tracks just like the performers. Newman typically works on the female ensemble track, but is also a swing and can jump into the Anna and Elsa costume tracks as needed.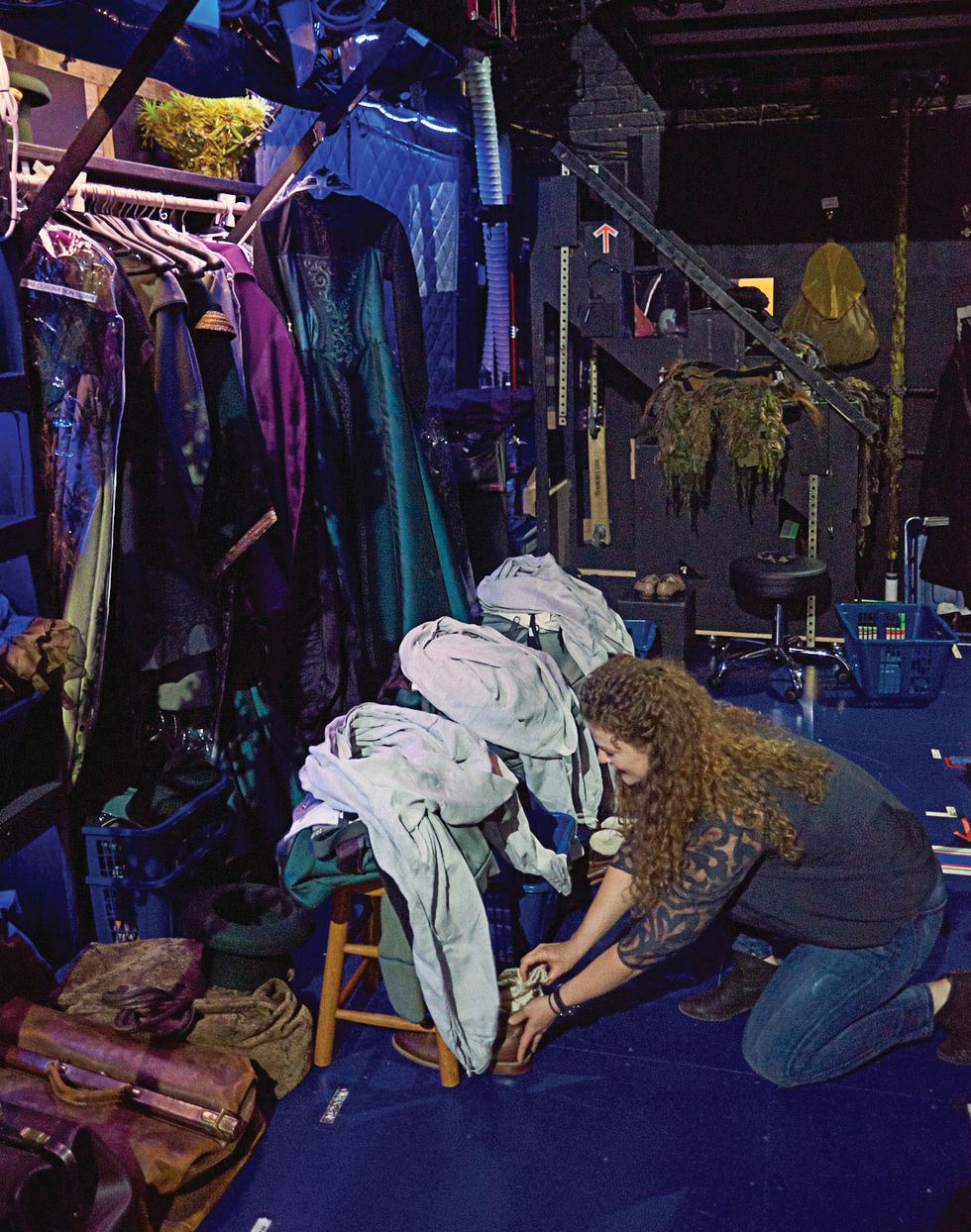 Newman presetting quick change costumes backstage before the show (photo by Lafferty)
Everything the dressers and dancers do backstage during changes is meticulously choreographed and runs the same way every night, even as new dressers and cast members swing in and out. "The formula is pretty similar for most quick changes," Newman says. "The dancer pulls off her shoes while I open up the current costume. Everything gets tossed into a discard basket. She steps into her shoes, which are usually inside a pooled dress, and I'll fasten one shoe while the dancer fastens the other. I'll help them pull the dress up and make the arm holes available to dive right into, then I'll do back closures while someone from the hair department deals with a wig or hat change."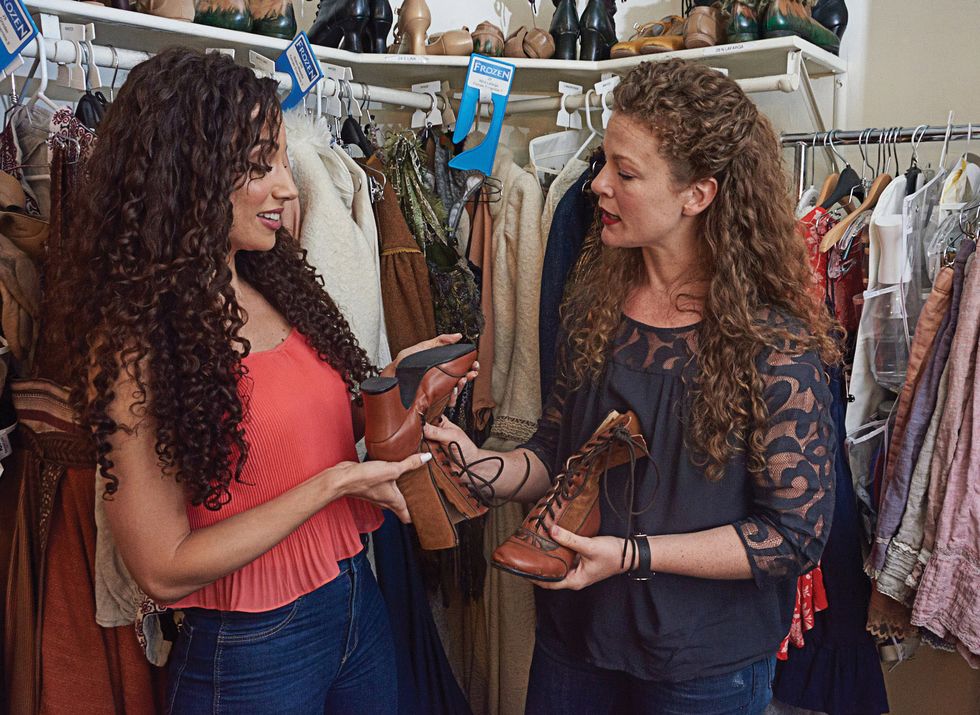 Dancer Nina Lafarga and Newman have a shoe call to discuss shoe maintenance (photo by Lafferty)
Newman and Lafarga have worked together since the show's out-of-town tryout in Denver, CO, in 2017. "We're definitely in a groove now," Lafarga says. "It becomes so second-nature you don't even have to think about it," Newman says. "I know exactly where the hooks are, and then you zip-snap-snap, and she's ready. We have nonvocal tapping signals that let the dancers know when they're all set to go back onstage." "There's a change in the second act where Katrina changes multiple dancers. She has my top, then she goes to the girl next to me and puts her skirt and shoes on, and then comes back to me and zips me up," Lafarga says.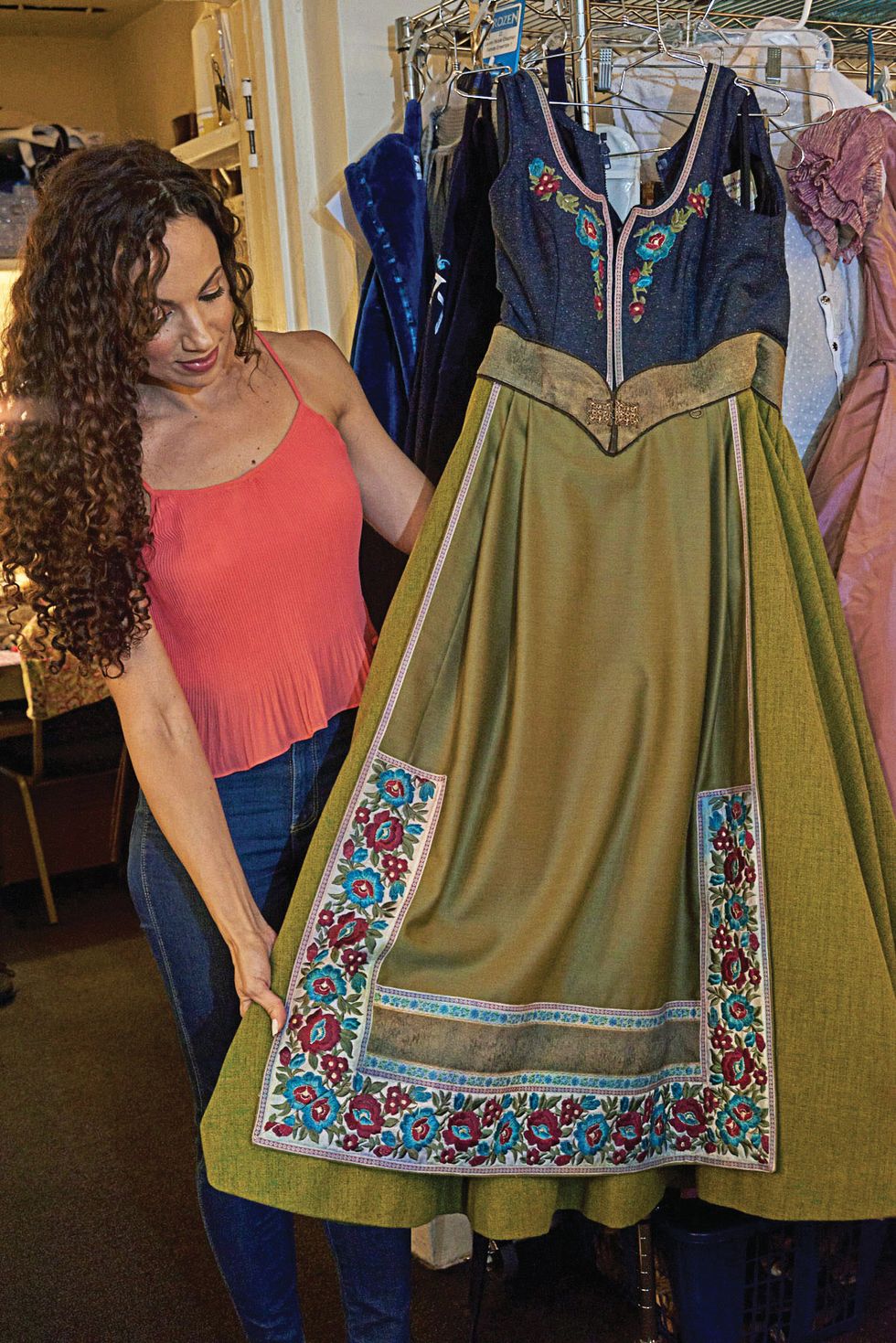 One of Lafarga's elaborate dresses (photo by Lafferty)
"Learning how to dance in all these beautiful and elaborate costumes was definitely an interesting transition," Lafarga says. "My townsperson dress is so heavy that kicks or chaîné turns required a lot more effort at first. And when we're wearing our coronation gowns we do so many lift sequences that took a lot of practice in costume."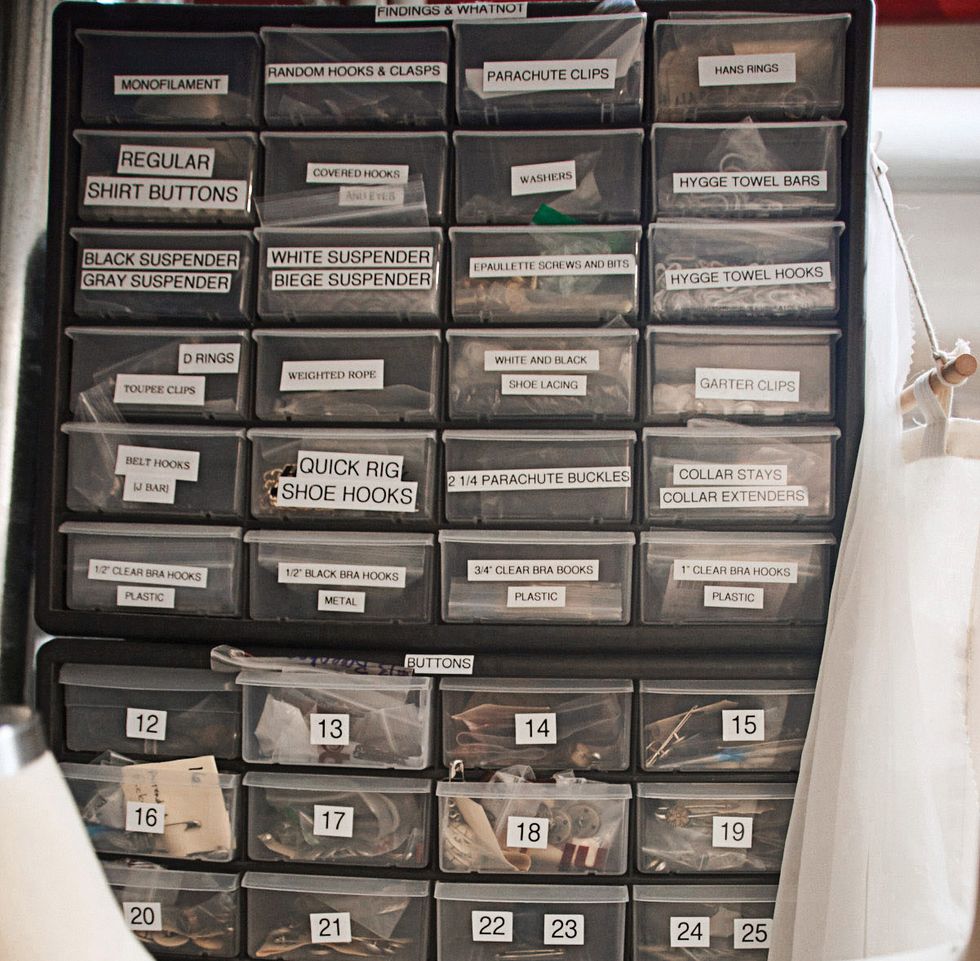 Every item backstage is labeled and organized (photo by Lafferty)
"Katrina saves me all the time," Lafarga says. "I often exit the dressing room and forget things like my mittens and she'll always notice and send me back in. It's amazing how much we truly work together. I honestly don't know what I would do without our dressers. I would probably go onstage with the wrong costume on."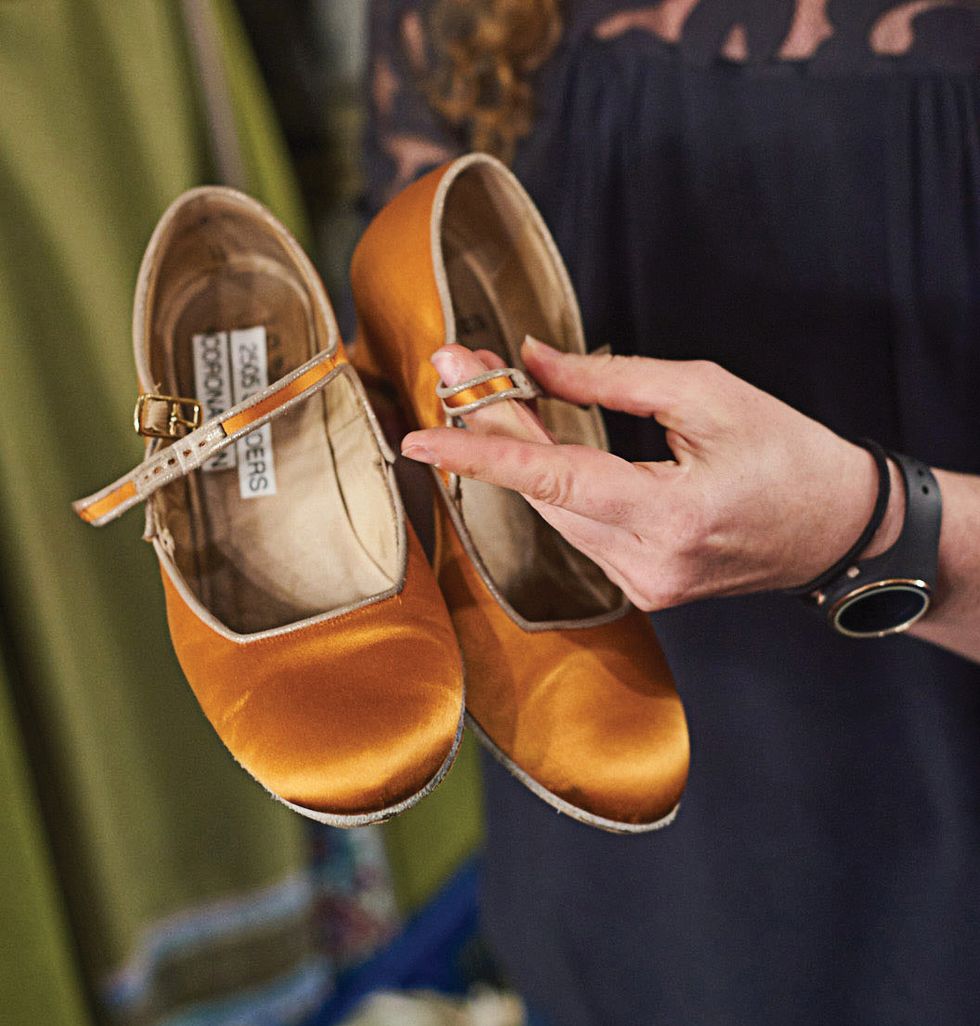 A pair of shoes worn by a dancer in the show (photo by lafferty)
The wardrobe team is also in charge of fixing any costume mishaps that happen during a performance—and there's usually at least one a day. "Heels fall off shoes, girls rip their ball gowns, zippers bust open…it's always something," says Dermody.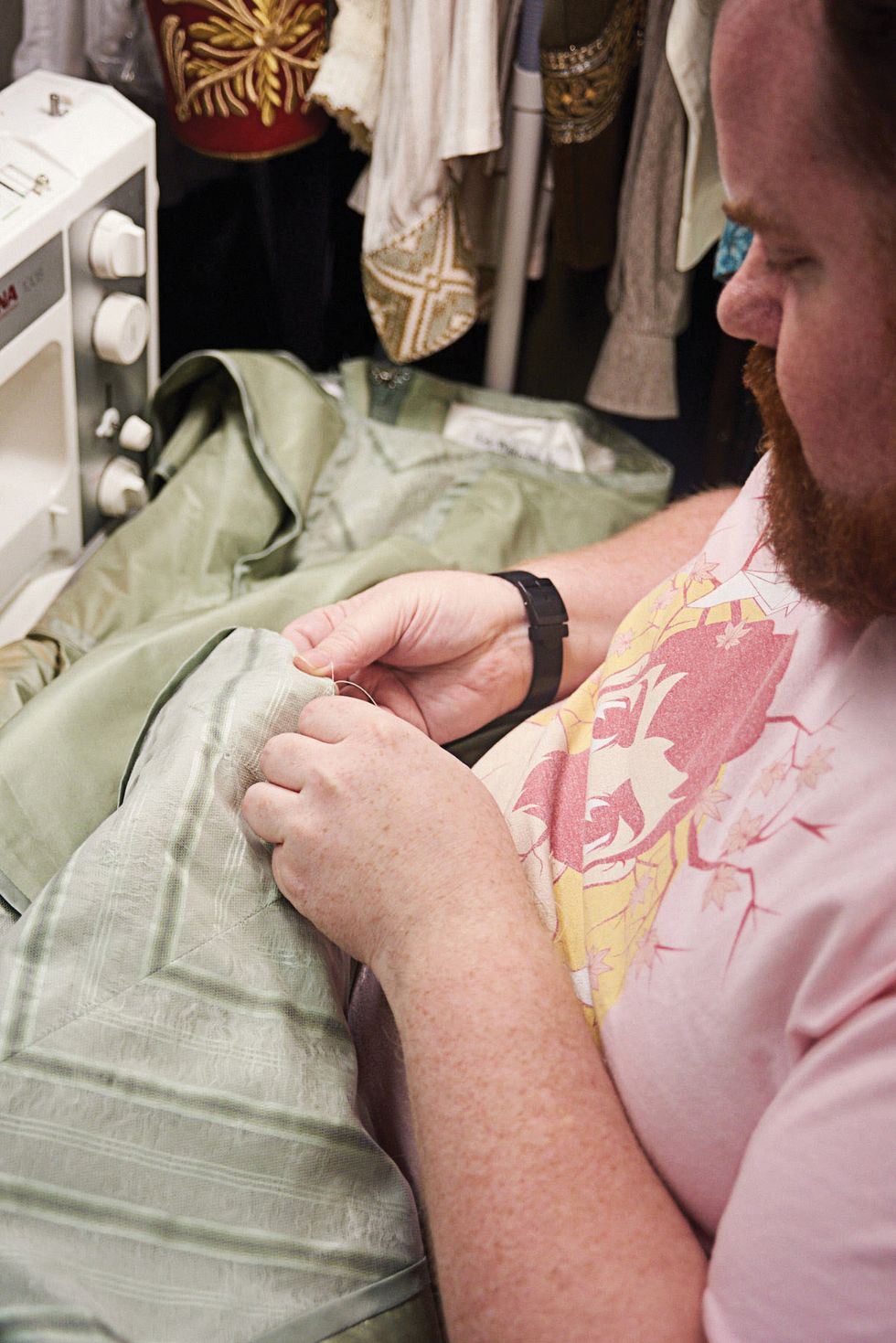 Stitcher Karl Ruckdeschel mending a costume before the show (photo by Lafferty)
"My craziest onstage costume mishap was when the skirt of my coronation gown almost completely ripped off from the bodice," says Lafarga. "Another dancer accidentally stepped on my skirt and I went up into a lift, so there was a huge hole at the waistline and the skirt was dragging on the floor."
"Every time she could come offstage, we would pin the dress a little more," Dermody says. "As soon as I was offstage and we had more time, they stitched me in properly," Lafarga says.
A version of this story appeared in the November 2018 issue of Dance Spirit with the title "Dressing Frozen on Broadway."