Peek Inside the Wardrobe Room of "Frozen" on Broadway
Dancer Nina Lafarga (center, left) and Caissie Levy (center) as Elsa in Frozen (photo by Deen Van Meer, courtesy Disney)
Just like its namesake movie, the Broadway version of Frozen has warmed audiences' hearts. And the show's elaborate costumes, designed by Christopher Oram, are as crucial to its appeal as its addictive tunes and elegant dancing. The ensemble wardrobe closet features everything from blizzard-worthy winter wear to stunning ball gowns to the troll-like gear worn by the Hidden Folk of the Mountains. So who's responsible for keeping all those outfits in tip-top shape? And what's it really like to wear six different costumes a night? We followed Frozen's wardrobe supervisor Jessica Dermody, dancer Nina Lafarga, and dresser Katrina Newman around backstage as they prepared for a performance.
---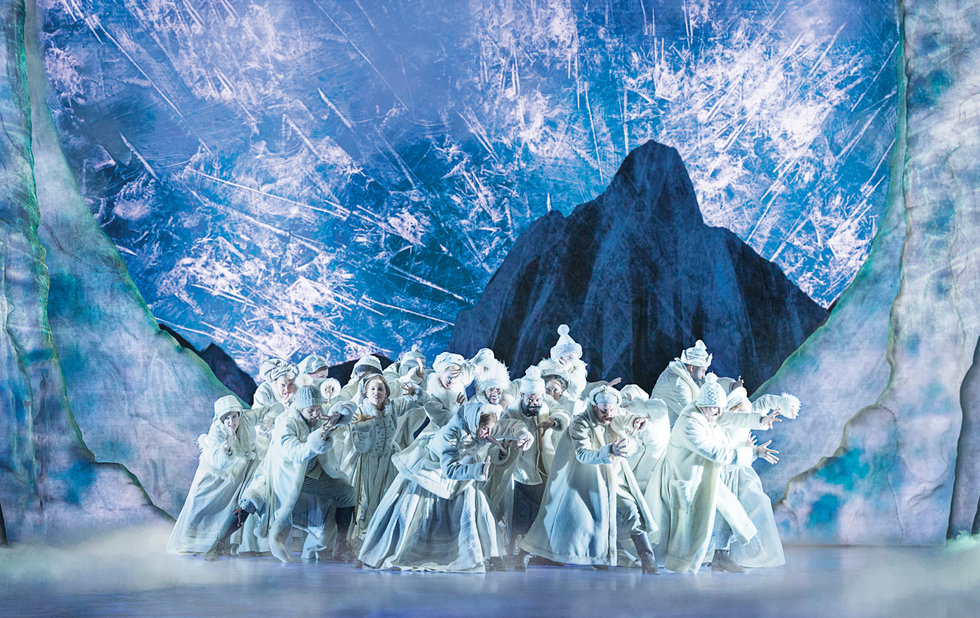 The company of "Frozen" on Broadway (photo by Deen Van Meer, courtesy Disney)
At the beginning of a production, the wardrobe supervisor is responsible for making sure the costume designs will work for the show, which often involves tweaking pieces to make them more suitable for dance or movement. "For Frozen, all of the costumes are period things you wouldn't normally dance in, like giant ball gowns," Dermody says. And they're all made from authentic fabrics, like heavy wool and taffeta. "A lot of the tweaks were replacing buttons with zippers, hooks, snaps, or Velcro, or adding stretchy material to pants so they don't rip," she says.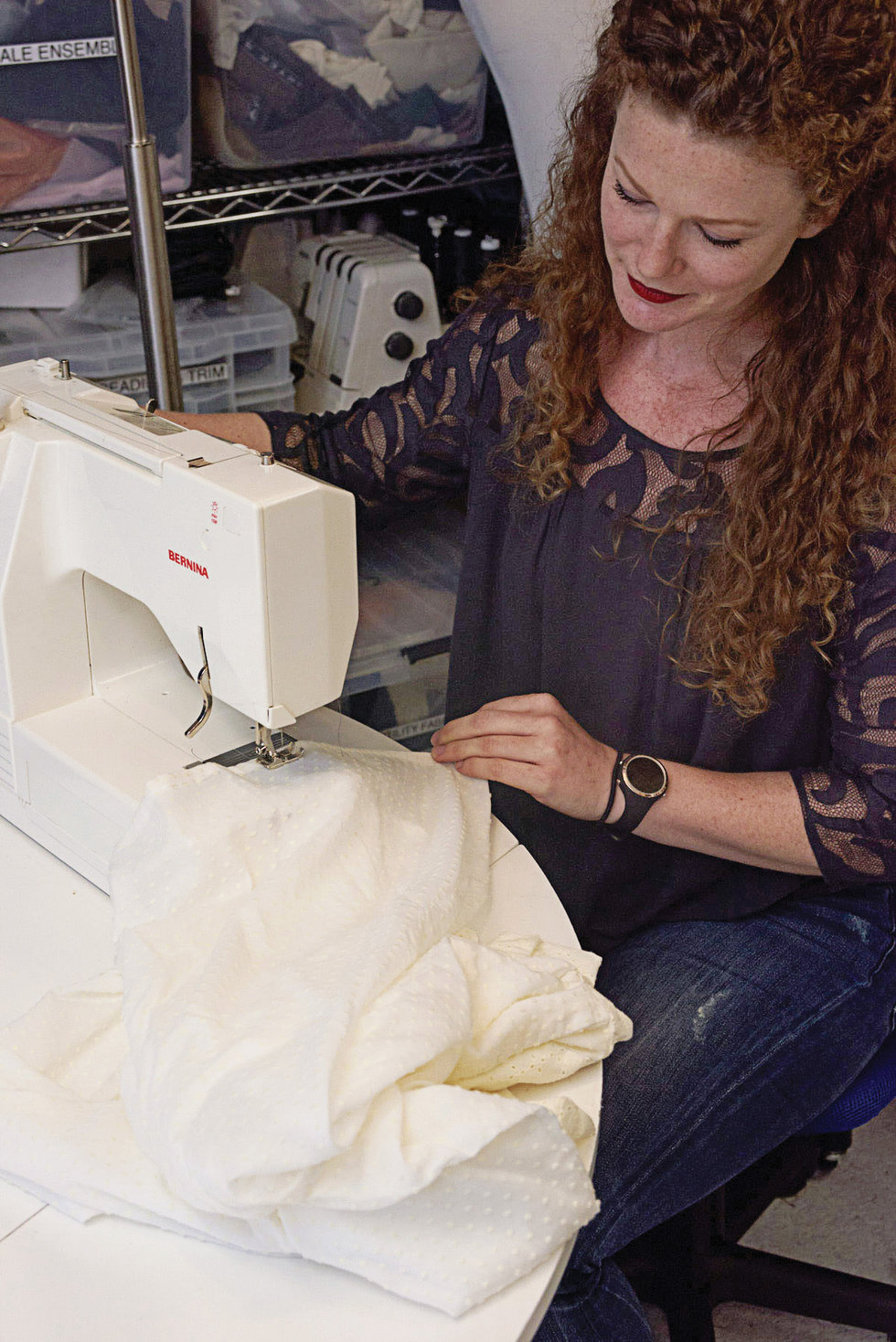 Dresser Katrina Newman making costume fixes (photo by Jim Lafferty)
There are over 300 total costumes in the show, and the cast does a total of 45 quick changes. The fastest one is .08 seconds.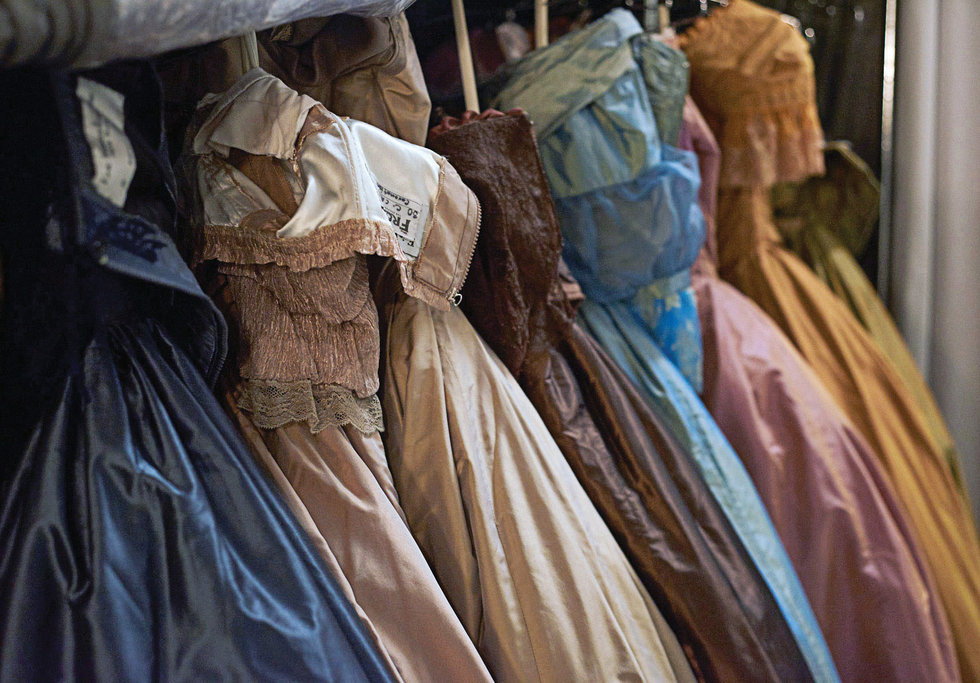 The women's coronation-ball gowns (photo by Lafferty)
The wardrobe-team call is always an hour before the actor call. They make sure all of the clothing is steamed, ironed, and looks nice for the show. Then, the dressers run through their preset duties, which includes making sure all costumes, shoes, and accessories are placed and ready to go for quick changes. "Our preset on this show is really extensive, since we have a lot of quick changes," Dermody says. "And because we don't have a lot of room on the stage level, costumes are tucked in little nooks all over backstage."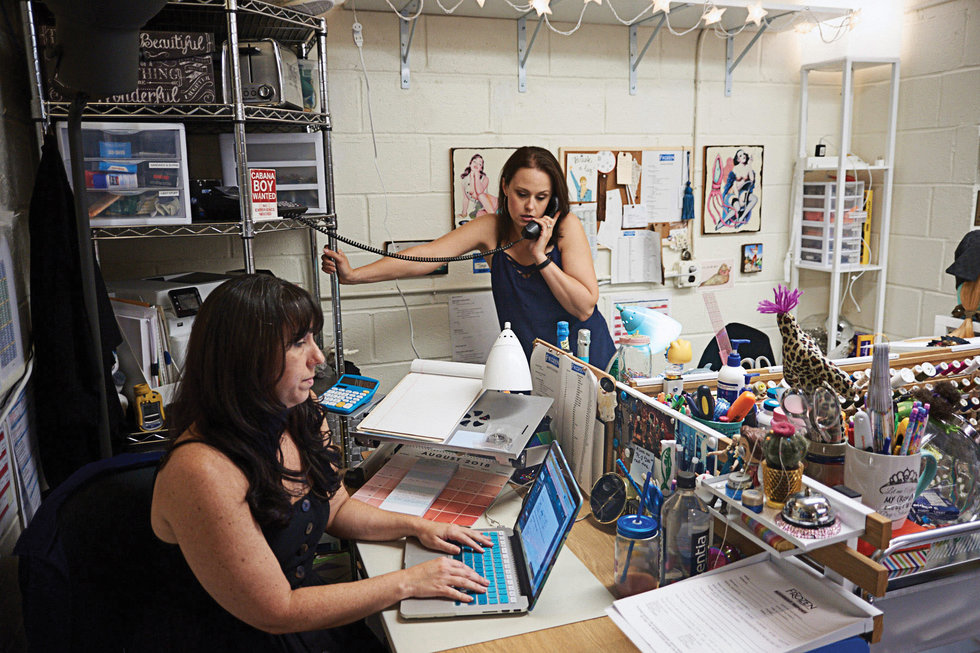 Wardrobe supervisor Jessica Dermody (left) and her assistant, Jamie Ramsden (photo by Lafferty)
Dressers have tracks just like the performers. Newman typically works on the female ensemble track, but is also a swing and can jump into the Anna and Elsa costume tracks as needed.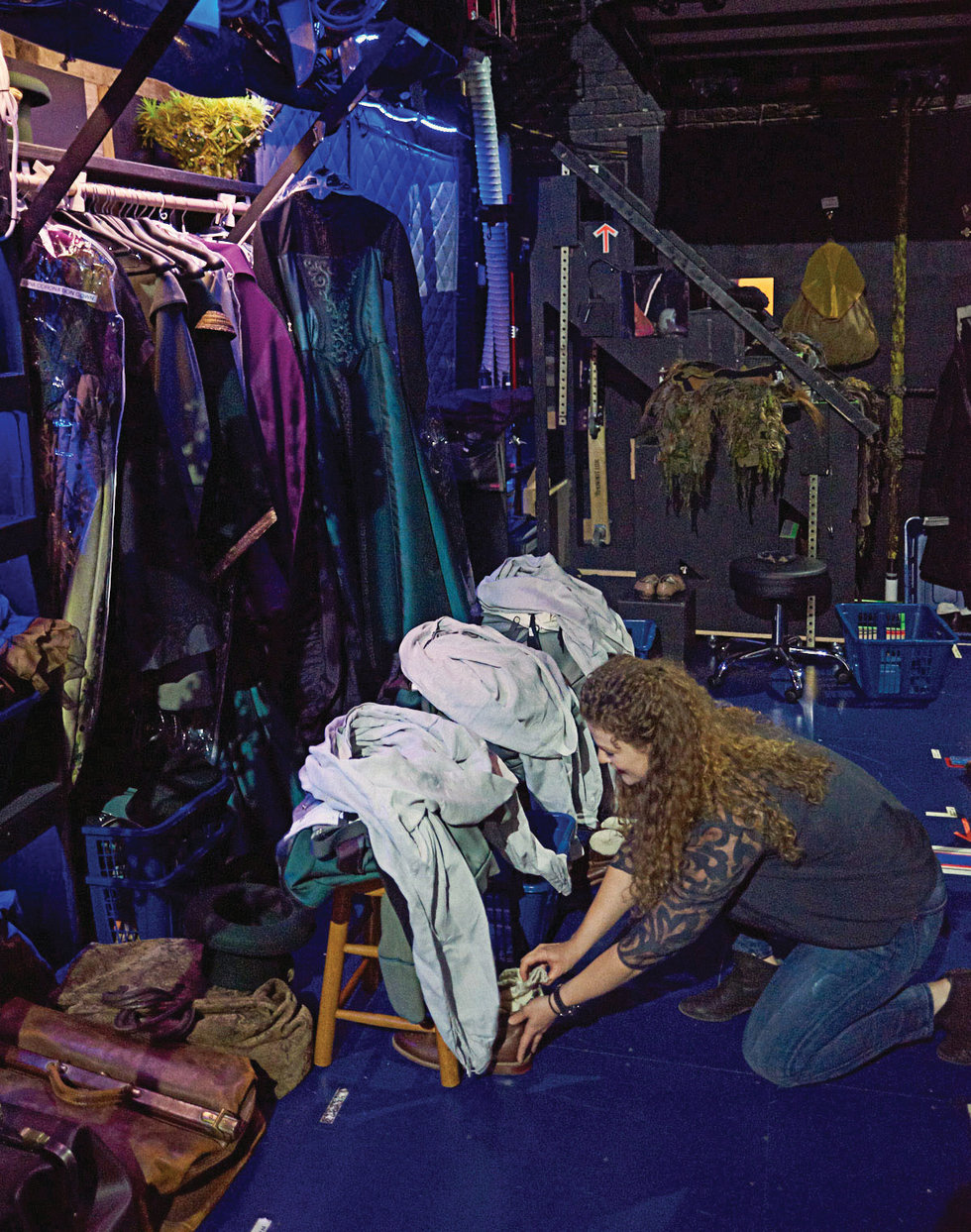 Newman presetting quick change costumes backstage before the show (photo by Lafferty)
Everything the dressers and dancers do backstage during changes is meticulously choreographed and runs the same way every night, even as new dressers and cast members swing in and out. "The formula is pretty similar for most quick changes," Newman says. "The dancer pulls off her shoes while I open up the current costume. Everything gets tossed into a discard basket. She steps into her shoes, which are usually inside a pooled dress, and I'll fasten one shoe while the dancer fastens the other. I'll help them pull the dress up and make the arm holes available to dive right into, then I'll do back closures while someone from the hair department deals with a wig or hat change."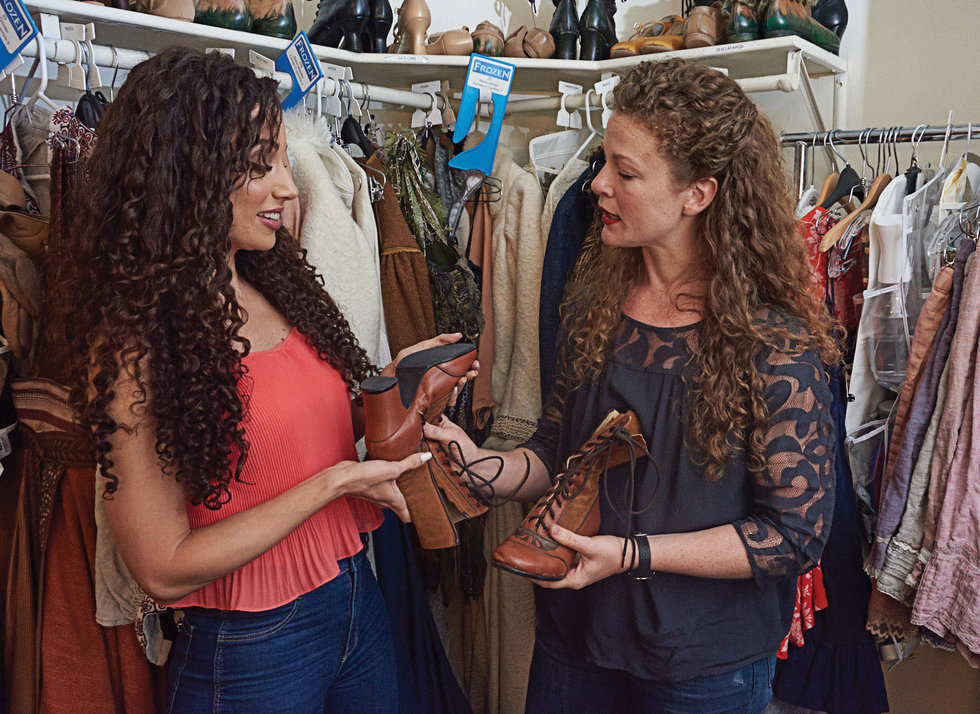 Dancer Nina Lafarga and Newman have a shoe call to discuss shoe maintenance (photo by Lafferty)
Newman and Lafarga have worked together since the show's out-of-town tryout in Denver, CO, in 2017. "We're definitely in a groove now," Lafarga says. "It becomes so second-nature you don't even have to think about it," Newman says. "I know exactly where the hooks are, and then you zip-snap-snap, and she's ready. We have nonvocal tapping signals that let the dancers know when they're all set to go back onstage." "There's a change in the second act where Katrina changes multiple dancers. She has my top, then she goes to the girl next to me and puts her skirt and shoes on, and then comes back to me and zips me up," Lafarga says.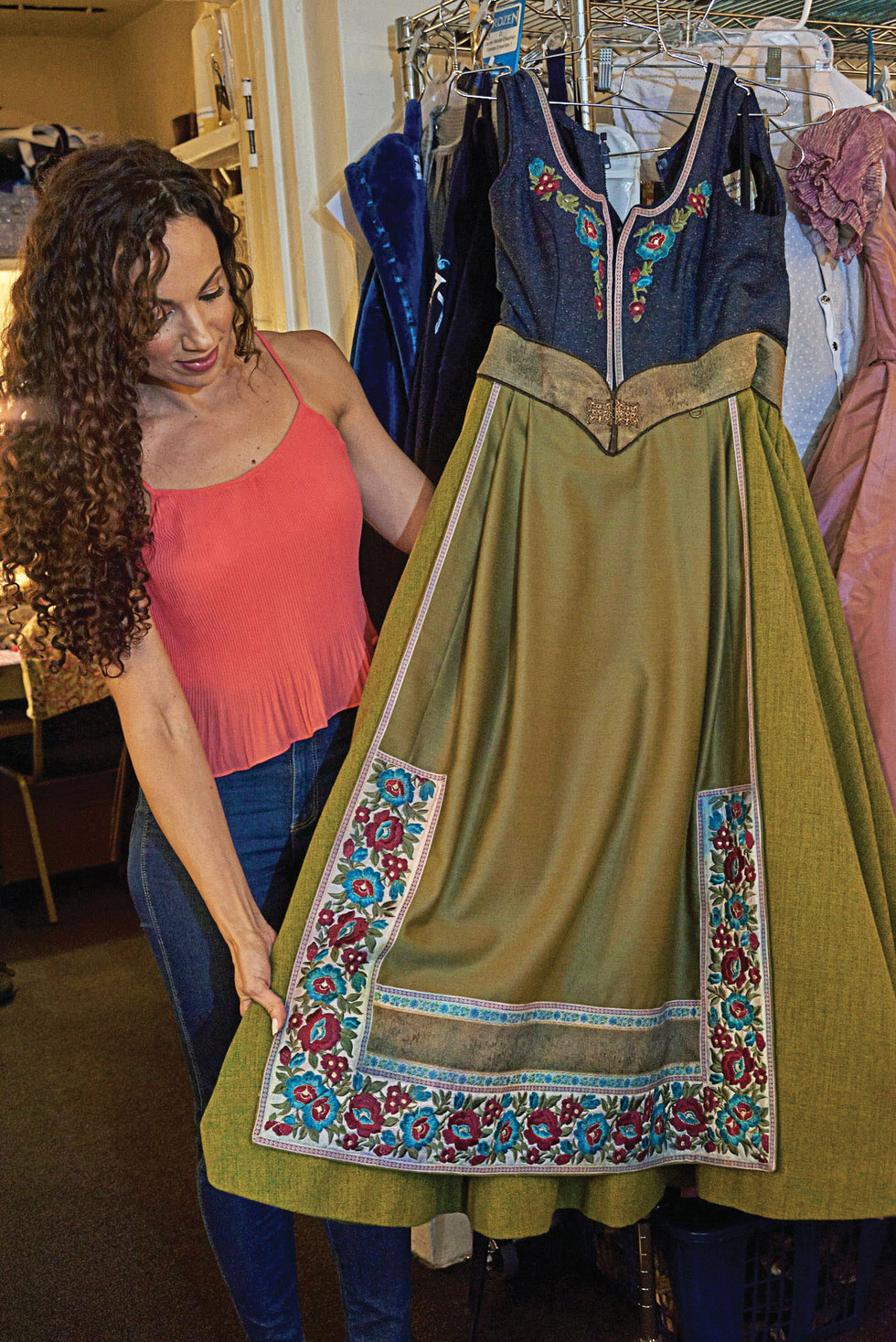 One of Lafarga's elaborate dresses (photo by Lafferty)
"Learning how to dance in all these beautiful and elaborate costumes was definitely an interesting transition," Lafarga says. "My townsperson dress is so heavy that kicks or chaîné turns required a lot more effort at first. And when we're wearing our coronation gowns we do so many lift sequences that took a lot of practice in costume."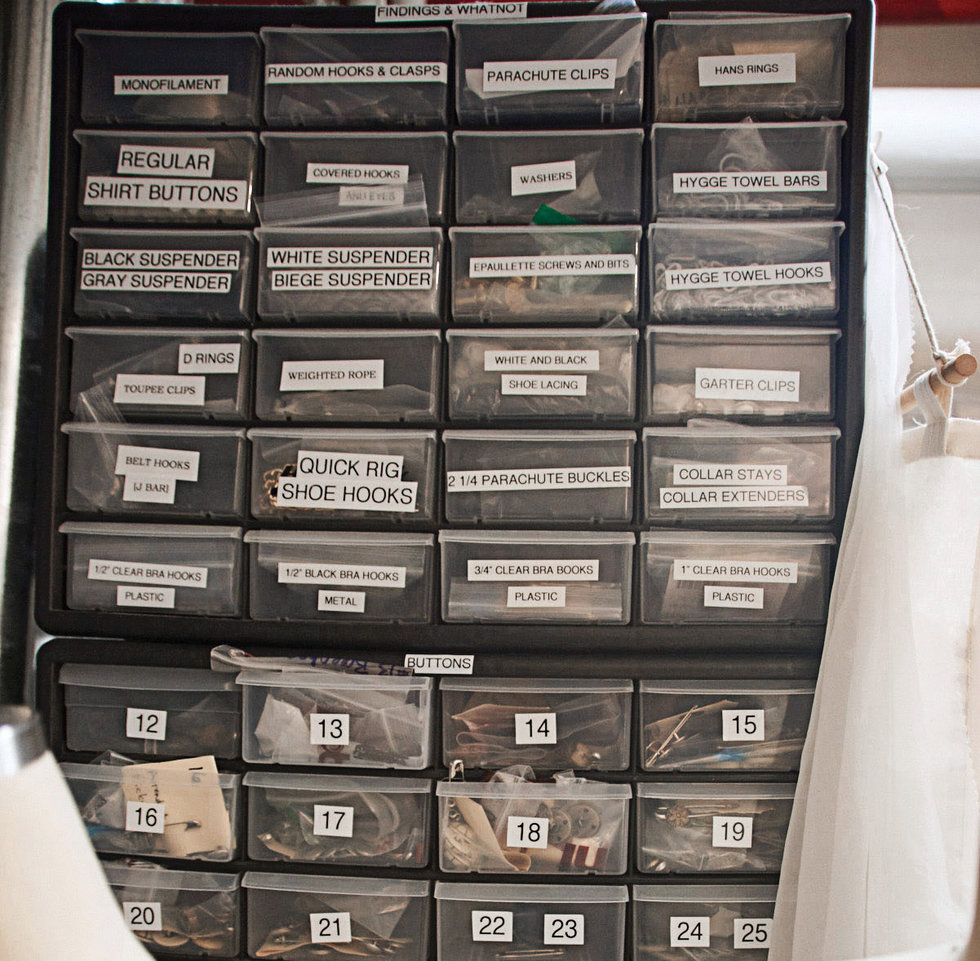 Every item backstage is labeled and organized (photo by Lafferty)
"Katrina saves me all the time," Lafarga says. "I often exit the dressing room and forget things like my mittens and she'll always notice and send me back in. It's amazing how much we truly work together. I honestly don't know what I would do without our dressers. I would probably go onstage with the wrong costume on."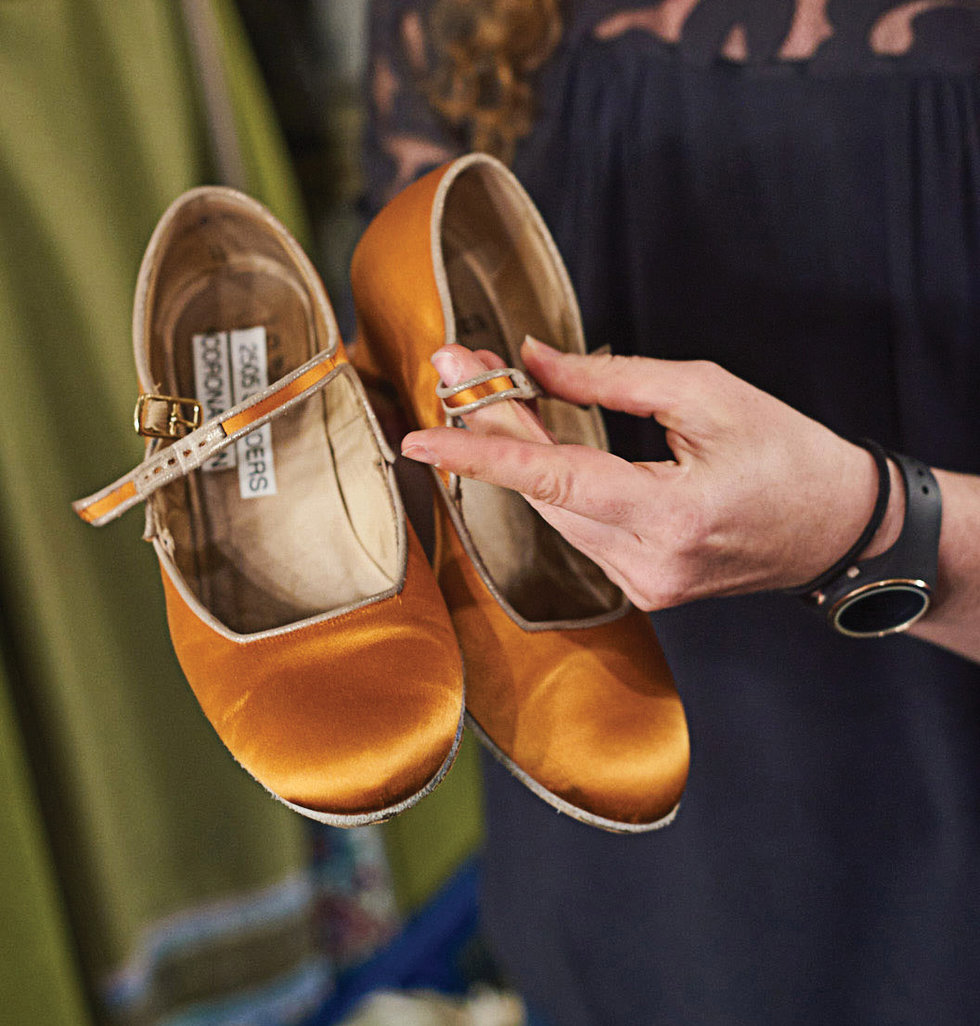 A pair of shoes worn by a dancer in the show (photo by lafferty)
The wardrobe team is also in charge of fixing any costume mishaps that happen during a performance—and there's usually at least one a day. "Heels fall off shoes, girls rip their ball gowns, zippers bust open…it's always something," says Dermody.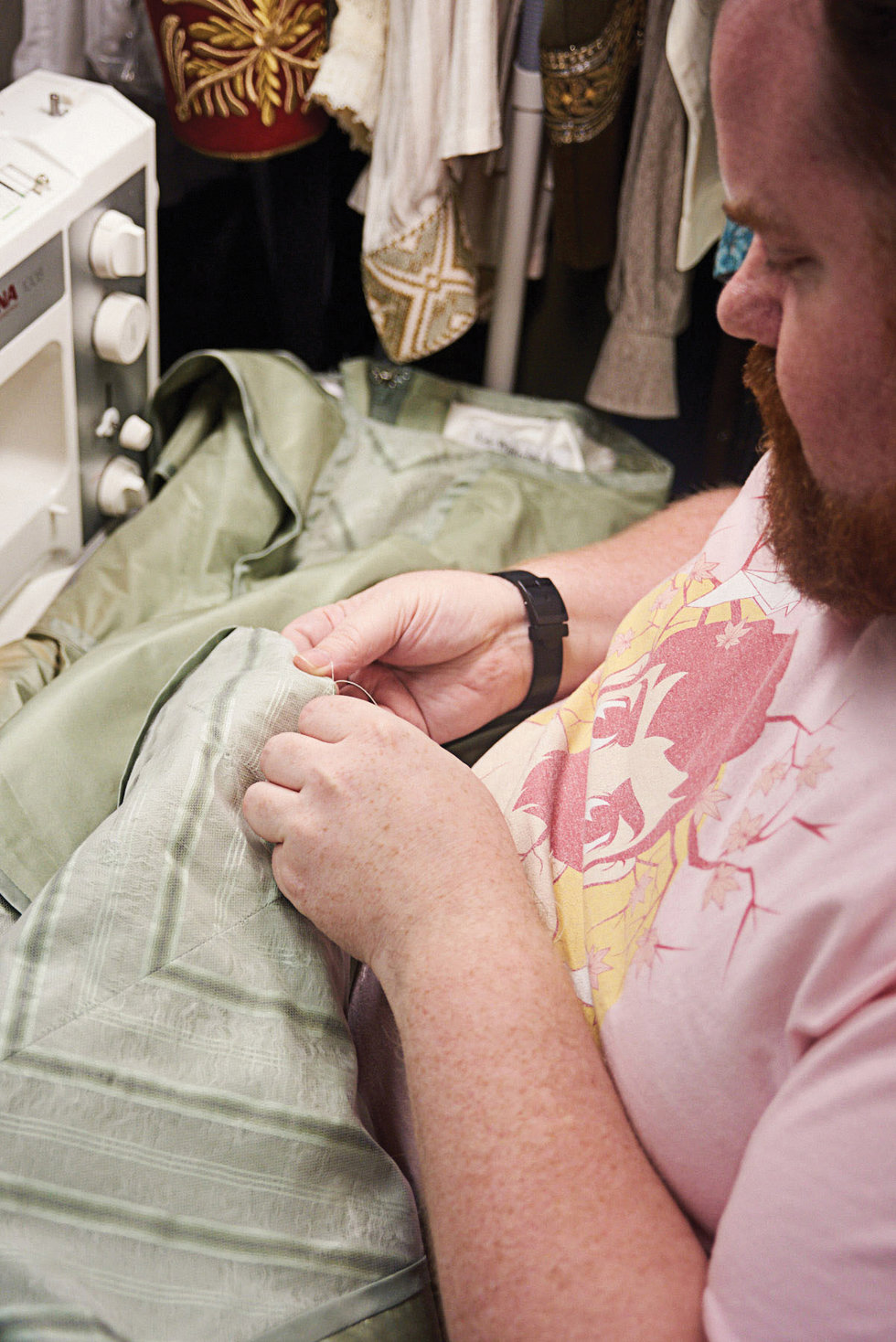 Stitcher Karl Ruckdeschel mending a costume before the show (photo by Lafferty)
"My craziest onstage costume mishap was when the skirt of my coronation gown almost completely ripped off from the bodice," says Lafarga. "Another dancer accidentally stepped on my skirt and I went up into a lift, so there was a huge hole at the waistline and the skirt was dragging on the floor."
"Every time she could come offstage, we would pin the dress a little more," Dermody says. "As soon as I was offstage and we had more time, they stitched me in properly," Lafarga says.
A version of this story appeared in the November 2018 issue of Dance Spirit with the title "Dressing Frozen on Broadway."
Photo by Joe Toreno
It's almost 2019 and the ballroom dance scene is positively booming! From prestigious world championships to TV shows, kids are at the core of all this hip-shaking action—and we're so here for it. These eight up-and-comers in particular are shaping the field. They're the next generation of superstars to make the leap from technically exquisite ballroom-ites to bona fide celebrities.
Keep reading...
Show less
Low-quality screenshot, high-quality dancing. (via TheaterMania)
Well, we knew on an abstract level that Broadway's-golden-age guru Warren Carlyle would produce incredible choreo for the upcoming Broadway revival of Kiss Me, Kate! We just didn't know it would be THIS incredible.
Keep reading...
Show less
Photo by Camryn Elizabeth, courtesy Djouliet Amara
At age 23, Djouliet Amara is a successful professional dancer signed with a talent agency in NYC. She's studied at The Ailey School and even danced in "Memoria" with The Alvin Ailey American Dance Theatre. Having performed at City Center and appeared in numerous commercial campaigns for brands like Forever 21, Refinery29, and Danskin, it would appear that Amara is living a life most dancers only dream of. But as glamorous and successful as her career has been, Amara's journey to this point has not been an easy one. Her biggest challenge was her battle with an eating disorder that nearly cost Amara her career. Find out how this dancer found body acceptance and, in so doing, uncovered a dream she never knew she had. —Katherine Beard
Warning: This story may be triggering for those who have suffered or are suffering from disordered eating.
Keep reading...
Show less
How To
Dec. 14, 2018 12:56PM EST
Photo by Kaitlin Marin, courtesy American Repertory Ballet
"Lame duck." It sounds like nothing else in the classical ballet vocabulary, right? Also known as step-up turns or step-over turns—or, more technically, as piqués en dehors—these tricky pirouettes show up all over the classical ballet repertoire, perhaps most famously in Odette's Act II variation in Swan Lake. Here's how to keep your lame ducks from looking, well, lame.
Keep reading...
Show less
Fashion
Dec. 08, 2017 02:45PM EST
Matthew Bourne's "Nutcracker" (photo by Simon Annand, courtesy Raw PR)
When most of us think of The Nutcracker, we imagine a growing Christmas tree, dancing mice, and a little girl named Clara (or Marie) traveling to the Land of Sweets. But companies around the world have been reinventing the holiday classic, changing the storyline or adding their own spectacular sets and characters. To get in the Nutcracker spirit this season, check out these out-of-the-box productions.
Keep reading...
Show less
Jasmine Harper with Neil Haskell on "So You Think You Can Dance." (Photo by Adam Rose/FOX, courtesy FOX)
Every year, our friends over at Dance Magazine select 25 standout dancers, choreographers, and companies for their "25 to Watch" feature. The list is always overflowing with talent, but this year's iteration was especially exciting—four of the featured dancers have graced the pages of DS at one point or another: former cover star Aran Bell, DS Cover Model Search semi-finalist Sophie Miklosovic, Jasmine Harper, and "You Should Know" alum Easton Payne. It was a totally full-circle moment to see each of them score a coveted spot on this list. Check out their profiles below (which originally appeared in Dance Magazine), and major congratulations to everyone else selected this year!
Keep reading...
Show less
(screenshot via YouTube)
Maddie Ziegler is the kween of dance these days and it seems like there's no move this teen dancing machine can't do...or is there? In a recent video with Teen Vogue, Maddie shows us just how lit her dance skills are by demonstrating 10 iconic music video dance routines. From Britney Spears to Michael Jackson, the "Dance Moms" star gets her groove on as she dissects some of the most popular dances of all time. Though Maddie is a great dancer, it's pretty entertaining watching her do moves that might be a little outside of her comfort zone.
Keep reading...
Show less
Get Dance Spirit in your inbox
Giphy
It's the age-old debate: Is dance a sport? The answer is, without a doubt, YES. Of course, dance is much more than just a sport. But when we get down to the logistics of it all, it's impossible not to recognize it as the athletic endeavor it is. Here are 10 reasons why dance absolutely qualifies as a sport.
Keep reading...
Show less
Just for Fun
Jun. 29, 2018 10:00AM EST
Colder weather is (finally) here, which means it's time for a good dance movie binge. But which iconic films should you put on? To narrow your search, we went ahead and ranked 30 of the greatest dance movies of all time.
Of course, we know a list like this is bound to be controversial—so if you disagree with our lineup, have at it in the comments!
Keep reading...
Show less
Photo by Joe Toreno
It's almost 2019 and the ballroom dance scene is positively booming! From prestigious world championships to TV shows, kids are at the core of all this hip-shaking action—and we're so here for it. These eight up-and-comers in particular are shaping the field. They're the next generation of superstars to make the leap from technically exquisite ballroom-ites to bona fide celebrities.
Keep reading...
Show less
Getty Images
The Nutcracker has become an essential part of the holiday season—not to mention a part of most dancers' DNA. These days, the ballet is a beloved tradition, and the lifeblood of many dance companies, whose budgets depend on its reliably great ticket sales. But did you know that it was a flop when it first premiered in Russia? Or that George Balanchine himself once played Drosselmeyer on TV? Here's a timeline of the rich history of The Nutcracker.
Keep reading...
Show less
Courtesy MSG Entertainment
For some it's a holiday tradition, for others its an iconic spectacle, but no matter the reason, more than 1 million people will watch the Rockettes perform in the Radio City Christmas Spectacular each year. And though the production has been around since 1933, much of what goes on behind those velvety curtains and intricate sets remains a mystery. To curb our curiosity and find out what ensues when these leggy ladies aren't doling out their sky-high kicks, we got a backstage tour from the legends themselves.
From hair and makeup, to warm-up exercises, and costume quick changes (the fastest quick change in the show is a #mindblowing 75 seconds, by the way) we got a glimpse into the glamorous (and sometimes not so glamorous) world of the Rockettes.
Keep reading...
Show less
Dec. 03, 2018 04:07PM EST
Showstopper sees all different dancers from across the world at their dance competitions. They understand sometimes it can hard to know how to stand out among the 100s of dancers that perform on their stages.
Keep reading...
Show less
Photo by Donna Ward, courtesy Alvin Ailey American Dance Theater
On March 30, 1958, at the 92nd Street Y in NYC, dancer Alvin Ailey and a group of African-American dancers performed onstage together for the first time. Since then, Alvin Ailey American Dance Theater, the company Ailey formed, has become legendary in the dance world. To commemorate its 60th anniversary, Ailey has dubbed its annual City Center season "Ailey 60." From Nov. 28–Dec. 30 choreographers including Ronald K. Brown, Jessica Lang, and Rennie Harris will present premieres, alongside the works of current artistic director Robert Battle, Judith Jamison, and over two dozen pieces by Alvin Ailey himself. We asked a few of the company members to share what the anniversary means to them.
Keep reading...
Show less
When Hannahlei Cabanilla rolled up to her Dance Spirit cover shoot—just 36 hours after being named the "So You Think You Can Dance" Season 15 champion—she looked impossibly fresh-faced and well-rested. The Anaheim Hills, CA, native may have had "about eight blisters," as she joked, on her feet; she may barely have slept since the big win; and she may have just performed on "Live with Kelly and Ryan." But she jumped right on set, and quite literally didn't stop jumping for the next five hours. The fabulous technique, irresistible personality, and (especially) boundless energy that earned her the title of America's Favorite Dancer were all on full display.
So what was it actually like for Hannahlei to compete on the show she'd watched since she was a tiny dancer—and what's next for the now–19-year-old? Read on.
Keep reading...
Show less
via @wholenessmom on Instagram
The holidays are just around the corner and that means it's time to get your wish lists finalized. And while we have no doubt that stylish leos and cozy warm-ups will find their way onto your list, we think you'll want to consider adding some of these lit dance books to your holiday lineup, too. From revamped Nutcracker tales to biographies of your favorite dance stars, we've rounded up the latest and greatest books that every dancer will want to see in their stockings this season.
Keep reading...
Show less