Popular
Aug. 30, 2017 01:12PM EST
These Are (Some of) the Legendary Ballet Dancers That You Should Know
George Balanchine (via Instagram, @nycballet)
There's so much history in the ballet world! Some of the dances that are being performed today date back to a century ago, and you wouldn't know it if you didn't study it. It's important to know the origin of the companies and choreography we've come to know and love. The following are nine legendary ballet dancers who've achieved a lot of success and created many opportunities in the ballet world.
---
1. Vaslav Naginsky
You can't talk about ballet legends without talking about Vaslav Nijinsky. Nijinsky was born to a family of dancers who performed with their own company throughout the Russian Empire. After training at the Imperial School of Dancing, he became a soloist at the Mariinsky Theatre in St. Petersburg in 1907. In 1909, he joined Serge Diaghilev's Ballet Russes where the company's choreographer, Michel Fokine, created works such as Le Spectre de la rose and Petrushka solely for him. He later joined Diaghilev's company as a principal dancer, touring Paris and performing at the Théâtre du Châtelet. In 1912, he began his career as a choreographer, creating original ballets such as Afternoon of a Faun for Ballet Russes. At the age of 29, Nijinsky retired due to a nervous breakdown, which was later diagnosed as schizophrenia.
2. George Balanchine
If you've ever attended the ballet at Lincoln Center, you've got to know who this is. Like Nijinsky, George Balanchine also started training at the Imperial Ballet School in St. Petersburg, but he also enrolled in the state's Conservatory of Music, where he studied piano and music theory. This musical training made a difference when he began choreographing and collaborating with composers such as Igor Stravinsky. Balanchine joined the Mariinsky Theatre Ballet Company at the age of 17. After a knee injury that limited his dancing, he went on to serve as ballet master for Diaghilev's Ballet Russes until 1929, which led him to choreograph for the Royal Danish Ballet. It was thanks to Lincoln Kirsten that Balanchine was persuaded to come to the U.S. Together, they founded the School of American Ballet (1934) and consequently, New York City Ballet, the first American ballet school and company to equal their European counterparts. His first choreographed ballet in this country was Serenade. From 1948 until his death, Balanchine served as the artistic director of NYCB, choreographing a majority of the company's productions, reaching upward of 400 dance works. There remains a foundation in his name to advance the development of dance in the U.S., as he did all those years ago. NYCB is now home to so many of the dancers that our generation admires.

3. Alicia Markova
Alicia Markova studied with Enrico Cecchetti and made her debut at age 14 with Serge Diaghilev's Ballet Russes, though she couldn't be used in the corps de ballet and only danced in a few roles. She was the Vic-Wells Ballet's (now known as The Royal Ballet) first prima ballerina and became known for her portrayal of Giselle. She was so closely identified with the role that she titled her autobiography, "Giselle and I". One of the most traveled ballerinas, Markova performed in parts of the world that had never seen ballet at all. She founded the Markova-Dolin Ballet (with Anton Dolin) in 1935 and the Festival Ballet in 1950, now known as the English National Ballet. In 1963, she retired from the stage and was appointed director of the Metropolitan Opera Ballet.

3. Margot Fonteyn
Margot Fonteyn was an iconic figure in British ballet. She started ballet lessons at age four but when her family moved to China, she studied in Shanghai for five years. She returned to London in 1933 and made her debut as a snowflake in The Nutcracker with Vic-Wells Ballet in 1934. When Alicia Markova left the Company in 1935, Fonteyn took over many of her roles. She became a muse for the English choreographer, Sir Frederick Ashton, as well as appeared in productions by contemporary choreographers, including Martha Graham's Lucifer. Though she was reaching the end of her career when she first performed with Rudolf Nureyev, together they were known as one of the greatest partnerships in ballet history. She's often referred to as Dame Margot as she was named Dame of the Order of the British Empire in 1956, and is the Royal Ballet's second prima ballerina assoluta, the first being Alicia Markova.
4. Rudolf Nureyev
Rudolf Nureyev began training at the Kirov Ballet School, which eventually led him to join the Kirov Ballet (the most important ballet company in the USSR) as a soloist. In 1961, Nureyev sought political protection from the Soviet Union and did not return to the Kirov Ballet. He eventually became a guest artist with the Royal Ballet at 23 years old, where he also formed his partnership with Margot Fonteyn. Shortly after, his career quickly expanded internationally, as he danced with all of the major ballet companies in Europe. In 1983, he became artistic director of the Paris Opera Ballet, his last major artistic work before he passed away in 1989.

5. Sylvie Guillem
French dancer Sylvie Guillem originally trained as a gymnast before joining the Paris Opera Ballet School at age 11. She entered the company at age 16 and at age 19, was given the title of étoile, the company's top-ranking female dancer. With Rudolf Nureyev as artistic director, Guillem was given leading roles in productions of Don Quixote, Swan Lake, and Giselle, as well as William Forsythe's contemporary ballet In the Middle, Somewhat Elevated. In 1988, she left Paris for London where she became one of the Royal Ballet's principal guest artists. In 1998, she staged her own version of Giselle for the Finnish National Ballet, and later for La Scala Ballet in 2001. She was made an Associate Artist of the Sadler Well's Theatre in 2006, and she announced her retirement from the stage in 2015.
6. Mikhail Baryshnikov

Mikhail Baryshnikov is known to many outside of the dance world as "The Russian" in Sex and the City, but his ballet career pretty much defines the word legendary. Coming to NYC from Latvia, Baryshnikov joined American Ballet Theatre as a principal dancer in 1974. Four years later, he spent some time at New York City Ballet learning from George Balanchine and Jerome Robbins. He then returned to ABT as artistic director. From 1990-2002, he co-founded the White Oak Project, a modern dance company, with Mark Morris. And as we already know he spent time acting, in television and film, as well as on and off Broadway. In 2005, he launched Baryshnikov Arts Center in NYC, a space designed to support artists from around the world. He's received many awards including Kennedy Center Honors, National Medal of Arts, and the Jerome Robbins Award.
7. Gelsey Kirkland
Gelsey Kirkland was only 15 years old when she joined New York City Ballet. As a 17-year-old soloist, she inspired George Balanchine to create the main role in Firebird on her, as well as several ballets by Jerome Robbins. She was promoted to principal in only her fourth year at NYCB. Later that year, she joined American Ballet Theatre as a principal dancer, where she partnered with Baryshnikov. When Kirkland retired in 1986, she transitioned into teaching at institutions such as ABT, The Royal Ballet School, English National Ballet, and The Australian Ballet.

8. Robert Joffrey
Robert Joffrey never had any intentions of being a ballet dancer. He began with tap lessons, until his teacher suggested he try ballet and soon enough he was dreaming of directing his own company. In 1948, Joffrey left Seattle for NYC, where he studied at the School of American Ballet. He taught and choreographed throughout the city until he founded the Joffrey Ballet School in 1953. As a teacher, he put emphasis on port de bras and body alignment. By this time, he had already created his first major work, Persephone. In 1956, he founded The Joffrey Ballet, where he taught, choreographed, commissioned original ballets, as well as restructured old classics. Through his company, he was able to make unconventional decisions. He introduced a number of modern dance choreographers to ballet audiences, set dances to rock music, and made use of cinematic lighting effects. When Joffrey passed away in 1988, Gerald Arpino, the company's chief choreographer, relocated the company to Chicago, with residencies in NYC and L.A.

9. Alessandra Ferri
Italian dancer Alessandra Ferri began her training at La Scala Ballet School in Milan. She continued her training at The Royal Ballet School and entered the company at 15-years-old. Two years later, she was promoted to soloist, and two years after that, she had achieved principal status, the youngest ever to do so. While there, she originated roles in many works including Valley of Shadows, Isadora, and Different Drummer. In 1985, she joined American Ballet Theatre as a principal dancer. She returned as a Guest Artist to The Royal Ballet in 2003 to dance Juliet. And again in 2015, she returned to create a role in Wayne McGregor's Woolf Works, for which she was awarded the Critics' Circle National Dance Award for Best Female Dancer and the Olivier Award for Outstanding Achievement in Dance. Though she officially retired in 2013, she's continued to dance, even at the age of 53.
Fraser dancing in the NYC Subway (photo by Underground NYC, courtesy Fraser)
Paige Fraser has performed on world-class stages and alongside Beyoncé—yet some of her most meaningful dance moments happened in tiny classrooms on a small island 1,000 miles from America. This past spring, Fraser, who's danced with Ailey II and is a founding member of Visceral Dance Chicago, teamed up with the non-profit Milk Carton on a String to bring dance to underprivileged children in Haiti. Fraser taught daily ballet and modern dance classes and used YouTube videos and social media to introduce the students to other aspects of dance they hadn't been exposed to.
Now, Fraser plans to continue to use dance to give back through her own newly-funded non-profit, The Paige Fraser Foundation. But instead of traveling outside the country, Fraiser will be helping kids in her childhood home: the Bronx. She wants her foundation to assist aspiring dancers no matter their color or abilities.
Read our interview with the dancer and do-gooder—and discover the life-changing diagnosis that inspired her to help other dancers achieve their dreams.
Keep reading...
Show less
via @kyle_vanny on Instagram competing on World Of Dance
Kyle Van Newkirk is a tap dancer you probably remember from the premiere season of NBC's World of Dance. In case you missed it, he is also one of Showstopper's incredible convention teachers. What makes Kyle stand apart from some of today's other incredible tappers? He isn't afraid to change what tap means to his audience and even himself. This modern view of tap dancing is important because it shows us that tap dancers are just as versatile and dynamic as dancers of any other genre. We sat down with Kyle to get his advice on bringing tap dancing into the 21st century.
Keep reading...
Show less
What did I just hear you say? You think all dancers are weak and delicate? PLEASE SAUT DE CHAT OUT OF MY LIFE. (Giphy)
Sure, dancers definitely have some unique identifying characteristics. (We're all obsessed with Center Stage? FACT.) But we're also subjected to all kinds of annoying, inaccurate stereotyping. Here are 10 dancer stereotypes that we never want to hear again.
Keep reading...
Show less
University of Minnesota Dance Team (courtesy University of Minnesota)
They say there's no "I" in "team"—and nowhere is that truer than the world of college dance teams, where precision reigns, uniformity is key, and a single misstep from any given "I" can cost a group a championship trophy. So it's unsurprising that securing a spot on one of the best dance teams in the country is no easy feat.
Members of these highly athletic teams rehearse for hours every week—on top of academic classes and commitments—and perform at football and basketball games, annual concerts, and nationally televised competitions (hi, ESPN). And "no I" rule notwithstanding, each of these top teams is made up of highly trained, highly technical, highly hard-core individuals, who come together to create a ready-for-victory pack.
These six teams aren't one-off success stories—they're consistently strong, and earn the top spots at major competitions like UDA and NDA nearly every year. Up for the challenge? Here's what to know before you go to auditions.
Keep reading...
Show less
You can never go wrong with a classic black leotard. Discount Dance's long-sleeve mesh leo will add a sleek edge to your studio style. Pair it with tights and a skirt for ballet class, or layer some leggings and sweats for contemporary class. Enter below for your chance to win it!
Keep reading...
Show less
May. 16, 2018 02:26PM EST
Ema Peter
The Glorya Kaufman International Dance Center is the 54,000 square foot home of the USC Glorya Kaufman School of Dance, one of the largest facilities dedicated to dance on a private university campus. Designed for their innovative new curriculum, that supports a range of dance styles, the school's staff designated Harlequin to provide wall-to-wall flooring for the large 3,500 square foot Performance Studio as well as five dance studios in their new state-of-the-art building.
Keep reading...
Show less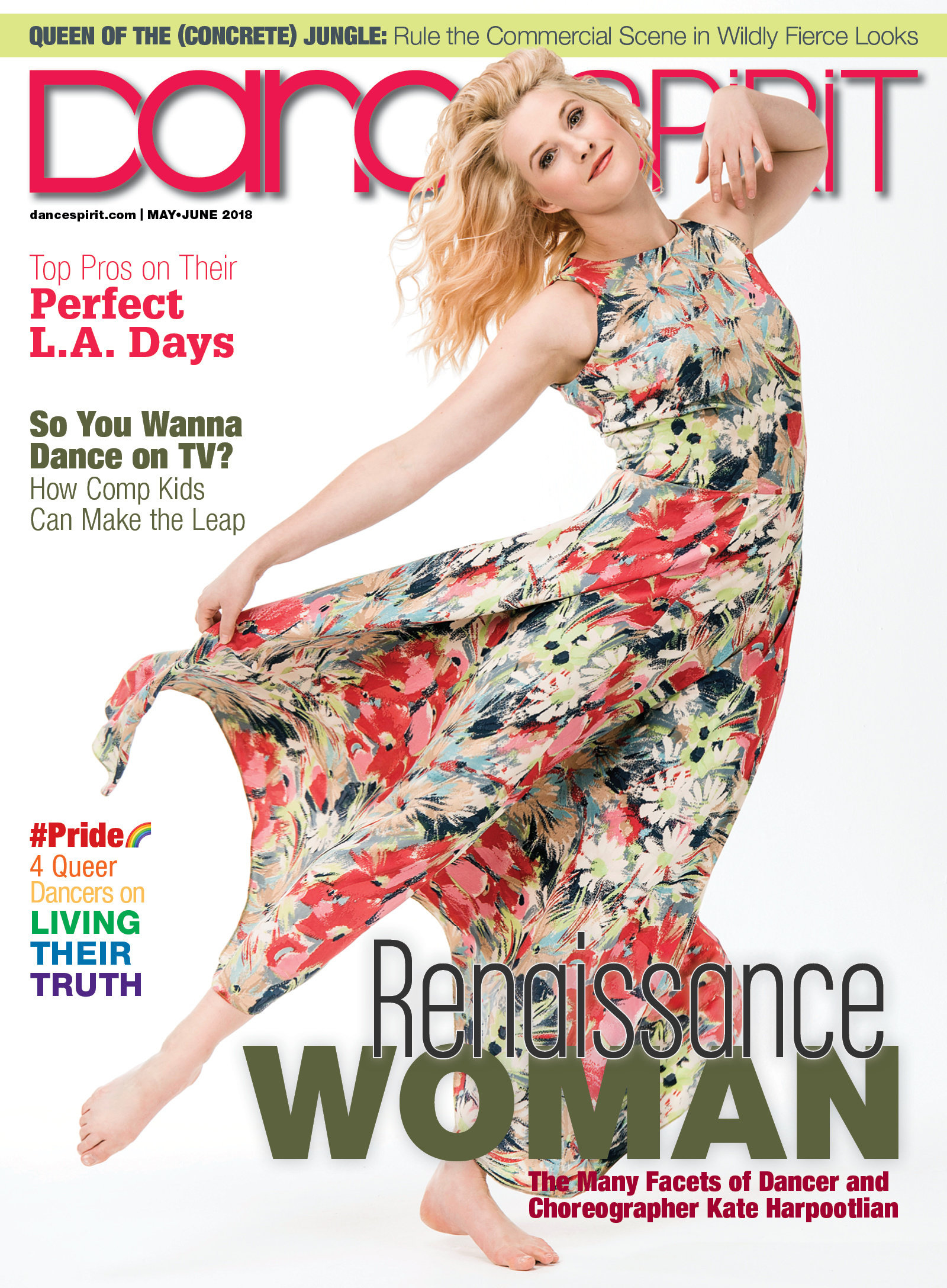 Get Dance Spirit in your inbox