Oct. 26, 2018 04:35PM EST
This Ballerina Danced in a Professional Company AND Graduated from Harvard
Former Los Angeles Ballet soloist and Harvard graduate Liz Walker (courtesy Walker)
For Harvard grad and professional ballerina, Liz Walker, school and dance were always separate. In high school, she studied at a private, all-girls school by day and trained at American Ballet Theatre's Jacqueline Kennedy Onassis School by night. At the same time she was auditioning for professional companies, she was applying to colleges. But when the time came to decide between her education and her dance career, Walker struggled to figure out what path was her own. Eventually choosing to go back and forth between Los Angeles Ballet, freelance work, and Harvard University, Walker graduated with a degree in the history of art and architecture after four years in 2011—and rose to soloist rank in just eight seasons. Here, she tells her story and explains her decision to do both. —Sophie Robertson
---
Deciding to Dance

Growing up in NY, my older sister and I added dance to our many activities. I loved it and stuck with it over the years. But it wasn't until I was in my teens that I decided I was serious about it. I found The Ballet School of Stamford in Connecticut and began to retrain my body and remake my technique. My last two years of high school, I trained at American Ballet Theatre's JKO School but remained enrolled at my all-girls academic school.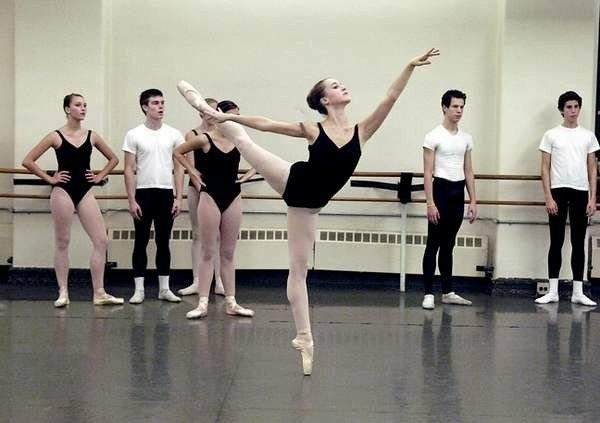 Walker at American Ballet Theatre's JKO School (courtesy Walker)
College Applications
To my parents, it was very important that I go to college. They were unfamiliar with the path of a professional dancer and weren't comfortable not knowing how secure it was—they doubted the likelihood that I would get a job. So by senior year, at the same time I was auditioning for professional ballet companies, I was also applying to colleges, one of which was Harvard University.
I got into Harvard during early admissions, and I also dove into every cattle-call audition in NYC. But I hadn't gotten any company or dance offers by the deadline to commit Harvard, so I let the university know I'd be attending that fall. I still hoped for something to happen in ballet. The following June, Los Angeles Ballet gave me an offer, and I was able to defer from Harvard for one year.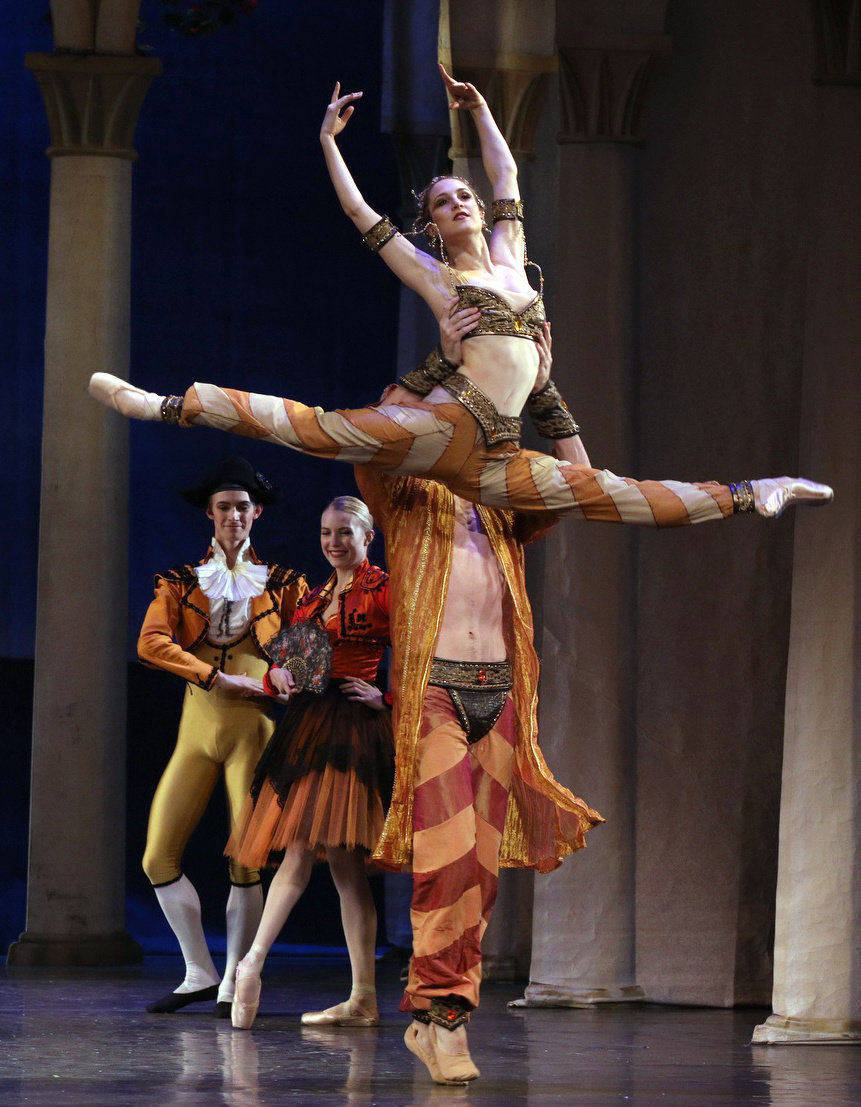 Walker performing in Los Angeles Ballet's "The Nutcracker" (photo by Allen J. Schaben, courtesy LAB)
A Trina in Transition
After my first season with LAB, I wanted to continue on, but my parents encouraged me not to give up a huge opportunity like Harvard. I gave it a trial run by enrolling in summer school and decided that I'd start full-time in the fall. I asked LAB if I could rejoin them in the spring, hoping Harvard would grant me an indefinite leave of absence—which is possible once you've been enrolled for at least one semester. But my plans changed. I had a foot injury that flared up in the winter, and I felt like my life on campus was just beginning. I thought I should see it through. At that point, I made the tough decision to tell LAB that I wouldn't be coming back—at least for the time being.
Making Harvard Home
I stayed at Harvard for the next two and a half years, majoring in the history of art and architecture. I wanted to study something other than dance and broaden my knowledge base. There was value in knowing what else was out there—connecting with people in different fields and seeing how they intersected with your own.
The dancing that I did at Harvard was really collaborative. Harvard Ballet Company ran its own shows, featuring a lot of student choreography. I was also one of the few ballet dancers on campus, meaning I had many opportunities to perform large roles—more than I would have had I continued in the corps. I really developed as a performer and as an artist.
Questioning Careers
During the fall of junior year, I didn't know what I wanted to do after graduation. I questioned if I wanted to return to dance. I decided to take spring semester off and danced with LAB and freelanced in NYC. I realized I still loved it and resolved to chase my ballet career again after my graduation.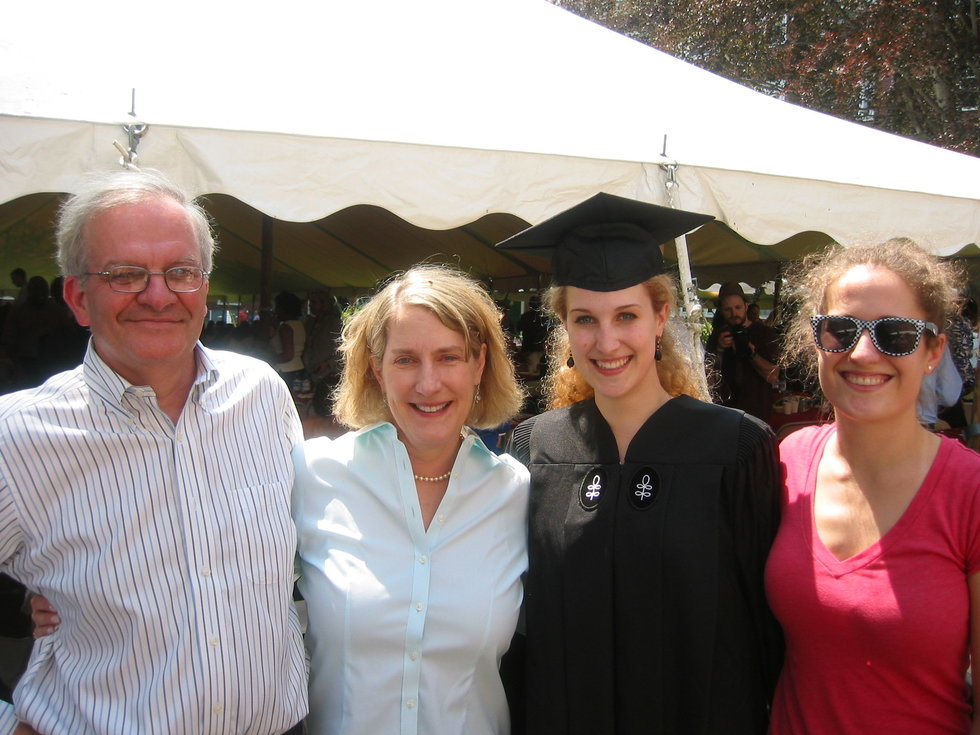 Walker with her family at her Harvard graduation (courtesy Walker)
My senior year, I focused on getting the most out of my degree, but also splitting my time. I trained as much as possible every day so that I'd be ready to return to LAB the next year.
The Benefits of Both
Throughout the four years, it took trial and error to find a balance between doing school full-time, having a social life, and keeping up with my dance training, cross training, and performances. But going to Harvard forced me to take ownership of the fact that I really wanted to dance, and being around people excelling in their own fields pushed me to be the best in mine.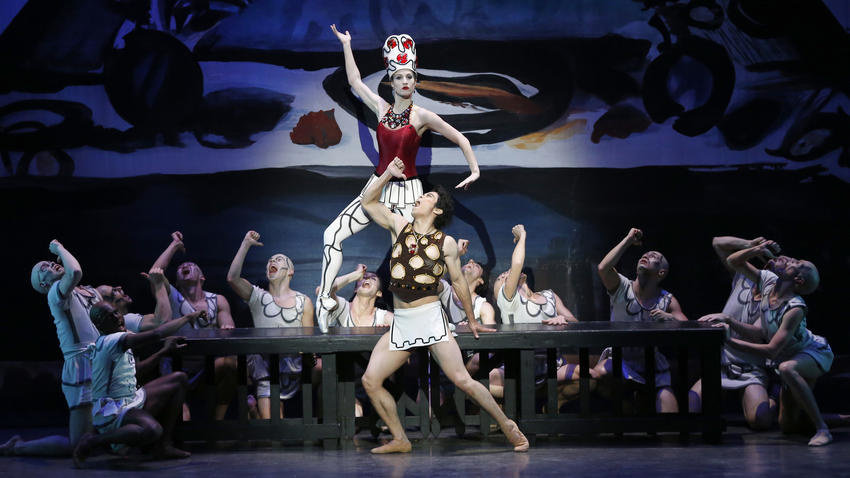 Walker performing with LAB (photo by Allen J. Schaben, courtesy LAB)
These Days
After leaving LAB this past summer and moving back East, I've joined the staff of the Vice Mayor of Cambridge, MA, Jan Devereux, as a legislative aide. I'm really enjoying working for the city and living near Harvard's campus again! I'm also continuing to dance in freelance dance performances in my spare time, and I've been busy choreographing for Harvard Ballet Company and for a site-specific commission on campus.
What I Learned
You're going to have more than one dream in your life. You don't have to do everything all at once. Fully experience the phase that you're in, and don't identify yourself by one goal. Keep every aspect of who you are as much as you can.
Dancer to Dancer
Apr. 19, 2019 03:37PM EST
Gabriel Figueredo in a variation from Raymonda. VAM Productions, Courtesy YAGP.
This week, over 1,000 young hopefuls gathered in New York City for the Youth America Grand Prix finals, giving them the chance to compete for scholarships and contracts to some of the world's top ballet schools and companies. Roughly 85 dancers made it to the final round at Lincoln Center's David H. Koch Theater on Wednesday. Today, the 20th anniversary of YAGP came to a close at the competition's awards ceremony. Read on to find out who won!

Dance News
Apr. 19, 2019 07:00AM EST
After a string of ballet-company rejections, Jennifer Sydor (here in Laura Peterson's "Failure") found success in other areas of the dance world. (Stephen Delas Heras, courtesy Jennifer Sydor)
In her senior year at Butler University, Jennifer Sydor auditioned for more than a dozen regional ballet companies—and got a string of "no, thank you" responses. "I have an athletic build, and my movement quality isn't the typical ballet aesthetic," Sydor says. "But I'd been laser-focused on ballet. When I didn't get a ballet contract, I was heartbroken."
Her one job offer came from Kim Robards Dance, a small modern company based in Aurora, CO. After attending KRD's summer intensive, Sydor ended up accepting a yearlong position with the troupe. "I was relieved and happy to begin my career," she says. She's been working as a contemporary dancer ever since.
In the dance world, rejection is part of the package. That doesn't make it any more pleasant. But whether you didn't get the Nutcracker role of your dreams or you weren't picked for a job despite feeling like you aced the audition, you can emerge from even the most gut-wrenching "no" smarter and stronger.
Mind
Apr. 18, 2019 07:13PM EST
Ballet West principal Beckanne Sisk as Kitri (Luke Isley, courtesy Ballet West)
Guess who's baaaaack?! Your resident Dance Spirit astrologers! And on the eve of the Youth America Grand Prix awards ceremony, we thought it was the perfect time to pair each zodiac sign with a variation commonly seen during the competition. After many painstaking hours spent researching, consulting the stars, and staring wistfully into the sky, we compiled our data and present you with the definitive list of each star sign as a YAGP variation! As we said last time, don't @ us if you're not happy with your pairing—the stars don't lie, baby!
Dancer to Dancer