Jul. 27, 2017 04:02PM EST
This Dancer Doesn't Let Her Disabilities Discourage Her Dreams
A dance photo of Averi Hodgson (courtesy of Cortney Hodgson)
For 14-year-old Averi Hodgson, focusing on her ballet training while growing up was never easy: She's suffered from epilepsy since she was in first grade, and later, she was also diagnosed with scoliosis. Here, she tells her story of perseverance—and how her determination earned her a spot at the School of American Ballet's 2017 summer intensive.
---
I started dancing when I was 6 years old at a small company that offered classes at my church. The first time I knew I wanted to dance seriously was when I was 7, and saw the ballet Sleeping Beauty. Since then, I've always been super-focused on ballet. I enrolled at Pittsburgh Youth Ballet Company, and currently train under Steven and Lindsay Piper at Ballet Academy of Pittsburgh.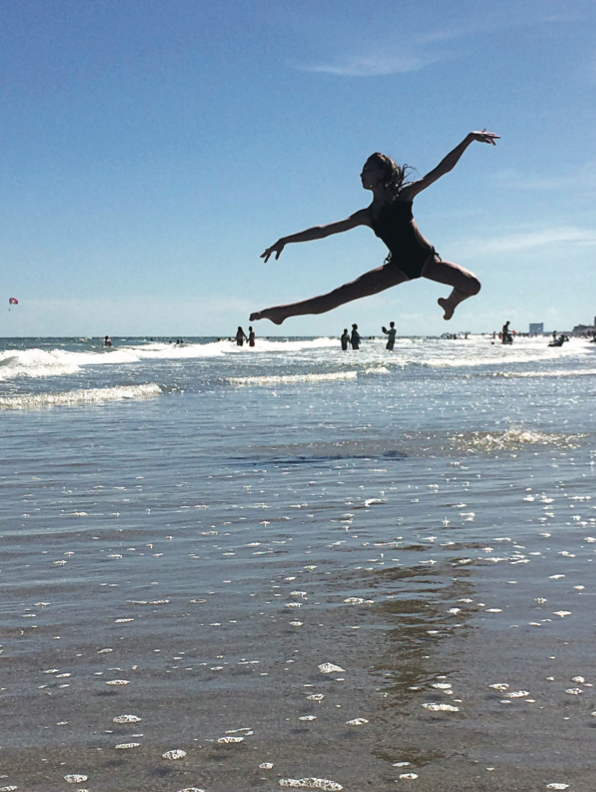 Averi Hodgson dancing on the beach (courtesy of Cortney Hodgson)
When I was in first grade, I had my first seizure. I kept having sporadic episodes every few months and there was no rhyme or reason to when I would get one. I would get this really weird feeling in my face before they started—I used to call it "tickle face." It felt like a tingling sensation, and then everything would start to blur. That's how I knew I had about 10 seconds before one would happen. Afterwards, my body was exhausted and worn out. I also experienced constant anxiety and we thought for a while it might be triggering my seizures. But the doctors couldn't figure out exactly where my seizures were coming from or why I was having them, and all of my tests always came back normal.

I never had a seizure during ballet class, but was always worried that I was going to. It was so distracting that I couldn't give 110 percent to my training like I wanted to. It was frustrating to not be able to focus solely on dance.
In 2014, when I was in fifth grade, I had three seizures in one day. I had the first two at home, within 15 minutes of each other. My mom called the doctors and they told us to come down to Children's Hospital of Pittsburgh of University of Pittsburgh Medical Center right away. Once we were at the hospital, I had a third seizure, and that's when they finally diagnosed me with epilepsy. That day the doctors started me on medication, hoping it would prevent any future episodes.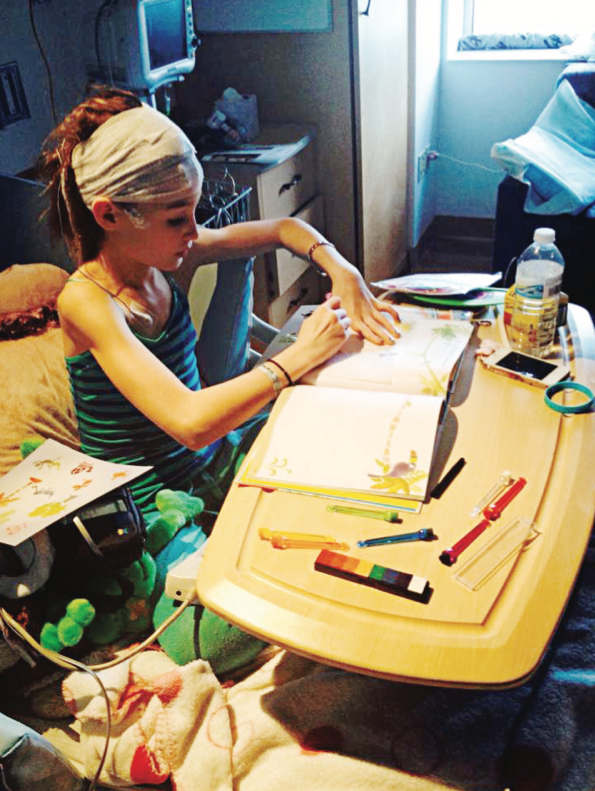 In the hospital for testing after having seizures (courtesy of Cortney Hodgson)
The first drug I tried gave me bad side effects. I was having trouble sleeping and would get really dizzy. I wasn't having any seizures, but I was experiencing the tingling in my face constantly. I switched to another medication, and
finally got my seizures under control without any other side effects. The last episode I had was in November 2015. It's so nice to be able to stop worrying about if, and when, a seizure might happen.
But last year, I received another unsettling diagnosis: scoliosis. My studio offered an optional class with a Pilates instructor to focus on turnout and flexibility. The therapist took one look at me and knew right away that my shoulders were uneven. She advised us to see a doctor immediately. My mom took me to my pediatrician the next day, where we learned about my curve and were sent to see a specialist. The specialist explained my X-ray results and told me that I would need to wear a custom-made brace until I'm finished growing.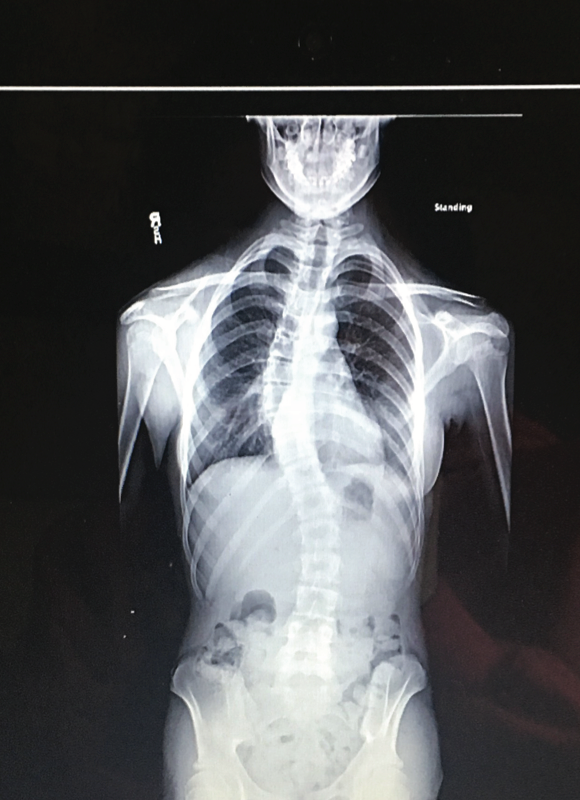 An X-ray showing Averi's back curvature (courtesy of Cotney Hodgson)
Now I wear my scoliosis brace 20 to 22 hours a day. The only time I don't have to wear it is in the shower or when I'm at ballet. I also go to a chiropractor twice a week. She adjusts me and warns me about movements that might be harmful. My teachers also help me a lot and give me stretches to increase my back flexibility.

Getting used to the brace was really hard at first. It's uncomfortable to sit and bend. I also had to completely change my wardrobe. I wasn't OK with letting it show, so wearing dresses or certain outfits were no longer options. I was depressed, and fell into self-pitying traps.
But one ballet class, I reached a turning point. I remember watching everyone cambré back, and they could bend so far—my back just stops me at a certain point—but instead of feeling sad I thought, "I want to do that." I started to push myself harder, rather than giving in to depression. My flexibility is already getting so much better. I also have a great support system in my family, church and friends, who all helped keep me focused on the positive things in my life.
This past January I auditioned for the School of American Ballet's summer intensive course. It was my first summer program audition, because this is the first year I've felt comfortable being away from home. Before, I was always worried about having a seizure. I was accepted, and am so excited to experience NYC and to study true Balanchine technique taught by so many amazing instructors.

A version of this story appeared in the July/August 2017 issue of Dance Spirit with the title "Dancing Against The Odds."
Dancer to Dancer
May. 21, 2019 01:00PM EST
School of American Ballet students (Rosalie O'Connor, courtesy SAB)
Do you have a "Strictly Ballet"–sized hole in your heart? Good news: The upcoming docuseries "On Pointe" just might fill it.
The School of American Ballet is teaming up with Imagine Documentaries and DCTV for the project. Though it's not yet clear where "On Pointe" will air, we do know that it'll follow talented SAB students preparing for professional ballet careers—much as Teen Vogue's popular "Strictly Ballet" web series did back in the day. But "On Pointe" marks the first time documentary filmmakers have been allowed access to the school, and it sounds like it'll paint an even more complete picture of the dancers' lives inside and outside the studio.
Dance News
May. 21, 2019 09:54AM EST
Including, of course, "Single Ladies" (Vevo)
Choreographer Bob Fosse's signature style—with its jazz hands, inverted knees, and slouched shoulders—is still a huge influence in the dance world (and, thanks to the gloriously dancy FX series "Fosse/Verdon," the TV world). But while you know to expect plenty of Fosse-isms during a stage performance of Chicago or Sweet Charity, Fosse's legacy has also seeped into pop music culture, inspiring the likes of Beyoncé and Lady Gaga. Here are just six of the many music videos that reference Fosse's iconic works.
Dance Videos
May. 20, 2019 04:24PM EST
Gabrielle Hamilton in John Heginbotham's dream ballet from Oklahoma! Photo by Little Fang Photo, courtesy DKC/O&M
Last night, longtime theater legends (including Chita Rivera herself!) as well as rising stars gathered to celebrate one of Broadway's danciest events: the third annual Chita Rivera Awards.
The evening paid tribute to this season's dancer standouts, extraordinary ensembles, and jaw-dropping choreography—on- and off-Broadway and on film.
As usual, several Dance Spirit faves made it into the mix. (With such a fabulous talent pool of nominees to choose from, we're glad that ties were allowed.) Here are the highlights from the winner's list:
Dance News