Picture this: You've made it to the final round of an audition. All your hard work has paid off, and you're feeling good. Then the artistic director stands up and asks you to join her in another room for a one-on-one interview. Wait, what?
Many dance companies include interviews as part of their audition process. "I need to know more about people than what I see on the floor," says Debbie Blunden-Diggs, the artistic director of Dayton Contemporary Dance Company. It's normal to be nervous when you're faced with an interview—especially when you're used to letting your dancing do the talking. To help you prepare, Dance Spirit asked Blunden-Diggs and two other artistic directors for their tips to help you put your best (interview) foot forward.
---
Questions and Answers
What kinds of questions should you expect during an audition interview? While it varies from company to company, all three artistic directors agree that they ask questions for the purpose of getting to know you better. In other words, it's not a test that you can only pass with the "right" answer.
• "Why do you want to be here?"
You probably have a ready reason that includes the repertoire and/or choreographers at the company. But use this question to show that you understand being a professional is about more than performance highlights. Are you interested in the company's education programs? Say so. Did you notice that the dancers often choreograph? Mention that you make work. Blunden-Diggs urges dancers to think, and speak, specifically about how they might fit in. "Before you put your name on the line, understand what you're coming into," she says.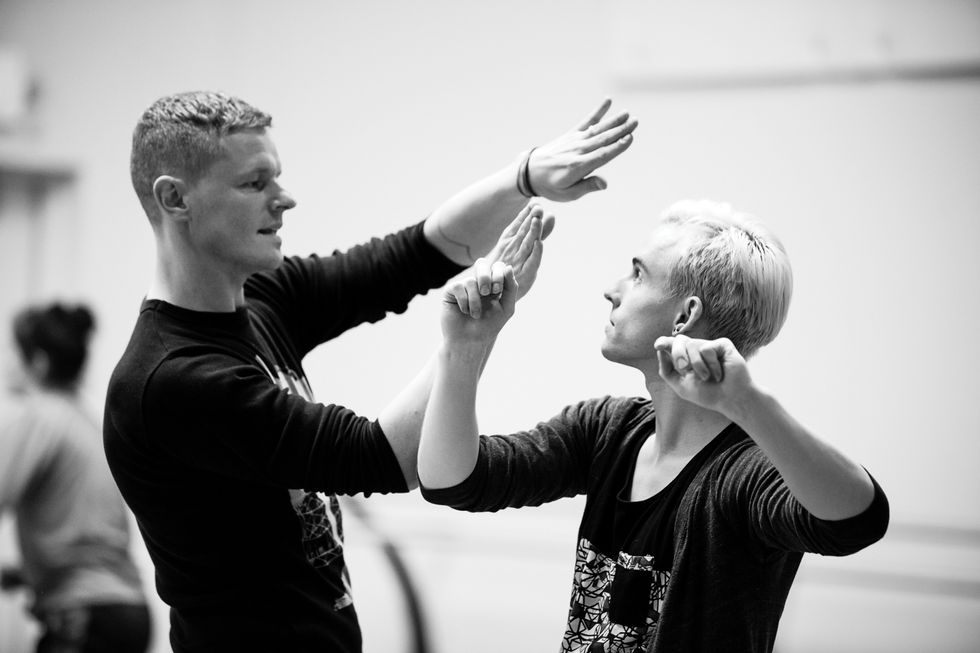 Oliver Wevers (left) working in the studio (photo by Bamberg Fine Art, courtesy Whim W'Him)
• "How do you deal with stress? Injury?"
Zoé Henrot, artistic director of St. Paul Ballet, says that she poses what she calls "situational character questions" to potential new hires, to hear how they solve problems and defuse tense moments. This helps her assess the work ethic and drive of the person she's interviewing. If you encounter this kind of question, don't make assumptions about what the director wants to hear—they're probably asking because they want to know more about your personality and how you'd vibe with the company. If you give an answer just to please the director, it's a disservice to both of you. "Being in the studio is a social experiment," says Olivier Wevers, the founder and artistic director of Whim W'him Contemporary Dance. "The right personalities are important for the success of the creation process."
• "What are your other interests?"
"We want to nurture people off the marley," Blunden-Diggs says. If you're mostly interested in dance-related activities, that's totally fine. But it doesn't make you look less professional to talk about nondance hobbies and interests—in fact, it might help the director remember you, or envision you fitting into the bigger picture.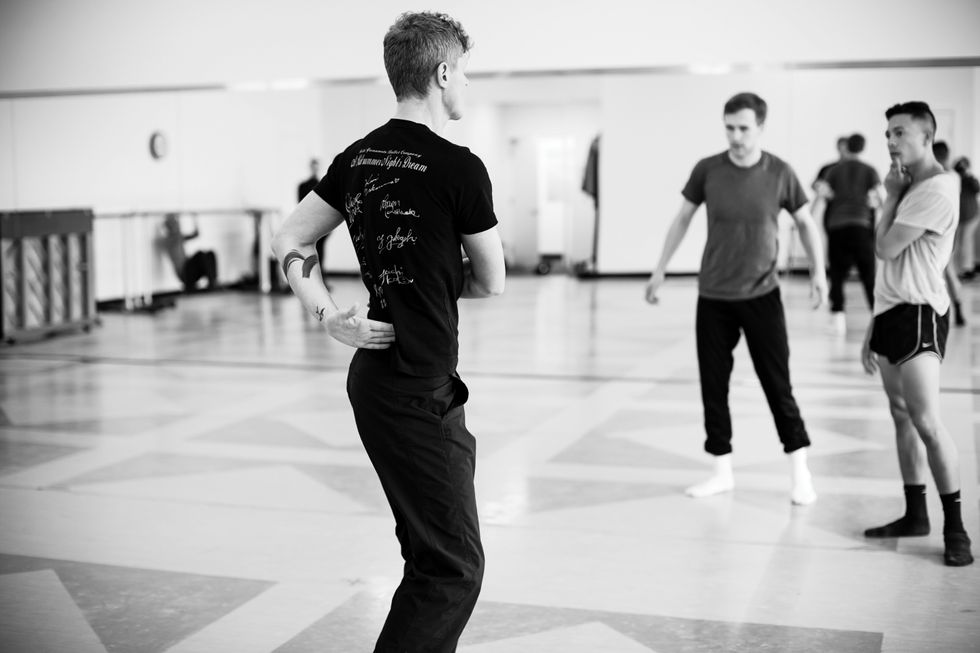 Wevers (left) with Whim W'Him dancers in rehearsal (photo by Bamberg Fine Art, courtesy Whim W'him)
• "Do you have any questions for me?"
In order to avoid that awful, put-on-the-spot feeling, prepare a list of questions beforehand, "even if they're just clarifying questions," Henrot says. Try to find a balance that shows you're invested in becoming a long-term company member (no director wants to feel like you're treating her company as a pit stop in your career!), while still addressing any logistic and artistic concerns you might have. "The audition interview is a two-way street, and I think that's forgotten," Wevers says. "When I feel a dancer interviewing me, I love it. It means they're inquisitive and they'll be that way in the studio, too."
A version of this story appeared in the February 2018 issue of Dance Spirit with the title "Acing The Interview."