Popular
Aug. 24, 2017 12:06PM EST
How Going to College Abroad Could Take Your Dancing to the Next Level
Salzburg Experimental Academy of Dance students in performance (CourtesySalzburg Experimental Academy of Dance)
When it comes to college, you've got countless options. University or conservatory? BA or BFA? East Coast or West? But there's one potentially game-changing option you probably haven't considered yet: U.S. or international?
The perks of going global are hard to ignore. For one, international programs are often significantly cheaper than domestic ones. "The tuition for schools in Europe tends to be less than half that of U.S. programs," says Nicola Conraths Lange, director of comparative arts and a dance faculty member at Interlochen Arts Academy in Interlochen, MI. What's more, many programs offer a BA, a BFA, or an approximate equivalent in three years rather than four, which not only cuts tuition costs but also gets you into the professional dance world one year sooner.
And international programs will expose you to entirely new cultures, choreographers, and methods of training. "Our classes focus more on becoming thinking, creative movers than on perfecting technique," says Carlene Raibley, an American in her third and final year at London Contemporary Dance School (LCDS). Erica Badgeley, who joined a postgraduate student company at Salzburg Experimental Academy of Dance (SEAD), had a similar experience. "As opposed to the typical U.S. focus on vertical alignment, we learned to be three-dimensional movers, almost like amoebas," she says.
Many dancers forgo the international option because navigating the ins and outs of the application process seems intimidating. And it can be complicated—but it's worth the effort. Here's a breakdown of the process.
---
Do Your Research
Every application and audition is an expense, so before you go wild, make sure you know what you're getting into. Of course, you'll want to check out program websites to get all the basic info: programs offered, cost for international students, length of study, etc. But your research shouldn't end there.
Badgeley recommends starting with YouTube. "If you think you may be interested in choreography from a specific part of the world, watch as many videos as you can," she says. "You'll get a sense of the stylistic differences from country to country, and that can help guide your decision." Once you have an idea of the kind of company you'd like to see yourself in post-college, do a little digging on their websites. "Read the company bios, and find out where their dancers, choreographers, or guest artists trained," Conraths Lange says.
To truly get a feel for the schools themselves, there's no better resource than current students or recent graduates. While training under Deborah Brockus in L.A., Yasmin Bohn got the idea to apply to Codarts University for the Arts from one of Brockus' former students. Raibley was also fortunate enough to have a personal contact at LCDS through her home studio. If you can't find immediate connections at home, use social media to expand your scope. "Pretty much every school has a hashtag you can search," Raibley says. "You can even use geotag to see what's actually going on in the area where you would be living and performing."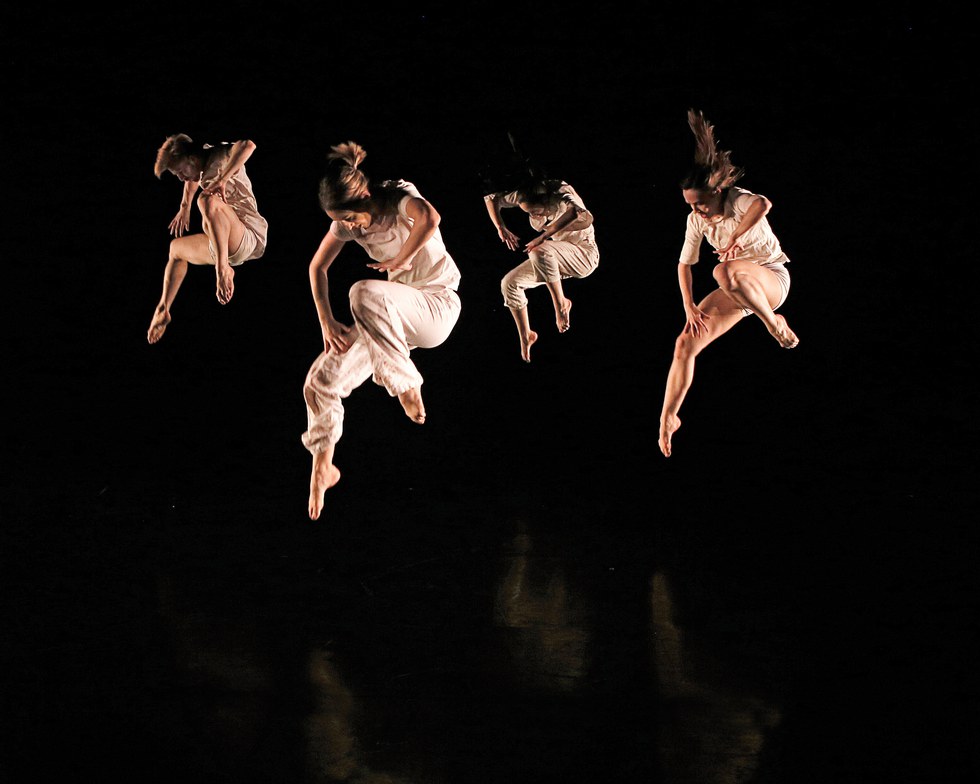 Ryerson University students in Lindsay Fell's "SIND" (Andrew Oxenham, courtesy Ryerson University)
Network, Network, Network
Building connections will always help your chances of acceptance. But networking
is also essentially part of your research
process. One good way to get to know a school's faculty is by attending its summer program, as Conraths Lange recommends. "Students can audition for them junior year, attend the summer before their senior year, and return with a better sense of what they're getting into," she says.
Students at performing-arts high schools like Interlochen should also keep their eyes out for visits from faculty members from international schools. "Faculty are more likely to move financial burdens out of the way for international students if they make that personal connection," Conraths Lange says.
Badgeley recommends researching American choreographers who tend to get invited to European festivals, and trying to get in touch with them. "See their work, take their classes, and ask if they're looking for assistants," she says. "They can be a great way to bridge the international divide."
The Dreaded Paperwork
Navigating the student visa process can seem like the elephant in the room when it comes to international applications. While the process can be a headache, many schools are ready to help. Raibley got most of the information she needed at her LCDS audition. "They connected me with a rep from the school, who emailed back and forth with me throughout the entire process," she says.
What kinds of hurdles can you expect? Visa requirements will vary from country to country, but for a student visa, most governments require proof of funds and study. To secure a UK student visa, Raibley had to prove she had the total amount of tuition and living expenses for a full year in her bank account three months prior to application. Bohn had a similar experience for her Netherlands student visa. "They needed to know I had the funds for tuition, as well as a paper from Codarts saying I'd be attending the school and living in Europe for the next four years," she says.
If your future school doesn't have a representative to help you through the process, Badgeley recommends visiting the appropriate embassy in the U.S. "No one is going to give you a complete checklist of what you'll need," she says. "But if you ask enough people, you can piece it together."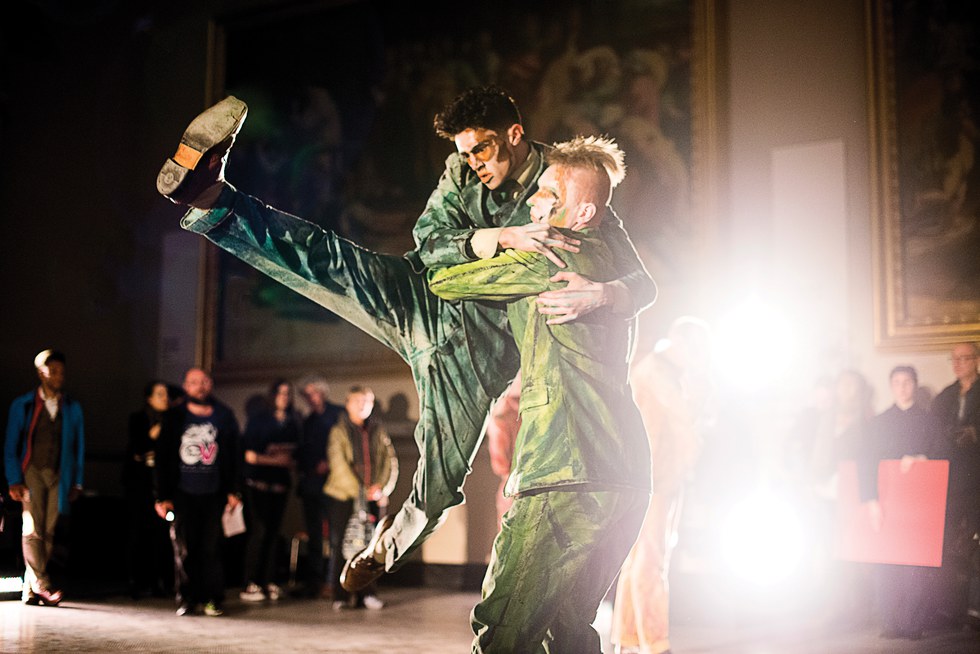 London Contemporary Dance School students in Lea Anderson's "Hand in Glove" (Camilla Greenwell, courtesy London Contemporary Dance School)
Juggling Auditions Abroad
If the thought of auditioning for multiple international schools has you looking nervously at your bank account, don't panic: Many schools hold auditions within the U.S. Raibley auditioned for LCDS in San Francisco, CA, and Badgeley auditioned for SEAD in NYC. Schools that don't tour the U.S. often accept video auditions. "We judge video auditions the same way we do in-person auditions," says Vicki St. Denys, director of the dance performance program at Toronto's Ryerson University. "And the acceptance numbers are fairly well balanced."
That said, some schools will require an on-site audition, particularly if the audition process includes multiple rounds. If you do have to travel, Badgeley recommends making the most of your trip. "Find out what's going on in the country's dance scene while you'll be there, and sign up for some festivals," she says.
Culture Shock
Leaving home for college is a big enough change when you're staying stateside.
So how can you mentally prepare for
international study? The short answer is, you can't. "You're in for a culture shock no matter what," Badgeley says. "In Austria, the grocery stores are different, the English is just a little bit off, the government works slightly differently—that all added up over time. But it was a good kind of shock." Badgeley quickly found herself adopting pan-European English, saying "impro" instead of "improv," and delighting in the European quirks.
The bigger change you'll need to anticipate, particularly if your studies take you to Europe, is in the approach to movement. European programs tend to focus less on standardized technique, and more on movement discovery. "People with less training sometimes have an easier time with it, because they can look more natural and pedestrian," Badgeley says.
When it comes to preparing, the floor is your friend. "You're going to be learning how to connect with the floor, roll safely, improvise in and out of the floor," Badgeley says. She recommends taking break-dancing, contact improv, and floor-work classes to grow accustomed to being creative and comfortable in that mode.
At the end of the day, remember that you're going to the school to learn. And your years there are sure to mold you in ways you could never anticipate. "I don't know that I would have found my creative voice if I'd stayed in the U.S.," Raibley says. "During my time at LCDS, I've met so many different artists and seen so many places. I feel like the artistic doors are opened wide.
A version of this story appeared in the September 2017 issue of Dance Spirit with the title "Transatlantic Training."
American Ballet Theatre principal dancers Sarah Lane and Daniil Simkin (courtesy ABT)
Last May, we told you about a special exhibition of the Mark Ryden artwork that sparked Alexei Ratmansky's sweet-treat of a ballet, Whipped Cream. Well, hold on to your tiaras, bunheads, because there's a brand-new exhibit featuring actual costumes from this megahit production. The Nutcracker's Land of Sweets has some serious competition!
Keep reading...
Show less
via @kyle_vanny on Instagram competing on World Of Dance
Kyle Van Newkirk is a tap dancer you probably remember from the premiere season of NBC's World of Dance. In case you missed it, he is also one of Showstopper's incredible convention teachers. What makes Kyle stand apart from some of today's other incredible tappers? He isn't afraid to change what tap means to his audience and even himself. This modern view of tap dancing is important because it shows us that tap dancers are just as versatile and dynamic as dancers of any other genre. We sat down with Kyle to get his advice on bringing tap dancing into the 21st century.
Keep reading...
Show less
University of Minnesota Dance Team (courtesy University of Minnesota)
They say there's no "I" in "team"—and nowhere is that truer than the world of college dance teams, where precision reigns, uniformity is key, and a single misstep from any given "I" can cost a group a championship trophy. So it's unsurprising that securing a spot on one of the best dance teams in the country is no easy feat.
Members of these highly athletic teams rehearse for hours every week—on top of academic classes and commitments—and perform at football and basketball games, annual concerts, and nationally televised competitions (hi, ESPN). And "no I" rule notwithstanding, each of these top teams is made up of highly trained, highly technical, highly hard-core individuals, who come together to create a ready-for-victory pack.
These six teams aren't one-off success stories—they're consistently strong, and earn the top spots at major competitions like UDA and NDA nearly every year. Up for the challenge? Here's what to know before you go to auditions.
Keep reading...
Show less
How To
Oct. 01, 2010 04:55PM EST
(Nathan Sayers)
Turnout—a combination of rotational flexibility and the strength to properly hold that rotation—is the foundation of ballet. But it's also a source of frustration for many dancers. After all, not everyone (actually, hardly anyone) is born with 180-degree rotation. "When I first started dancing, my hip flexors were strong, but I was forcing my turnout without using the right muscles," remembers Amanda Cobb, a former dancer with The Washington Ballet.
The good news is that it's possible to both improve your turnout and to dance beautifully with less-than-perfect rotation. But there's a lot of misinformation out there about how turnout works and why it's important. To help separate fact from fiction, DS asked the experts to disprove six turnout myths.
Keep reading...
Show less
Lol, same. (Screenshot via YouTube)
Picture this: You've scored tickets to Ellen DeGeneres' hit show, "Ellen." The day has come, the show is as hysterical as ever, Ellen is debating the biggest hot-button issue since the blue/black or white/gold dress, "Laurel vs. Yanny" (side note: it's LAUREL, people), and tWitch is killing it over at the DJ booth, as always. Ellen decides it's the perfect time to single out an audience member and, lo and behold, that person is "SYTYCD" champ ( and December 2017 cover star!) Lex Ishimoto.
Keep reading...
Show less
May. 16, 2018 02:26PM EST
Ema Peter
The Glorya Kaufman International Dance Center is the 54,000 square foot home of the USC Glorya Kaufman School of Dance, one of the largest facilities dedicated to dance on a private university campus. Designed for their innovative new curriculum, that supports a range of dance styles, the school's staff designated Harlequin to provide wall-to-wall flooring for the large 3,500 square foot Performance Studio as well as five dance studios in their new state-of-the-art building.
Keep reading...
Show less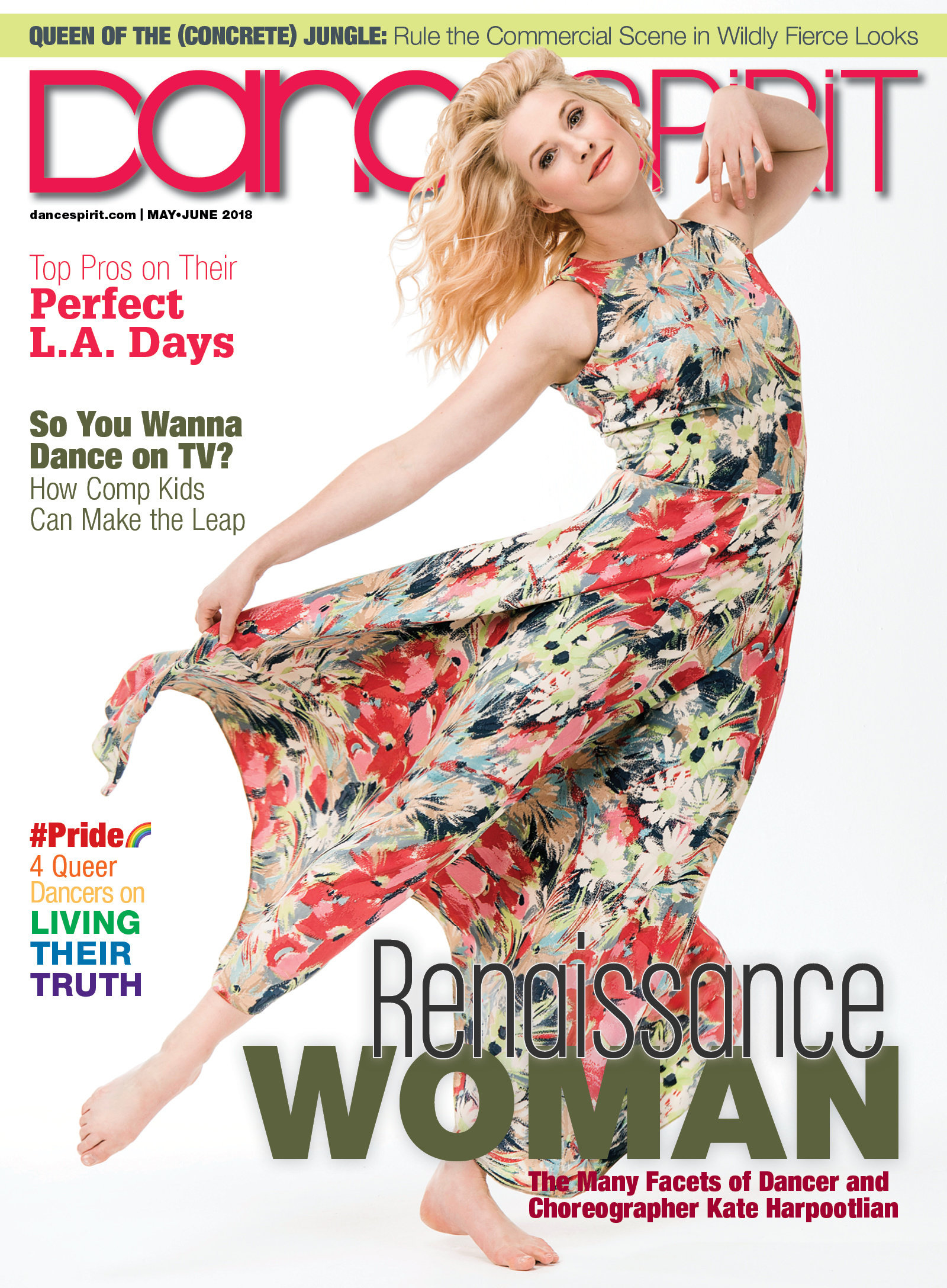 Get Dance Spirit in your inbox