Apr. 19, 2018 01:19PM EST
Troubleshooting Tap Turns: Tips for Pirouettes in Tap Shoes
Justin Boccitto relies on a grounded plié to create a smooth landing out of a turn. (photo by James Jin Photography, courtesy Boccitto)
You know that pirouette dream, when your placement is so perfect you can keep turning forever? That dream is the reality for highly technical tappers, who benefit from the decreased friction of their shoes. Get the placement right and, with a strong spot, they can pirouette for days.
But turning in tap shoes isn't all easy. In fact, those delightfully friction-free shoes bring their own set of challenges, and dancers can easily fall into the spinning-top trap by letting the turn control them, rather than the other way around. Here's how to harness your tap-turning potential.
---
Set Up for Success
As with any pirouette, preparation is key. "It's all about achieving a straight supporting leg," says Justin Boccitto, who teaches tap at Broadway Dance Center in NYC. "As you enter the relevé, think about putting tension into the floor as if you were drilling a hole." Boccitto stresses that "tension" doesn't mean an aggressive push out of the beginning plié: Just straighten the leg, and let the tap shoe do the rest of the work.
Marshall Ellis, of Marshall Ellis Dance School in Orlando, FL, also recommends a lighter push out of the preparatory position. "It's 80 percent finding the balance on your supporting leg, 20 percent pushing from the back foot," he says.
Thinking about the initial placement and movement of your arms can also contribute to a successful takeoff. Juliane Godfrey, dance captain for SpongeBob SquarePants: The Broadway Musical, uses port de bras to maintain technique in tap pirouettes. "At the start of the turn, bring your arms from fourth to first position a bit slower than feels natural," she says. "That will help you maintain control."
Stay in Control
Always center your weight over the supporting leg. "Once you find that sweet spot, you can't relax into the position," Ellis says. "You need to maintain your core strength and placement as you turn."
A lifted center can also help avoid the dreaded spinning-top syndrome—the tendency of some tappers to spin passively, like a dreidel. Ellis recommends a higher relevé. "In tap shoes, you usually have some sort of heel. You need to rise up out of that in the relevé, and lift through your center to avoid that spinning aspect," he says.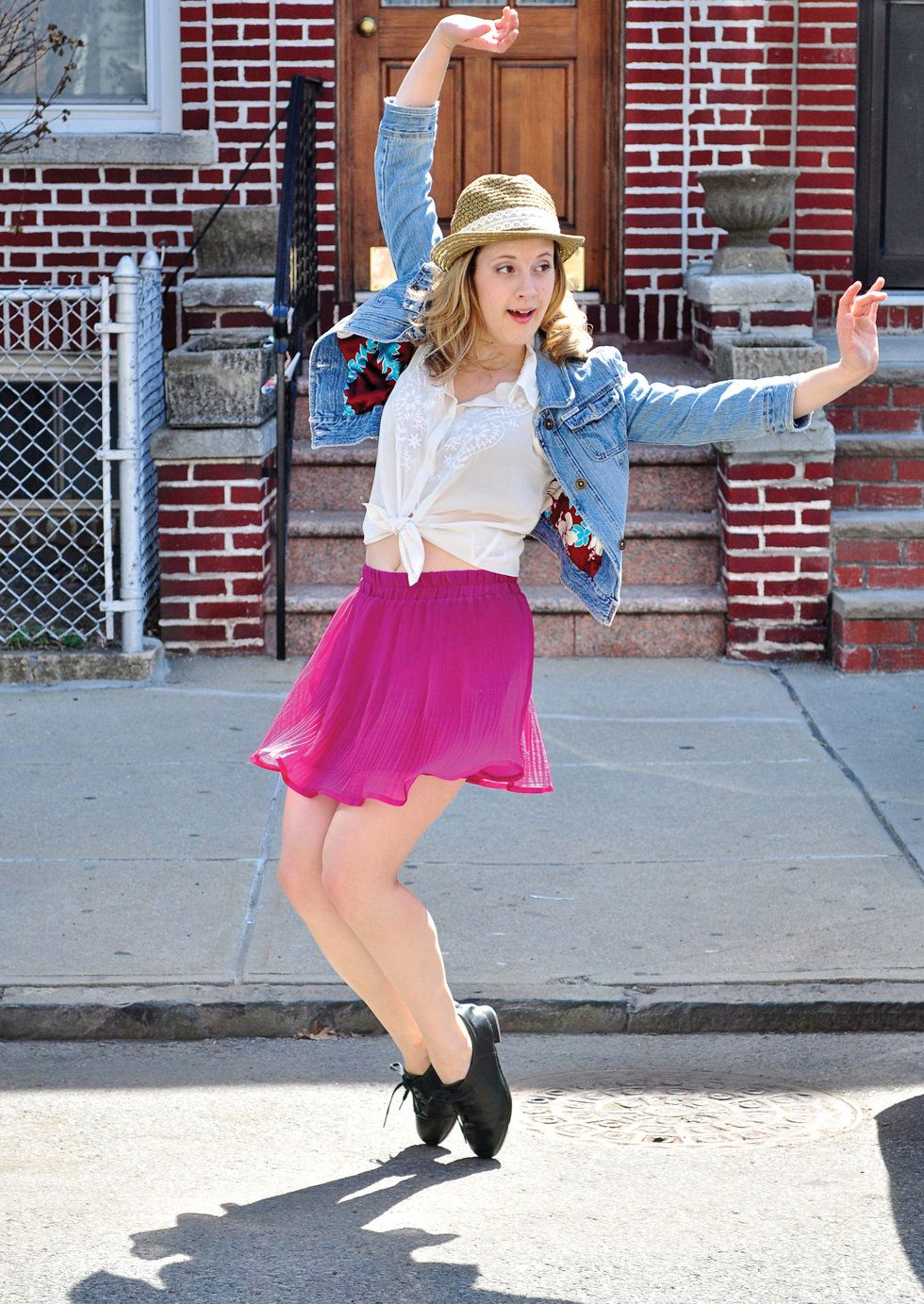 Juliane Godfrey recommends putting gaffer's tape on the bottom of your shoes to avoid slips. (photo by Casey Gill, courtesy Godfrey)
Controlled and distinct pirouettes also require a solid spot with a distinct rhythm that relates to the music. "You need to count!" Godfrey says. Rhythm is particularly important when coordinating multiple turning tappers. "Making sure everyone is in agreement on the exact location and counts of the spot will help synchronize turns," Boccitto says.
Know Your Exit Strategy
We think of nailing multiples as the end-all-be-all, but in tap shoes, executing a clean and controlled double is arguably more impressive than whipping out an unspecified number of pirouettes. Ellis stresses "knowing your number" before you even enter a turn to ensure a clean landing. That way, when it comes time to transition to the next step, you're not tripped up by excess power. A clean landing also requires a certain comfort level with the transition. "Know how many turns you're going to do, and where you're going afterwards," Ellis says.
According to Boccitto, landings depend upon a grounded plié. "A lot of times, we exit turns with a stamp stamp, or a flap ball change. We need to really breathe and plié into those steps to create a smooth landing," he says.
Many tappers worry about slipping as they come out of a turn. "There's a risk that your landing foot will kind of swivel under you because of the lack of friction with the floor," Boccitto says. He recommends creating tension in the leg muscles to avoid this landing swivel. "With tap dancing, we're always telling students to relax, but in this case, there has to be an element of 'good tension,' " he says. "Think about creating resistance against the floor and even against your own body. Tensing the quads and inner thighs as you touch the ground can add extra support to your landing." Godfrey also recommends using gaffer's tape on the bottom of your taps if the stage is particularly slick.
A version of this story appeared in the May/June 2018 issue of Dance Spirit with the title "Tap Turn Troubleshooting."
Dancer to Dancer
Jun. 15, 2019 10:12AM EST
(From left) Darriel Johnakin, Diego Pasillas, and Emma Sutherland (all photos by Erin Baiano)
Congratulations to Dance Spirit's 2019 Cover Model Search finalists: Darriel Johnakin, Diego Pasillas, and Emma Sutherland! One of them will win a spot on Dance Spirit's Fall 2019 cover. Learn more about the dancers on their profile pages, and then vote for your favorite below. You can vote once a day now through July 15.
We also want you to get social! We'll be factoring social media likes and shares into our final tallies. Be sure to show your favorite finalist some love on Facebook, Instagram, and Twitter, sharing their profile pages and using the hashtag #DanceSpiritCMS.
Cover Model Search
Jun. 13, 2019 02:20PM EST
Photo by Erin Baiano
Imagine attending American Ballet Theatre's prestigious NYC summer intensive, training among classical ballet legends. Imagine taking the stage at New York City Dance Alliance Nationals, competing against some of the country's best contemporary dancers. Now, imagine doing both—at the same time.
Welcome to Madison Brown's world. This summer, she's in her third year as a National Training Scholar with ABT, while also competing for NYCDA's Teen Outstanding Dancer title. (She's already won Outstanding Dancer in the Mini and Junior categories.) The logistics are complicated—ABT's five-week intensive overlaps with the weeklong NYCDA Nationals, which translates to a lot of cabs back and forth across Manhattan—but Maddie is committed to making the most of each opportunity. "I love contemporary and ballet equally," she says. "While I'm able to do both, I want to do as much as I can."
Maddie has an expressive face, endless extensions, and a quiet command of the stage. She dances with remarkable maturity—a trait noted by none other than Jennifer Lopez, one of the judges on NBC's "World of Dance," on which Maddie competed in Season 2. Although Maddie didn't take home the show's top prize, she was proud to be the youngest remaining soloist when she was eliminated, and saw the whole experience as an opportunity to grow. After all, she's just getting started. Oh, that's right—did we mention Maddie's only 14?
Cover Story
Jun. 16, 2019 07:00AM EST
Corbin Bleu in rehearsal for "Kiss Me, Kate" (Jenny Anderson, courtesy Roundabout Theatre Company)
If you're a hardcore Broadway baby, today is the worst Sunday of the year. Why, you ask? The Tony Awards were last Sunday, so basically there's nothing to look forward to in life anymore—no James Corden being James Corden, no teary acceptance speeches from newly minted stars, no thrilling excerpts from the hottest new shows. Oh yeah, and there are 50 more Sundays to go before our humdrum lives are once again blessed with the next annual iteration of Broadway's biggest night.
Musical Theater