Jul. 13, 2018 12:16PM EST
True Life: I Performed on NBC's "Jesus Christ Superstar"
John Legend (center, left) as Jesus Christ and Sara Bareilles (center, right) as Mary Magdalene, with cast and crew (photo courtesy NBC Universal)
With musicals like Hairspray, Grease, Peter Pan, and The Wiz earning prime-time spots on big networks, complete with celebrity-studded casts and flashy new choreography, there's no question that live TV musicals are here to stay. But what's it actually like to perform in one? We followed dancer Conor Ryan during the rehearsal process for Jesus Christ Superstar, which aired on NBC on Easter Sunday, to get the inside scoop. The show, starring John Legend and Sara Bareilles, with choreography by Camille A. Brown, got lots of buzzy reviews. —Courtney Bowers
---
Thursday, March 22, 2018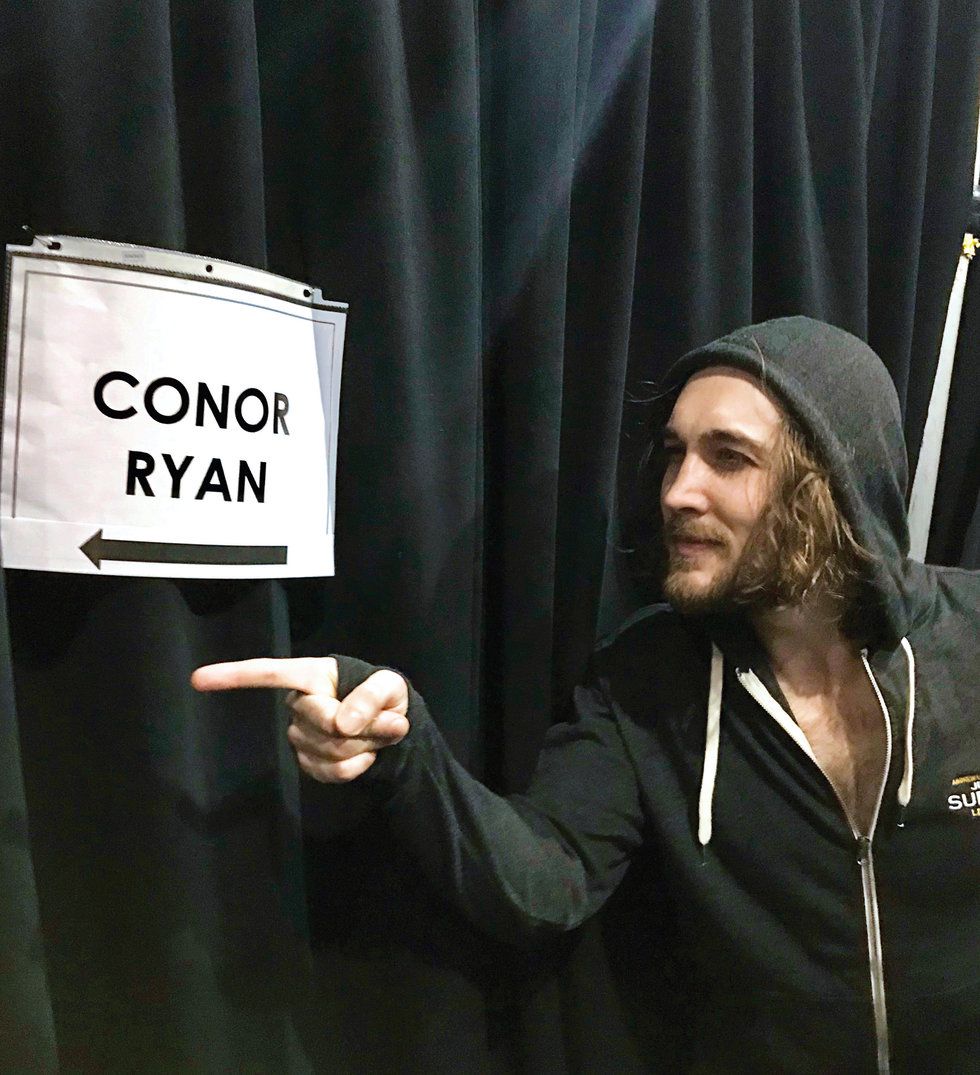 Courtesy Ryan
It's the first day on set at the New York State Armory in Williamsburg, Brooklyn. This place is massive! We just had a sound check today, but I also got to spy my new dressing station.
Sunday, March 25, 2018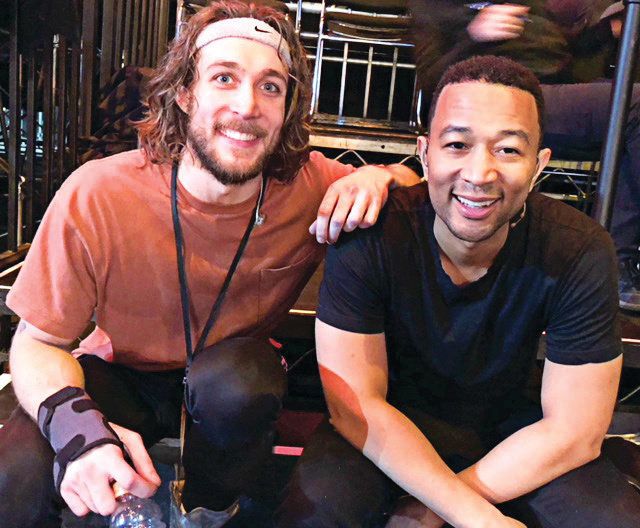 Ryan with Legend (courtesy Ryan)
It's officially one week until the show! Our first rehearsal today on the gorgeous, gargantuan set has presented a whole new set of obstacles, from sand to fire to spray paint. But John Legend is back with us from a three-week album tour, and with Jesus leading us, we're up for anything.
Monday, March 26, 2018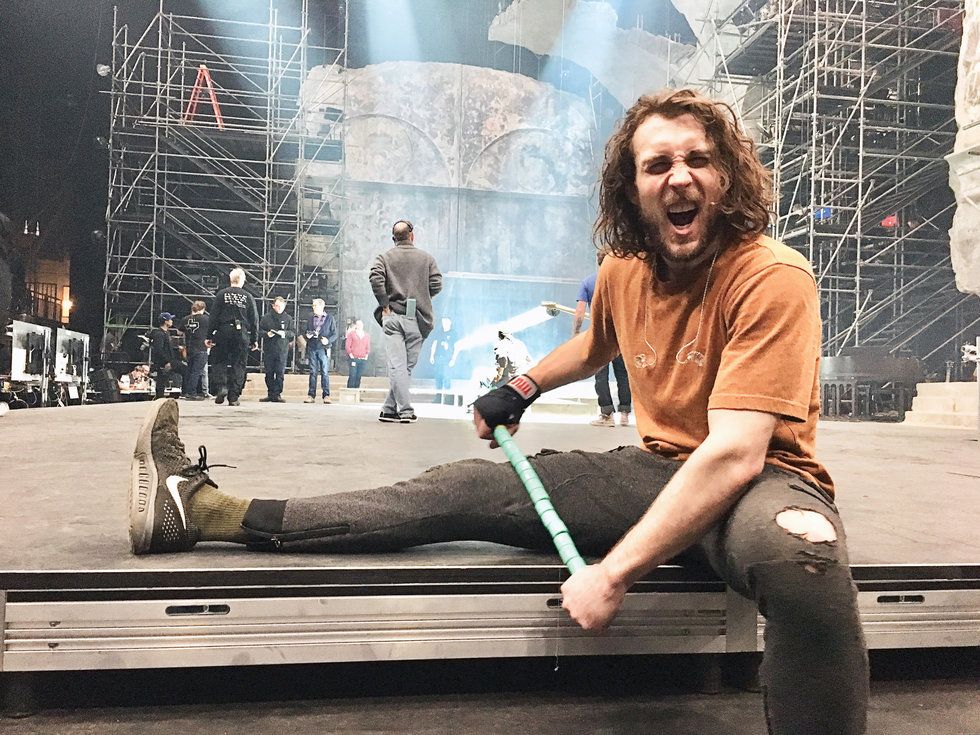 Today was our longest rehearsal yet (9 am to 10:30 pm), and our bodies are really feeling it. The week ahead feels intimidating, but we burned through a major tech portion of the show.
Tuesday, March 27, 2018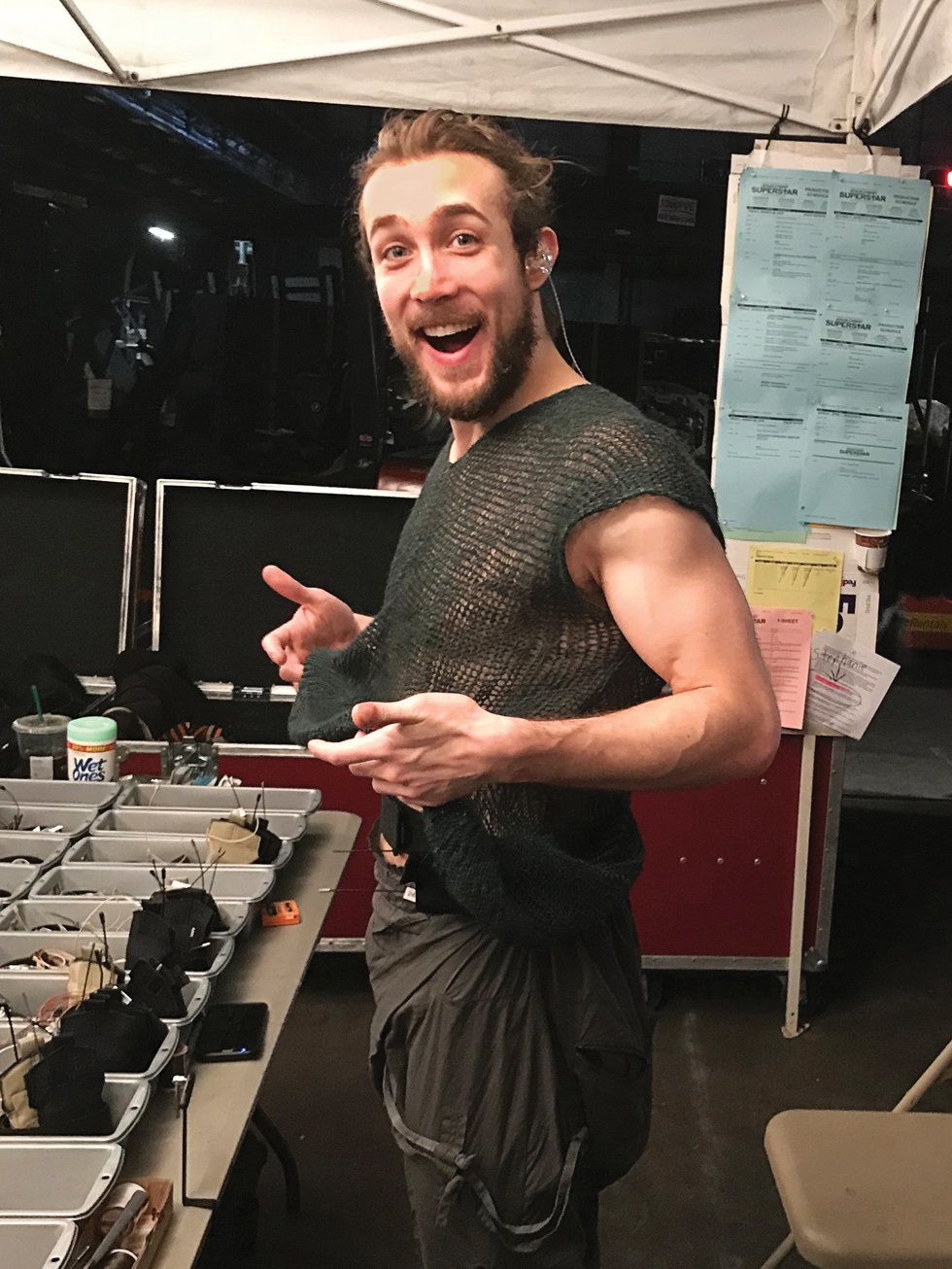 Today's our first rehearsal in full costume. Suddenly the Armory feels a whole lot colder…
Wednesday, March 28, 2018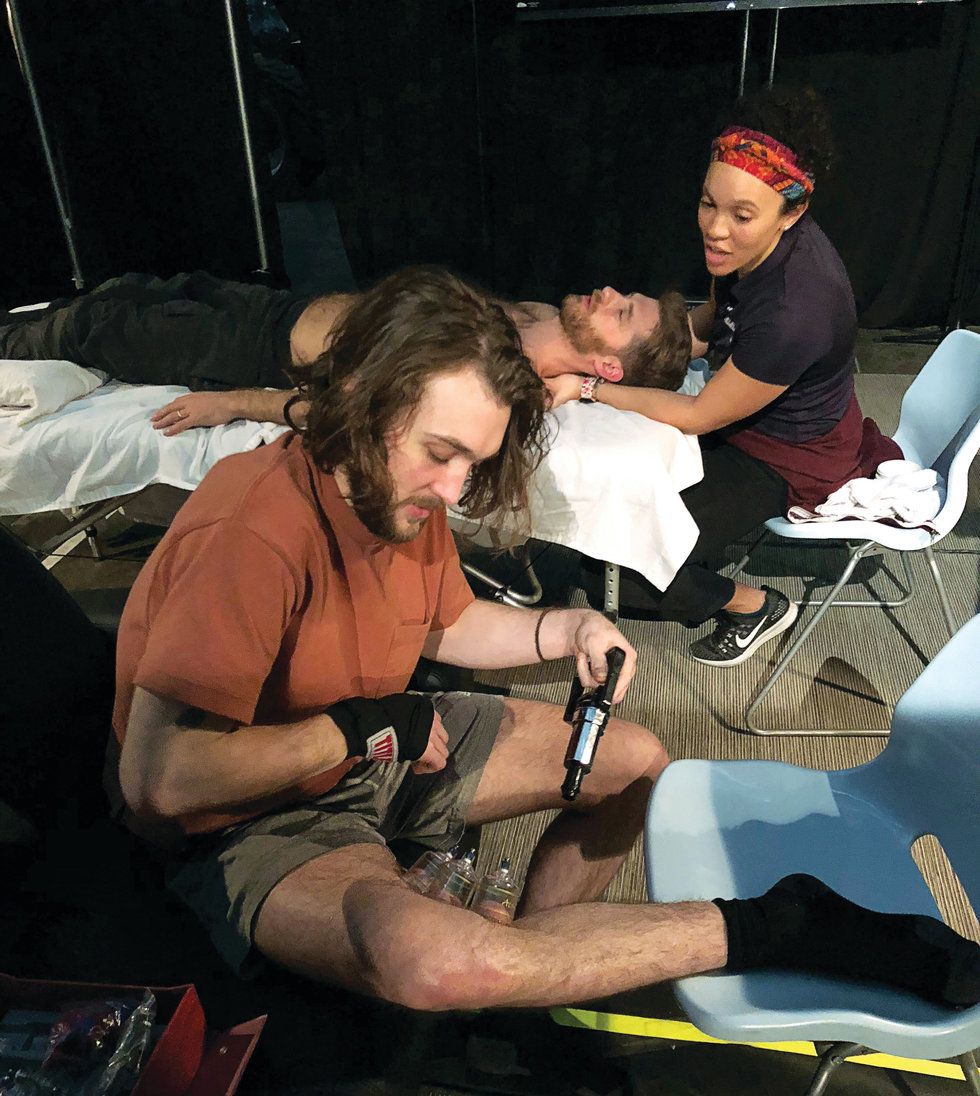 Thank goodness for our physical therapist! Our choreographer, Camille A. Brown, has pushed us to be the absolute best we can be, which means we climb, we slide, we jump, we run, we fight, we fall. And sometimes we hurt.
Thursday, March 29, 2018
We're starting to move from exhaustion to excitement as we enter into the home stretch. No physical therapy today, but we had an ear, nose, and throat doctor visit. It's extremely important that we take good care of ourselves now, especially since the set can be a bit messy.
Friday, March 30, 2018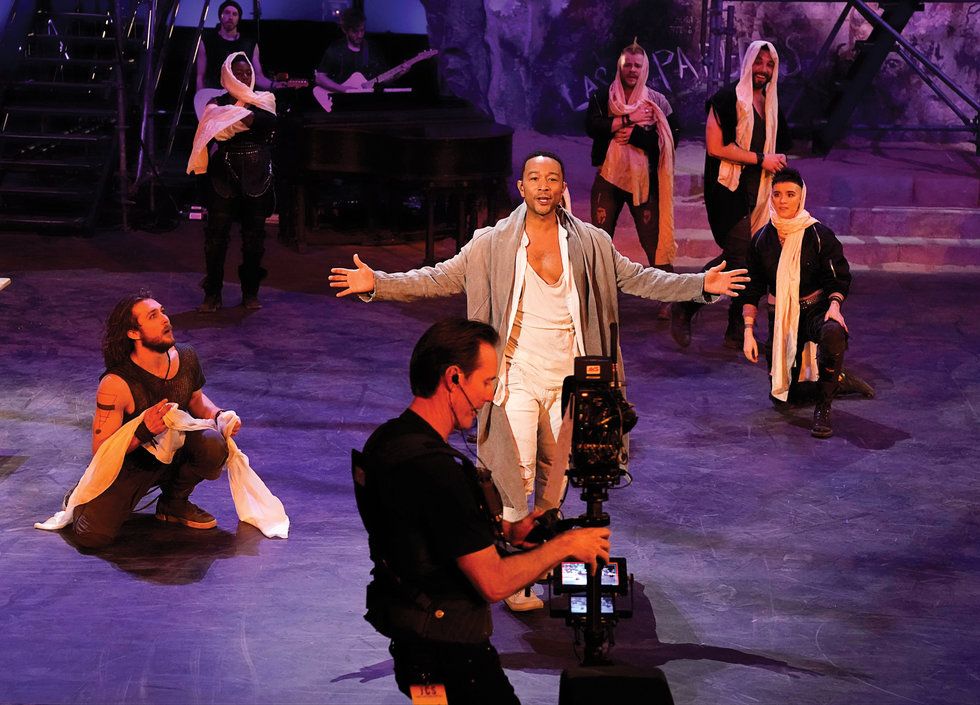 Ryan (left) during a dress rehearsal (courtesy NBC Universal)
Tonight's our first dress rehearsal! What a huge difference it makes to have a live audience watching the show. We only had a few hundred guests filling the mosh pit, but the love was overwhelming.
Saturday, March 31, 2018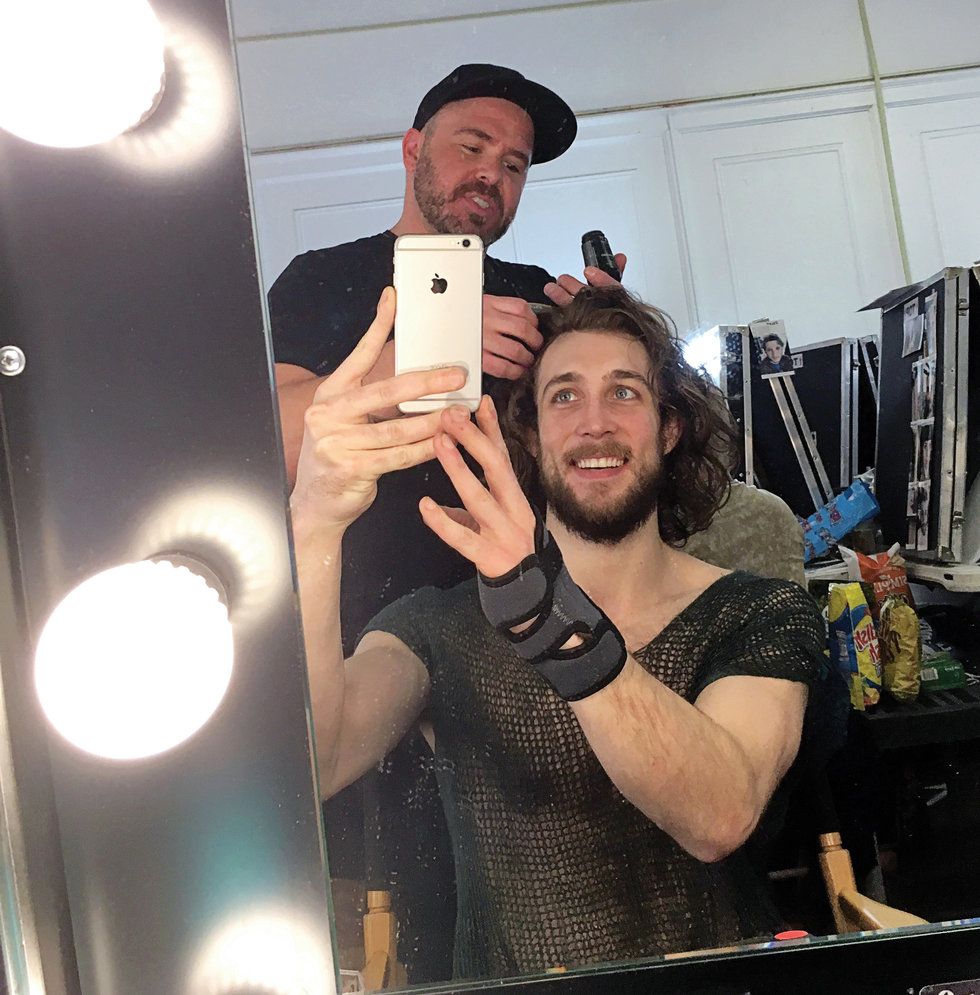 Today is our final dress rehearsal. We're taking what we learned with the small audience last night and adjusting it to fit a full house of over 1,200 people. We've got to pay close attention to the last-minute changes we made after last night and the effects of the enormous energy in the room today. We're also locking in the final hair and makeup looks.
Sunday, April 1, 2018
It's Easter Sunday, the day we finally get to share this Jesus Christ Superstar with the world. I'm so proud of what we've created and am honored to have gotten to be a small part of it. We arrived in the early afternoon for the pre-show warm-up and a few words from our fearless leader, Andrew Lloyd Webber. Then we got makeup and hair done, put our costumes on, and got our mic and in-ear monitors ready, before a little more warm-up. They called "Places" and we waited underneath the risers that held our screaming audience, taking deep breaths. And then, "in 5, 4, 3, 2…," we were live!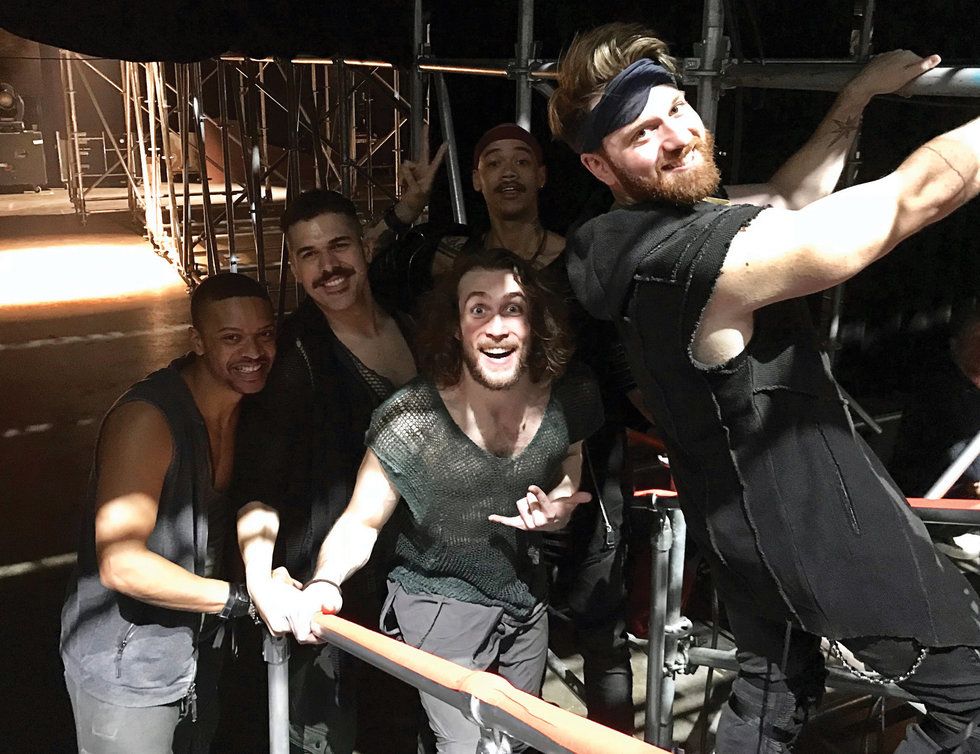 Ryan (center) with castmates, waiting underneath the risers for the live show to start (courtesy Ryan)
During the show, entire musical numbers seemed to occur in the blink of an eye. As a loyal theater geek, I can't believe I'm saying this, but thank goodness for the commercial breaks! What we feared would be disruptive, energy- and momentum-killing pauses turned out to be opportunities to catch our breath, stretch, and process the next steps before flying full-steam ahead. My friends in the audience also got a kick out of seeing me shrug off the character and goof off, or run steps with my castmates before we were back on air.
After the live telecast, the rush of achievement knowing we made it through was amazing. And it was a thrill to dance and celebrate the night away at John Legend's afterparty. I woke up wondering if it all had actually happened. Thankfully, there's actual footage to prove that, yes, I really did that!
A version of this story appeared in the July/August 2018 issue of Dance Spirit with the title "#BTS of a Live TV Musical."
Dancer to Dancer
Jun. 15, 2019 10:12AM EST
(From left) Darriel Johnakin, Diego Pasillas, and Emma Sutherland (all photos by Erin Baiano)
Congratulations to Dance Spirit's 2019 Cover Model Search finalists: Darriel Johnakin, Diego Pasillas, and Emma Sutherland! One of them will win a spot on Dance Spirit's Fall 2019 cover. Learn more about the dancers on their profile pages, and then vote for your favorite below. You can vote once a day now through July 15.
We also want you to get social! We'll be factoring social media likes and shares into our final tallies. Be sure to show your favorite finalist some love on Facebook, Instagram, and Twitter, sharing their profile pages and using the hashtag #DanceSpiritCMS.
Cover Model Search
Jun. 13, 2019 02:20PM EST
Photo by Erin Baiano
Imagine attending American Ballet Theatre's prestigious NYC summer intensive, training among classical ballet legends. Imagine taking the stage at New York City Dance Alliance Nationals, competing against some of the country's best contemporary dancers. Now, imagine doing both—at the same time.
Welcome to Madison Brown's world. This summer, she's in her third year as a National Training Scholar with ABT, while also competing for NYCDA's Teen Outstanding Dancer title. (She's already won Outstanding Dancer in the Mini and Junior categories.) The logistics are complicated—ABT's five-week intensive overlaps with the weeklong NYCDA Nationals, which translates to a lot of cabs back and forth across Manhattan—but Maddie is committed to making the most of each opportunity. "I love contemporary and ballet equally," she says. "While I'm able to do both, I want to do as much as I can."
Maddie has an expressive face, endless extensions, and a quiet command of the stage. She dances with remarkable maturity—a trait noted by none other than Jennifer Lopez, one of the judges on NBC's "World of Dance," on which Maddie competed in Season 2. Although Maddie didn't take home the show's top prize, she was proud to be the youngest remaining soloist when she was eliminated, and saw the whole experience as an opportunity to grow. After all, she's just getting started. Oh, that's right—did we mention Maddie's only 14?
Cover Story
Jun. 16, 2019 07:00AM EST
Corbin Bleu in rehearsal for "Kiss Me, Kate" (Jenny Anderson, courtesy Roundabout Theatre Company)
If you're a hardcore Broadway baby, today is the worst Sunday of the year. Why, you ask? The Tony Awards were last Sunday, so basically there's nothing to look forward to in life anymore—no James Corden being James Corden, no teary acceptance speeches from newly minted stars, no thrilling excerpts from the hottest new shows. Oh yeah, and there are 50 more Sundays to go before our humdrum lives are once again blessed with the next annual iteration of Broadway's biggest night.
Musical Theater