How To
Jun. 09, 2017 03:45PM EST
Tune Up Your Tapping Tone
Michelle Dorrance (front) in a rehearsal with Dorrance Dance (photo by Dana Pleasant)
"Imagine if a vocalist sang everything in monotone," says Michelle Dorrance, whose company will perform its evening-length ETM: Double Down in England and Germany this summer. That's the equivalent of a performance without a diverse array of flat slaps, deep-bass heel drops and high, tinkly taps—it's one-note. Tappers "are dancers and musicians, and we have such a range of possibilities within a single step, from our sound quality and pitch to volume and dynamics," Dorrance says. "In order to be a sophisticated artist as a tap dancer, developing an ear for tonal clarity and understanding the physical execution it takes to create different tones is endlessly important." Here's what you need to know to go beyond the monotone.

---
Map the Tap

So what is tone, exactly? "Tone is the nature and/or quality of your sound," says Dorrance. "It's the color, the timbre, the feel." And you can create different kinds of sounds out of the same tap, explains Aaron Tolson, a New Hampshire–based performer, choreographer and teacher, and the founder of Sole Power Fitness, who performed in NYC for six years. "It's not necessarily about volume or pressure, but about placement on the tap," he says.

The tip of the tap, by the front screw, for example, gives you the highest-pitched sound. The inside edge of the front tap gives a rich, deep tone. Both sound far different from the center of the tap, where most beginner shuffles live, and which gives off the flattest sound.

Your physicality, tools and environment—literally, what's under your feet—are all factors in tone too. Tolson also believes the type of shoe you wear makes a difference. He recommends a shoe with a heavy leather bottom and a wooden heel. "A professional shoe will give a better sound than an inexpensive one," he says.
Aaron Tolson performing a tap solo (photo by Andy Yu)
Throw Your Weight Around

Beyond these external factors, tone is a choice, Tolson says, so you have to be deliberate. The same attention to detail you bring to your ballet alignment will help you here, not only as you try to control the type of sound you want, but also as you work to execute the step clearly. Even subtle adjustments can make a difference. "The way the foot and leg approach the floor—the angle, strength of attack and direction—has everything to do with executing tone," Dorrance says. A sophisticated tapper will be able to replicate a clean, clear sound by understanding the physical approach.

If you like what you hear but it needs cleaning up, experiment with your physicality. Remember that the more surface area of the tap you use, the harder it is to make a clean sound, Tolson says. Try shifting your weight away from the heel of your standing leg or going into a deeper plié. Relevé slightly or as high as you can to make a little more space for your foot to meet the floor where you want the tap to strike.

Find Your Sound

" 'Reaching' is really the best word I can use for playing with tone—you're reaching for your limits in sound and range of motion," Tolson says. Ultimately, enhancing your understanding of tone will change your performance style and set you apart as an artist. "It's pretty common to see someone dance really fast and pull off a lot of tricks, but when you can shade with volume, make sophisticated choices about sound quality and tone, then you're really creating music," Tolson says. "That's masterful."
Ayo &Teo incorporate cotton swabs in their dancing to bring awareness to blood caner (courtesy DoSomething.org)
Rapping, dance duo Ayo & Teo may still want "ice on their wrists so (they) look better when (they) dance," as they're 2017 chart topping song, "Rolex" says, but the two are featuring a more unusual accessory in their recent dance routine: The cotton swab. After teaming up with DoSomething.org for the Give A Spit About Cancer campaign, Ayo & Teo are encouraging people to join the national bone marrow registry and donate marrow for those suffering from blood cancer.
Keep reading...
Show less
Looking for your next audition shoe? Shot at and in collaboration with Broadway Dance Center, Só Dança has launched a new collection of shoes working with some pretty famous faces of the musical theater world! Offered in two different styles and either 2.5" or 3" heels, top industry professionals are loving how versatile and supportive these shoes are! Pro tip: The heel is centered under the body so you can feel confident and stable!
Lealand Eve
As a teenager, contemporary dancer Eveline Kleinjans felt like nothing she did was good enough. Auditioning for university dance programs paralyzed her: "I was so focused on every move I made and what people would think that I wasn't able to be free, to be myself," she says. And her intense perfectionism had real repercussions. "I'd get negative feedback saying, 'We don't see you.' "
Perfectionism is extremely common in the dance world, because dancers hold themselves to terrifically high standards. It's easy to get a little discouraged when you aren't improving as quickly as you want. But there's a difference between healthy self-criticism and an unhealthy obsession with perfection. How can you tell when your drive to be better has crossed the line—and what can you do to get back on track?
Keep reading...
Show less
Partnering is hard enough as it is: You're trying to untangle technical snafus and synchronize your movements with those of another dancer, not to mention building the delicate trust required to catch and be caught, lift and be lifted. Throw a hostile or uncooperative partner into the mix, and you might wish you could take a pass on pas de deux. But don't give up! We asked the experts for tips on how to solve partnering's "relationship problems" as gracefully as possible.
Keep reading...
Show less
Artyon Celestine and Paige Glenn showing their lift skills (photo by Kristin Glenn, courtesy Glenn)
Yes, they're quite possibly the cutest dance duo since, well, ever. But put Paige Glenn and Artyon Celestine onstage, and it's immediately clear they mean business. That was apparent to millions across the country last summer, when Artyon and Paige's unbelievable extensions, fearless turning, and infectious energy propelled them to the quarterfinals of "America's Got Talent." They've also appeared (together or individually) on "Little Big Shots," "Lip Sync Battle Shorties," "The Ellen DeGeneres Show," and "Access Hollywood Live"—not to mention the competition titles they've won as a pair.
"Simon Cowell came backstage during 'AGT' and told us, 'Go out there and do your best. They're going to like you.' "—Artyon
Keep reading...
Show less
Popular
Apr. 02, 2018 10:14AM EST
Showstopper's National Finals Opening Number Performance
Showstopper has been making its impact on the dance world since 1978. Before then, dancers didn't have a stage to perform on, the opportunity to learn from peers, or a competitive outlet like most sports. Debbie Roberts recognized this missing piece in the dance community and that is how America's first and longest running dance competition, Showstopper, was born. Debbie taught dance for over 26 years and owned and operated her own dance studio for 20 years. She is now the owner and National Director of Showstopper, along side her husband, Dave Roberts. Dancer, teacher, business owner, author, and mother, Debbie has made dance her life's career.
Keep reading...
Show less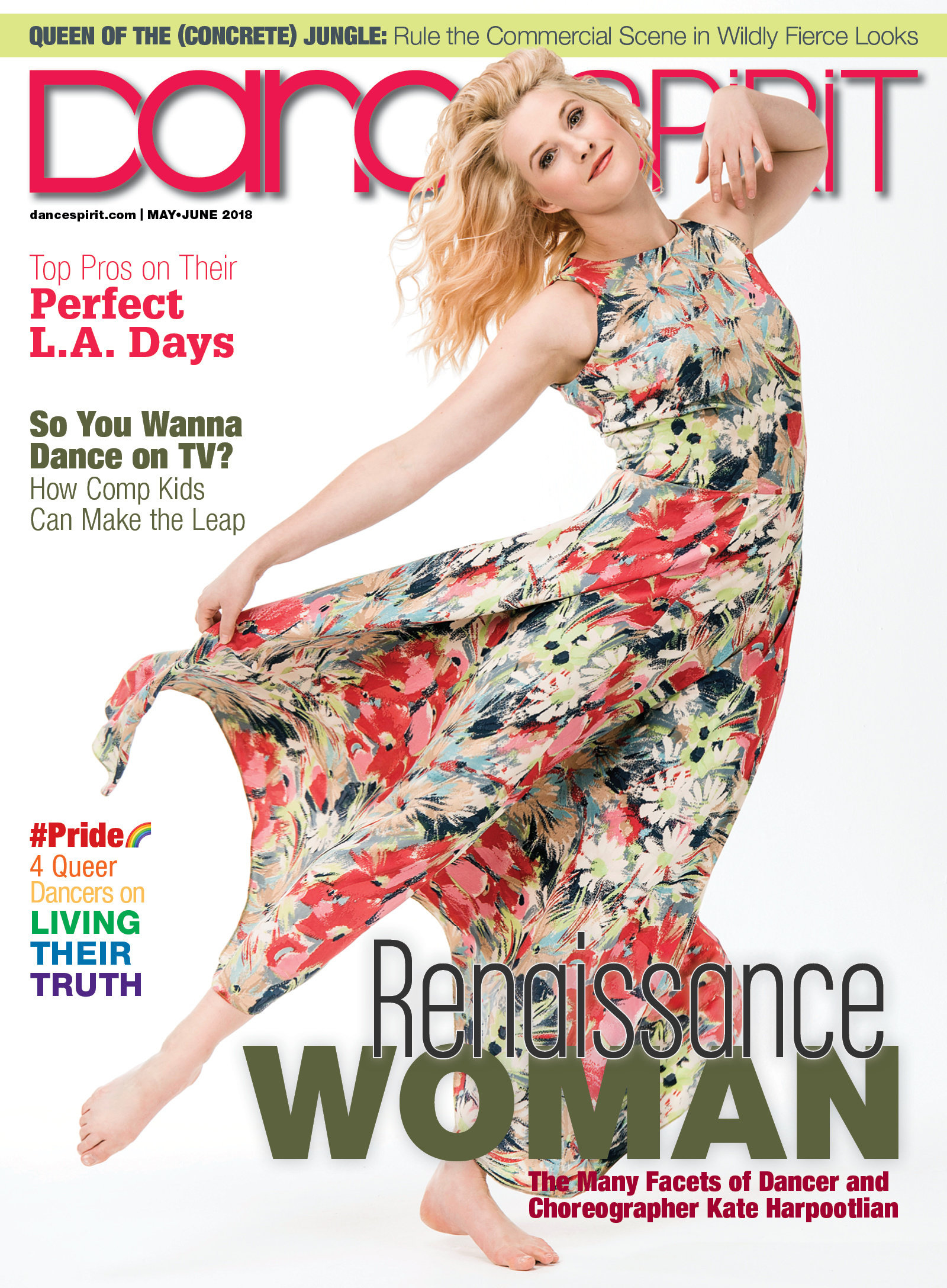 Get Dance Spirit in your inbox