Aug. 13, 2019 01:34PM EST
The Season 16 Top 10 in Mandy Moore's oh-so-joyful routine (Eddy Chen/FOX)
We did it! We made it to the live competition shows!
The "we" in question, of course, being the viewers and voters at home, the four hardworking judges, and—yay!—the Season 16 Top 10. Last night, the top five guys and the top five women took to the "So You Think You Can Dance" live stage for the first time, performing for viewer votes. Which is no small feat, as evidenced by the past 15 seasons.
And to kick off the live shows, we had a little something new! Gone are the days of the top dancers strutting onstage to perform a solo eight-count before coming together as a group for that sassy step-ball-change walk downstage and that final "here we are!" pose as Cat Deeley bellows, "Welcome! To So You Think You Can Dance!" Nope: Season 16 is all about that tech. The 10 finalists started onstage, performing those aforementioned eight-counts accompanied by crazy laser beams that were seemingly passed from one dancer to the next. Then the dancers united to perform a joyful routine to "This Is Me" from The Greatest Showman, choreographed by Mandy Moore. It was totally lovely and happy.
As for the rest of the episode: Each member of the Top 10 performed once with a partner and again as part of a mini group. Up for grabs this season are $250,000, the cover of Dance Spirit (!!!), and the title of America's Favorite Dancer. Here's who's most likely to take it all after last night's episode.
Dance on TV
Aug. 06, 2019 01:15PM EST
Did long-time frontrunner Gino Cosculluela (here with All-Star Lauren Froderman) make the cut? (Greg Gayne/FOX)
We almost don't dare to say it, but after last night's final, final, final Season 16 audition round, it appears to be true: Next week, IT'S TIME FOR THE LIVE SHOWS!
We're getting ahead of ourselves, though. First, we (as in Nigel, Mary, Dominic, and Laurieann) had to whittle down the top guys. Remember last week, when the Top 10 women became the Top 5? Last night, the "So You Think You Can Dance" judges made the same round of cuts for the remaining 10 men. Each remaining dude was paired with an All-Star and a choreographer to perform a routine outside his comfort zone. Here's what went down, and who made the final cut.
Dance on TV
Jul. 30, 2019 01:51PM EST
Is fan favorite Madison Jordan (here with All-Star Kiki) one of them? (Greg Gayne/FOX)
Well, unless Nigel Lythgoe (sir!) has something wild and crazy up his sleeves—which he very well may after 16 seasons—it is finally, at very long last, after half a summer and so much patience, almost time to meet the "So You Think You Can Dance" Season 16 Top 10.
Yeah, we're not there quite yet.
On last night's "Final Cut" episode, the Top 10 ladies were each paired with an All-Star and a "legendary choreographer" to learn some critical choreography. (Choreography from outside their comfort zone, that is.) Then, after one last performance for the judges, the 10 became five. Here's what went down, and which women are headed to the live shows next week.
Dance on TV
Jul. 23, 2019 01:17PM EST
Which of these Academy hopefuls made this week's cut? (Adam Rose/FOX)
Last night, "So You Think You Can Dance" gave us The Academy, Part II—which concluded with the judges choosing their Top 10 guys and Top 10 girls. But before that reveal, we got a little more contemporary, a whole lotta Mandy Moore, some solos, and, as always plenty of drama.
"The Academy scares the h--- out of these dancers," Nigel admitted. "And it should." Never one to mince words, that Nigel. Here's how it all went.
Dance on TV
Jul. 16, 2019 01:00PM EST
At The Academy, the choreo comes hard and fast, and the cuts are absolutely brutal—every. single. time. (Adam Rose/FOX)
"Welcome to the real world, kids." —Laurieann Gibson, Disher of Hard Truths
But seriously! Welcome to The Academy, that magical/terrible place where choreography comes hard and fast, meltdowns are par for the course, someone is bound to get injured, and the cuts are absolutely brutal—every. single. time.
After approximately 14 million weeks of individual auditions, 79 dancers were given "golden tickets" to The Academy, held at L.A.'s famous Dolby Theatre this year. There, they faced four rounds of choreography: hip hop with Luther Brown, ballroom with Emma Slater and Sasha Farber, contemporary with Talia Favia, and the group round with Mandy Moore.
This week's episode documented the first three choreo rounds. Here's what went down at the Dolby.
Dance on TV
Jul. 09, 2019 01:14PM EST
B-boy Michael Salas nailing his audition (Adam Rose/FOX)
To quote old-lady Rose Dawson from Titanic: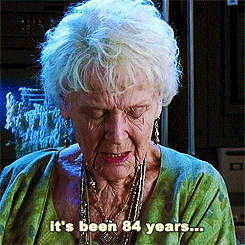 OK, so maybe it hasn't really been a full 84 years since Season 16 of "So You Think You Can Dance" first graced our screens. But it kinda feels like it, right? The entire summer so far has been dedicated to auditions! Along the way—five episodes, not 84 years, for the record—we've seen some really stellar talent. And next week, we'll get to see how all that talent fares at The Academy.
But let's not get too ahead of ourselves. Let's talk about what went down during the last few auditions.
Dance on TV
Jun. 25, 2019 01:01PM EST
Madison Jordan and Jarrod Tyler Paulson brought their real-life romance to the audition stage. (Adam Rose/FOX)
It's usually right around the third or fourth week of "So You Think You Can Dance" audition rounds that we start itching for the live shows. Sure, the auditions are fun, inspiring, and entertaining, but at a certain point, we reach audition saturation. (And the live shows are just so good and feature so much more Cat Deeley.)
All that said, Nigel and co. kept things spicy this week, so our attention remained firmly glued to the screen. (It's been 16 seasons—who are we to doubt Nigel Lythgoe, sir?) Here's how it all went down.
Dance on TV
Jun. 18, 2019 01:12PM EST
Jordynn and Elan—standouts from last season's Academy round—brought the heat again this year. (Adam Rose/FOX)
In many teasers, FOX promised this would be a "powerful" episode of "So You Think You Can Dance." We have to admit that we didn't take that super seriously. We assumed it just meant we'd get one or two emotional contemporary routines sandwiched between the b-boys and the LOL-worthy auditions.
But oh, man: The teasers weren't exaggerating. This episode made us ugly cry—multiple times. Here are the tear-soaked highlights.
Dance on TV
Jun. 11, 2019 01:09PM EST
Kaeli Ware and Brandon Talbott gave us LEGS for DAYS. (Adam Rose/FOX)
It's the second week of auditions in L.A., and everyone's feeling feisty! (Well, Laurieann's feeling feisty, that's for sure.) As the search for America's Favorite Dancer continues, here's what was awesome about Week 2.
Dance on TV
Jun. 04, 2019 01:10PM EST
YAAAS, Sosa siblings! (Adam Rose/FOX)
A slow-motion, battement-filled opening montage set to music from The Greatest Showman can only mean one thing: To quote the hostess with the mostest, the ever-fabulous Cat Deeley, "Welcome! to So You Think You Can Dance!"
The OG dance competition show is back and, as always, promising to be better than ever. For the show's sweet 16, executive producer Nigel Lythgoe and longtime judge Mary Murphy have some new company at the judges' table: tough-as-nails choreographer-to-the-pop-stars Laurieann Gibson and former "SYT" contestant and "America's Best Dance Crew" winner and judge Dominic "D-Trix" Sandoval. We've also got a new set, 120 cameras capturing the action on the stage, and a live audience in L.A. from day one.
Here are the hopefuls who wowed us during the first episode.
Dance on TV
Get Dance Spirit in your inbox
Nov. 16, 2018 04:49PM EST
Photo by Erin Baiano
Most-used emoji: ❤️
Favorite place to shop: Lululemon
Her dance style in five words: "Hard-hitting, lots of tricks"
Dancer to Dancer
Nov. 14, 2018 04:18PM EST
When Hannahlei Cabanilla rolled up to her Dance Spirit cover shoot—just 36 hours after being named the "So You Think You Can Dance" Season 15 champion—she looked impossibly fresh-faced and well-rested. The Anaheim Hills, CA, native may have had "about eight blisters," as she joked, on her feet; she may barely have slept since the big win; and she may have just performed on "Live with Kelly and Ryan." But she jumped right on set, and quite literally didn't stop jumping for the next five hours. The fabulous technique, irresistible personality, and (especially) boundless energy that earned her the title of America's Favorite Dancer were all on full display.
So what was it actually like for Hannahlei to compete on the show she'd watched since she was a tiny dancer—and what's next for the now–19-year-old? Read on.
Cover Story
Sep. 11, 2018 01:41PM EST
Seconds after the big reveal! (FOX)
Some people say summer is officially over after Labor Day. Others say the end of summer is the day everyone goes back to school. Officially, summer is over after September 21st. But in our world and yours, the end of summer is marked only by one thing: the "So You Think You Can Dance" finale.
Last night, to wrap up Season 15 and, along with it, another summer, Nigel, Mary, Vanessa, and tWitch crowned one lucky dancer as the season's winner. But before getting to that, there was the usual dance down memory lane.
Dance News