Jul. 29, 2019 03:24PM EST
D. Duguet, Courtesy Moulin Rouge
Last week, Moulin Rouge! The Musical, based off Baz Luhrmann's 2001 hit and choreographed by Sonya Tayeh, opened on Broadway to rave reviews.
On opening night, there were a few members in the audience with a unique perspective on the show: Dancers and artistic staff members from the actual Moulin Rouge in Paris. Samantha Greenlund, an Everson, Washington, native, spent the past three years as a dancer at the Moulin Rouge, and spoke to DM the morning after the red carpet event to offer her take on the musical.
Site Network
Jun. 21, 2019 03:54PM EST
Irina Kolpakova in the studio with Katherine Williams. Photo by Quinn Wharton for Pointe.
Being coached by a treasure like former Kirov prima Irina Kolpakova is an experience most dancers only dream of. But company members at American Ballet Theatre have been the lucky beneficiaries of her wisdom since 1990. Thanks to Instagram, where pros like Gillian Murphy and James Whiteside share snippets of their sessions with Kolpakova, any ballet lover can be a fly on the wall during rehearsals with the famed ballet mistress.

Site Network
Jun. 14, 2019 08:38PM EST
Devon Teuscher performing the titular role in Jane Eyre. Photo by Gene Schiavone, Courtesy ABT
Story ballets that debut during American Ballet Theatre's spring season at the Metropolitan Opera House are always the subject of much curiosity—and, sometimes, much debate. Cathy Marston's Jane Eyre was no different. The ballet follows the eponymous heroine of Charlotte Brönte's novel as she grows from a willful orphan to a self-possessed governess, charting her romance with the haughty Mr. Rochester and the social forces that threaten to tear them apart.
While the ballet was warmly received in the UK when Northern Ballet premiered it in 2016, its reception from New York City–based critics has been far less welcoming. A group of editors from Dance Magazine and two of our sister publications, Dance Spirit and Pointe, sat down to discuss our own reactions.
Site Network
Jun. 06, 2019 03:44PM EST
Natalia Osipova in rehearsal. Photo by Alastair Muir, Courtesy Sadler's Wells
You never quite know what's going to happen when Natalia Osipova steps onstage—you know you're in for something extraordinary, but the exact nature of what you'll get is a mystery until it's happening. It's only fitting, then, that we would learn of Force of Nature, a new documentary following a year of the ballet superstar's career, a day before its limited release in the UK.
Site Network
May. 08, 2019 05:30PM EST
Apr. 19, 2019 03:52PM EST
Ramasar and Catazaro, photos via Instagram
One of the country's top arbitrators has decided to reinstate Amar Ramasar and Zachary Catazaro to New York City Ballet. The former principals were fired last fall for "inappropriate communications," namely graphic text messages.
The dancers' union, American Guild of Musical Artists, fought the termination, arguing that the firings were unjust since they related entirely to non-work activity. After a careful review of the facts, an independent arbitrator determined that the terminations were indeed "wrongful and unjust."
Site Network
Apr. 09, 2019 05:14PM EST
Photo by @FullOutCreative
Last night at Parsons Dance's 2019 gala, the company celebrated one of our own: DanceMedia owner Frederic M. Seegal.
In a speech, artistic director David Parsons said that he wanted to honor Seegal for the way he devotes his energy to supporting premier art organizations, "making sure that the arts are part of who we are," he said.
Site Network
Mar. 29, 2019 05:30PM EST
Courtesy Juilliard
Lawrence Rhodes passed away on Wednesday, March 27, at age 80. Rhodes, best known as Larry, had a long and celebrated career as a dancer, teacher and director, most recently heading The Juilliard School's dance department.
I first met Rhodes in 2017, when we started work together on an autobiography charting his life and career. Over countless hours spent seated at the kitchen table of his Upper West Side apartment, Rhodes often reminded me that his dance career, both on and off stage, had spanned over 60 years; his passion for the work remained his driving force.
Site Network
Mar. 13, 2019 01:30PM EST
Angela Sterling, Courtesy PNB
The French definition might translate to "shouldering," but épaulement is actually much more than that. "It's not just a superficial turn of the shoulders—it creates energy from the inside out," says Marisa Albee, faculty member at the Pacific Northwest Ballet School. It's also what can elevate technically proficient dancing to something nuanced, dynamic and truly exciting. "Think of épaulement as the punctuation at the end of a sentence," says Brooke Moore, a faculty member for BalletMet's trainee program. "The head and the eyes are the exclamation point!"
Site Network
Mar. 12, 2019 03:55PM EST
Paula Lobo, Courtesy Matt Ross PR
It was only a matter of time before dance super couple Sara Mearns and Joshua Bergasse did a major project together.
After all, the newlyweds first met when Mearns, a New York City Ballet star, was being considered for a part on the TV show "Smash," which Bergasse was choreographing. They hit it off, but the role ended up getting cut.

Fast-forward to today, and they're working on their first full-length musical together: I Married an Angel, which opens next week as part of New York City Center's Encores! season, with Bergasse as choreographer and Mearns as the star.
Site Network
Get Dance Spirit in your inbox
Feb. 22, 2019 04:02PM EST
Ryan Heffington's Seeing You. Photo by Steven Trumon Gray, Courtesy Cantora
The fourth wall has come down, and it has opened up a whole new kind of gig for dancers. Since Sleep No More became a hit in 2011, immersive theater experiences have been shattering expectations by inviting audiences to move through the world of the performance as they please. What kind of skill set does this burgeoning art form demand?
Site Network
Feb. 01, 2019 07:25PM EST
Rachel Neville
Don't let her sizeable Instagram following or willingness to speak publicity about living with anxiety, depression and autism give you the wrong idea. "My speaking out about it does not mean it's easy or fun," says dancer Sydney Magruder Washington. "It means I'm not ashamed and you shouldn't be either."
And though (thankfully) open conversations about mental health are becoming more common in the dance world, there's still a long way to go. We picked Washington's brain about what it's like to live with mental illness as a dancer, the survival tips she's learned and what the dance world still doesn't seem to understand about mental health:
Site Network
Jan. 07, 2019 05:38PM EST
Photo by Carlos Quezada, courtesy ABT.
American Ballet Theatre announced today that Brooklyn Mack, a former Washington Ballet star, will join the company as a guest for its spring season at the Metropolitan Opera House. Currently an in-demand international guest artist, Mack will dance in three performances of ABT's Le Corsaire this June.
Site Network
Dec. 21, 2018 12:17AM EST
Raven Wilkinson in Les Sylphides. Photo Courtesy Wilkinson.
Ballerina Raven Wilkinson passed away on Monday at her home in New York City at age 83. Wilkinson is best known as the first African American woman to dance full-time with the Ballet Russe de Monte Carlo and as a cherished mentor to Misty Copeland.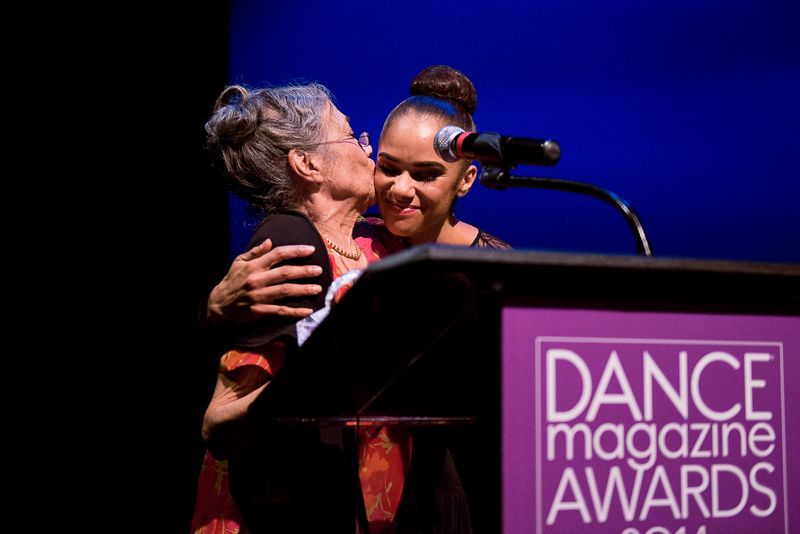 Raven Wilkinson presenting Misty Copeland with the Dance Magazine Award in 2014. Photo by Cherylynn Tsushima for Dance Magazine.
Site Network
Dec. 10, 2018 02:01PM EST
Photo credits, clockwise from bottom left: Peter Mueller, Courtesy Cincinnati Ballet; Jayme Thornton; Jochen Viehoff, Courtesy Stephanie Troyak; Karolina Kuras, Courtesy National Ballet of Canada; Natasha Razina, Courtesy State Academic Mariinsky Theatre; Kim Kenney, Courtesy Atlanta Ballet; Jim Lafferty; Arian Molina Soca, Courtesy Pennsylvania Ballet; Altin Kaftira, Courtesy Dutch National Ballet; Scott Shaw, Courtesy Shamar Wayne Watt
What's next for the dance world? Our annual list of the dancers, choreographers and companies that are on the verge of skyrocketing has a pretty excellent track record of answering that question.
Here they are: the 25 up-and-coming artists we believe represent the future of our field.
Site Network