Aug. 22, 2019 08:34PM EST
Via @lizzo on Twitter
On August 20, pop goddess Lizzo tweeted, "Someone do a ballet routine to truth hurts pls," referring to the anthem that's been top on everyone's playlists this summer. Lizzo might not know it yet, but ballet dancers are not known for shying away from a challenge. In the past two days, the internet has exploded which responses, with dancers like Houston Ballet's Harper Watters and American Ballet Theatre's Erica Lall tagging the singer in submissions.
Below are a few of our favorites so far, but we're guessing that this is just the beginning. Ballet world, consider yourselves officially challenged! (Use #LizzoBalletChallenge so we know what you're up to.)
Dance Videos
Aug. 05, 2019 02:50PM EST
Courtesy Jill Barletti
If you've been waiting with bated breath for the ballet emoji that is due to hit iPhones everywhere this September, we might have something even better to add tutus to your texts in the meantime—these cute new ballerina iMessage stickers, now available for download from the App Store.
Site Network
Jun. 27, 2019 04:05PM EST
Gemma Bond in the studio with ABT's Cassandra Trenary. Jim Lafferty.
If like us you're already mourning the end of American Ballet Theatre's marathon Met season, don't fear. The company just announced the lineup for its fall season, and there's a lot to look forward to.

Running October 16-27 at Lincoln Center's David H. Koch Theater, ABT's fall lineup includes world premieres by choreographers Twyla Tharp and Gemma Bond. While Tharp has been creating for ABT since 1976 (the company's Met season included a trio of her works), corps dancer Gemma Bond will be making her choreographic debut for ABT's main company. The season also shines a spotlight on principal Herman Cornejo, who will be celebrating his 20th anniversary with the company.
Site Network
Jun. 18, 2019 09:16PM EST
Left: Misa Kuranaga in The Veritginous Thrill of Exactitude. Gene Schiavone, Courtesy Boston Ballet. Right: Sasha Mukhamedov in Apollo. Altin Kaftira, Courtesy Dutch National Ballet.
Site Network
May. 22, 2019 08:26PM EST
Ashley Bouder in George Balanchine and Alexandra Danilova's Coppélia. Erin Baiano, Courtesy NYCB.
Hollywood may have the Oscars, but ballet has the Prix de Benois de la Danse. Held every spring at Moscow's Bolshoi Theater, the prestigious international awards ceremony recognizes dancers, choreographers, composers and designers for their extraordinary work on and off the stage. This year's laureates, chosen by a jury, were announced during an awards ceremony last night, followed by a star-studded gala featuring many of the nominated artists.
Site Network
Feb. 27, 2019 06:19PM EST
Mackenzie Brown competing at this year's Prix de Lausanne. Gregory Bartadon, Courtesy PDL.
Earlier this month, 16-year-old Mackenzie Brown took home the first prize at the 2019 Prix de Lausanne. Not only was the Stafford, Virginia-native the only American to place in the finals; she also won the Contemporary Dance Prize and the Audience Favorite Prize. A student at the Académie Princesse Grace in Monaco, Brown's path to the Prix was anything but smooth: The determined young dancer fought against injuries that threatened to keep her on the sidelines.
We caught up with Brown, currently taking a few weeks to recover at home with her family in Virginia, to hear all about her experience at the Prix de Lausanne.
Site Network
Jan. 07, 2019 05:38PM EST
Photo by Carlos Quezada, courtesy ABT.
American Ballet Theatre announced today that Brooklyn Mack, a former Washington Ballet star, will join the company as a guest for its spring season at the Metropolitan Opera House. Currently an in-demand international guest artist, Mack will dance in three performances of ABT's Le Corsaire this June.
Site Network
Dec. 21, 2018 12:17AM EST
Raven Wilkinson in Les Sylphides. Photo Courtesy Wilkinson.
Ballerina Raven Wilkinson passed away on Monday at her home in New York City at age 83. Wilkinson is best known as the first African American woman to dance full-time with the Ballet Russe de Monte Carlo and as a cherished mentor to Misty Copeland.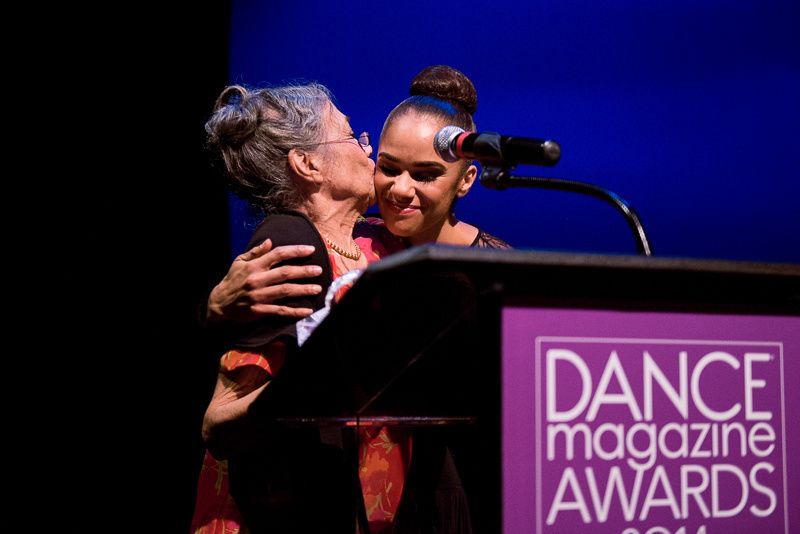 Raven Wilkinson presenting Misty Copeland with the Dance Magazine Award in 2014. Photo by Cherylynn Tsushima for Dance Magazine.
Dance News
Dec. 19, 2018 08:14PM EST
ABT Studio Company dancers Joseph Markey and Chloe Misseldine in the latest episode of "No Days Off." Screenshot via YouTube.
If you've ever wondered what it's like to be a member of American Ballet Theatre's Studio Company, you're in luck. The latest episode of "No Days Off," a documentary web series profiling young and inspiring athletes, spotlights 17-year-old Joseph Markey, a first-year Studio Company member. The doc not only underscores the physical aspects of Markey's training, but also the artistic refinements he must make on his road to becoming a professional dancer.
17-Year-Old Is The FUTURE of Dance www.youtube.com
Site Network
Nov. 29, 2018 09:27PM EST
Screenshot via YouTube
As all bunheads know, there's so much more to dancing on pointe than sewing and bourées. In this new video, The Australian Ballet lays it all out for us, from A-Z. Or rather from "Arch" to "Zzzzzz's." Using a super fast-paced style, this four-and-a-half minute long video skips back and forth between ultra-sleek minimalism and sepia-toned nostalgia. Both educational and insider-y (see "cashews" at 0:54), this video includes some gorgeous shots (Apollo-inspired arabesques at 2:00) interspersed with quirky humor (note adorable pointe shoe bed at 3:53).

So here you go, "A to Z En Pointe." Did they miss any?
A TO Z EN POINTE www.youtube.com
Site Network
Get Dance Spirit in your inbox
Nov. 16, 2018 09:30PM EST
SFB corps de ballet dancer Miranda Silveira in Athleta. Photo Courtesy Athleta.
Just in time for Nutcracker season (and the cold weather that has us layering on our coziest warmups), fitness brand Athleta teamed up with San Francisco Ballet for their first Athleta Dance collection. Available beginning November 27, the capsule collection will include designs in women's and girl's sizes inspired by and created in collaboration with the dancers of SFB.
Of course, this isn't the first time a major athletic wear brand has teamed up with professional ballerinas. Under Armour has now launched two collections with American Ballet Theatre principal Misty Copeland, and most recently, Royal Ballet principal Francesca Hayward created limited-edition designs with Lululemon.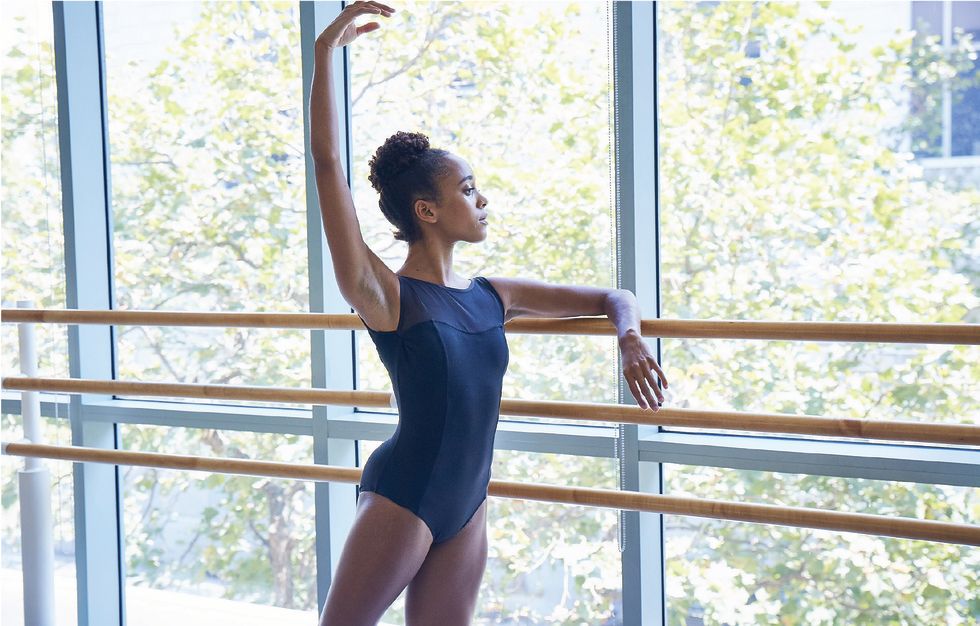 SFB's Miranda Silveira in the Athleta Dance En Pointe leotard, $79, available in black.
Photo via Athleta
Just for Fun
Nov. 06, 2018 10:08PM EST
Sara Mearns and Joshua Bergasse said "I do" in a beachside ceremony on November 3. Photo by Perry Vaile Photography, courtesy of Brides.
If you follow New York City Ballet principal Sara Mearns on Instagram, you'll have noticed that for the past several months, her feed has included wedding prep pics in addition to her usual performance posts and cross-training clips. This past weekend, the big day finally arrived, and Mearns married Broadway and television choreographer Joshua Bergasse in a dreamy beach ceremony in North Carolina.
And if you were hoping Mearns' wedding day would include a bit of ballet, she didn't disappoint. Not only were some familiar NYCB faces in the bridal party and at the reception, but Mearns made sure to include a nod or two to her career. Luckily, Mearns also spent the day with Brides magazine, letting them in on the ceremony and the reception to exclusively capture all of the best moments.
Just for Fun
Nov. 05, 2018 10:27PM EST
Nov. 02, 2018 04:49PM EST
Sergei Polunin and Misty Copeland lead a corps of 18 dancers in choreography by Liam Scarlett. Photo courtesy Walt Disney Studios Motion Pictures
The wait for Disney's reimagining of The Nutcracker is over. Although The Nutcracker and The Four Realms is not a full-length ballet, woven into the plot is a five-minute performance by megastars Misty Copeland and Sergei Polunin alongside 18 supporting dancers, with a CGI Mouse King moved by jookin sensation Lil Buck (aka Charles Riley). Royal Ballet artist in residence Liam Scarlett led the film's choreography in his first major motion picture experience. "It was a call I didn't expect to get," says Scarlett. "I really am the biggest Disney fan, so I couldn't believe it!"
Just for Fun
Nov. 01, 2018 09:38PM EST
Mackenzie Foy as Clara and Keira Knightly as Sugar Plum star in this new Nutcracker spin-off. Photo by Laurie Sparham, Courtesy Disney Enterprises, Inc.
If there's one thing that dancers know well, it's The Nutcracker. From the minutiae of the plot to the choreography to Tchaikovsky's timeless score, we've got it down.
Disney's new holiday film, The Nutcracker and The Four Realms, released in theaters November 2, is not a retelling of the ballet's story, and it's not a dance movie. Nevertheless, we think there's plenty in it for bunheads to love (like Misty Copeland). Don't believe us? First, watch this featurette featuring Copeland, and then read on for four reasons why you might want to take a break from your Nut rehearsals to head to the movies.
Disney's The Nutcracker and The Four Realms - "On Set with Misty Copeland" Featurette www.youtube.com
Just for Fun