Sep. 20, 2019 01:37PM EST
Courtesy Just for Kix
Purple is often associated with royalty, power and wisdom. Sound like qualities you'd like to bring to your dancing? Same.
We rounded up our favorite purple looks from Just for Kix, for inside the studio or on the stage:
Just for Inspiration, Sponsored by Just for Kix
Sep. 17, 2019 04:30PM EST
Getty Images
Guides and Resources
Sep. 16, 2019 04:18PM EST
Courtesy of American Dance Movement
Giveaways
Sep. 13, 2019 08:27PM EST
Photo of Lythgoe by Anthony Behar/PictureGroup, courtesy Fox. Photo of Deeley by Adam Rose, courtesy Fox.
It's been 14 years (!) since "So You Think You Can Dance" first graced our television screens. Over its 16 seasons, the prolific show has presented hundreds of routines. And many of them have been jump-off-your-couch-and-cheer great. "SYT" numbers regularly wow viewers, win Emmy Awards, and launch the careers of dancers and choreographers.
So in a way we weren't surprised that, when asked to pick their favorite "SYT" routines, producer Nigel Lythgoe and host Cat Deeley had the same initial response: It's too hard! We asked them to choose 5 to 10 pieces; Lythgoe couldn't narrow his list to fewer than 12.
In the end, their agonized-over choices included not only stone-cold classics, but also some unexpected picks. Here—in chronological order—are the "SYT" numbers Deeley and Lythgoe can't live without. —Margaret Fuhrer
Just for Fun
Sep. 11, 2019 06:00PM EST
Francesca Hayward in a photo from the new "Ballerina Project" book (Dane Shitagi, courtesy Chronicle Books)
Giveaways
Sep. 11, 2019 03:02PM EST
The Dynamo
Darriel Johnakin is your 2019 Cover Model Search winner!
Love, Diego/Love, Emma
CMS runners-up Diego Pasillas and Emma Sutherland write thank-you letters to their fans
Nigel Lythgoe and Cat Deeley's Favorite "SYTYCD" Routines of All Time
The numbers the "SYTYCD" icons can't live without.
#GetReadyWithMe
Three professional dancers take us inside their dressing rooms for a behind-the-scenes look at everything from makeup to mementos.
Nationals Trendspotting
Top trends from this past summer's Nationals.
Seven Mistakes Dancers Make When Choosing a College Program
Don't let them happen to you!
"Should I Minor in Dance?"
For college-bound dancers, it's a major question.
Letter to My First-Year Self
Five senior dance majors reflect on their college experiences.
Letter to My Teenage Self
Ballet dancer turned Broadway star Robert Fairchild.
The Dirt
Rising Ailey II company member Caroline Theodora Dartey.
Dear Katie
Kathryn Morgan answers your pressing dance questions.
Buzz
The differences between hot and ice baths—and when dancers should use each.
Health
How overstretching can lead to inferior results and injury.
Fitness
The right (and wrong) ways to do three key stretches.
Choreography
Creating movement for inexperienced performers doesn't have to be daunting.
College Corner
The life-changing magic of office hours.
You Should Know
Comp star and bunhead Rebecca Myles Stewart.
Sep. 05, 2019 01:30PM EST
Courtesy Madison Goodman
Congratulations to the August Cover Model Search Editors' Choice video winner, Madison Goodman! Catch her solo below, and make sure to enter the Cover Model Search here.
Cover Model Search
Sep. 03, 2019 01:16PM EST
Get Shot By Brian, Courtesy National Dance Showcase
In today's culture, winning is everything—so much so that most dance competitions highlight trophies above all else and emphasize the importance of being on top. But before platinum and first place became top priority, competitions were a chance for dancers to be inspired, have an incredible experience, and grow, as both artists and people.
Some competitions, like National Dance Showcase, are committed to presenting a new model, in the hope that other comps follow suit. Instead of promoting a culture where only winning matters, NDS focuses on nurturing the whole dancer. That doesn't mean NDS or comps like it are any less competitive—it's just about striking the right balance and remembering what a dance competition should really be about:
Sponsored by National Dance Showcase
Aug. 16, 2019 06:00PM EST
Jordan Matter, Courtesy BLOCH
When it comes to dancewear, BLOCH has long been a brand dancers trust—but you've probably never seen them quite like this before. For their new back-to-school campaign, debuting exclusively here on Dance Spirit, the brand teamed up with photographer Jordan Matter, known for his adventurous, playful shoots that push dancers out of their comfort zones.
They knew he'd be able to capture the energy, fun, and excitement of back-to-school season. It was also a dream collaboration for Matter. "I travel to London a lot, and I've used the outside of their store as a location because all the designs are so beautiful," he says. "Even before I ever worked with them I was starting to utilize their products in my photos. And I know they have a great reputation."
Sponsored by BLOCH
Aug. 15, 2019 08:41PM EST
Courtesy Amy Palmer
Congratulations to the July Cover Model Search Editors' Choice video winner, Amy Palmer! Check out her solo below, and enter the Cover Model Search here.
Cover Model Search
Get Dance Spirit in your inbox
Aug. 12, 2019 12:59PM EST
Dean College dancers performing "Bitter Suite" by student choreographer Jenna Mae Mixner ('19). (Scott May, Courtesy Dean College)
Imagine: It's your first year in a dance company and the artistic director is staging a new work. She works through a few phrases of choreography and then turns to you, asking you to come up with something of your own. Are you ready?
In many of today's most exciting companies, the choreographer/muse relationship is being disrupted in favor of collaboration. Many dancers also find that their own dancing improves after they have tried their hand at creating new work. "Choreographers want to work with performers who aren't afraid to take risks, make bold decisions, and contribute something that will ultimately make the work stronger," says Dean College professor of dance studies, Stephen Ursprung.
Make sure your dance degree is going to work for you in the real world. At Dean College in Franklin, Massachusetts, The Joan Phelps Palladino School of Dance is preparing their BFA and BA dancers for the changing professional world that awaits them with a special focus on dance composition. Whether you are in school with an ambition to be a professional dancer, a choreographer, or both, look for opportunities to deep dive into the process of creating dance.
Sponsored by Dean College
Aug. 05, 2019 01:56PM EST
Jul. 08, 2019 08:19AM EST
Screenshot via YouTube, courtesy Jamaii Melvin
Congratulations to the June Cover Model Search Editors' Choice video winner, Jamaii Melvin! Catch his solo below, and enter the Cover Model Search here.
Cover Model Search
Jun. 21, 2019 07:34PM EST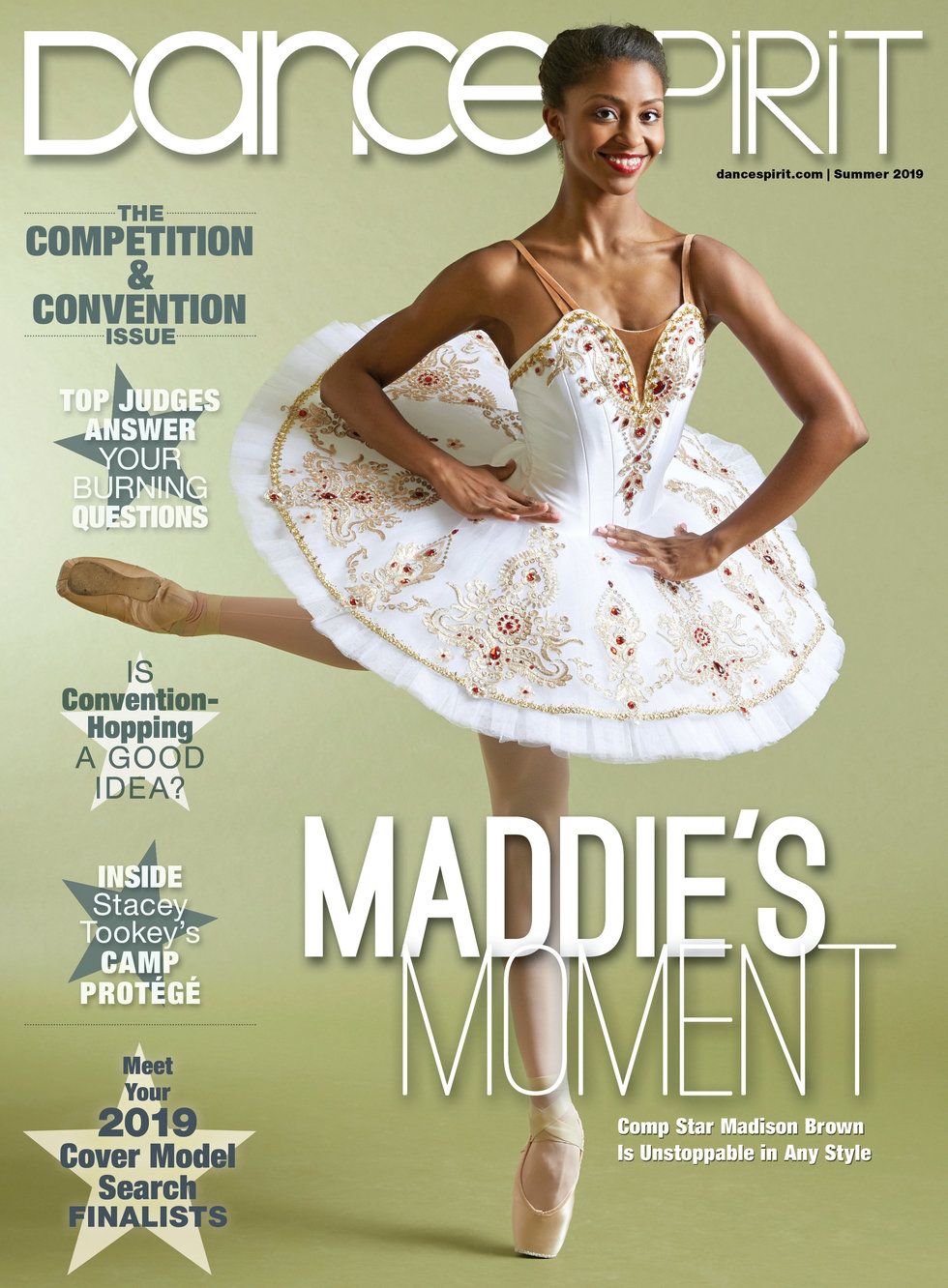 The Best of Both Worlds
From the ballet studio to the competition stage, Madison Brown can't stop making waves.
Acting for Dancers
Why you should add it to your performance toolbox.
Meet the 2019 Cover Model Search Finalists
Introducing Darriel Johnakin, Diego Pasillas, and Emma Sutherland.
The Case for Staying with Studio Training
Abandoning your home studio to convention-hop might be tempting—but for most dancers, the cons outweigh the pros.
This Must Be the Place
An insider's look at Stacey Tookey's Camp Protégé, an experience unlike any other.
Dance Spirit's 2019–2020 Competition & Convention Guide
Info on this season's must-attend events.
Buzz
Moulin Rouge! comes to Broadway, the delightfully dancy Descendants 3, and more.
The Dirt
Contemporary goddess and "So You Think You Can Dance" alum Taylor Sieve.
Letter to My Teenage Self

American Ballet Theatre principal Isabella Boylston.
Diary
A week in the life of an American dancer at Tokyo Disneyland.
Body Buzz
The healing power of meditation for dancers.
Fitness
Strengthening exercises to help you perfect your pirouettes.
Modern
Everything you need to know about contact improvisation.
Competition
We asked judges from two top comps to answer your burning Q's—and you might be surprised by their answers.
College Corner
What you can do to prep for freshman year.
Branch Out
How lighting design made Sophie Sotsky a better choreographer.
You Should Know
Elegant danseur Darrion Sellman.
Jun. 17, 2019 07:43PM EST