Sophie Robertson
Sophie Robertson is a dance arts administration and journalism double major at Butler University and a former Dance Spirit intern.
Feb. 16, 2019 12:00PM EST
Getty Images
Ever since starting her professional career, Broadway dancer Amber Ardolino has cupped. Using the holistic wellness practice to improve performance and take care of her body, Ardolino cupped before it was cool—even beating the 2016 Rio Olympics' purple polka-dotted athletes to the punch. But Ardolino's only one dancer who has put this therapy to regular use. Dance Spirit asked Carrie Gaerte, PT, DPT, ATC, and performance rehab specialist with St. Vincent Sports Performance who works with Indianapolis' Dance Kaleidoscope; and Thomas Droge, Chinese-medicine doctor and founder of Pathfinder Institute in NYC, to explain the ins and outs of cupping therapy.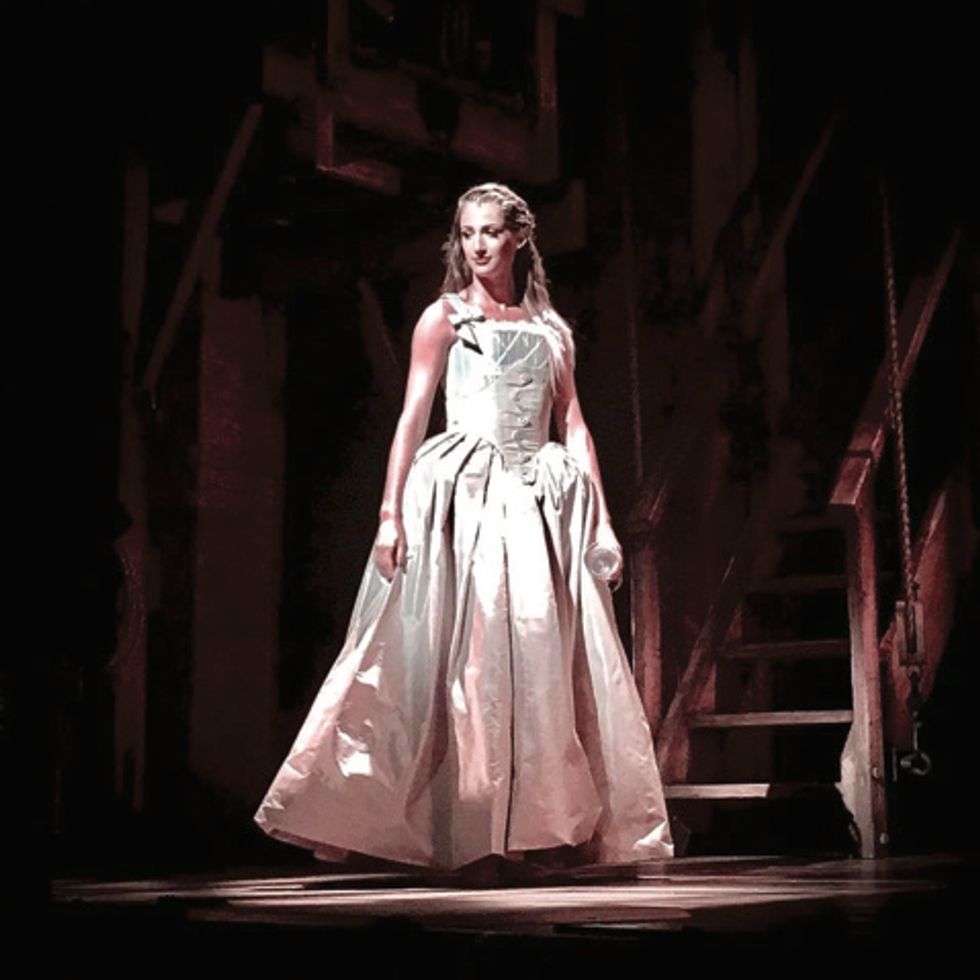 Amber Ardolino in "Hamilton" (courtesy Ardolino)
Health & Body
Feb. 08, 2019 05:42PM EST
Darius Hickman and Magda Fialek performing on "So You Think You Can Dance" (Adam Rose/FOX)
With every audition comes its fair share of nerves. The stakes are high, and dancers strive for perfection. But even pros with super-successful careers make mistakes. These five dancers tell us all about their biggest audition mishaps—and how they pushed through.
Dancer to Dancer
Jan. 02, 2019 06:28PM EST
Photo by Linda Yun
From biscuits to bananas, feet are the first thing dancers notice. They're great fodder for humorous Instas and can make for some mesmerizing lines. But on a more serious note, foot shape can impact you and your dancing in many ways. DS turned to the experts for insight into how everything from the length of your toes to the height of your arch can make a difference. So, put your feet up and read on to see what they have to say!
Health & Body
Nov. 27, 2018 10:01PM EST
A dancer participating in a Movement Exchange program (via Instagram, @movementexchange)
It's #GivingTuesday, and people around the world are giving back. So how can you? Check out how these organizations that are making a difference—one dance move at a time.
Dancer to Dancer
Nov. 27, 2018 05:51PM EST
Spirit of America Dance Star dancer Liliann DeVos (far right) on her way to the perform in the parade (courtesy DeVos)
Nothing kicks off the holiday season quite like the Macy's Thanksgiving Day Parade. From boppin' elves to singing Christmas trees, the parade is one to watch—and definitely one to dance in. Every year, the famed Spirit of America Dance Star team performance gathers tons of dancers from high schools and studios from across the country. So what was it really like to dance in the parade last Thursday? We caught up with Spirit of America dancer Liliann DeVos to hear how the day big day went, and what she had to do to prepare. Liliann is a 17-year-old dancer from Frisco, TX, who serves as the captain of the Wakeland High School Legacy Line and is a member of the Next Step Dance Senior Drill Company. Read on for the deets!
Dancer to Dancer
Sep. 18, 2018 03:43PM EST
Hayden Hopkins studying in the theater before transforming into Mystère's La Belle (courtesy Mystère 'by Cirque Du Soleil)
A full-time university isn't your only option for earning a degree. Enrolling in college part-time while pursuing a pro career is a challenge well worth the rewards.
Dancer to Dancer
Jul. 26, 2018 05:01PM EST
Childhood photos are always cute—but add dance to the mix, and boy, are you in for a treat. Awkward poses, retro costumes, and adorable grins: What more could you ask for? Here are seven adorable chubby-cheeked little dance kids who grew up to be big stars.
Dancer to Dancer
Jul. 25, 2018 07:45PM EST
(From left) Misty Copeland, Ebony Williams, and Ashley Murphy in pancaked shoes (photo by Nathan Sayers)
No two pairs of pointe shoes are the same, from their shanks to their boxes, their color to their shine. To make an array of shoes more uniform or to get them to a shade closer to your skin tone, dance teachers might ask that you "pancake" your pointe shoes before going onstage. But what does that entail, exactly? We're here to show you.
How To
Jul. 23, 2018 06:14PM EST
Jul. 18, 2018 04:45PM EST
We all spend hours online perusing one dance vid after another, from silly to serious, funny to fierce. Now, SELF has asked two of our fave dance pros for their takes on some of the most famous internet dance moves.
You'll live for Maddie Ziegler and Derek Hough's reviews of everything from finger breakdancing and Harlem shakes to Sergei Polunin and Shakira. And the two of them even bust some moves of their own: Ziegler moonwalks, and Hough breaks into a salsa. Trust us, you don't want to miss it.
Dance Videos
Get Dance Spirit in your inbox
Jul. 16, 2018 09:10PM EST
A year (and five seasons) after being released, the video game sensation, Fortnite, is here to stay—and so is the totally unexpected dance craze it's launched. The game's comical dance moves have sparked legions of real-life recreations by everyone from professional actors to World Cup players.
And now even seasoned dancers like "SYTYCD" stars Fik-Shun and Cyrus have jumped on the Fortnite train:
Dance News
Jul. 16, 2018 04:08PM EST
There's nothing more purrrrfect than some fabulous trinas and their feline friends. We're not kitten: These bonds are paw-sitively adorable! From hanging out backstage to working out together and more, these pairs will pas de chat their way straight into your heart.
Dancer to Dancer
Jul. 10, 2018 09:17PM EST
It took no fewer than three years for choreographers Chris Martin and Larkin Poynton to create Project Home, a 45-minute film that brings together artists from all over the world (including the inspirational Mari Madrid!). And their finished product is sure to take your breath away. Seriously, guys: It's beautiful.

Dance Videos
Jul. 05, 2018 06:25PM EST
A lot of what's happening in the world today can be hard to talk about—It's too upsetting, too controversial, or too ugly for words to do it justice. But dance can. And crew Choreo Cookies showed us just how powerful dance's impact can be with its latest performance, a meditation on discrimination in America, at Arena Dance Competition in LA.
Dance Videos
Jul. 03, 2018 04:34PM EST
Ballet Austin summer intensive students with associate artistic director, Michelle Martin (Anne Marie Bloodgood, courtesy Ballet Austin)
You're in a studio that's not your own, surrounded by dancers you don't know. You're excited and nervous, all at the same time. It's the first day of your summer intensive, and you're eager to make a good impression. But how? We asked the experts for advice.
How To


Get Dance Spirit in your inbox