Keeping It Natural: How to Walk and Run Onstage
Michelle Fleet (center) and Company in Paul Taylor's Also Playing (Paul B. Goode, courtesy PTAMD)
When dancers audition for Paul Taylor Dance Company, they're often thrown by one particular request: to walk across the studio by themselves. "Paul can see a lot about a person by the way they walk," says Michelle Fleet, a veteran Taylor dancer. "But many people get cut at that point, because they're terrified—a walk can be so revealing."
---
What is it about walking and running that makes even the most talented dancers clam up? These pedestrian actions seem so simple (we do them every day!), but they're tough to get right in front of an audience. And they're important, too: Whether you're strutting through the commercial scene, running in pointe shoes or stepping out on Broadway, how you walk and run can say a lot about you and the character you're portraying. Here are the experts' tricks for keeping these "natural" movements looking, well, natural.
Don't Overdo It
Walking and running are such basic movements, it's easy for dancers to overdo them, adding dance-world mannerisms—overly pointed feet, exaggerated arm swings—that end up looking affected. "Don't be tempted to make a walk or run too dance-y," says Ryan Ramirez, a commercial dancer and "So You Think You Can Dance" alum. "Choreographers often put runs and walks into dances because they want to show humanness or vulnerability. A simple run is powerful because everyone, not just dancers, can connect to it."
Ballet dancers in particular tend to have a hard time with simple walks and runs, since they're trained to stay super–turned-out and maintain a high demi-pointe. But those restrictions can make you look stiff. Make a conscious effort to let them go. "I have to remind myself to bend my knees a little bit, and to take bigger, easier steps," says San Francisco Ballet principal Dores André.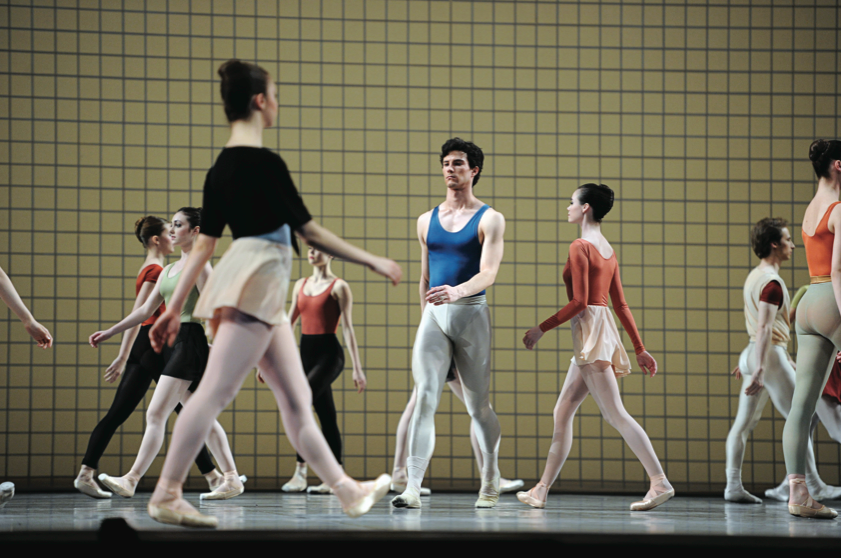 San Francisco Ballet in Jerome Robbins' Glass Pieces (Erik Tomasson, courtesy SFB)
Use Intention and Imagery
Pedestrian steps are valuable tools because they can speak volumes about the kind of character you're trying to portray, or quickly communicate a particular attitude onstage. Big, slow struts, for example, show a sense of command; tiny, fast runs demonstrate a sense of urgency, or a spritely personality.
Think about why you're walking or running. Are you running away from someone? Walking onstage to start a variation? The right intention will help guide your movements and make them feel more natural. "If you have no purpose, that's when the steps start to look flat and stop saying anything," says David Bushman, dance captain for Chicago on Broadway. "Clarify your intention so you have the correct energy."
If it's a joyous run, for example, think about everyday situations in which you might actually run joyfully. "Remember what it feels like to run on the playground," Fleet suggests. "Your chest is open and free, like you're feeling the light of the sun shining on you." Or maybe the mood of the piece is darker, and you want to look like you're slogging through mud, hunched over and curving your back. Real-world metaphors will help you capture the feel of real-world movements.
Find Your Own Style
Remember that there's no "textbook" way to walk or run onstage. These movements should look different on everyone, and finding a signature way of doing them will help you establish your identity as a dancer. "When you see someone walk on the street, you see their personality," André says. "It should be like that onstage, too."
Watch other people—not necessarily dancers!—who have an interesting or singular way of running and walking, and study the components that make up the whole. Film yourself walking or running around the studio, so you can identify your own natural movement patterns. Figure out what it is about your gait that makes you look like you. Above all, don't neglect your walks and runs, however worried you may be about the difficult turn sequence that follows them. They're not "filler"—they deserve as much scrutiny as any other step. "Nowadays, everyone is caught up in technique and tricks," Fleet says, "but it's just as important to have the basics, like walking and running, and to be able to do them well."
Top Troubleshooting Tips!
Be aware of your entire body.
"Maybe you have an arm that's dangling instead of being still. Don't let one component betray the whole picture," says David Bushman, dance captain of Chicago on Broadway.
Never mark a run or walk.
"If you don't do it full-out in rehearsal, it'll show onstage," says San Francisco Ballet principal Dores André. "It's not a break from the dancing—it's part of the dancing!"
Be thoughtful, but don't overanalyze.
"Know what you're trying to accomplish and work on it, then let it go," says Paul Taylor dancer Michelle Fleet. "Sometimes we get into trouble when we overthink things."
via YouTube
Keep reading...
Show less
via @kyle_vanny on Instagram competing on World Of Dance
Kyle Van Newkirk is a tap dancer you probably remember from the premiere season of NBC's World of Dance. In case you missed it, he is also one of Showstopper's incredible convention teachers. What makes Kyle stand apart from some of today's other incredible tappers? He isn't afraid to change what tap means to his audience and even himself. This modern view of tap dancing is important because it shows us that tap dancers are just as versatile and dynamic as dancers of any other genre. We sat down with Kyle to get his advice on bringing tap dancing into the 21st century.
Keep reading...
Show less
What did I just hear you say? You think all dancers are weak and delicate? PLEASE SAUT DE CHAT OUT OF MY LIFE. (Giphy)
Sure, dancers definitely have some unique identifying characteristics. (We're all obsessed with Center Stage? FACT.) But we're also subjected to all kinds of annoying, inaccurate stereotyping. Here are 10 dancer stereotypes that we never want to hear again.
Keep reading...
Show less
University of Minnesota Dance Team (courtesy University of Minnesota)
They say there's no "I" in "team"—and nowhere is that truer than the world of college dance teams, where precision reigns, uniformity is key, and a single misstep from any given "I" can cost a group a championship trophy. So it's unsurprising that securing a spot on one of the best dance teams in the country is no easy feat.
Members of these highly athletic teams rehearse for hours every week—on top of academic classes and commitments—and perform at football and basketball games, annual concerts, and nationally televised competitions (hi, ESPN). And "no I" rule notwithstanding, each of these top teams is made up of highly trained, highly technical, highly hard-core individuals, who come together to create a ready-for-victory pack.
These six teams aren't one-off success stories—they're consistently strong, and earn the top spots at major competitions like UDA and NDA nearly every year. Up for the challenge? Here's what to know before you go to auditions.
Keep reading...
Show less
They got to live out their dreams onstage with Jackson during last night's Billboard Awards. (NBC)
When Janet Jackson puts out a call for new dancers, basically the ENTIRE WORLD responds. More than 75,000 people entered Jackson's epic #DanceWithJanet contest, announced earlier this spring, which let hopefuls from around the globe audition via social media for a chance to perform with the icon.
So, out of those tens of thousands, who became the newest members of the #JTribe? Meet Phillip Galbert and L'Vala "Lala" Moss, the winners of the competition. Last night, they joined Janet onstage at the Billboard Music Awards. And they more than earned their place in the spotlight.
Keep reading...
Show less
May. 16, 2018 02:26PM EST
Ema Peter
The Glorya Kaufman International Dance Center is the 54,000 square foot home of the USC Glorya Kaufman School of Dance, one of the largest facilities dedicated to dance on a private university campus. Designed for their innovative new curriculum, that supports a range of dance styles, the school's staff designated Harlequin to provide wall-to-wall flooring for the large 3,500 square foot Performance Studio as well as five dance studios in their new state-of-the-art building.
Keep reading...
Show less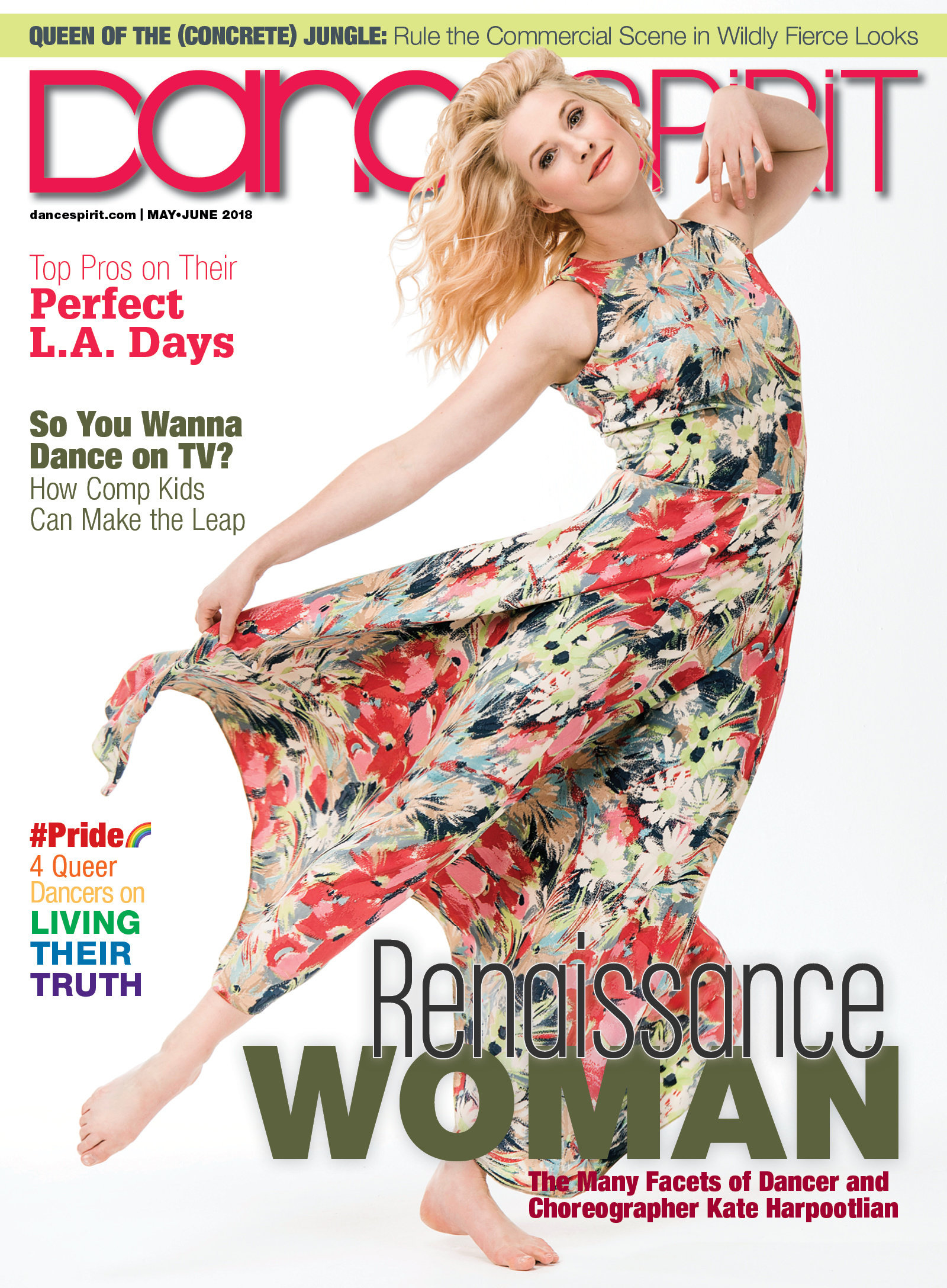 Get Dance Spirit in your inbox