Many dancers are deciding to go meat-free (vegetarian) or animal-product–free (vegan) because they want to fuel their bodies with plant-based foods. These diets can be beneficial, but they can also cause problems if you don't make thoughtful and healthy choices. Here are a few basic tips for dancers curious about a vegan or vegetarian lifestyle.
---
The Pros
Many dancers claim that eating mostly plant-based foods helps them look and feel better. Keenan McLaren Hartman, a member of Nashville Ballet, says that her energy increased when she started making conscious food choices. "I'm able to sustain my technique without feeling like I'm going to crash," she says. Hartman started eating vegetarian eight years ago, and found that her skin cleared up around the same time. Plus, she didn't feel weighed down after eating a meal. "I still eat eggs and cheese, but I buy my eggs from a local farm in Nashville and make sure they're free-range and organic."
Lauren Herfindahl, a second soloist at Boston Ballet, focuses on plant-based whole foods and avoids packaged and processed items, although she eats Greek yogurt, cheese, and fish once in a while. "I experimented with this lifestyle because I read that it's better for your body and for the environment," explains Herfindahl. "After a month, I started feeling lighter and I had more energy." But she admits there's been a big learning curve, like finding ways to get enough protein. "It's all about finding what works for me."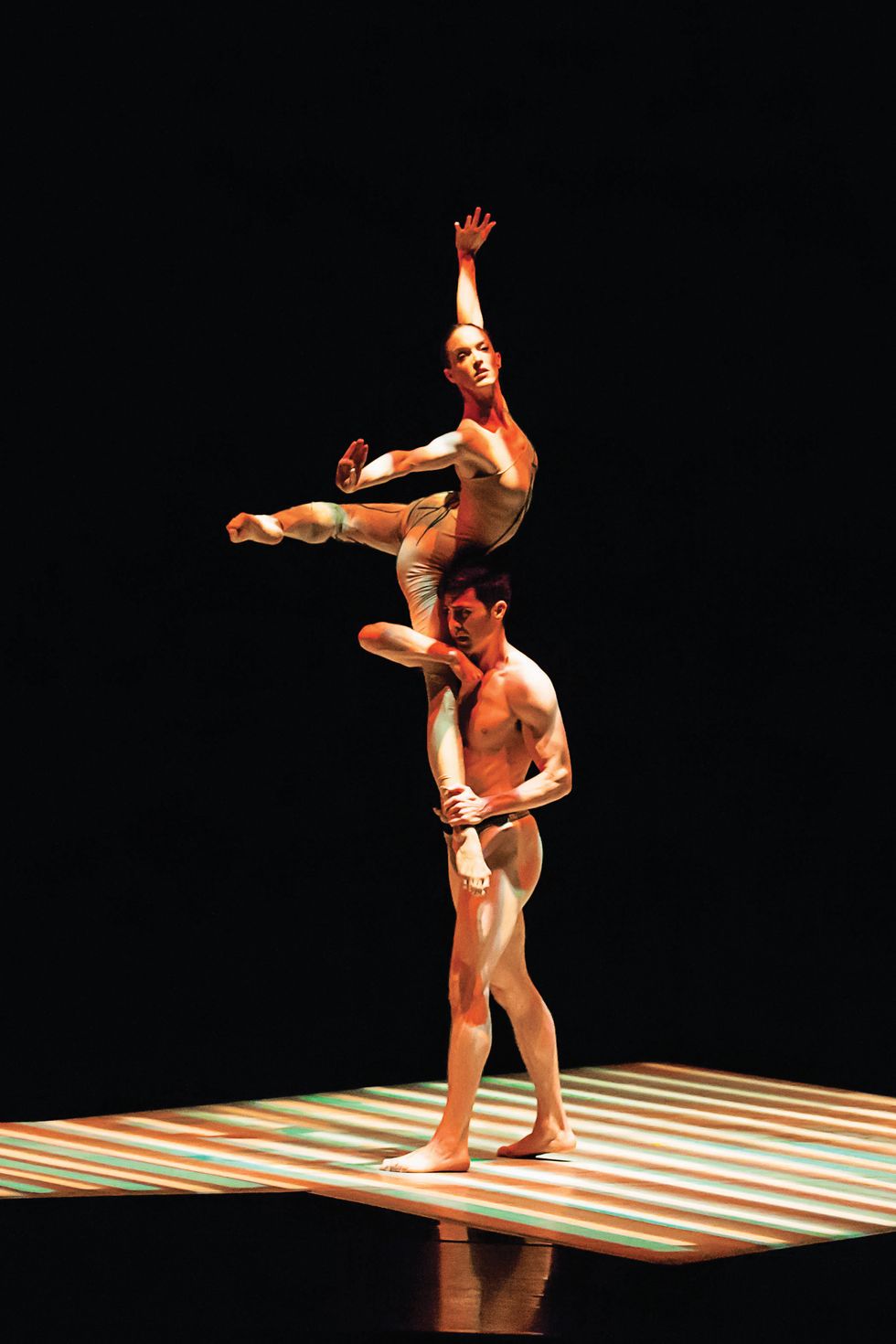 Keenan McLaren Hartman in "Satto," at Nashville Ballet (photo by Karyn Photography, courtesy Nashville Ballet)
Some dancers find that eating vegan helps with their focus, too. Jadyn Dahlberg, a ballet major at Indiana University, says she's noticed a difference since going vegan. "I feel less sluggish in class. I also know what food combinations work for me, and I pack several snacks to eat throughout the day." And vegan and vegetarian diets are high in vitamins and minerals, which can lower the risk of heart disease. "Potassium is good for bone health, and fiber is excellent for the digestive system," says Leslie Bonci, the owner of Active Eating Advice, a nutrition consulting company in Pittsburgh, PA. "Fluid intake is higher, too, because many fruits and veggies are mostly water."
The (Potential) Cons
When Keenan Kampa danced with the Mariinsky Ballet in Russia, she didn't have much access to fresh fruit or vegetables to sustain her vegan diet. "I wasn't putting enough calories and nutrients into my body, and I was overworked and tired," she remembers. Her coach at the time saw she was struggling, and brought caviar to rehearsals for Kampa to eat. "I remember the effect that it had on me! I slowly started eating fish, and since then I've been more energized."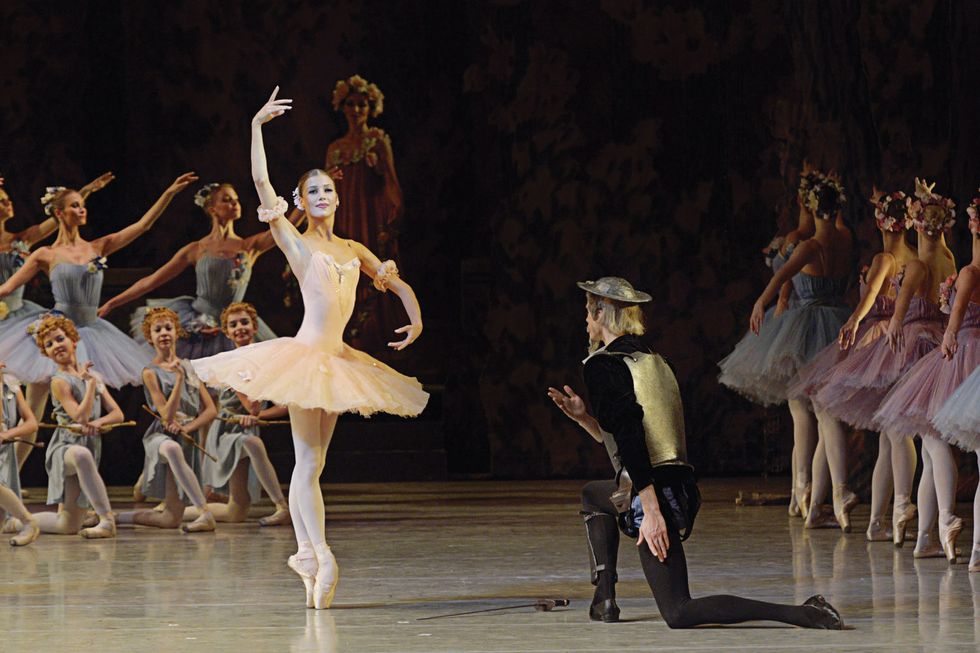 Keenan Kampa as Kitri in "Don Quixote," at the Mariinsky Ballet (courtesy Kampa)
If you're thinking of going vegetarian or vegan, seek advice from a registered dietitian and trusted online resources (see bubble) to make sure you're doing it in a healthy and sustainable way. "You can't just take the meat off the plate and not find substitutes for that protein," says Bonci. "You can optimize protein through plant-based sources like beans, soy, tree nuts, nut butters, seeds, vegetables, and grains." Dahlberg's favorite vegan sources of protein are peanut butter, legumes, quinoa, tofu, chia, and hemp seeds.
If you want to go meatless but know you have an iron deficiency or think you might have one, Bonci recommends having blood work done and taking supplements if necessary. Insufficient calories can be a concern too. If your body gets inadequate fuel, it starts to break down lean muscle mass, including skeletal muscles, which could impact your bones. "If you don't get enough of what you need, it could be harmful moving forward," she says. "You could delay development and growth, and have a negative effect on bones." Bonci notes that plant-based foods, with the exception of soy, do not have all of the amino acids necessary for muscle health. She recommends eating some eggs and/or dairy, and a variety of plant proteins, so you can get enough protein over the course of the day.
Find a Balance
Everyone (even omnivores!) should have
a well-balanced diet. "Each meal should be about 50 percent carbohydrates from fruits/veggies/grains, 25 percent protein, and 25 percent healthy fats," Bonci says. "Good fat sources include nuts, seeds, avocado, and olive oil. And when you eat whole grains, you get more minerals than if you just eat white rice or regular pasta."

Thinkstock
Eating vegan or vegetarian also means that you need to eat a greater volume of food because you don't get as much protein per serving. A 3-ounce can of tuna, for example, has 21 grams of protein; you have to eat five cups of broccoli to get the equivalent amount.
"There's no one right way to do it, and there are certainly a lot of wrong ways," Bonci says. "If you feel tired and don't have the strength to make it through a couple hours of class or rehearsal, then you need to make some kind of compromise." Be aware of what you're putting in your body. Make it a mindful activity, so you're eating quality foods and getting enough of what you need to keep yourself healthy and strong. "You're fueling your machine," says Hartman. "Some people might need meat, and that's okay."
A version of this story appeared in the October 2017 issue of Dance Spirit with the title "Plant-Powered."