Popular
Nov. 11, 2015 05:23PM EST
What's Next for Contemporary Dance?
Adam Rose, Courtesy FOX
In the summer of 2006, Heidi Groskreutz and Travis Wall performed a showstopping Mia Michaels routine on "So You Think You Can Dance" Season 2, a piece now remembered simply as "The Bench Dance." It was arguably the first time this particular dance style had been shown on live TV—a style both graceful and quirky, driven by storytelling and deeply felt emotion.
It was, in other words, the mainstream world's introduction to contemporary. And it earned "SYTYCD" one of its first Outstanding Choreography Emmy Awards.
Contemporary dance has come a long way (baby). While the style has been around for decades, as of late it seems to be everywhere. Today you can see contemporary choreography on concert stages (Shaping Sound's tour has been a massive hit), on TV (it's the favored style on "SYT" and pops up regularly on "Dancing with the Stars"), in films (remember Kathryn McCormick's character in Step Up Revolution?), in music videos (including Sia's viral films starring Maddie Ziegler) and even on Broadway (Michaels took her talents to the Great White Way for Finding Neverland).
The possibilities for contemporary dance seem to be endless. But how should the style keep evolving, and what has it outgrown? To find out, we talked to some of the contemporary world's most influential names.
---
Glenn Edgerton
Artistic director of Hubbard Street Dance Chicago
"To move forward, contemporary companies need to collaborate in as many ways as possible. At Hubbard Street, we work with the Chicago Symphony Orchestra, the Art Institute of Chicago, Alonzo King LINES Ballet and more. These artistic collaborations foster new ideas, different processes and greater audiences. They lead to a much richer environment. We shouldn't be afraid to get out of the theater and away from the proscenium stage, either. Shake it up, turn it around, be creative about the way you present an event. And really make it an event. Perform at an art museum. Dance in a park.
"But stop creating random movement. Too many contemporary choreographers are making work without a rhyme or reason. There's no backing to each image, no connection to the music or to a larger idea. When I see a piece like that, it leaves me aggravated, because dance can be so much more. I'm a big believer in experimentation, doodling, evolving and working through a process. But if it doesn't delve deep, it's a waste of time."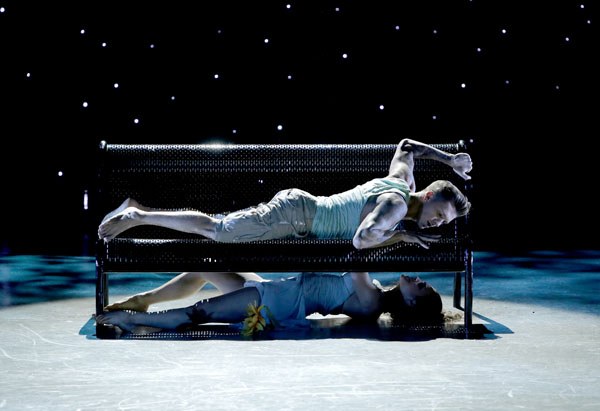 Travis Wall and Kathryn McCormick in "The Bench Dance" (photo by Adam Rose, courtesy FOX)
Travis Wall
Co-founder of Shaping Sound Dance Company, "SYTYCD" Season 12 mentor
"We need more exposure for contemporary choreographers. Look at people like Mia Michaels and Sonya Tayeh, who go beyond working for contemporary companies. They're moving to Broadway, choreographing entire tours. That exposure will help the style continue to evolve and expand.
"I'm sick of everyone doing what everyone else is doing. Just because you saw that move eight years ago—you know, the one where a dancer jumps and then drops to her knee—doesn't mean it has to be in every routine you do. You're gonna lose a kneecap! You don't have to do 'the trend.'
"Bigger picture: I'm tired of choreographers not supporting each other. I'm sick of the concert dance world bashing shows like 'So You Think.' At the end of the day, we're showing people dance that they might never have seen otherwise. Hopefully, those people will go to shows on Broadway and see more dance in their own hometowns. Let's all lift each other up."
Lillian Barbeito
Co-director of BODYTRAFFIC
"I think we'll continue exploring what the body can accomplish physically. Street dancing and current trends in music will continue to inform contemporary dance. Look at the genre-bending works of Crystal Pite and Victor Quijada, for example. We also need to keep exploring what we can do with technology—things like live streaming and working with interesting apps. But I think what will remain the same is the storytelling, the emphasis on work that reflects human connection. People will always yearn for that kind of personal interaction with artists and choreographers."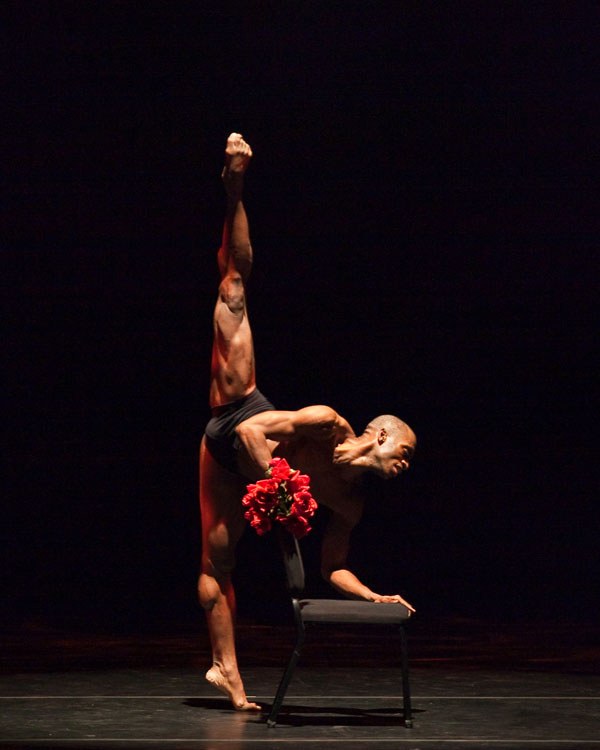 Desmond Richardson (photo by Sharen Bradford, courtesy Richardson)
Desmond Richardson
Co-founder and co-artistic director of Complexions Contemporary Ballet
"I'm over the idea that you don't need technique to do contemporary dance. I want to watch an artist who has correct form, but is comfortable enough to let go of it as the choreography allows. I gravitate toward artists who have a sound base and are able to release, drop it and get back on their center—with clarity, precision and specificity."
Lindsay Nelko
L.A.-based dancer and choreographer
"Contemporary dance is a hybrid of different types of movement, but it's based in life. It's about being inspired by pop culture, art and architecture. As those outside influences evolve, so will contemporary.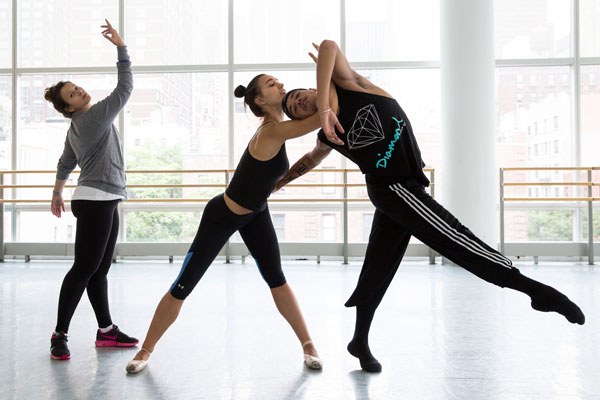 Lindsay Nelko, Terk Waters and Kelly Sneddon rehearsing for Nelko's "Awakening" (photo by Matthew Murphy, courtesy Nelko)
"Right now we have a plagiarism problem. Everyone's story is unique—everyone has his or her own voice. But people are taking what they see and trying to replicate it instead of figuring out what their own inspirations are. The whole basis of contemporary dance is that it's not defined by a syllabus. It's not like Vaganova technique; you don't have to move your arm or head a certain way every time. Every weekend at competitions and conventions, there are five million versions of something taken directly from 'SYTYCD.' It's great to be inspired by the show, but you have to have your own voice."

Sofia Wylie (photo by Dave Brewer, courtesy Disney Channel)
Last week Disney Channel star Sofia Wylie released a behind-the-scenes look at the making of her YouTube dance series. Along with some stellar dancing, the video shows the dance community featured in her "4k Dance Series" and the things they've learned from being a part of the dance project. And though the project features dance, we love that it also emphasizes supporting and building up fellow dancers.

Keep reading...
Show less
Popular
Apr. 02, 2018 10:14AM EST
Showstopper's National Finals Opening Number Performance
Showstopper has been making its impact on the dance world since 1978. Before then, dancers didn't have a stage to perform on, the opportunity to learn from peers, or a competitive outlet like most sports. Debbie Roberts recognized this missing piece in the dance community and that is how America's first and longest running dance competition, Showstopper, was born. Debbie taught dance for over 26 years and owned and operated her own dance studio for 20 years. She is now the owner and National Director of Showstopper, along side her husband, Dave Roberts. Dancer, teacher, business owner, author, and mother, Debbie has made dance her life's career.
Keep reading...
Show less
Apr. 17, 2018 10:27AM EST
Oh, hi, EVERYBODY. (Screenshots via YouTube)
Sometimes, you hear talk about an upcoming class video and it sounds too good to be real. Wait: Todrick Hall made a track featuring RuPaul, and then Todrick personally asked Brian Friedman to choreograph it, and then Brian got Maddie and Charlize and Jade and Kaycee and Sean and Gabe and Larsen and Bailey to come out for the class? I just...that can't be right. Can it?
It is right, friends. It is SO RIGHT.
Keep reading...
Show less
A-DAM RIP-PON [clap, clap, clap clap clap] (with his equally gorgeous partner Jenna Johnson; Craig Sjodin/ABC)
Team USA is totally taking over "Dancing with the Stars" this season! Casting for the upcoming athletes-only "DWTS" cycle, which kicks off April 30, was just announced. And the roster includes a whole bunch of Olympic favorites—including not one, not two, but three figure-skating standouts.
Keep reading...
Show less
Popular
Mar. 26, 2018 09:50AM EST
Winter is drawing to a close and you know what that means -- It's time to really kick this year into gear! Move U has done the research so you can find your best match, look good, and feel great this season with a twist unique to your team! Here are five looks to put your performance on the map in 2018.
Keep reading...
Show less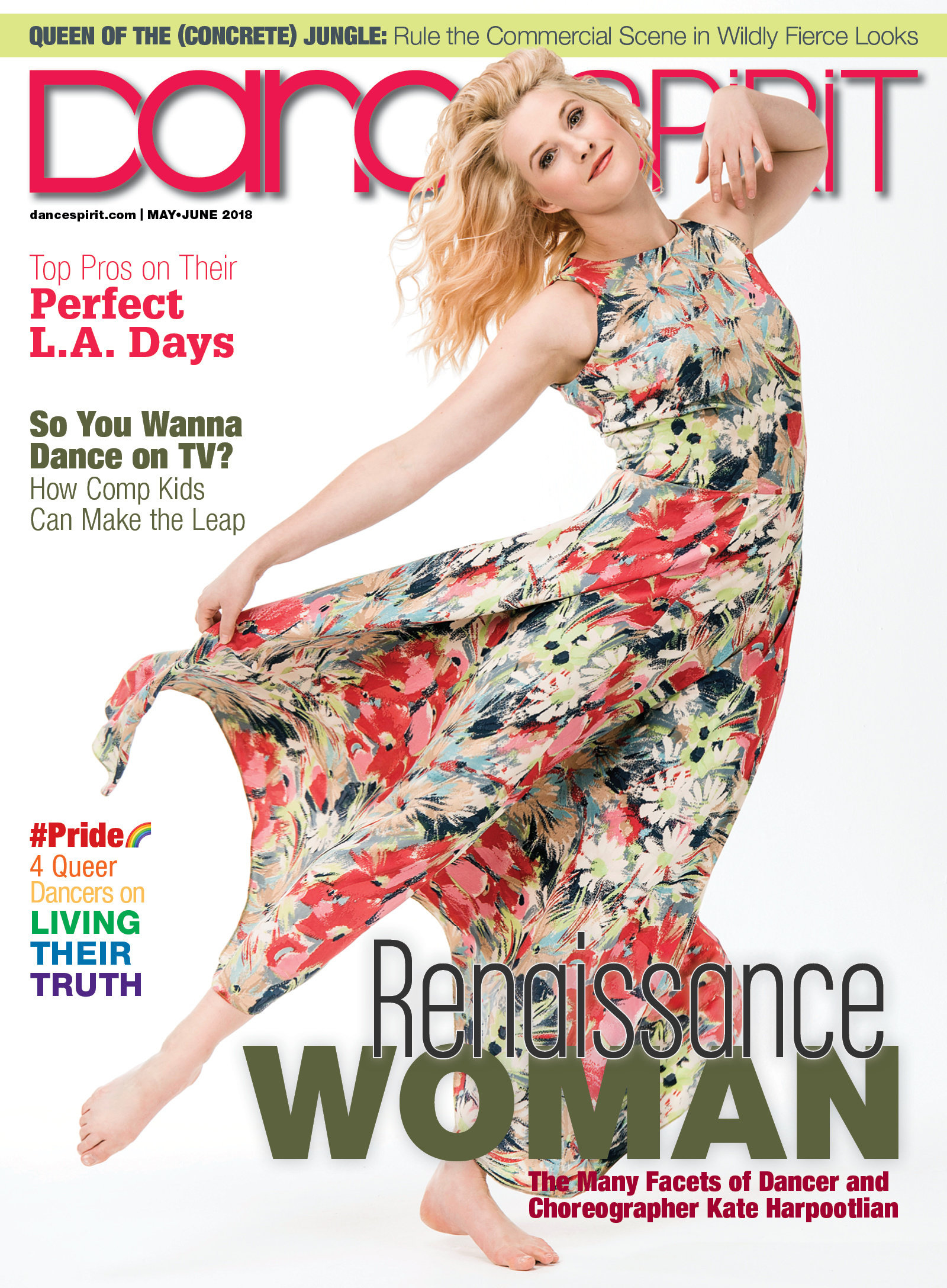 Get Dance Spirit in your inbox