Feb. 01, 2014 06:00PM EST
There are certain iconic roles every Broadway performer dreams of playing: Anita in West Side Story, Mimi in Rent, Reno Sweeney in Anything Goes. The lucky triple threats who snag these parts end up with the best solos and the most stage time—not to mention fully developed characters to sink their teeth into. Dancers in the ensemble, on the other hand, may only be labeled "townsperson" or "party guest"—but their characters are still a crucial part of the story.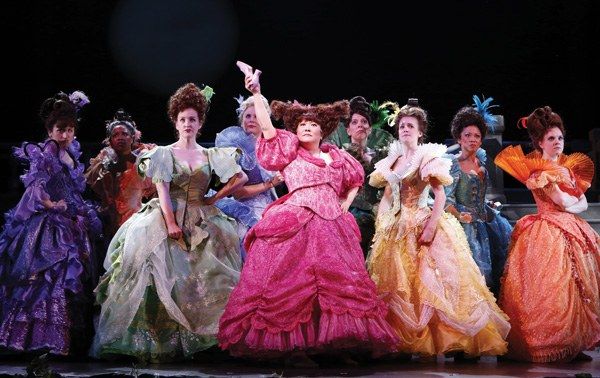 Cinderlla party guests in character, including Kristine Bendul (second from right) (photo by Carol Rosegg)
How can you connect with a role that doesn't have a fully realized identity? It takes a lot of imagination and improvisation, but creating your own character from scratch can be one of the most freeing experiences onstage.
What's in a Name?
You may not have a name in the program, but that doesn't mean you can't create one for yourself. And choosing a name can help you begin to develop an idea of who your character is. Allyson Carr, in the ensemble of Broadway's Mamma Mia!, calls her "party guest" identity Jennifer, after her twin sister. In another number, Carr plays an old woman in the town square and envisions her as a Greek Granny named Erma. Having separate names for her two characters helps her transition between roles during the show.
Kristine Bendul, assistant choreographer and ensemble member in Rodgers + Hammerstein's Cinderella on Broadway, plays a role labeled only "fishmonger"—so she decided to have a little fun. "I named her Noodles," she says. "I imagined my character 'noodling' these very slippery fish with her bare hands." Bendul says that many Cinderella cast members choose funny names for themselves and refer to each other by those names onstage during performances (under their breath, of course).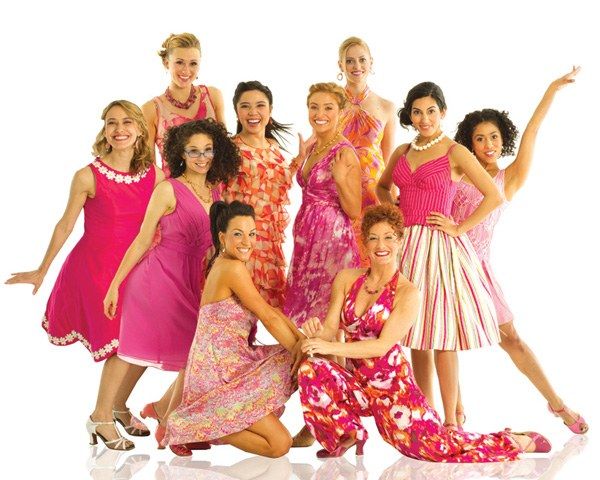 Allyson Carr (bottom right) with the ladies of the Mamma Mia! ensemble (photo by Joan Marcus)
Portraying Personality
Once you have a name, choosing a few personality traits will help anchor your character and give some context for your movement. Carr describes party guest Jennifer as "happy and positive," she says. "I imagine her as someone who wants to go out and meet guys, so she's always giving 100 percent—and that means I give 100 percent when I dance her part."
At the start of Mamma Mia! rehearsals, choreographer Anthony Van Laast asked ensemble members playing partygoers to imagine how their characters knew main character Sophie, and why they were invited to her wedding. From there, Carr was able to come up with a whole backstory for Jennifer: She's a friend of Sophie's from college and is excited to see her old friends and to get a vacation.
Even if your choreographer doesn't give you much direction, try asking yourself a few questions about your character: How old is she? What era does she live in? What's her role within the story? What is she dancing about?
Then use the choreography you're given to further inform your role. For example, the refined movement and careful partnering in Cinderella's party scenes allow Bendul to imagine herself as a dignified, slightly snooty woman: "She's very elegant, which is why she pulls up as she dances," Bendul says.
In the absence of a story, Joanne Chapman, founder and director of the Joanne Chapman School of Dance in Ontario, Canada, finds visualization a key element to getting her students into character. "I turn on the music and ask them to close their eyes and imagine: How do you respond to these lyrics? What kind of movement do you envision for your character? What is your facial expression?" says Chapman, whose musical-theater choreography has won top national titles at The Dance Awards and JUMP Dance Convention. Allowing yourself to imagine your natural responses to the music will help you make the moves your own.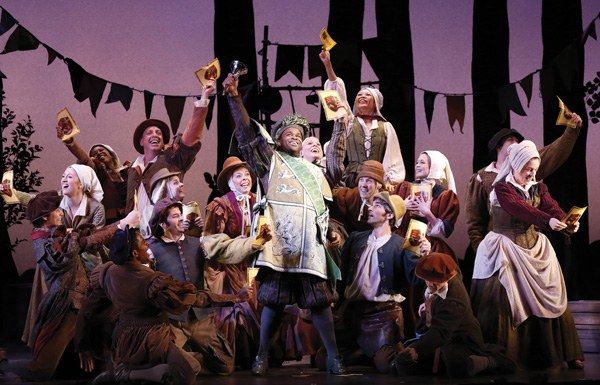 These Cinderella characters all have names—but you won't find them in the program. (Photo by Carol Rosegg)
Change is Good
Don't be afraid to switch things up from night to night. After all, that's one of the most exhilarating parts of live theater. "I'm always Jennifer and Erma on stage, but one night they may be sillier, or more serious, and their quality of movement may change depending on my mood," Carr says. Ensemble members often play the same roles for years at a time, so experimenting with your characters is the best way to avoid getting bored on the job and to always dance at the top of your game. "A lot of dancers don't realize the freedom they have to create," Bendul says, "but it's what makes the job fun!"
Musical Theater
Jun. 15, 2019 10:12AM EST
(From left) Darriel Johnakin, Diego Pasillas, and Emma Sutherland (all photos by Erin Baiano)
Congratulations to Dance Spirit's 2019 Cover Model Search finalists: Darriel Johnakin, Diego Pasillas, and Emma Sutherland! One of them will win a spot on Dance Spirit's Fall 2019 cover. Learn more about the dancers on their profile pages, and then vote for your favorite below. You can vote once a day now through July 15.
We also want you to get social! We'll be factoring social media likes and shares into our final tallies. Be sure to show your favorite finalist some love on Facebook, Instagram, and Twitter, sharing their profile pages and using the hashtag #DanceSpiritCMS.
Cover Model Search
Jun. 13, 2019 02:20PM EST
Photo by Erin Baiano
Imagine attending American Ballet Theatre's prestigious NYC summer intensive, training among classical ballet legends. Imagine taking the stage at New York City Dance Alliance Nationals, competing against some of the country's best contemporary dancers. Now, imagine doing both—at the same time.
Welcome to Madison Brown's world. This summer, she's in her third year as a National Training Scholar with ABT, while also competing for NYCDA's Teen Outstanding Dancer title. (She's already won Outstanding Dancer in the Mini and Junior categories.) The logistics are complicated—ABT's five-week intensive overlaps with the weeklong NYCDA Nationals, which translates to a lot of cabs back and forth across Manhattan—but Maddie is committed to making the most of each opportunity. "I love contemporary and ballet equally," she says. "While I'm able to do both, I want to do as much as I can."
Maddie has an expressive face, endless extensions, and a quiet command of the stage. She dances with remarkable maturity—a trait noted by none other than Jennifer Lopez, one of the judges on NBC's "World of Dance," on which Maddie competed in Season 2. Although Maddie didn't take home the show's top prize, she was proud to be the youngest remaining soloist when she was eliminated, and saw the whole experience as an opportunity to grow. After all, she's just getting started. Oh, that's right—did we mention Maddie's only 14?
Cover Story
Jun. 16, 2019 07:00AM EST
Corbin Bleu in rehearsal for "Kiss Me, Kate" (Jenny Anderson, courtesy Roundabout Theatre Company)
If you're a hardcore Broadway baby, today is the worst Sunday of the year. Why, you ask? The Tony Awards were last Sunday, so basically there's nothing to look forward to in life anymore—no James Corden being James Corden, no teary acceptance speeches from newly minted stars, no thrilling excerpts from the hottest new shows. Oh yeah, and there are 50 more Sundays to go before our humdrum lives are once again blessed with the next annual iteration of Broadway's biggest night.
Musical Theater