How To
Nov. 07, 2017 03:18PM EST
Why Learning the BS Chorus Can Help You Become a Tap Master
Luke Hickey (photo by Josh Avon, courtesy Hickey)
These days, tap dancers can reach huge audiences through social media, where videos from stars like Chloe Arnold and Sarah Reich have gone viral. But in the 1920s and '30s, the best way for tappers to gain a following was to have an act on the vaudeville circuit, which allowed them to perform in theaters across the country. Every tap dancer had their own routine, but there arose a desire for a simple dance that all tappers could know and perform at any time—especially so local dancers at each tour stop could join in. One of those dances became known as the BS Chorus.
---
Fake It Till You Make It
"BS" is a vulgar term meaning "nonsense" or "to fake something." Unlike the Shim-Sham Shimmy, another treasured piece of tap history, the BS Chorus requires more advanced technique. It's extremely challenging if done correctly. When it became popular in the 1920s and '30s, inexperienced dancers would try to fake their way through it—hence, "BS."
Although we don't know exactly who decided what steps to incorporate or the order in which they were originally performed, Margaret Morrison, a tap historian, performer, and co-director of tap teaching training at the American Tap Dance Foundation in NYC, believes the first two steps of the BS Chorus date back to the 1800s, when they were part of a style known as buck-and-wing—a predecessor of tap dance, which wasn't formally known as tap until the 1920s. The sequence was later popularized and presented often by The Copasetics, an ensemble of well-known hoofers formed in 1949.
"When they did it, it was so fast you couldn't even see it," says master tap artist, teacher, and choreographer Brenda Bufalino. "When we do it now, we do it at a reasonable tempo. They didn't take it seriously—but we do, because that's one of the few routines we've got in terms of tap background."
The Specifics
Andrew Nemr, an NYC-based teacher and choreographer who directs the company Cats Paying Dues, says the routine has four parts: an introductory time step, a cross-moving step, a flash step, and a big finish.
The first step is a traditional double time step, modeled after a signature move of legendary tapper Bill "Bojangles" Robinson. It follows the standard three-and-a-break structure: It happens three times, then concludes with a different step and rhythm that "break" from the established pattern.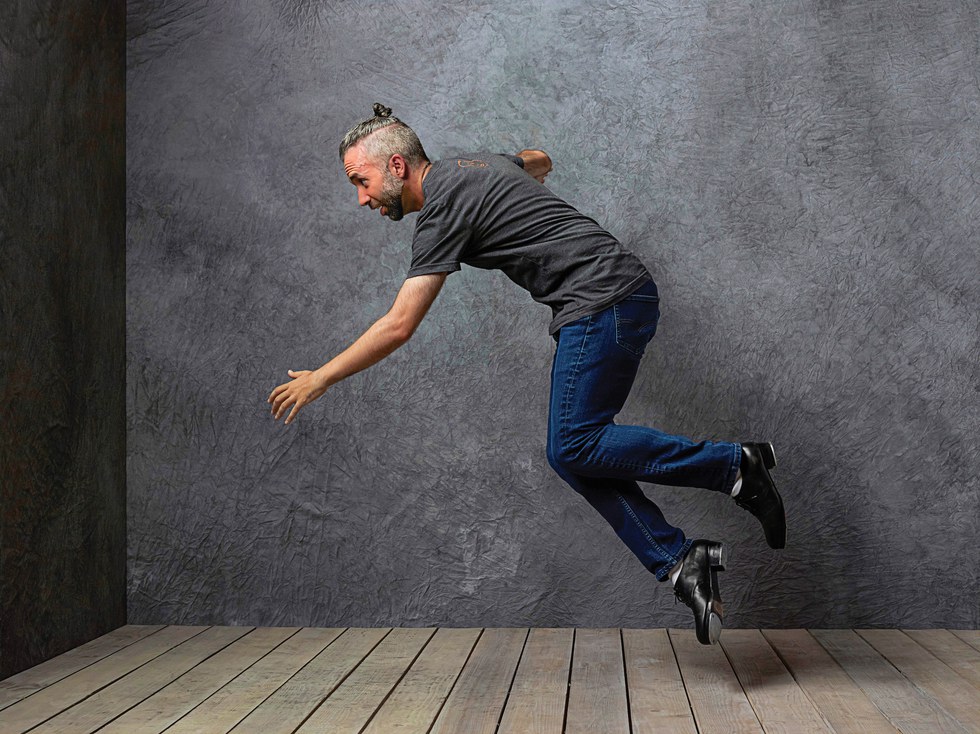 Andrew Nemr (photo by Bret Hartman/Ted, courtesy Nemr)
The second step, known as the cross step or crossover step, is named after its appearance: Within the footwork, the left foot crosses in front of the right on a back flap, and then the right crosses over the left with a shuffle-hop-step—and vice versa. More rhythmically complicated than the time step, the crossover step also requires balance and an understanding of swing rhythms. It uses the same three-and-a-break pattern—and the same break—as the time step.
The second half of the dance builds excitement by including several flash steps—complex, athletic moves designed to impress the audience. A one-footed wing is featured in the third step, also a three-and-a-break, in which "the dancer pushes out of rhythms that have a lot of notes and are close to the floor, and instead begins to jump and use his body more," Nemr says.
The physicality of that step leads into the final step, a series of over-the-tops and trenches, where "the energy of the music takes over, and the focus is more physical," Nemr says. Like any good dance, the BS Chorus leaves the audience dazzled.
A Modern Update
As with the Shim-Sham Shimmy, there's no one correct way to execute the BS Chorus. Most variations occur on the break, a section of most traditional routines where the dancer can inject his or her own personal flair. The students at the ATDF learn a popular break from master teacher Derick K. Grant, which includes a series of shuffle-hops and finishes with a Maxie Ford.
"The most common variations I see are changes not of structure but style," says Luke Hickey, a NYC-based tapper. "Dancers can make the choice to throw in nuances that represent their particular personality or training."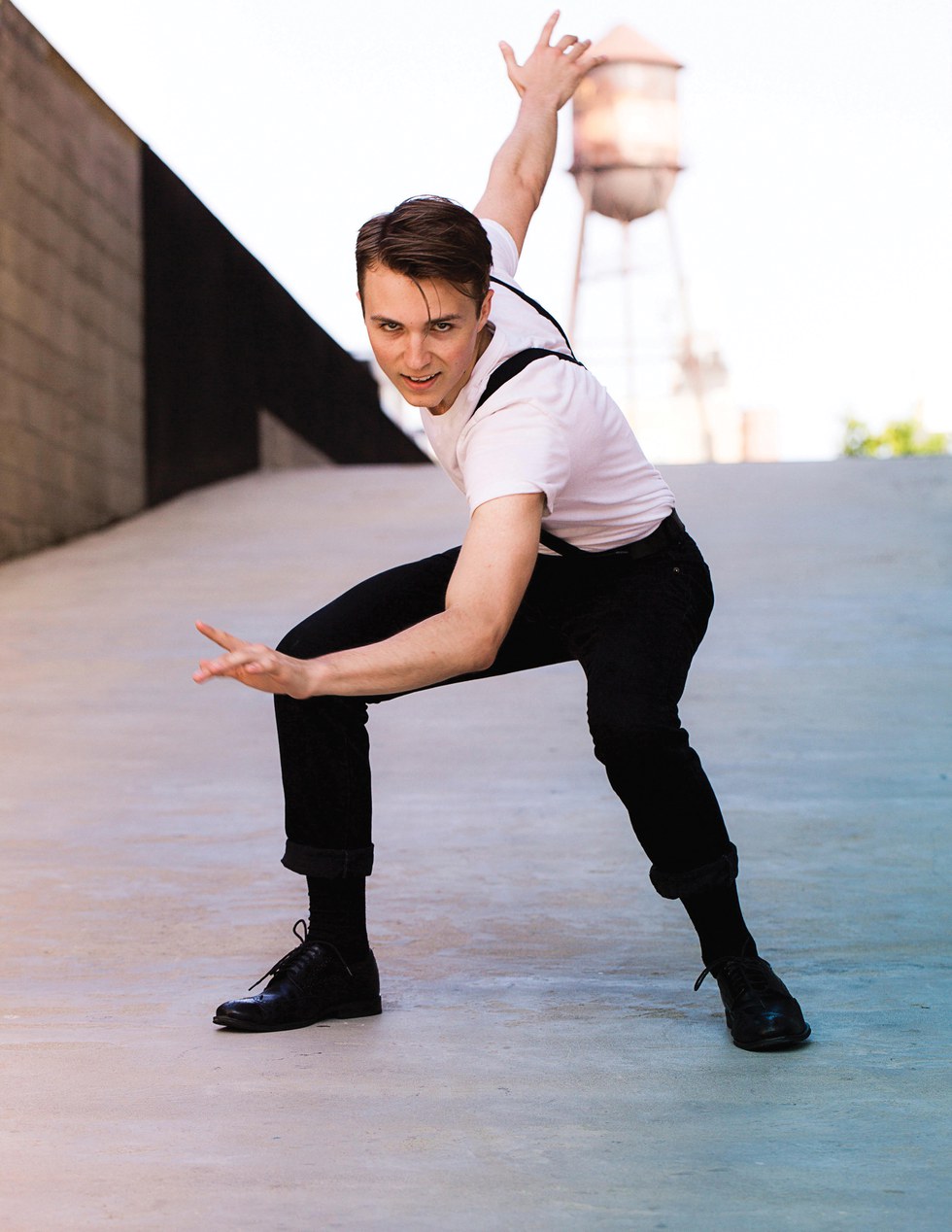 Luke Hickey (photo by Josh Avon, courtesy Hickey)
Hickey says that he likes to add a salsa-like style to the crossover step, twisting his hips instead of keeping his body facing entirely forward. He also adds an element of surprise and athleticism to the flash step by landing each wing on his toe instead of the ball of the foot.
An Important Legacy
"Because there's a lot of experimentation and innovation happening in how tap dance pieces are conceived and presented today," Nemr says, "having something with the simplicity and clarity of the BS Chorus becomes even more important, especially from an educational standpoint." Morrison agrees. "It creates an excellent foundation for tap skills," she says, adding that it's a staple of the youth curriculum at ATDF. "Each section contains essential material that every tap dancer needs to know. Every professional rhythm tap dancer has learned the BS Chorus and has probably performed it."
No matter how you do it, the BS Chorus is an important dance to learn and keep alive: It's informed so much of tap dance and enriched how and what we teach. "We need to return the favor by doing it well and allowing it to teach us," Morrison says.
A version of this story appeared in the November 2017 issue of Dance Spirit with the title "No BS About It."
Artyon Celestine and Paige Glenn showing their lift skills (photo by Kristin Glenn, courtesy Glenn)
Yes, they're quite possibly the cutest dance duo since, well, ever. But put Paige Glenn and Artyon Celestine onstage, and it's immediately clear they mean business. That was apparent to millions across the country last summer, when Artyon and Paige's unbelievable extensions, fearless turning, and infectious energy propelled them to the quarterfinals of "America's Got Talent." They've also appeared (together or individually) on "Little Big Shots," "Lip Sync Battle Shorties," "The Ellen DeGeneres Show," and "Access Hollywood Live"—not to mention the competition titles they've won as a pair.
"Simon Cowell came backstage during 'AGT' and told us, 'Go out there and do your best. They're going to like you.' "—Artyon
Keep reading...
Show less
Popular
Apr. 02, 2018 10:14AM EST
Showstopper's National Finals Opening Number Performance
Showstopper has been making its impact on the dance world since 1978. Before then, dancers didn't have a stage to perform on, the opportunity to learn from peers, or a competitive outlet like most sports. Debbie Roberts recognized this missing piece in the dance community and that is how America's first and longest running dance competition, Showstopper, was born. Debbie taught dance for over 26 years and owned and operated her own dance studio for 20 years. She is now the owner and National Director of Showstopper, along side her husband, Dave Roberts. Dancer, teacher, business owner, author, and mother, Debbie has made dance her life's career.
Keep reading...
Show less
Lealand Eve
As a teenager, contemporary dancer Eveline Kleinjans felt like nothing she did was good enough. Auditioning for university dance programs paralyzed her: "I was so focused on every move I made and what people would think that I wasn't able to be free, to be myself," she says. And her intense perfectionism had real repercussions. "I'd get negative feedback saying, 'We don't see you.' "
Perfectionism is extremely common in the dance world, because dancers hold themselves to terrifically high standards. It's easy to get a little discouraged when you aren't improving as quickly as you want. But there's a difference between healthy self-criticism and an unhealthy obsession with perfection. How can you tell when your drive to be better has crossed the line—and what can you do to get back on track?
Keep reading...
Show less
Sarah Pippin assisting in a convention class at New York City Dance Alliance (courtesy NYCDA)
To her high school classmates, Sarah Pippin was a regular girl: a good student and a friendly face around campus. But on the weekends—at dance competitions and conventions across the country—Pippin was a bona fide celeb, adored by her fellow competitors and faculty members alike.
By the time she graduated high school, Pippin had racked up major accomplishments, including performances with Janet Jackson and Shaping Sound, a role on Dance Spirit's own reality series "Road to Nationals," titles such as New York City Dance Alliance's National Mini, Junior and Senior Outstanding Dancer, and, most recently, a college scholarship on behalf of Dance Magazine through the NYCDA Foundation.
There's no doubt that Pippin, now a freshman at The Juilliard School, is among a rising generation of competition and convention stars. And while "celebrity" isn't a term they'd give themselves, you know who they are. These dancers are adored by legions of real-life fans hoping to watch and dance alongside them, not to mention the thousands of social media followers ready to double-tap everything they post.
Being so popular on the circuit has its perks—traveling every weekend, internet fame, working with big-name choreographers—but it also comes with its share of struggles. Here's a peek at what it's really like at the top.
Keep reading...
Show less
Moira Shearer as Victoria Page in the 1948 film The Red Shoes
Q: "Why do you want to dance?"
A: "Why do you want to LIVE?"
Ahhh, so iconic! If you know those lines (slash, embody them on a daily basis), you're already a fan of the 1948 film The Red Shoes. The second line, as spoken by Red Shoes heroine Victoria Page, just perfectly captures the kind of crazy, all-consuming love so many of us feel for this incredible art form.
The Red Shoes turns 70 (!) this year. And Harper's Bazaar decided to celebrate that birthday in an oh-so-glamorous fashion: They decked out three of today's most beautiful ballerinas—American Ballet Theatre's Misty Copeland and Isabella Boylston and New York City Ballet's Tiler Peck—in gorgeous couture inspired by the film. (Obviously, Louboutins were involved.)
Keep reading...
Show less
Popular
Mar. 26, 2018 09:50AM EST
Winter is drawing to a close and you know what that means -- It's time to really kick this year into gear! Move U has done the research so you can find your best match, look good, and feel great this season with a twist unique to your team! Here are five looks to put your performance on the map in 2018.
Keep reading...
Show less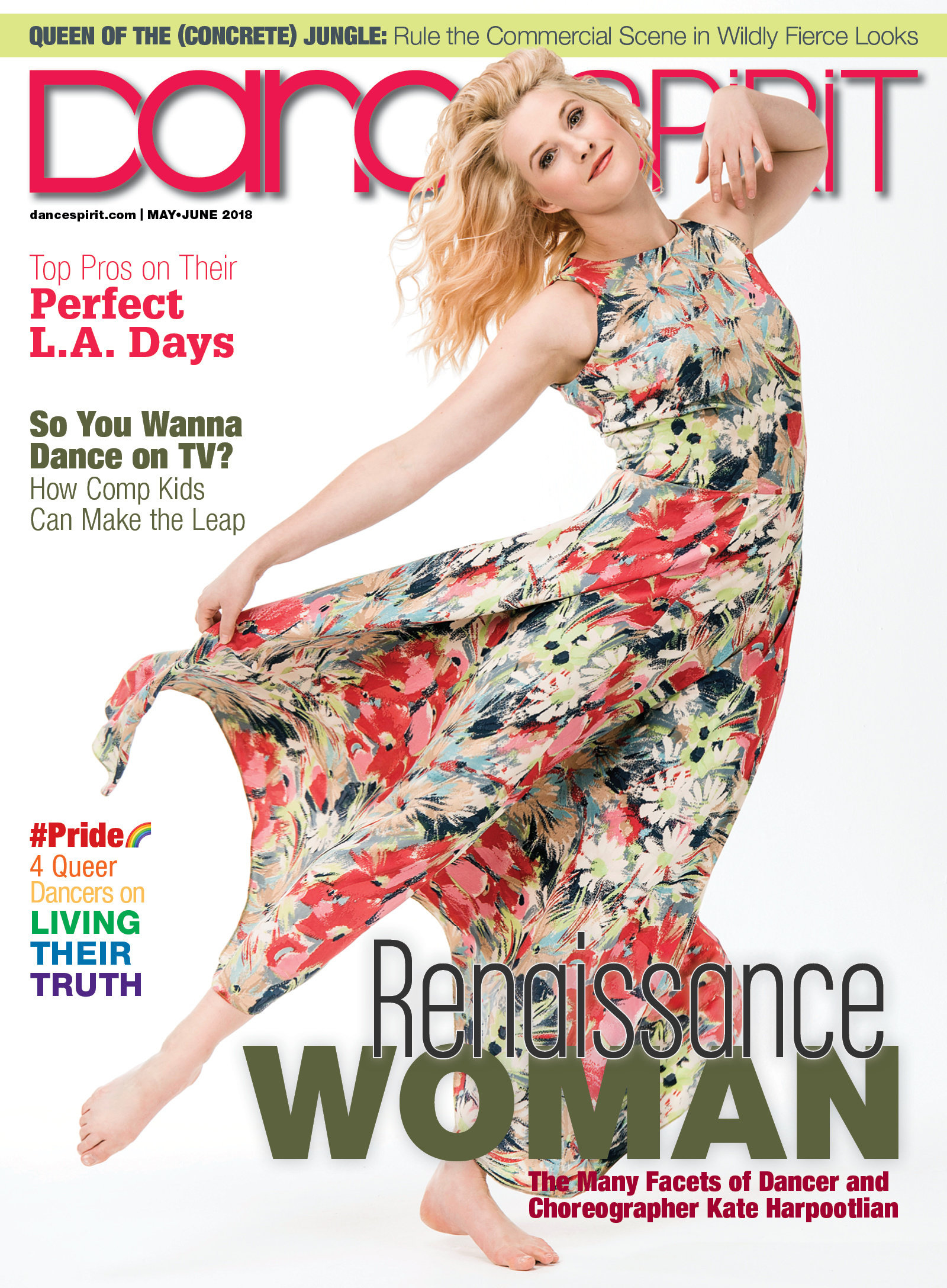 Get Dance Spirit in your inbox