Apr. 20, 2012 11:38AM EST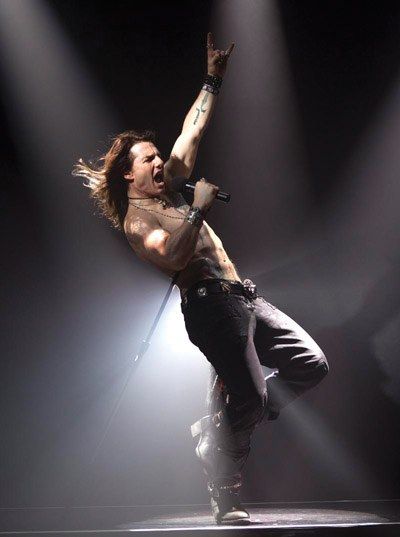 Tom Cruise as Stacee Jaxx (photo by David James)
From Hairspray to Chicago, we've eagerly followed some of our Broadway favorites to the big screen—and Rock of Ages is no exception. Take a trip with us down the Sunset Strip and see why this movie is sure to soar to the top of the charts.
The movie doubles as a mini "So You Think You Can Dance" reunion.
Scroll through the credits and you might think you're watching an "All-Stars" episode of "SYTYCD." Along with director Adam Shankman and choreographer Mia Michaels, alumni dancers Courtney Galiano, Anya Garnis, Will Wingfield, Jaimie Goodwin and others can all be spotted in the flick.
Tom Cruise is a triple threat. (Really!)
Bringing the larger-than-life character of metal god Stacee Jaxx to the big screen is no easy feat, but Tom Cruise was up for the challenge. Cruise took daily vocal lessons in order to belt out his character's songs, and also spent a lot of time in private dance rehearsals with Michaels and assistant choreographer Kevin Wilson. "Working with Tom took my craft to another level," Michaels says. "We're both so intense in the way we work, and it was so cool to have our worlds collide. He's an insatiable powerhouse." Adds Wilson: "Tom was so professional—he was always there and always willing to learn and grow. I was extremely impressed with his musicality."
You'll see Mia Michaels' work in a whole new light.
Mention Mia Michaels to any dancer, and chances are visions of contemporary or lyrical dance will come to mind. So was this gritty, hard-hitting style of dance Wilson calls "'80s rock thrash" out of her comfort zone? Maybe, but Michaels says she relished the challenge: "This style of choreography was much more actor-based, much more rock-and-roll reality. It was important for me to make sure the Rock of Ages work didn't look too choreographed—much of the movement is based on gestures and emotions." That's not to say you won't see several major dance-centric numbers, including a "Beat It"/West Side Story–style routine and a pivotal scene in a club featuring 40 dancers.
Tom Cruise handpicked the main dancers.
Dancer Chantel Gonsalves, who plays one of four featured "groupies," can thank Tom Cruise for the gig. To get the job, she had to make a tape showing her personality for Cruise to review. "Adam Shankman had seen my dance reel and liked me, but it had to go through Tom Cruise, who had the final say," Gonsalves says.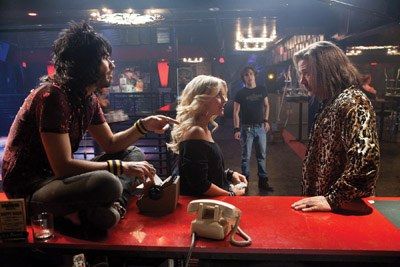 (L to R) Rock of Ages stars Russell Brand, Julianne Hough, Diego Boneta and Alec Baldwin, among other big-screen favorites. (Photo by David James)
Rock of Ages is totally '80s-tastic.
Wilson vividly remembers the first time he saw the film's costumes. "It was in a huge warehouse. I felt like I was in a thrift store, because everything was so true to the time period," he says. "Walking down the aisles with racks and racks of '80s clothing was really nostalgic." Gonsalves rocked "massive hair" through much of the movie. "I felt like I was truly living in the era," she says. The film is packed with cameos from dance greats. Among the dance notables who make appearances are Broadway performer Mary Ann Lamb (Fosse, Chicago) and choreographers Cris Judd, Joey Dowling ("SYTYCD") and Anne Fletcher (Step Up). "Because it's such a big dance movie, Mia and Adam wanted to give back to dancers who have been in the business a long time," Wilson says. "The list goes on and on—it was great to bring several generations of dancers together."
Dancers received star treatment during filming.
Call it a perk of having a dance-friendly director, but the Rock of Ages dancers say they had a blast on set in Miami. Wilson was impressed with the way the dancers were taken care of. "The first thing Adam did when the group of L.A. dancers arrived was stop production and take them on a tour of the whole set. Tom was the same way—he always made sure everyone, right down to the extras, felt important," he says.
The dancers aren't the only ones who rock the dance floor.
Leading ladies Julianne Hough and Catherine Zeta-Jones are certainly no strangers to the dance world, but what about the other actors? According to Wilson, none of the talent got a "free pass." True to form, Michaels challenged everyone involved to be their best dance selves. "Mia doesn't settle for simple choreography, so everyone had to step up," Wilson says. "Audiences will be able to appreciate seeing people like Alec Baldwin and Tom Cruise holding their own."
If you haven't seen the Broadway show...   Rock of Ages is the story of small-town girl Sherrie who moves to L.A. in search of fame and, in the process, falls in love with cute city boy and wannabe-rocker Drew. There's drama along the way—heavy-metal hottie Stacee Jaxx gets between the pair, and meanwhile the city is trying to shut down some of the fun on the Sunset Strip. All the plot's details are explained through song and dance, of course.
Musical Theater
Jun. 15, 2019 10:12AM EST
(From left) Darriel Johnakin, Diego Pasillas, and Emma Sutherland (all photos by Erin Baiano)
Congratulations to Dance Spirit's 2019 Cover Model Search finalists: Darriel Johnakin, Diego Pasillas, and Emma Sutherland! One of them will win a spot on Dance Spirit's Fall 2019 cover. Learn more about the dancers on their profile pages, and then vote for your favorite below. You can vote once a day now through July 15.
We also want you to get social! We'll be factoring social media likes and shares into our final tallies. Be sure to show your favorite finalist some love on Facebook, Instagram, and Twitter, sharing their profile pages and using the hashtag #DanceSpiritCMS.
Cover Model Search
Jun. 13, 2019 02:20PM EST
Photo by Erin Baiano
Imagine attending American Ballet Theatre's prestigious NYC summer intensive, training among classical ballet legends. Imagine taking the stage at New York City Dance Alliance Nationals, competing against some of the country's best contemporary dancers. Now, imagine doing both—at the same time.
Welcome to Madison Brown's world. This summer, she's in her third year as a National Training Scholar with ABT, while also competing for NYCDA's Teen Outstanding Dancer title. (She's already won Outstanding Dancer in the Mini and Junior categories.) The logistics are complicated—ABT's five-week intensive overlaps with the weeklong NYCDA Nationals, which translates to a lot of cabs back and forth across Manhattan—but Maddie is committed to making the most of each opportunity. "I love contemporary and ballet equally," she says. "While I'm able to do both, I want to do as much as I can."
Maddie has an expressive face, endless extensions, and a quiet command of the stage. She dances with remarkable maturity—a trait noted by none other than Jennifer Lopez, one of the judges on NBC's "World of Dance," on which Maddie competed in Season 2. Although Maddie didn't take home the show's top prize, she was proud to be the youngest remaining soloist when she was eliminated, and saw the whole experience as an opportunity to grow. After all, she's just getting started. Oh, that's right—did we mention Maddie's only 14?
Cover Story
Jun. 16, 2019 07:00AM EST
Corbin Bleu in rehearsal for "Kiss Me, Kate" (Jenny Anderson, courtesy Roundabout Theatre Company)
If you're a hardcore Broadway baby, today is the worst Sunday of the year. Why, you ask? The Tony Awards were last Sunday, so basically there's nothing to look forward to in life anymore—no James Corden being James Corden, no teary acceptance speeches from newly minted stars, no thrilling excerpts from the hottest new shows. Oh yeah, and there are 50 more Sundays to go before our humdrum lives are once again blessed with the next annual iteration of Broadway's biggest night.
Musical Theater