Why You Should Try an Unfamiliar Dance Style This Summer
Christopher Perricelli leading class at Gus Giordano Dance School (courtesy Amy Giordano)
There are zillions of things to think about when choosing a summer program, but here's one you might not have considered: using an intensive as an opportunity to focus on a new style. Maybe you're a tap dancer who's ready to see where else your rhythm and quick feet can serve you, or a contemporary dancer curious about the more traditional roots of your genre. A summer program can be the perfect place to broaden your horizons, giving you the opportunity to make technical and artistic changes that stick throughout the year.
---
Why Summer?
An intensive's deep-dive format can feel totally overwhelming, even in a style you're confident in. But that unique format is also what makes it the best time to try something new. "Immersing yourself in intensive summer study allows for pure focus," says Limón Dance Company program manager Becky Brown. Unlike a master class or workshop, a summer program permits dedicated practice over the course of several weeks, giving you the time you need to absorb detailed instructions.
Embrace Being Not-Perfect
Feeling out of your depth is a good thing—it means you're growing. But don't be nervous that attending a summer program outside of your style will mean weeks of awkwardness and discomfort. Michelle Chassé, director of Boston Conservatory at Berklee's Musical Theater Dance Intensive, often sees contemporary and ballet dancers attend the summer program, but the compressed time frame and high level of intensity quickly help them feel at home. "Students are really challenged, even bewildered, in the first few days of the program," she says. "But by the end of the first week they've already begun to absorb and digest what they're being taught."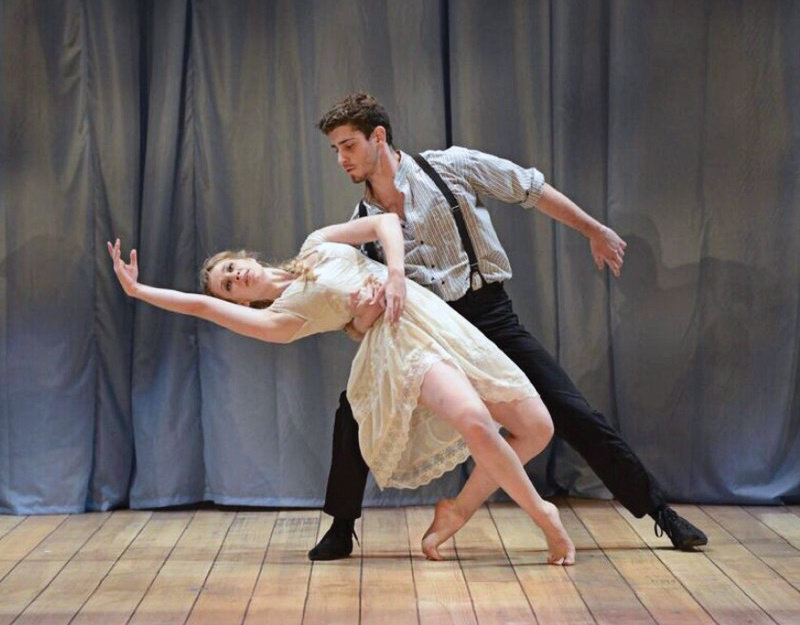 Boston Conservatory at Berklee's musical theater dance intensive students Celia McLennan and Michael Haggerty (photo by Eric Antoniou, courtesy Boston Conservatory at Berklee)
Reap the (Career-Building) Rewards
In addition to the training you'll receive, an intensive is a major networking opportunity, because it gives you time to build relationships. And if you spend part of your summer with an entirely new dance community, you're likely to create dozens of relationships that might not otherwise have been available to you. "Use the intensive as an opportunity to expand your network of contacts," says Amy Giordano, executive director of the Gus Giordano Dance School in Chicago, IL. "Parents, teachers, photographers—you're exposed to all these new people."
Change Your Big Picture
It seems counterintuitive, but spending a summer studying an unfamiliar technique might just make you better in your "home" genre. "Every style incorporates inspiration from the others," says Brian Young, owner and director of Sweatshop Dance in Denver, CO. "So learning a new style of dance might be just what you need to connect the dots, even in the styles you're most familiar with."
Or a summer program experience could change the course of your career. Student Ilana Cohen studied primarily ballet before attending her first Limón summer program. "I'd started to feel stuck in my ballet training," she says. "My body wasn't physically shaped to do it, and while I had taken classes in more contemporary styles, I didn't understand them because I couldn't see what the goal was." When she first started studying Limón technique, the framework and instruction made sense. "Before the intensive," she says, "it had never occurred to me that it would be possible to consider a career in dance."
Want to branch out, but not sure which intensive might be right for you? We've got some ideas:
If you're a bunhead who's ready to loosen up, try: Complexions Contemporary Ballet summer intensives
If you're a contemporary dancer who wants to dig into improvisation, try: The Gaga intensives
If you're a tapper who's eager to explore rhythm in a different way, try: Belén Maya flamenco workshops
If you're a comp kid who lives for acro, try: Bandaloop
A version of this story appeared in the January 2018 issue of Dance Spirit with the title "The Summer Study Style Challenge."
Lol, same. (Screenshot via YouTube)
Picture this: You've scored tickets to Ellen DeGeneres' hit show, "Ellen." The day has come, the show is as hysterical as ever, Ellen is debating the biggest hot-button issue since the blue/black or white/gold dress, "Laurel vs. Yanny" (side note: it's LAUREL, people), and tWitch is killing it over at the DJ booth, as always. Ellen decides it's the perfect time to single out an audience member and, lo and behold, that person is "SYTYCD" champ ( and December 2017 cover star!) Lex Ishimoto.
Keep reading...
Show less
via @kyle_vanny on Instagram competing on World Of Dance
Kyle Van Newkirk is a tap dancer you probably remember from the premiere season of NBC's World of Dance. In case you missed it, he is also one of Showstopper's incredible convention teachers. What makes Kyle stand apart from some of today's other incredible tappers? He isn't afraid to change what tap means to his audience and even himself. This modern view of tap dancing is important because it shows us that tap dancers are just as versatile and dynamic as dancers of any other genre. We sat down with Kyle to get his advice on bringing tap dancing into the 21st century.
Keep reading...
Show less
How To
Oct. 01, 2010 04:55PM EST
(Nathan Sayers)
Turnout—a combination of rotational flexibility and the strength to properly hold that rotation—is the foundation of ballet. But it's also a source of frustration for many dancers. After all, not everyone (actually, hardly anyone) is born with 180-degree rotation. "When I first started dancing, my hip flexors were strong, but I was forcing my turnout without using the right muscles," remembers Amanda Cobb, a former dancer with The Washington Ballet.
The good news is that it's possible to both improve your turnout and to dance beautifully with less-than-perfect rotation. But there's a lot of misinformation out there about how turnout works and why it's important. To help separate fact from fiction, DS asked the experts to disprove six turnout myths.
Keep reading...
Show less
University of Minnesota Dance Team (courtesy University of Minnesota)
They say there's no "I" in "team"—and nowhere is that truer than the world of college dance teams, where precision reigns, uniformity is key, and a single misstep from any given "I" can cost a group a championship trophy. So it's unsurprising that securing a spot on one of the best dance teams in the country is no easy feat.
Members of these highly athletic teams rehearse for hours every week—on top of academic classes and commitments—and perform at football and basketball games, annual concerts, and nationally televised competitions (hi, ESPN). And "no I" rule notwithstanding, each of these top teams is made up of highly trained, highly technical, highly hard-core individuals, who come together to create a ready-for-victory pack.
These six teams aren't one-off success stories—they're consistently strong, and earn the top spots at major competitions like UDA and NDA nearly every year. Up for the challenge? Here's what to know before you go to auditions.
Keep reading...
Show less
Marilyn knows what's up.
If diamonds are a girl's best friend, it's safe to say that faux-diamond earrings are a dancer's best friend. A fixture onstage at just about every competition weekend, these blinged-out baubles are also the surest sign that recital season is upon us again. And what better way to get into the sparkly spirit than by drooling over these 5 diamonds in the rough? (Sorry not sorry!)
Keep reading...
Show less
May. 16, 2018 02:26PM EST
Ema Peter
The Glorya Kaufman International Dance Center is the 54,000 square foot home of the USC Glorya Kaufman School of Dance, one of the largest facilities dedicated to dance on a private university campus. Designed for their innovative new curriculum, that supports a range of dance styles, the school's staff designated Harlequin to provide wall-to-wall flooring for the large 3,500 square foot Performance Studio as well as five dance studios in their new state-of-the-art building.
Keep reading...
Show less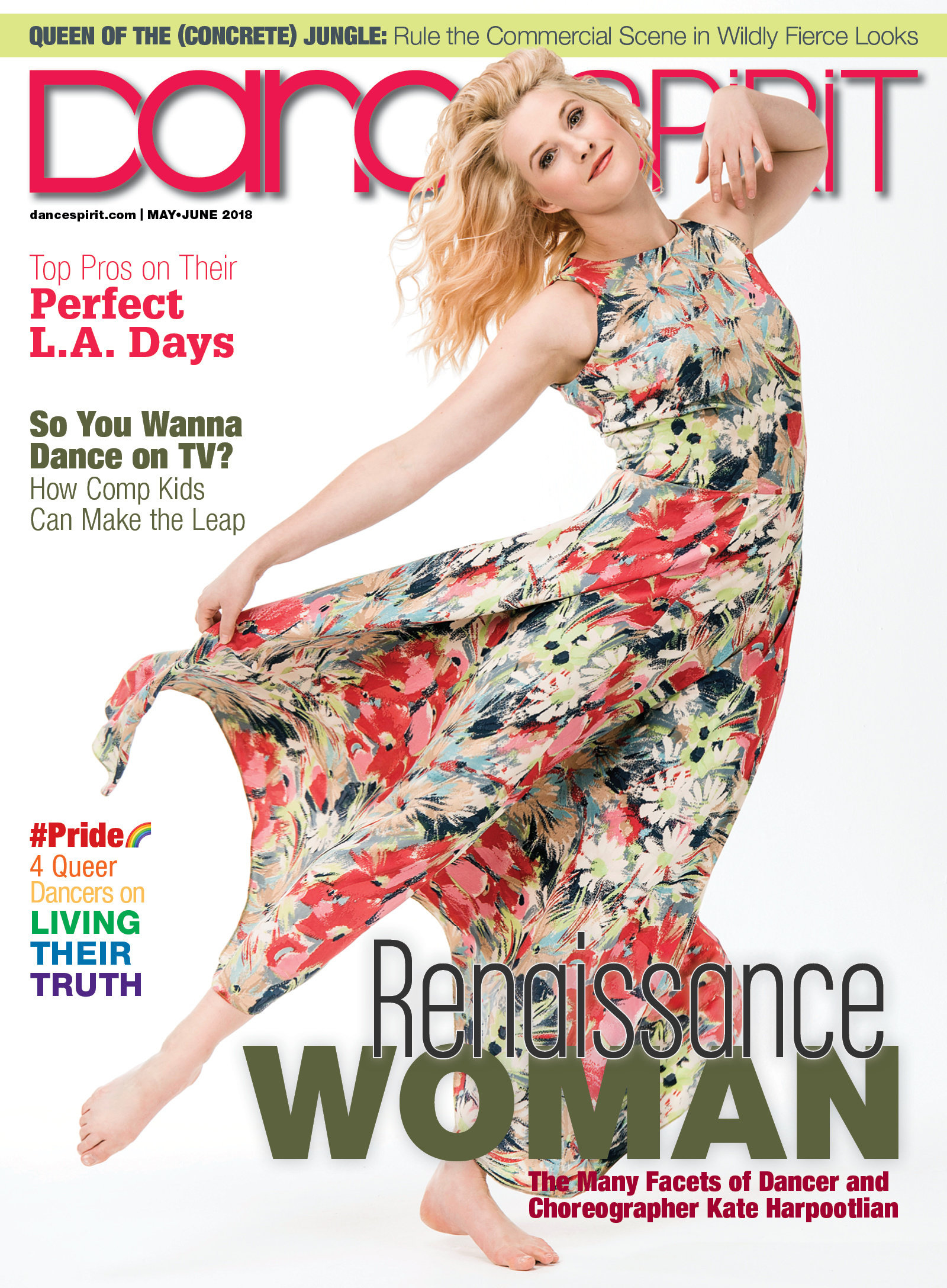 Get Dance Spirit in your inbox