"So You Think You Can Dance" Recap: The Academy, Week 2
Adam Rose/FOX
Guess who's back? Back again? The Academy's back! Tell a friend.
After one day at The Academy, the All Stars have successfully taken the Top 100 down to 62. But their work is just getting started: Now they need to keep narrowing the field to a Top 10, ultimately deciding who each will partner with during the live shows.
---
Last night, Travis Wall led the contestants in a contemporary choreography round, followed by a ballroom round with Dmitry Chaplin and his partner, Jenya NoLastName. (No, seriously. They never tell us her last name.) Those who survive and make it onto an All-Star team will go on to the [dreaded] group round. (You know, the one where the dancers have to stay up all night choreographing a routine, and then perform it for the All Stars super early the next morning.)
You can tell so many of the dancers hoping to make the Top 10 totally idolize Travis Wall. As soon as he walks onstage, their eyes brighten. And then he opens with, "I'm just gonna warn you, it's a pretty hard combo." Bless you, Travis. He says he's "not interested in building robots today," and is giving the dancers lots of room for self-expression (including starting the combo with a freestyle section—love that).
Here's what went down during the contemporary round:
Taylor Sieve from the L.A. auditions was gorgeous. She wanted to land a spot on Robert's team—and she did! "She's got that heart that I'm looking for," Robert says. (She was then joined on Team Robert by Jonathan Wade and Jennifer Florentino.)
Ariel Disciascio was sent home. Sad.
Dancers who were already chosen to be on All Star teams were still dancing. This is confusing. Why do the dancers have to keep going through the motions—literally, the choreography motions—when they're already on a team? Nigel, please explain.
Tapper Chaz Wolcott was sent home. He was out to get redemption after a tough hip-hop round, and at 29 years old, this was his last shot at making the Top 10. Robert tells Chaz he loves his smile and personality, but bye.
Havoc and Klassic from the NYC auditions had a rough go. TBH, they both botched the choreography. Klassic was sent home, but Cyrus isn't ready to say l8r to Havoc, so he asked him to dance for his life. He did, the All Stars loved it, and he made it to Team Cyrus.
By the end of the contemporary round, 30 dancers have made an All-Star team, 14 more have been sent home, and 18 dancers are left fighting for one of the last 10 spots.
On to the ballroom round!
The dancers are given one hour to master a cha cha—a style Dmitry says many dancers spend an entire lifetime trying to perfect. NBD!
Here's how the ballroom round shook out:
As the ballroom round wrapped up, each All Star had a stacked—meaning four-person—team. By that time, it was 8 pm, and no doubt the dancers (and All Stars!) were exhausted. Cat came out to tell them they'd all done great—but that the long day wasn't over just yet: Time for the group routine round! (PS: How cute were all the dancers sitting on the ground around their respective All Stars?)
The dancers were given a night to choreograph and perfect a group routine before the next morning—which started at 6 am. That's just unkind.
The dancers were told they'd be performing in groups for the All Stars, and each All Star would eliminate one member from his or her team. So this went from "So You Think You Can Dance" to "America's Got Talent" to "Survivor," basically.
First up: Paul's group!
This group clashed during rehearsal. A lot. Kristina and Vasily were vicious, and the choreo was a little awkward, and the performance wasn't jaw-dropping. Paul said he expected more, and he was clearly disappointed that his kiddos didn't get along. He said he wanted to connect with and trust the person on his team. So Vasily, please pack your knives and go. ("Top Chef." Anyone?) Vasily looked shocked to be headed home, and Kristina was just like, "Boy bye."
Then it was time for Team Allison.
Oh, Team Allison. Beautiful, lovely, wonderful Team Allison. Her team consisted of Logan, Zachary, Abby, and krumper Kevin Davis Jr. They told Allison that the night went really well, and that even though Kevin struggled to keep up with his contemporary counterparts, he maintained an A+ attitude.
And the routine was so good. Allison loved it and seemed so proud, and maybe we cried a little bit watching, but so did Allison, so it's fine. (We predict Logan will ultimately be Allison's live show partner. Anyone else?) But Allison still had to send someone home, and that person was Kevin.
But plot twist!
Jenna stole him! After Allison told Kevin he'd been voted off the island, Jenna swooped in to save him. She was all, "I'll never let go, Kevin," so now he has a spot on Team Jenna. But, as a result, Jenna had to send two of her existing team members home. Bummer for them, but yay for Kevin. (Again, Nigel, the rules! We did not know stealing was allowed!)
As the episode wrapped up, Robert sent Jensen home (boo! hiss! but considering her DNA, we think she'll be just fine), and we found out that there's still one more week of The Academy. Next week, Sonya Tayeh joins the ranks to teach the remaining dancers some jazz. And now that summer is half over, we can't help but wonder: When are these live shows ever going to start?!
(From left) ABT's Erica Lall; NYCB's India Bradley; Washington Ballet's Nardia Boodoo; NYCB's Rachel Hutsell (all photos by Rachel Neville)
Misty Copeland. Her name is synonymous with exquisite artistry and outspoken advocacy. And her visibility has made a huge impact on the ballet world. Ballet's relationship with race has always been strained at best, hostile at worst. But Copeland's persistent message and star quality have finally forced the ballet industry to start talking about racial diversity, inclusivity, and representation. "The rarity of seeing ourselves represented is sad," Copeland says. "The more we see every hue and body shape represented on the stage, the more possibilities young dancers feel they have for themselves."
Keep reading...
Show less
Popular
Feb. 18, 2018 07:00AM EST
Rippon after his stunning performance (via Instagram)
We love, love, LOVE figure skaters who completely embrace the dance aspect of the sport, putting real time and thought into their choreography and music choices (while also, you know, casually pulling off death-defying jumps). This Olympics, a lot of attention has (rightly) been focused on frontrunner Nathan Chen, whose ballet background lends him a beautiful grace and fluidity on the ice. But it was Chen's teammate Adam Rippon who stole our dance-loving hearts yesterday, making his Olympic debut with a routine choreographed by none other than "So You Think You Can Dance" alum Benji Schwimmer.
Friends: HE. SLAYED. And because Rippon is the first openly gay U.S. man to qualify for any Winter Olympics—ever—the performance marked a major milestone.
Keep reading...
Show less
Popular
Jan. 21, 2018 07:00AM EST
ABT JKO School student Miuka Kadoi shoiwng off her beautiful line (photo by Kenneth Edwards)
Contemporary phenom Christina Ricucci has super-flexible hips, which means she can stretch her legs to unbelievable heights. But when she noticed herself making contorted positions in class, Ricucci realized she was approaching her extensions all wrong. "I went back to the basics in class, squaring my hips and using my turnout," Ricucci says. "I learned to create proper positions, rather than whacked-out versions of them."
Some dancers are so wonky they have a hard time supporting their high legs, while others struggle with limited flexibility. But no matter your facility, you can find a balance of stretch and strength to achieve your fullest range of extension. It's not about how high (or not) your legs can go: It's the quality of the movement, and how you get those legs up, that counts.
Keep reading...
Show less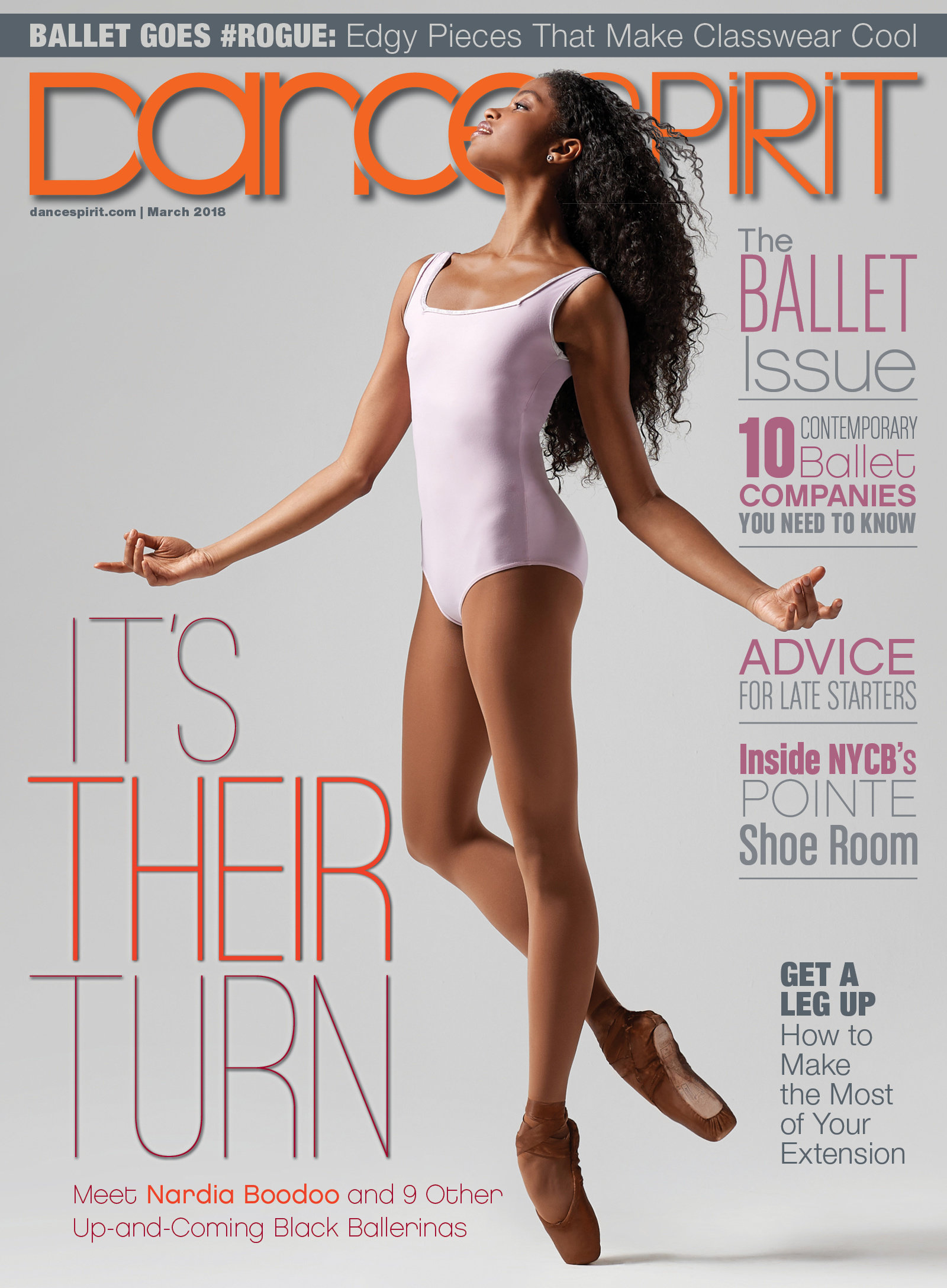 Get Dance Spirit in your inbox