10 Quick Questions with Kaycee Rice
Joe Toreno

Everything former DS cover girl Kaycee Rice touches turns to viral. From doing Nike campaigns (she has her own collection and self-designed shoe with the brand!) to performing at the Super Bowl to crushing class videos with WilldaBeast and Tricia Miranda, Kaycee's always on the move—and she's always fierce, fun, and full-out.
---
Kaycee's not one to sit still: She's launching a clothing line called Weirdo (coming soon), which will be designed entirely by her and her mom. It's inspired by that signature "Weirdo" beanie she's always sporting, and her pride in calling herself a weirdo.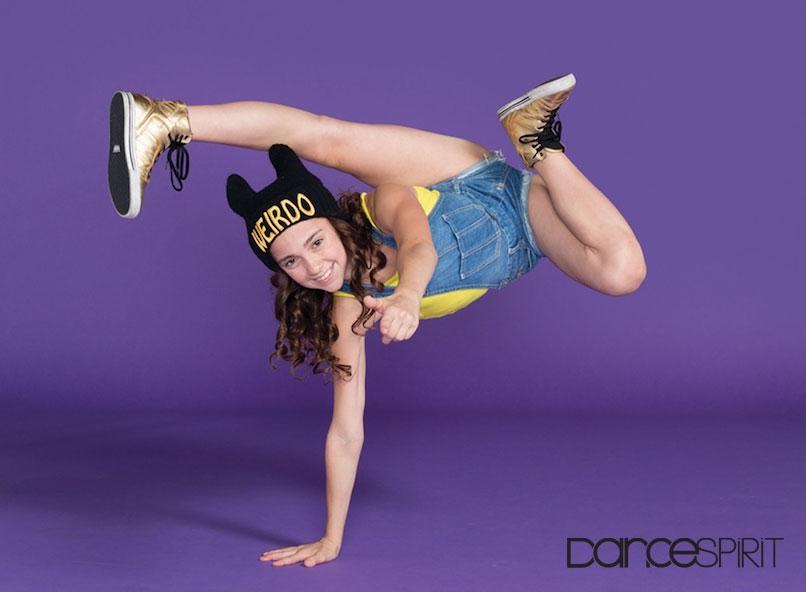 She wore one of her "Weirdo" beanies at her cover shoot! (photo by Joe Toreno)
"My mom made me my first Weirdo beanie and told me to never let what other people say bother me," Kaycee says. "Over the years, I've gotten a lot of positive and negative comments on social media. You have people that support you and people that hate on you. I try to show people that it's OK to be different. I always want people to know not to be afraid of trying something new. Always be yourself, because you are incredible at being you!"
We caught up with Kaycee to find out what she can't dance without—and what it felt like when Katy Perry shared her solo video with the world.
1. What's the first thing you do when you wake up in the morning and the last thing you do before bed every night?
The first thing I do when I wake up is lie there for a few and say to myself, "It can't be morning already!" Then I brush my teeth before stumbling downstairs for breakfast. I eat waffles with lots of syrup, check my Instagram and social media and then start school. At night, I always shower right before bed, and then I fall asleep watching Netflix.
2. What are three things you eat every day?
Waffles with syrup, pasta with lots of parmesan cheese, and fruit.
3. What are three things you can't dance without?
Performance, energy, and music. Without expression and feelings, you're just doing a bunch of steps. I always go full-out in every class. You only get out what you put in. And music, well, that's a no-brainer!
4. In your very expert opinion, what's the best dance movie of all time?
I would have to say Step Up.
5. If you were given an hour to take class from ANY instructor—living or dead—who would you choose?
Debbie Reynolds. Not only was she an icon, but she danced and trained with the best. And she wasn't just a dancer—she was also an actress and mentor. I'm currently working on my acting, so it would have been an honor to ask her questions about her life and train with her.
6. What's the coolest place you've ever performed?
The Super Bowl Halftime Show with Missy Elliott and Katy Perry. Working with Missy was a dream come true. She's such and inspiration in the dance community, and she's super nice. She's a legend! And one of my dreams was to meet Katy Perry to say thank you to her for Tweeting my solo years ago—that set me on my way in the industry. She signed a picture I had of the Tweet, so that was really cool.
7. What songs are in heavy rotation on your playlist right now?
"That's What I Like" by Bruno Mars and "Stay" by Alessia Cara.
8. Other than dance, what's your favorite way to work out?
Dance is my workout! I don't do any other form of working out.
9. What's your favorite way to spend a Sunday?
If I'm not working I love to swim, go to a theme park or just relax and watch TV or sleep.
10. What has been the single greatest moment in your dance career so far?
I have to say when Katy Perry Tweeted my "Werk" solo. That basically launched my career. If that didn't happen, I'm not sure where I'd be now.
American Ballet Theatre principal dancers Sarah Lane and Daniil Simkin (courtesy ABT)
Last May, we told you about a special exhibition of the Mark Ryden artwork that sparked Alexei Ratmansky's sweet-treat of a ballet, Whipped Cream. Well, hold on to your tiaras, bunheads, because there's a brand-new exhibit featuring actual costumes from this megahit production. The Nutcracker's Land of Sweets has some serious competition!
Keep reading...
Show less
via @kyle_vanny on Instagram competing on World Of Dance
Kyle Van Newkirk is a tap dancer you probably remember from the premiere season of NBC's World of Dance. In case you missed it, he is also one of Showstopper's incredible convention teachers. What makes Kyle stand apart from some of today's other incredible tappers? He isn't afraid to change what tap means to his audience and even himself. This modern view of tap dancing is important because it shows us that tap dancers are just as versatile and dynamic as dancers of any other genre. We sat down with Kyle to get his advice on bringing tap dancing into the 21st century.
Keep reading...
Show less
University of Minnesota Dance Team (courtesy University of Minnesota)
They say there's no "I" in "team"—and nowhere is that truer than the world of college dance teams, where precision reigns, uniformity is key, and a single misstep from any given "I" can cost a group a championship trophy. So it's unsurprising that securing a spot on one of the best dance teams in the country is no easy feat.
Members of these highly athletic teams rehearse for hours every week—on top of academic classes and commitments—and perform at football and basketball games, annual concerts, and nationally televised competitions (hi, ESPN). And "no I" rule notwithstanding, each of these top teams is made up of highly trained, highly technical, highly hard-core individuals, who come together to create a ready-for-victory pack.
These six teams aren't one-off success stories—they're consistently strong, and earn the top spots at major competitions like UDA and NDA nearly every year. Up for the challenge? Here's what to know before you go to auditions.
Keep reading...
Show less
How To
Oct. 01, 2010 04:55PM EST
(Nathan Sayers)
Turnout—a combination of rotational flexibility and the strength to properly hold that rotation—is the foundation of ballet. But it's also a source of frustration for many dancers. After all, not everyone (actually, hardly anyone) is born with 180-degree rotation. "When I first started dancing, my hip flexors were strong, but I was forcing my turnout without using the right muscles," remembers Amanda Cobb, a former dancer with The Washington Ballet.
The good news is that it's possible to both improve your turnout and to dance beautifully with less-than-perfect rotation. But there's a lot of misinformation out there about how turnout works and why it's important. To help separate fact from fiction, DS asked the experts to disprove six turnout myths.
Keep reading...
Show less
Lol, same. (Screenshot via YouTube)
Picture this: You've scored tickets to Ellen DeGeneres' hit show, "Ellen." The day has come, the show is as hysterical as ever, Ellen is debating the biggest hot-button issue since the blue/black or white/gold dress, "Laurel vs. Yanny" (side note: it's LAUREL, people), and tWitch is killing it over at the DJ booth, as always. Ellen decides it's the perfect time to single out an audience member and, lo and behold, that person is "SYTYCD" champ ( and December 2017 cover star!) Lex Ishimoto.
Keep reading...
Show less
May. 16, 2018 02:26PM EST
Ema Peter
The Glorya Kaufman International Dance Center is the 54,000 square foot home of the USC Glorya Kaufman School of Dance, one of the largest facilities dedicated to dance on a private university campus. Designed for their innovative new curriculum, that supports a range of dance styles, the school's staff designated Harlequin to provide wall-to-wall flooring for the large 3,500 square foot Performance Studio as well as five dance studios in their new state-of-the-art building.
Keep reading...
Show less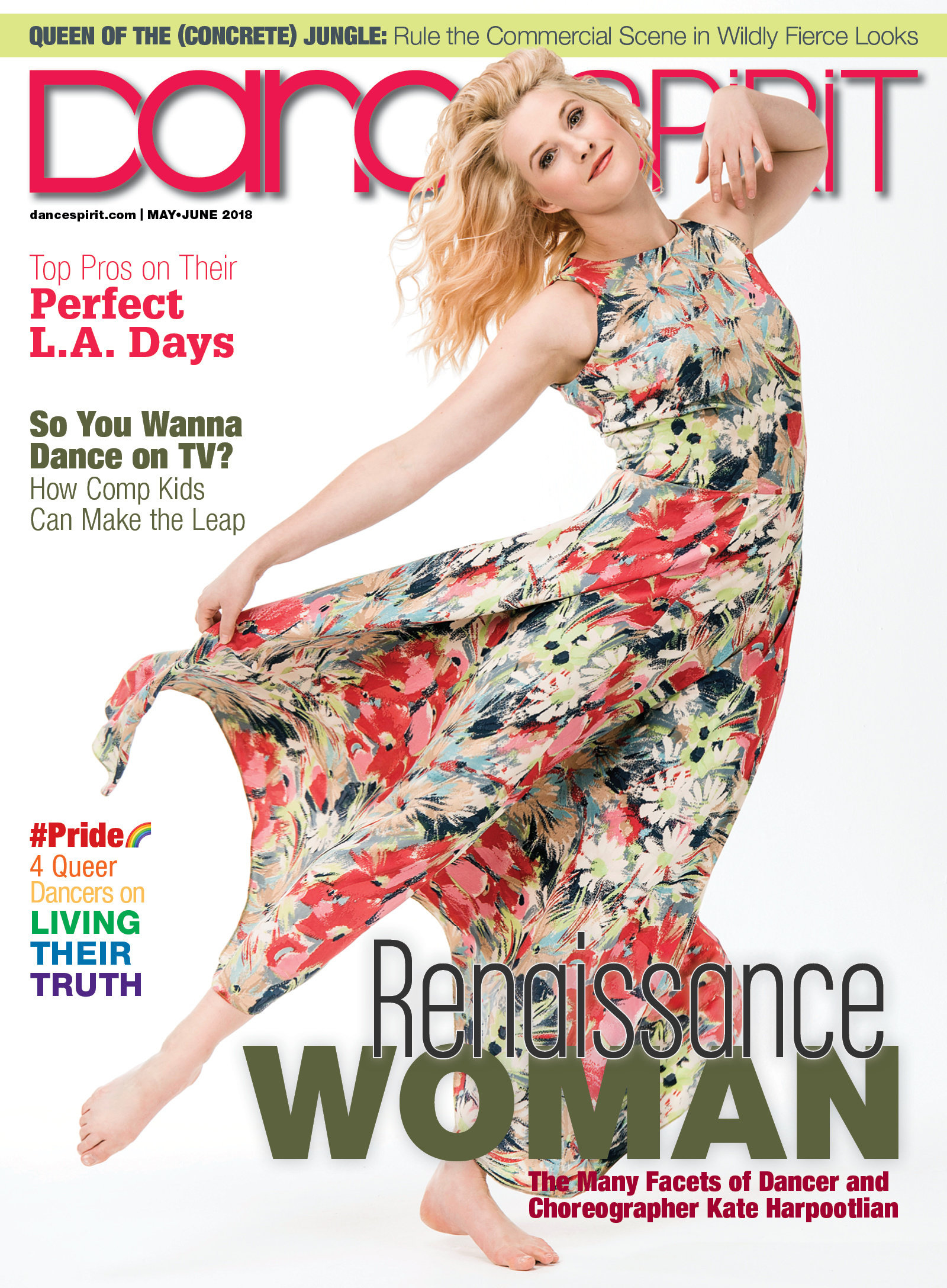 Get Dance Spirit in your inbox