Mar. 27, 2019 04:08PM EST
Complexions' Larissa Gerszke on Her Fosse Obsession & Beyoncé Dreams
Photo by THEGINGERB3ARDMEN Photography, courtesy Gogo Public Relations and Marketing
Complexions Contemporary Ballet's Larissa Gerszke is a standout, thanks to her gorgeous lines and easy grace. An Ottawa, Canada, native, Gerszke began training at Canterbury Arts High School, and later earned her BFA from Fordham University and The Ailey School—while simultaneously working and touring with Complexions. Catch her this month and next on tour with the company throughout the country, and read on for The Dirt!
---
Do you have any pre-performance habits?

Oh, of course! I have to listen to "Power" by Kanye West while doing my makeup and warm-up in one of the pre-set spotlights backstage before the show.
What's the first thing you do when you wake up?
Check my phone. (smh)
What's the last thing you do before you go to bed?
Check my phone again. (smh x 2)
What dance item can you not live without?
My single black Gaynor Minden leg warmer for my right leg. Always.
What non-dance thing would you consider yourself an expert at?
I like to think I'm a yoga master. I'm not at all, but I love how it makes me feel like an agile ninja warrior. It's powerful stuff.
What did you want to be when you were a kid?
An astronaut.
Do you have any hidden talents?
My boyfriend says I'm a darn good cook, haha! My brother, who is a chef in Canada, would have many notes for me, though.
What dancers would you drop everything to go see?
Gabriel Hyman in King Kong on Broadway, Courtney Celeste Spears with Alvin Ailey American Dance Theater, or Donald Thom with The National Ballet of Canada.
Where do you feel happiest?
Wherever there's sunshine and a beach!
What's your go-to stress reliever?
Levain Bakery on 77th and Amsterdam Ave. <3
What's your dream gig?
Dancing for Complexions Contemporary Ballet was the biggest dream I ever dreamt. I hold this accomplishment very near to my soul. As humble as I am, however…if Beyoncé ever needs an Afro-headed ballerina to get down with her one day, she can reach me at @larissagerszke.
What's your biggest fear?
Not being able to pay rent…Note: This has never actually happened, but it's a recurring stress dream of mine.
Who's your dance role model?
It's a tie:
—My admiration of her led me to pursue my dreams dancing with CCB.
—She's a fearless leader in the industry who isn't afraid to challenge the status quo.
What are the most-played songs on your playlist?
Don't get me wrong, I'll play the band Queen for my entire lifetime on repeat, but I really love "Everybody Mad" by O.T. Genasis these days. #Morningmotivation
What's your favorite dance movie?
The 2002 version of Chicago. Not only because my boss Desmond Richardson kills it, but also because I've always fancied the elegant sexiness of jazz.
What's something no one knows about you?
In another lifetime, I was a Fosse dancer.
Who can always make you laugh?
Nehemiah Spencer all day long will have me in stitches! Or Addison Ector's legendary turned-in ballet!
What foods can't you live without?
BARNANA SNACKS—thanks, Shanna Irwin.
Peanut Butter. But I mean the whole jar in 2 days…
Do you have any nicknames?
Everybody at work calls me "La."
Who would play you in a movie?
If we spared no expense, we'd have to get Thandie Newton to get the job done.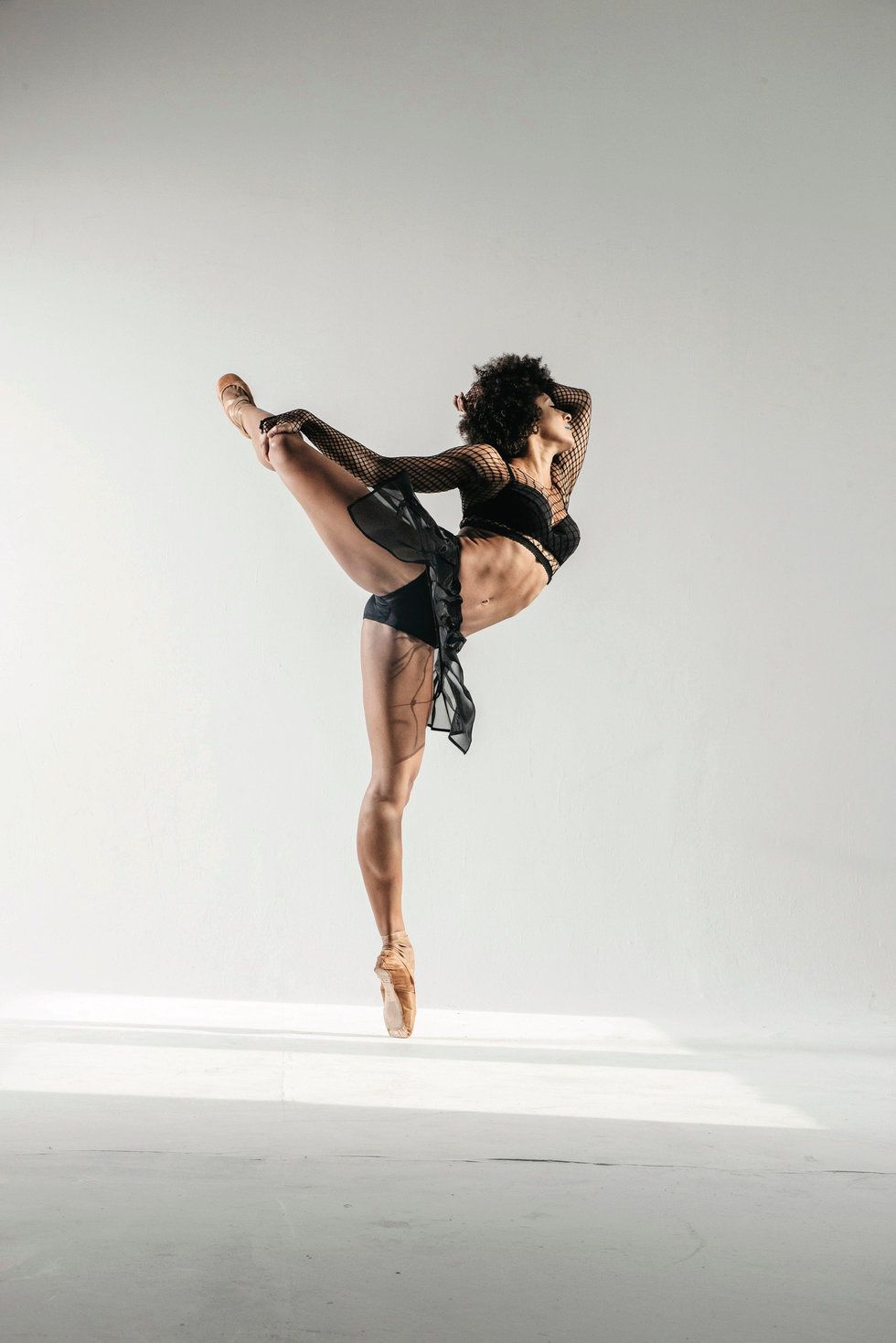 Photo by THEGINGERB3ARDMEN Photography, courtesy Gogo Public Relations and Marketing
Have you had any embarrassing moments onstage?

During my first season of Complexions, Misty Copeland was going to be in the audience and we were excited! But my performance didn't quite go as planned. My partner and I had a very tricky "helicopter" overhead lift that came at the end of an exhausting section in the first piece and we didn't quite complete the flip. He caught me luckily, but my four-legged dismount didn't have much place in this particular Bach ballet!
What's your advice for young dancers?
1. Do your research and know your history of dance.
2. Be a "YES" person; embrace opportunity.
3. Don't forget your purpose and stay true to it.
What are you most proud of?
In four seasons with Complexions, I've only taken one sick day, because of food poisoning from sushi. (I don't eat sushi anymore. The "snatched game" ain't worth your life, guys!!!)
What's the strangest thing in your dance bag?
Orajel. For those days when your bruised toenails can't take the 6-hour pointe rehearsals.
Who's your dance crush?
Jules-Romay Joseph, xo
What would you be if you weren't a dancer?
I'd probably have wound up a marine biologist, because my fallback was going to be studying that at the University of British Columbia in Canada.
If you could work with any choreographer, who would it be?
I would have loved to be a muse for Bob Fosse. In the future, I hope my path crosses with Alonzo King.
Dance-wise, do you have any bad habits?
Remembering to track my knees over my toes. I definitely pay for it after the rehearsals when I'm less attentive to it. Thank goodness for the physical therapists at Harkness.
A version of this story appeared in the April 2019 issue of Dance Spirit with the title "The Dirt with Larissa Gerszke."
Related Articles Around the Web
From Your Site Articles
Dancers Dish
Jun. 15, 2019 10:12AM EST
(From left) Darriel Johnakin, Diego Pasillas, and Emma Sutherland (all photos by Erin Baiano)
Congratulations to Dance Spirit's 2019 Cover Model Search finalists: Darriel Johnakin, Diego Pasillas, and Emma Sutherland! One of them will win a spot on Dance Spirit's Fall 2019 cover. Learn more about the dancers by clicking on their names here:
And then vote for your favorite below. You can vote once a day now through July 15.
We also want you to get social! We'll be factoring social media likes and shares into our final tallies. Be sure to show your favorite finalist some love on Facebook, Instagram, and Twitter, sharing their profile pages and using the hashtag #DanceSpiritCMS.

Cover Model Search
Jun. 24, 2019 12:29PM EST
Photo by Erin Baiano
When it comes to injury-prone body parts, knees reign supreme for dancers. But a little strengthening can go a long way in preventing painful outcomes. We turned to Dirk Hartog, a physical therapist with Westside Dance Physical Therapy in NYC, for three exercises that'll support and stabilize your knees.
Fitness
Jun. 24, 2019 11:57AM EST
James Whiteside (Jayme Thornton for Dance Magazine)
Say you're perpetually impeccable designer Thom Browne. Say you're planning your Spring 2020 Paris menswear show along a "Versailles country club" theme. Say you want a world-class danseur to open the show with some kind of appropriately fabulous choreography.
Who do you call? James Whiteside, of course. On Saturday, the American Ballet Theatre principal—wearing pointe shoes and a glorious pinstriped tutu—kicked off Browne's presentation at the École des Beaux-Arts with a 15-minute, show-stealing solo. Whiteside choreographed the piece himself, with the help of detailed notes from the designer.
Dance and Fashion