Mar. 27, 2019 04:08PM EST
Complexions' Larissa Gerszke on Her Fosse Obsession & Beyoncé Dreams
Photo by THEGINGERB3ARDMEN Photography, courtesy Gogo Public Relations and Marketing
Complexions Contemporary Ballet's Larissa Gerszke is a standout, thanks to her gorgeous lines and easy grace. An Ottawa, Canada, native, Gerszke began training at Canterbury Arts High School, and later earned her BFA from Fordham University and The Ailey School—while simultaneously working and touring with Complexions. Catch her this month and next on tour with the company throughout the country, and read on for The Dirt!
---
Do you have any pre-performance habits?

Oh, of course! I have to listen to "Power" by Kanye West while doing my makeup and warm-up in one of the pre-set spotlights backstage before the show.
What's the first thing you do when you wake up?
Check my phone. (smh)
What's the last thing you do before you go to bed?
Check my phone again. (smh x 2)
What dance item can you not live without?
My single black Gaynor Minden leg warmer for my right leg. Always.
What non-dance thing would you consider yourself an expert at?
I like to think I'm a yoga master. I'm not at all, but I love how it makes me feel like an agile ninja warrior. It's powerful stuff.
What did you want to be when you were a kid?
An astronaut.
Do you have any hidden talents?
My boyfriend says I'm a darn good cook, haha! My brother, who is a chef in Canada, would have many notes for me, though.
What dancers would you drop everything to go see?
Gabriel Hyman in King Kong on Broadway, Courtney Celeste Spears with Alvin Ailey American Dance Theater, or Donald Thom with The National Ballet of Canada.
Where do you feel happiest?
Wherever there's sunshine and a beach!
What's your go-to stress reliever?
Levain Bakery on 77th and Amsterdam Ave. <3
What's your dream gig?
Dancing for Complexions Contemporary Ballet was the biggest dream I ever dreamt. I hold this accomplishment very near to my soul. As humble as I am, however…if Beyoncé ever needs an Afro-headed ballerina to get down with her one day, she can reach me at @larissagerszke.
What's your biggest fear?
Not being able to pay rent…Note: This has never actually happened, but it's a recurring stress dream of mine.
Who's your dance role model?
It's a tie:
—My admiration of her led me to pursue my dreams dancing with CCB.
—She's a fearless leader in the industry who isn't afraid to challenge the status quo.
What are the most-played songs on your playlist?
Don't get me wrong, I'll play the band Queen for my entire lifetime on repeat, but I really love "Everybody Mad" by O.T. Genasis these days. #Morningmotivation
What's your favorite dance movie?
The 2002 version of Chicago. Not only because my boss Desmond Richardson kills it, but also because I've always fancied the elegant sexiness of jazz.
What's something no one knows about you?
In another lifetime, I was a Fosse dancer.
Who can always make you laugh?
Nehemiah Spencer all day long will have me in stitches! Or Addison Ector's legendary turned-in ballet!
What foods can't you live without?
BARNANA SNACKS—thanks, Shanna Irwin.
Peanut Butter. But I mean the whole jar in 2 days…
Do you have any nicknames?
Everybody at work calls me "La."
Who would play you in a movie?
If we spared no expense, we'd have to get Thandie Newton to get the job done.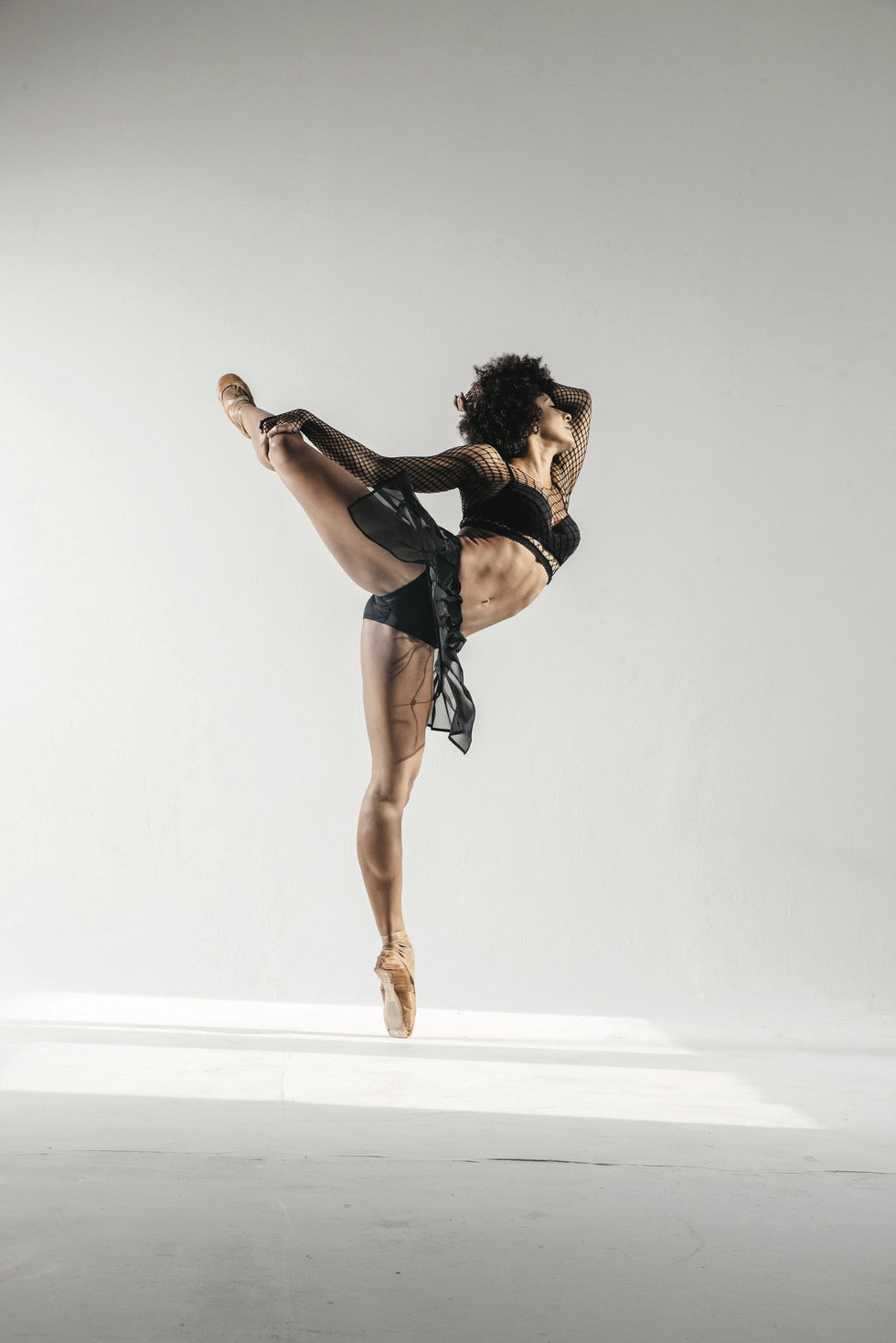 Photo by THEGINGERB3ARDMEN Photography, courtesy Gogo Public Relations and Marketing
Have you had any embarrassing moments onstage?

During my first season of Complexions, Misty Copeland was going to be in the audience and we were excited! But my performance didn't quite go as planned. My partner and I had a very tricky "helicopter" overhead lift that came at the end of an exhausting section in the first piece and we didn't quite complete the flip. He caught me luckily, but my four-legged dismount didn't have much place in this particular Bach ballet!
What's your advice for young dancers?
1. Do your research and know your history of dance.
2. Be a "YES" person; embrace opportunity.
3. Don't forget your purpose and stay true to it.
What are you most proud of?
In four seasons with Complexions, I've only taken one sick day, because of food poisoning from sushi. (I don't eat sushi anymore. The "snatched game" ain't worth your life, guys!!!)
What's the strangest thing in your dance bag?
Orajel. For those days when your bruised toenails can't take the 6-hour pointe rehearsals.
Who's your dance crush?
Jules-Romay Joseph, xo
What would you be if you weren't a dancer?
I'd probably have wound up a marine biologist, because my fallback was going to be studying that at the University of British Columbia in Canada.
If you could work with any choreographer, who would it be?
I would have loved to be a muse for Bob Fosse. In the future, I hope my path crosses with Alonzo King.
Dance-wise, do you have any bad habits?
Remembering to track my knees over my toes. I definitely pay for it after the rehearsals when I'm less attentive to it. Thank goodness for the physical therapists at Harkness.
A version of this story appeared in the April 2019 issue of Dance Spirit with the title "The Dirt with Larissa Gerszke."
Dancers Dish
Apr. 19, 2019 03:37PM EST
Gabriel Figueredo in a variation from Raymonda. VAM Productions, Courtesy YAGP.
This week, over 1,000 young hopefuls gathered in New York City for the Youth America Grand Prix finals, giving them the chance to compete for scholarships and contracts to some of the world's top ballet schools and companies. Roughly 85 dancers made it to the final round at Lincoln Center's David H. Koch Theater on Wednesday. Today, the 20th anniversary of YAGP came to a close at the competition's awards ceremony. Read on to find out who won!

Dance News
Apr. 19, 2019 07:00AM EST
After a string of ballet-company rejections, Jennifer Sydor (here in Laura Peterson's "Failure") found success in other areas of the dance world. (Stephen Delas Heras, courtesy Jennifer Sydor)
In her senior year at Butler University, Jennifer Sydor auditioned for more than a dozen regional ballet companies—and got a string of "no, thank you" responses. "I have an athletic build, and my movement quality isn't the typical ballet aesthetic," Sydor says. "But I'd been laser-focused on ballet. When I didn't get a ballet contract, I was heartbroken."
Her one job offer came from Kim Robards Dance, a small modern company based in Aurora, CO. After attending KRD's summer intensive, Sydor ended up accepting a yearlong position with the troupe. "I was relieved and happy to begin my career," she says. She's been working as a contemporary dancer ever since.
In the dance world, rejection is part of the package. That doesn't make it any more pleasant. But whether you didn't get the Nutcracker role of your dreams or you weren't picked for a job despite feeling like you aced the audition, you can emerge from even the most gut-wrenching "no" smarter and stronger.
Mind
Apr. 18, 2019 07:13PM EST
Ballet West principal Beckanne Sisk as Kitri (Luke Isley, courtesy Ballet West)
Guess who's baaaaack?! Your resident Dance Spirit astrologers! And on the eve of the Youth America Grand Prix awards ceremony, we thought it was the perfect time to pair each zodiac sign with a variation commonly seen during the competition. After many painstaking hours spent researching, consulting the stars, and staring wistfully into the sky, we compiled our data and present you with the definitive list of each star sign as a YAGP variation! As we said last time, don't @ us if you're not happy with your pairing—the stars don't lie, baby!
Dancer to Dancer