"So You Think You Can Dance" Recap: The Academy, Week 2
Adam Rose/FOX
Guess who's back? Back again? The Academy's back! Tell a friend.
After one day at The Academy, the All Stars have successfully taken the Top 100 down to 62. But their work is just getting started: Now they need to keep narrowing the field to a Top 10, ultimately deciding who each will partner with during the live shows.
---
Last night, Travis Wall led the contestants in a contemporary choreography round, followed by a ballroom round with Dmitry Chaplin and his partner, Jenya NoLastName. (No, seriously. They never tell us her last name.) Those who survive and make it onto an All-Star team will go on to the [dreaded] group round. (You know, the one where the dancers have to stay up all night choreographing a routine, and then perform it for the All Stars super early the next morning.)
You can tell so many of the dancers hoping to make the Top 10 totally idolize Travis Wall. As soon as he walks onstage, their eyes brighten. And then he opens with, "I'm just gonna warn you, it's a pretty hard combo." Bless you, Travis. He says he's "not interested in building robots today," and is giving the dancers lots of room for self-expression (including starting the combo with a freestyle section—love that).
Here's what went down during the contemporary round:
Taylor Sieve from the L.A. auditions was gorgeous. She wanted to land a spot on Robert's team—and she did! "She's got that heart that I'm looking for," Robert says. (She was then joined on Team Robert by Jonathan Wade and Jennifer Florentino.)
Ariel Disciascio was sent home. Sad.
Dancers who were already chosen to be on All Star teams were still dancing. This is confusing. Why do the dancers have to keep going through the motions—literally, the choreography motions—when they're already on a team? Nigel, please explain.
Tapper Chaz Wolcott was sent home. He was out to get redemption after a tough hip-hop round, and at 29 years old, this was his last shot at making the Top 10. Robert tells Chaz he loves his smile and personality, but bye.
Havoc and Klassic from the NYC auditions had a rough go. TBH, they both botched the choreography. Klassic was sent home, but Cyrus isn't ready to say l8r to Havoc, so he asked him to dance for his life. He did, the All Stars loved it, and he made it to Team Cyrus.
By the end of the contemporary round, 30 dancers have made an All-Star team, 14 more have been sent home, and 18 dancers are left fighting for one of the last 10 spots.
On to the ballroom round!
The dancers are given one hour to master a cha cha—a style Dmitry says many dancers spend an entire lifetime trying to perfect. NBD!
Here's how the ballroom round shook out:
As the ballroom round wrapped up, each All Star had a stacked—meaning four-person—team. By that time, it was 8 pm, and no doubt the dancers (and All Stars!) were exhausted. Cat came out to tell them they'd all done great—but that the long day wasn't over just yet: Time for the group routine round! (PS: How cute were all the dancers sitting on the ground around their respective All Stars?)
The dancers were given a night to choreograph and perfect a group routine before the next morning—which started at 6 am. That's just unkind.
The dancers were told they'd be performing in groups for the All Stars, and each All Star would eliminate one member from his or her team. So this went from "So You Think You Can Dance" to "America's Got Talent" to "Survivor," basically.
First up: Paul's group!
This group clashed during rehearsal. A lot. Kristina and Vasily were vicious, and the choreo was a little awkward, and the performance wasn't jaw-dropping. Paul said he expected more, and he was clearly disappointed that his kiddos didn't get along. He said he wanted to connect with and trust the person on his team. So Vasily, please pack your knives and go. ("Top Chef." Anyone?) Vasily looked shocked to be headed home, and Kristina was just like, "Boy bye."
Then it was time for Team Allison.
Oh, Team Allison. Beautiful, lovely, wonderful Team Allison. Her team consisted of Logan, Zachary, Abby, and krumper Kevin Davis Jr. They told Allison that the night went really well, and that even though Kevin struggled to keep up with his contemporary counterparts, he maintained an A+ attitude.
And the routine was so good. Allison loved it and seemed so proud, and maybe we cried a little bit watching, but so did Allison, so it's fine. (We predict Logan will ultimately be Allison's live show partner. Anyone else?) But Allison still had to send someone home, and that person was Kevin.
But plot twist!
Jenna stole him! After Allison told Kevin he'd been voted off the island, Jenna swooped in to save him. She was all, "I'll never let go, Kevin," so now he has a spot on Team Jenna. But, as a result, Jenna had to send two of her existing team members home. Bummer for them, but yay for Kevin. (Again, Nigel, the rules! We did not know stealing was allowed!)
As the episode wrapped up, Robert sent Jensen home (boo! hiss! but considering her DNA, we think she'll be just fine), and we found out that there's still one more week of The Academy. Next week, Sonya Tayeh joins the ranks to teach the remaining dancers some jazz. And now that summer is half over, we can't help but wonder: When are these live shows ever going to start?!
American Ballet Theatre principal dancers Sarah Lane and Daniil Simkin (courtesy ABT)
Last May, we told you about a special exhibition of the Mark Ryden artwork that sparked Alexei Ratmansky's sweet-treat of a ballet, Whipped Cream. Well, hold on to your tiaras, bunheads, because there's a brand-new exhibit featuring actual costumes from this megahit production. The Nutcracker's Land of Sweets has some serious competition!
Keep reading...
Show less
via @kyle_vanny on Instagram competing on World Of Dance
Kyle Van Newkirk is a tap dancer you probably remember from the premiere season of NBC's World of Dance. In case you missed it, he is also one of Showstopper's incredible convention teachers. What makes Kyle stand apart from some of today's other incredible tappers? He isn't afraid to change what tap means to his audience and even himself. This modern view of tap dancing is important because it shows us that tap dancers are just as versatile and dynamic as dancers of any other genre. We sat down with Kyle to get his advice on bringing tap dancing into the 21st century.
Keep reading...
Show less
University of Minnesota Dance Team (courtesy University of Minnesota)
They say there's no "I" in "team"—and nowhere is that truer than the world of college dance teams, where precision reigns, uniformity is key, and a single misstep from any given "I" can cost a group a championship trophy. So it's unsurprising that securing a spot on one of the best dance teams in the country is no easy feat.
Members of these highly athletic teams rehearse for hours every week—on top of academic classes and commitments—and perform at football and basketball games, annual concerts, and nationally televised competitions (hi, ESPN). And "no I" rule notwithstanding, each of these top teams is made up of highly trained, highly technical, highly hard-core individuals, who come together to create a ready-for-victory pack.
These six teams aren't one-off success stories—they're consistently strong, and earn the top spots at major competitions like UDA and NDA nearly every year. Up for the challenge? Here's what to know before you go to auditions.
Keep reading...
Show less
How To
Oct. 01, 2010 04:55PM EST
(Nathan Sayers)
Turnout—a combination of rotational flexibility and the strength to properly hold that rotation—is the foundation of ballet. But it's also a source of frustration for many dancers. After all, not everyone (actually, hardly anyone) is born with 180-degree rotation. "When I first started dancing, my hip flexors were strong, but I was forcing my turnout without using the right muscles," remembers Amanda Cobb, a former dancer with The Washington Ballet.
The good news is that it's possible to both improve your turnout and to dance beautifully with less-than-perfect rotation. But there's a lot of misinformation out there about how turnout works and why it's important. To help separate fact from fiction, DS asked the experts to disprove six turnout myths.
Keep reading...
Show less
Lol, same. (Screenshot via YouTube)
Picture this: You've scored tickets to Ellen DeGeneres' hit show, "Ellen." The day has come, the show is as hysterical as ever, Ellen is debating the biggest hot-button issue since the blue/black or white/gold dress, "Laurel vs. Yanny" (side note: it's LAUREL, people), and tWitch is killing it over at the DJ booth, as always. Ellen decides it's the perfect time to single out an audience member and, lo and behold, that person is "SYTYCD" champ ( and December 2017 cover star!) Lex Ishimoto.
Keep reading...
Show less
May. 16, 2018 02:26PM EST
Ema Peter
The Glorya Kaufman International Dance Center is the 54,000 square foot home of the USC Glorya Kaufman School of Dance, one of the largest facilities dedicated to dance on a private university campus. Designed for their innovative new curriculum, that supports a range of dance styles, the school's staff designated Harlequin to provide wall-to-wall flooring for the large 3,500 square foot Performance Studio as well as five dance studios in their new state-of-the-art building.
Keep reading...
Show less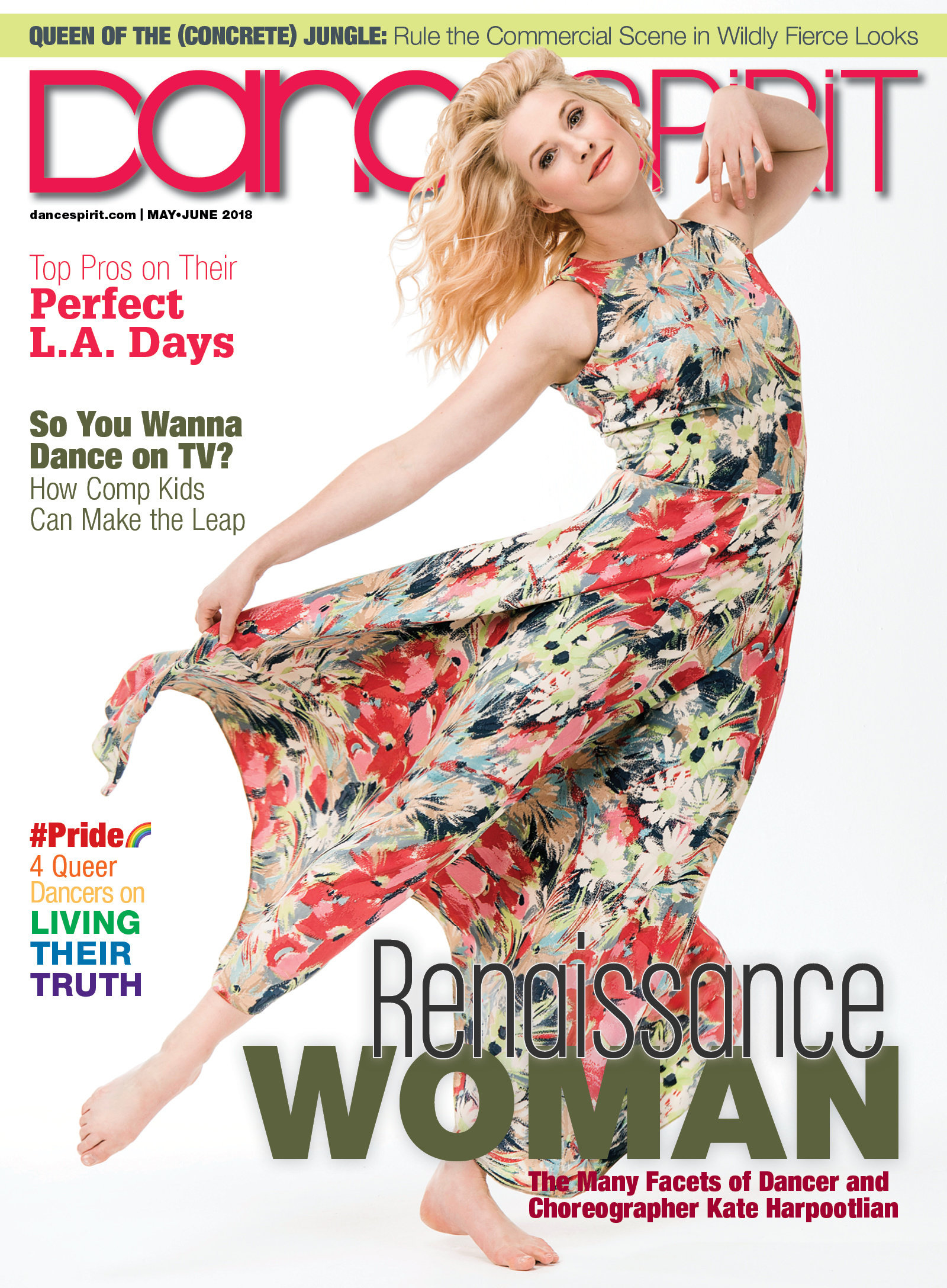 Get Dance Spirit in your inbox