"So You Think You Can Dance" Recap: The Academy, Week 96
Adam Rose/FOX
Is it just us, or is it downright shocking that it's now August and we have somehow still not made it to the live "So You Think You Can Dance" shows? We were convinced going into this episode—which felt like Week 96 at The Academy—that by the end, we'd have our Top 10.
But somehow...somehow, yet another week has gone by, and we still don't know our final roster.
Cat Deeley reassures us that next week, we'll go live and finally get a Top 10 reveal. But until then, here's what went down this week...
---
First, Sonya Tayeh showed up to school the Top 30 with some serious jazz.
In the final choreography round, Tayeh guided the remaining dancers (three from each All-Star team) through some very passionate, very intense jazz moves. The dancers claimed they weren't tired, but they were lying, and we could tell.
Sonya was all, "How are you going to maintain your place here? By literally blanketing all of the passion and desire and conviction and dreams that you have, and then let them explode, OK?" She said the choreography wasn't fast, "it's stylized," and Dassey Lee was like, "Yo, this is hard and I'm terrified," and Havoc was basically like, "Yeah, I'm going to hold it down as one of the last remaining street dancers, but this is hard." Kevin Davis was having a tough time, to which Sonya said, "If you give up, bye!"
Meanwhile, two members of Team Robert—Taylor Sieve and Jennifer Florentino—collided mid-choreography (darn that crowded stage), and the medics came rushing in, and that was the end of the big dance for Jennifer. Taylor felt bad and it was sad, though TBH, no matter how many times they showed that slow-motion replay of the collision, we couldn't quite see it. (Anyone else?)
Each team performed the jazz choreo for the All Stars, who, as always, were so fun to watch because they have the best reactions. We saw some more eliminations and a few tears (Comfort!), and then we had our Top 20.
Then it was on to the actual final round of pre-live show action.
In this round, the dancers were basically given a chemistry test: Each All Star had choreographed a routine for his or her remaining two dancers, and they performed it together. How fun! (For us, at least. These All Stars had some seriously tough calls to make, and we did not envy them that.) The dancers and their All Stars got an hour to work together before taking the stage—and whoa, there was some good stuff in there!
Because we still don't have a Top 10 (#suspense), here's your Top 20—plus our Top 10 predictions:
Team Marko: Sofia Ghavami vs. Koine Iwasaki
We predict: Ugh, they're both so good, and last night was the best Sofia has ever performed. But our money's on Koine.
Team Gaby: Evan Debenedetto vs. Lex Ishimoto
Lex is arguably one of the best contemporary dancers to ever grace the "SYT" stage, but Evan is a crazy-good tapper with a ton of personality, and is probably a better partner for Gaby. So we say Evan.
Team Paul: Sydney Tormey vs. Kristina Androsenko
We have to go with Sydney on this one. Kristina's lovely, but there's something special and sparkly about Sydney.
Team Robert: Jonathan Wade vs. Taylor Sieve
They're both fantastic, but we predict Robert will want to partner with a lady, and Taylor's among the best. Our money's on Taylor.
Team Allison: Logan Hernandez vs. Zachary Downer
Allison has loved Logan from the start, and so have we. Logan FTW.
Team Cyrus: Havoc vs. Kaylee Millis
Both have been fan favorites since the very beginning, and these routines were some of the best of the entire competition so far. But ultimately we have to go with Kaylee.
Team Comfort: Mark Villaver vs. Deja Williams
Another tough one, but there's something remarkable about Mark.
Team Jasmine: Howard Johnson vs. Robert Green
We haven't gotten to know either of these two very well. But let's go with Robert.
Team Fik-Shun: Dassey Lee vs. Kyle Bennett Jr.
Ugh, this is too hard. Being an All Star is impossible. Team Dassey Lee, we guess.
Team Jenna: Kevin "Konkrete" Davis vs. Kiki Nyemchek
Saved the most stressful for last! Kiki would be the safe choice, but when Kevin took the stage to show off his krumping skills last night—I mean, whaaaaat? Yes, Kevin is more of a risk, since his style is so different from Jenna's, but if anyone can whip him into the most versatile shape ever, it's Jenna. We refuse to call this one.
Check back next week to see how our predictions fare—and get psyched for the return of some live action and the always-quotable Vanessa Hudgens!
via YouTube
Keep reading...
Show less
via @kyle_vanny on Instagram competing on World Of Dance
Kyle Van Newkirk is a tap dancer you probably remember from the premiere season of NBC's World of Dance. In case you missed it, he is also one of Showstopper's incredible convention teachers. What makes Kyle stand apart from some of today's other incredible tappers? He isn't afraid to change what tap means to his audience and even himself. This modern view of tap dancing is important because it shows us that tap dancers are just as versatile and dynamic as dancers of any other genre. We sat down with Kyle to get his advice on bringing tap dancing into the 21st century.
Keep reading...
Show less
What did I just hear you say? You think all dancers are weak and delicate? PLEASE SAUT DE CHAT OUT OF MY LIFE. (Giphy)
Sure, dancers definitely have some unique identifying characteristics. (We're all obsessed with Center Stage? FACT.) But we're also subjected to all kinds of annoying, inaccurate stereotyping. Here are 10 dancer stereotypes that we never want to hear again.
Keep reading...
Show less
University of Minnesota Dance Team (courtesy University of Minnesota)
They say there's no "I" in "team"—and nowhere is that truer than the world of college dance teams, where precision reigns, uniformity is key, and a single misstep from any given "I" can cost a group a championship trophy. So it's unsurprising that securing a spot on one of the best dance teams in the country is no easy feat.
Members of these highly athletic teams rehearse for hours every week—on top of academic classes and commitments—and perform at football and basketball games, annual concerts, and nationally televised competitions (hi, ESPN). And "no I" rule notwithstanding, each of these top teams is made up of highly trained, highly technical, highly hard-core individuals, who come together to create a ready-for-victory pack.
These six teams aren't one-off success stories—they're consistently strong, and earn the top spots at major competitions like UDA and NDA nearly every year. Up for the challenge? Here's what to know before you go to auditions.
Keep reading...
Show less
They got to live out their dreams onstage with Jackson during last night's Billboard Awards. (NBC)
When Janet Jackson puts out a call for new dancers, basically the ENTIRE WORLD responds. More than 75,000 people entered Jackson's epic #DanceWithJanet contest, announced earlier this spring, which let hopefuls from around the globe audition via social media for a chance to perform with the icon.
So, out of those tens of thousands, who became the newest members of the #JTribe? Meet Phillip Galbert and L'Vala "Lala" Moss, the winners of the competition. Last night, they joined Janet onstage at the Billboard Music Awards. And they more than earned their place in the spotlight.
Keep reading...
Show less
May. 16, 2018 02:26PM EST
Ema Peter
The Glorya Kaufman International Dance Center is the 54,000 square foot home of the USC Glorya Kaufman School of Dance, one of the largest facilities dedicated to dance on a private university campus. Designed for their innovative new curriculum, that supports a range of dance styles, the school's staff designated Harlequin to provide wall-to-wall flooring for the large 3,500 square foot Performance Studio as well as five dance studios in their new state-of-the-art building.
Keep reading...
Show less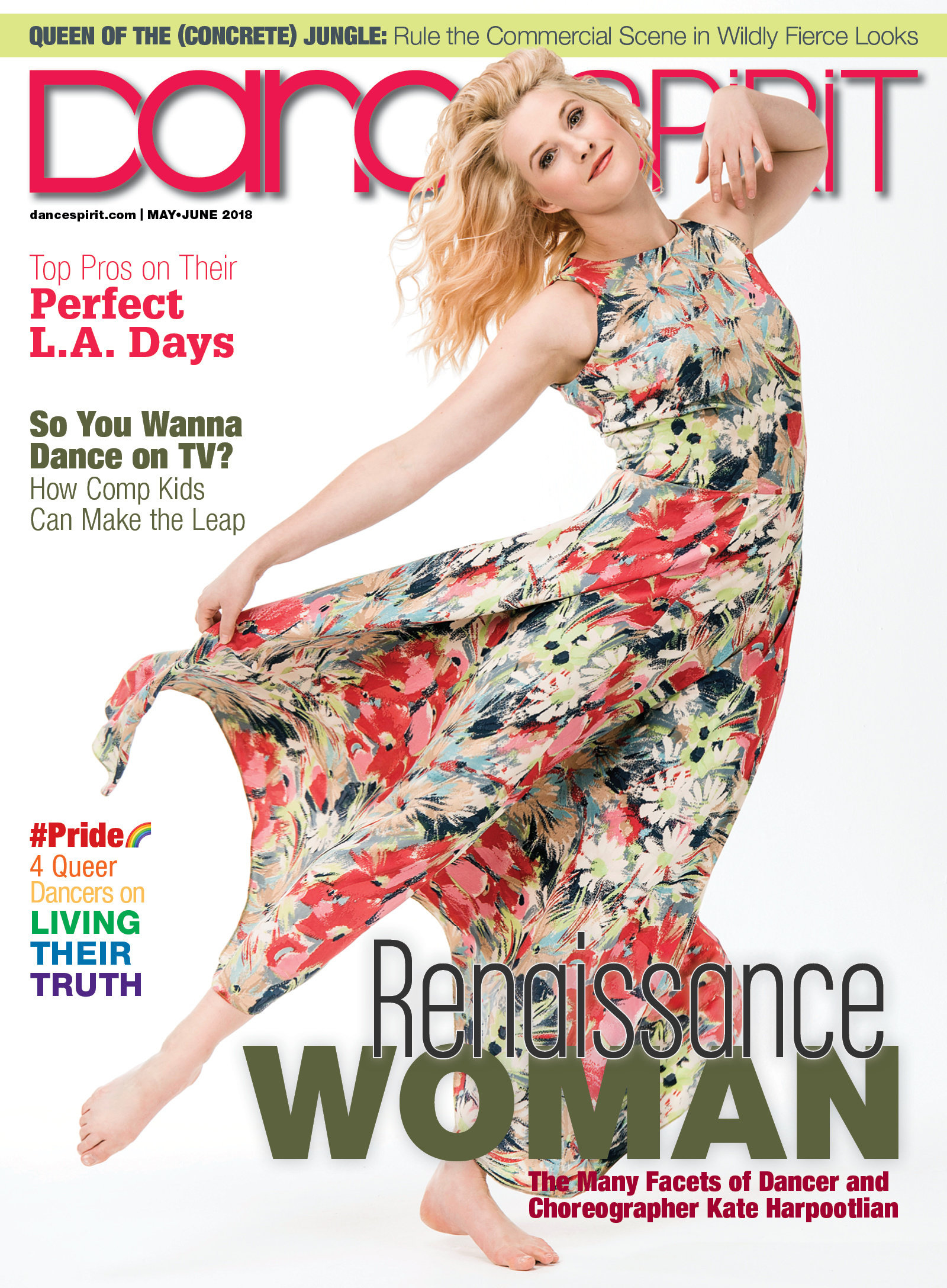 Get Dance Spirit in your inbox