"So You Think You Can Dance" Recap: The Eliminations Begin
The Top 10 and All Stars in the opening number (Tyler Golden/FOX)
Last week, after much fanfare and anticipation, we finally met the Season 14 Top 10. Which meant that last night, the hard part began: We started eliminating people.
Here's how it all went down: At the end of last week's episode, you voted (right?). Last night, the whole Top 10 performed again—once with their All Stars plus a solo—and at the end of that episode, we found out who landed in the bottom three based on last week's votes. Then, the judges swooped in and decided who to save and who to send home.
It's a little savage making the dancers perform all over again, even though one will definitely be going home. But such is reality television. And though we had to bid adieu to one worthy member of the Top 10 (we'll get to that), last night's episode was good.
---
The opening number
Bless you, Mandy Moore and Val Chmerkovskiy, for giving us this raucous, fun, fabulous disco routine. The Top 10 and the All Stars kicked things off with wild wigs (Kaylee even got a blue one!) and giant bell-bottoms, and while the stage was crowded with boogying disco dancers, a few stood out: Lex (don't say this guy has no personality!), Jenna (obviously), and Koine (those legs). There were lots of flashy lifts and big smiles. We loved the vibe.
Cat Deeley, not to be outdone, appeared in a getup that included some big, curly hair and silver-sequined bell-bottoms. And then there was Vanessa's outfit, which was...a bra. With a bow. Do you, V-Hudge. Your outfit was weird, but you made it look kind of amazing.
Since every solo of the night was phenomenal, let's skip right over those exclamation point-inducing routines to get to the partnered pieces.
Mark & Comfort
Style: Jazz
Choreographer: Ray Leeper
A very shirtless Mark used this routine as a chance to show that he's not just the goofy, giggling, happy-to-be-here dude—he can take dance plenty seriously! He was sharp and clean, and his musicality was right on. (Also, Ray Leeper, you have the best smile in the entire business. New life goal: perform so full-out that Ray Leeper smiles like he did after this performance.)
The judges said: They liked seeing this more intense version of Mark, and appreciated that it was "so hot." Mary couldn't keep her eyes off Mark, and said he was "raw" and "uninhibited."
Lex & Gaby
Style: Argentine tango
Choreographers: Miriam and Leonardo
Couples have seriously struggled with this style in the past—but these two didn't at all. They dominated this sensual routine, which was jam packed with lifts. Lex had the intense, sultry thing down pat, and they both nailed all the fast footwork. (Seriously, the difficulty level was like 385297 on this one.)
The judges said: Resident ballroom pro Mary said, "It's gonna be a hot, sexy night, I have a feeling!" But she wanted a little more steam from the couple. She acknowledged a few awkward moments, but also pointed out some "spectacular" ones, while noting that the choreography was no joke. Nigel liked the intensity and the sexiness, and Vanessa said, "It's just so hot, it's too hot to handle. Man, does tango look good on you guys!"
Kiki & Jenna
Style: Hip hop
Choreographer: Luther Brown
Two ballroom dancers doing hip hop! And let's not forget that the last time Kiki attempted hip hop—during The Academy—it did not go well. In fact, it went really, really badly. But this week, he pulled it off. (And if that song they danced to sounds familiar, it's because Beyoncé went roller skating to the same tune last week.) Not only did Kiki kill this choreo, but the #lewk was outrageous—a kind of Beetlejuice-meets-The-Joker situation.
The judges said: Nigel remembered when Kiki was "so bad" at hip hop during Academy week, but said he'd shown why the All Stars kept him. (Cue Jenna adorably losing her mind.) Vanessa said it was "lit" and that they crushed it. And Mary is no longer worried about Kiki in this competition because "this was a game-changer." (Again, cue Jenna jumping up and down. Ugh, love her so much.)
Sydney & Paul
Style: Contemporary
Choreographer: Jaci Royal
Sydney left a relationship back home to pursue her dance dreams on this show, and naturally this dance is an ode to that. You can cry, it's OK! The routine was lovely, and while there were plenty of beautiful lifts and leaps, it was actually the sweet, simple, still moments—like when the duo hugged and parted ways at the end—that made it memorable. (Consider that #proof that not every eight-count needs to include a flashy trick!)
The judges said: Vanessa said it was really beautiful and that she, too, like the moments of stillness and silence. Mary got choked up telling Sydney that yeah, life as a dancer pretty much always means leaving loved ones behind. And Nigel loved the scissor-split lift, but also the emotions.
Logan & Allison
Style: Jazz fusion
Choreographer: Brian Friedman
Allison was off the injured list and promised to be 100 percent strong for Logan this week. And since everything Brian Friedman touches turns to #werk, obviously this routine was so good. During rehearsals, Brian said Logan was "a choreographer's dream;" based on the rehearsal snippets, Logan should win this competition right now. And he was equally great onstage. That practically seated leg-hold turn he pulled off? Unreal. (Though the cameras were definitely distracting during this one. Less crazy angles, more dancing, please!)
The judges said: Mary said there's nothing Logan can't do, and that he's truly a gifted young man. Nigel said he can do almost anything. And Vanessa said Logan gave her "so many moments of wow."
Kaylee & Cyrus
Style: Hip hop
Choreographers: Pharside and Phoenix
Kaylee's just cool, right? She seems grounded and chill and like she has a great attitude. Though these two didn't fare super well last week, they were ready to go last night. Biggest highlight from their performance: the moment Kaylee got on Cyrus's back and basically levitated. Yeah, keep this girl around for a while.
The judges said: Nigel liked it. Vanessa said it was fire and that they brought the heat. And Mary said she was scared for Kaylee last week, but she's not anymore.
Taylor & Robert
Style: Broadway
Choreographer: Al Blackstone
These two have solidified their frontrunner status. They showed an undeniable connection last week, and it was on display again this week in a classic "Fred and Ginger" piece. (Shout out to Taylor's sparkly shoes, BTW. Want.) It was light and lovely and low-key amazing.
The judges said: They gave it a standing ovation. Vanessa cried remembering what it felt like to fall in love with musical theater as a child. Mary didn't want it to end, and declared Taylor "a star." Nigel reminded us that he produced On the Town on Broadway, and then officially named Taylor and Robert the couple to beat.
Koine & Marko
Style: African jazz
Choreographer: Sean Cheesman
Was anyone else out of breath just watching this performance? There were lifts, there was tumbling, and it was "no time to be afraid," Koine said. Koine and Marko showed no signs of fatigue, and pulled off all the partnering and intricacies of the choreography.
The judges said: Nigel made a lovely point about music and dance uniting the world. Vanessa said all the shapes were amazing and that it was fierce and dynamic. And Mary said it was "outta control!"
Robert & Jasmine
Style: Contemporary
Choreographer: Stacey Tookey
Fine, we'll say it: Robert's solo was the best of the entire night. Yes, they were all fantastic and technical and full-out, but Robert's was insane. So then to see him bust out this contemporary choreography like it was NBD? Love it! Robert hasn't received much fanfare yet, but give this guy his due—he's versatile and wonderful.
The judges said: Nigel didn't feel the emotion, but Vanessa did and said it made her heart hurt. Mary felt the connection, too, but said the technique could've been better.
Dassy & Fik-Shun
Style: Bollywood
Choreographer: Nakul dev Mahajan
Dassy has such awesome stage presence—and you kinda have to in order to perform alongside two-time winner Fik-Shun. She did fall out of a lift at one point, but she got up and rallied like a boss. (PSA, dancers: Always keep going!)
The judges said: Vanessa loved it and said Dassy made it look like she's been doing Bollywood her entire life. (She hasn't.) The fall didn't bother Mary because Dassy "picked it back up like a true pro" and made it look easy. And Nigel said it was "great fun."
The bottom three, based on last week's votes: Logan, Sydney, and Robert
Sydney and Robert we kind of expected, but Logan was a surprise. The judges immediately saved Logan, but Nigel said their decision re: who to send home was not unanimous. Ultimately, they chose to eliminate...
...Robert. 😭
Ugh. This show will lift you up and then rip your heart right out. See you back next week for more brilliant dancing and painful eliminations!
Fraser dancing in the NYC Subway (photo by Underground NYC, courtesy Fraser)
Paige Fraser has performed on world-class stages and alongside Beyoncé—yet some of her most meaningful dance moments happened in tiny classrooms on a small island 1,000 miles from America. This past spring, Fraser, who's danced with Ailey II and is a founding member of Visceral Dance Chicago, teamed up with the non-profit Milk Carton on a String to bring dance to underprivileged children in Haiti. Fraser taught daily ballet and modern dance classes and used YouTube videos and social media to introduce the students to other aspects of dance they hadn't been exposed to.
Now, Fraser plans to continue to use dance to give back through her own newly-funded non-profit, The Paige Fraser Foundation. But instead of traveling outside the country, Fraiser will be helping kids in her childhood home: the Bronx. She wants her foundation to assist aspiring dancers no matter their color or abilities.
Read our interview with the dancer and do-gooder—and discover the life-changing diagnosis that inspired her to help other dancers achieve their dreams.
Keep reading...
Show less
via @kyle_vanny on Instagram competing on World Of Dance
Kyle Van Newkirk is a tap dancer you probably remember from the premiere season of NBC's World of Dance. In case you missed it, he is also one of Showstopper's incredible convention teachers. What makes Kyle stand apart from some of today's other incredible tappers? He isn't afraid to change what tap means to his audience and even himself. This modern view of tap dancing is important because it shows us that tap dancers are just as versatile and dynamic as dancers of any other genre. We sat down with Kyle to get his advice on bringing tap dancing into the 21st century.
Keep reading...
Show less
What did I just hear you say? You think all dancers are weak and delicate? PLEASE SAUT DE CHAT OUT OF MY LIFE. (Giphy)
Sure, dancers definitely have some unique identifying characteristics. (We're all obsessed with Center Stage? FACT.) But we're also subjected to all kinds of annoying, inaccurate stereotyping. Here are 10 dancer stereotypes that we never want to hear again.
Keep reading...
Show less
University of Minnesota Dance Team (courtesy University of Minnesota)
They say there's no "I" in "team"—and nowhere is that truer than the world of college dance teams, where precision reigns, uniformity is key, and a single misstep from any given "I" can cost a group a championship trophy. So it's unsurprising that securing a spot on one of the best dance teams in the country is no easy feat.
Members of these highly athletic teams rehearse for hours every week—on top of academic classes and commitments—and perform at football and basketball games, annual concerts, and nationally televised competitions (hi, ESPN). And "no I" rule notwithstanding, each of these top teams is made up of highly trained, highly technical, highly hard-core individuals, who come together to create a ready-for-victory pack.
These six teams aren't one-off success stories—they're consistently strong, and earn the top spots at major competitions like UDA and NDA nearly every year. Up for the challenge? Here's what to know before you go to auditions.
Keep reading...
Show less
You can never go wrong with a classic black leotard. Discount Dance's long-sleeve mesh leo will add a sleek edge to your studio style. Pair it with tights and a skirt for ballet class, or layer some leggings and sweats for contemporary class. Enter below for your chance to win it!
Keep reading...
Show less
May. 16, 2018 02:26PM EST
Ema Peter
The Glorya Kaufman International Dance Center is the 54,000 square foot home of the USC Glorya Kaufman School of Dance, one of the largest facilities dedicated to dance on a private university campus. Designed for their innovative new curriculum, that supports a range of dance styles, the school's staff designated Harlequin to provide wall-to-wall flooring for the large 3,500 square foot Performance Studio as well as five dance studios in their new state-of-the-art building.
Keep reading...
Show less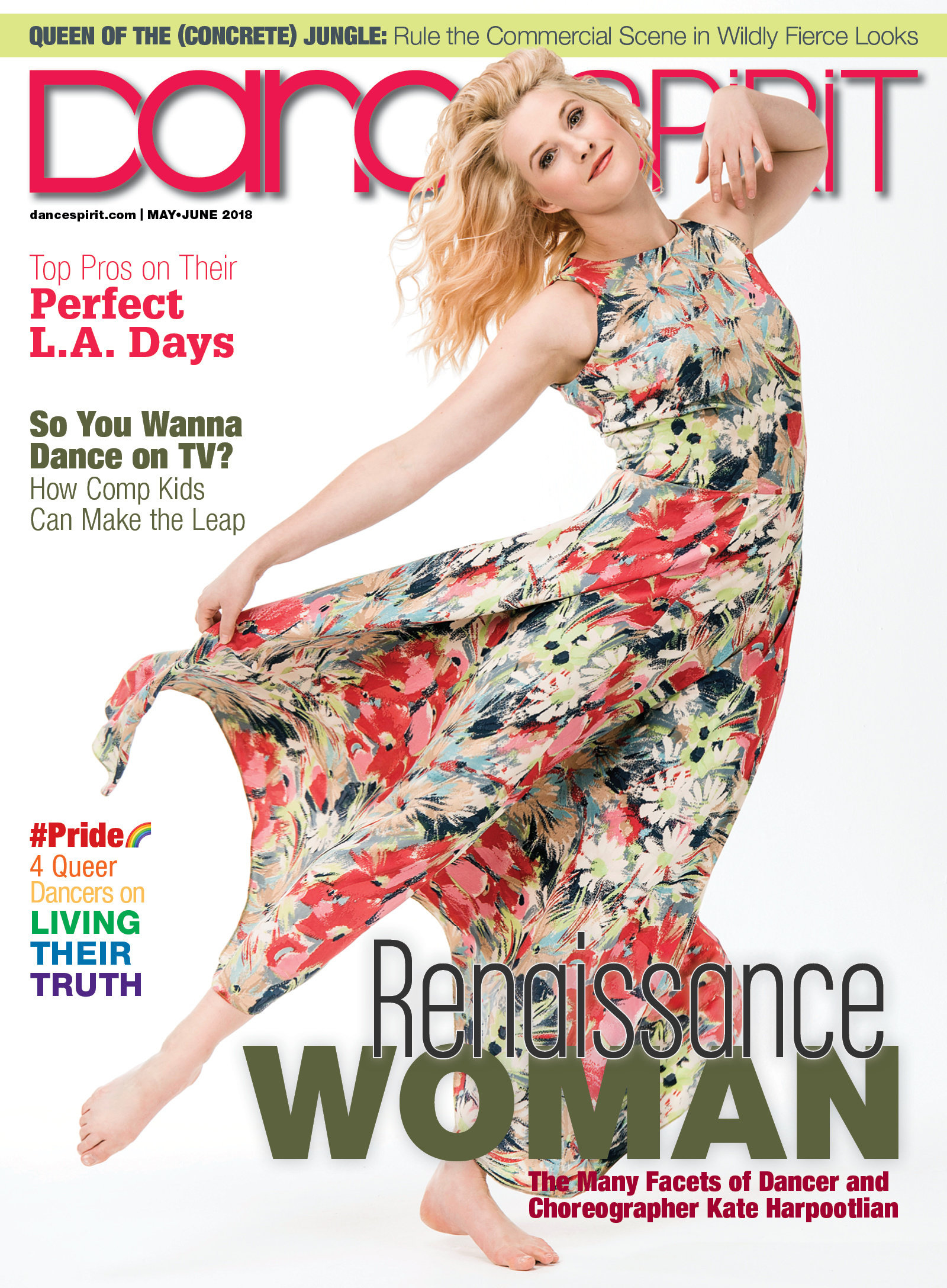 Get Dance Spirit in your inbox