When you hear the words "Broadway star," what do you see in your head? A diva belting out the 11 o'clock number from center stage? Fans waiting eagerly at the stage door to get an autograph from the leading man? Well, we think the Great White Way's brightest stars can actually be found in the ensemble. After all, these triple threats dance 'til they drop, pull off complex vocal harmonies, and create three-dimensional characters from scratch—eight times a week.
Here are five of Broadway's most brilliant unsung heroes and heroines. You may not know their characters' names, but without these dancers' prodigious talents, the show literally couldn't go on.
---
Jonalyn Saxer
Dream ensembles: Crazy for You, Thoroughly Modern Millie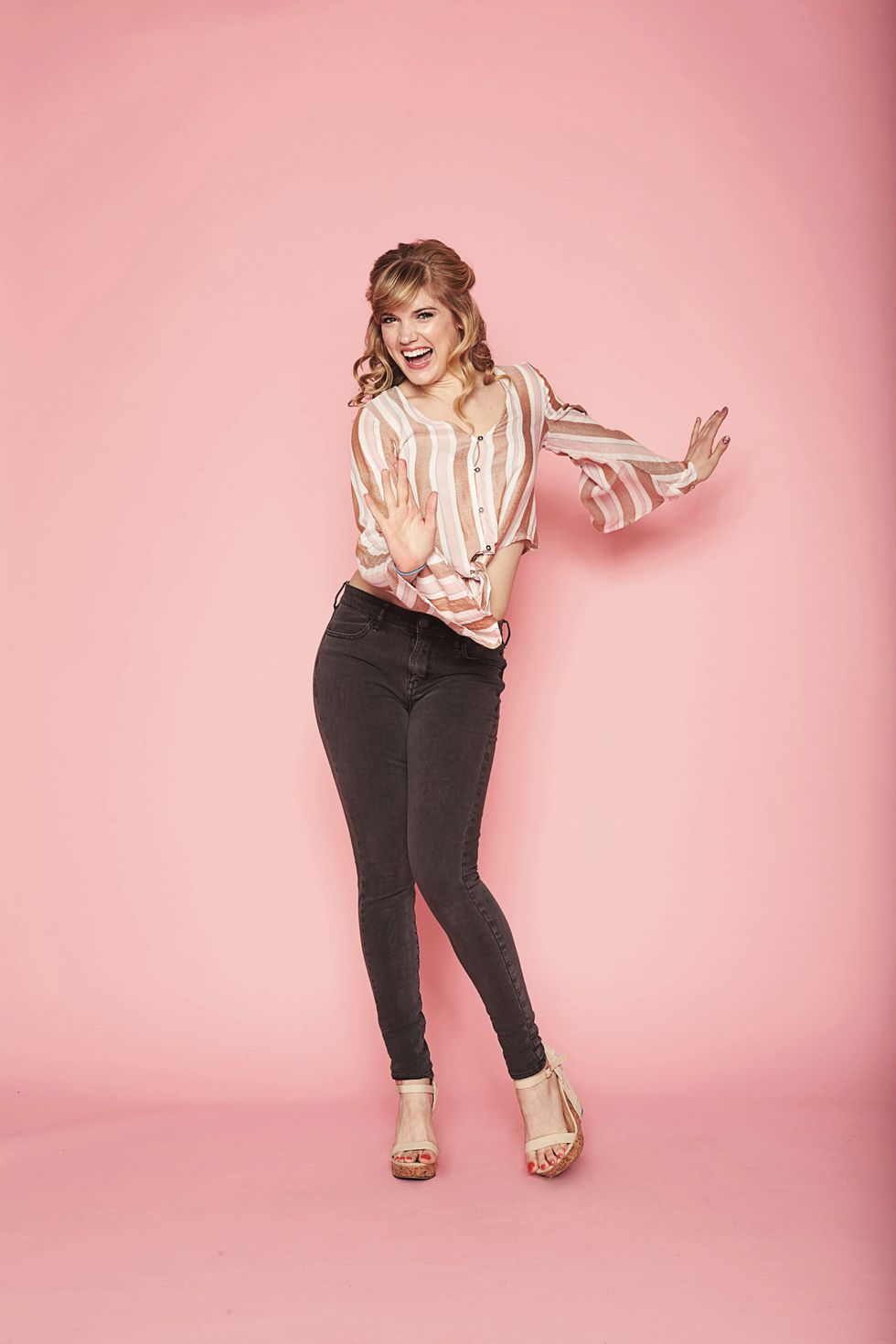 Jonalyn Saxer (photo by Erin Baiano)
Jonalyn Saxer's journey to Broadway sounds a lot like the overnight-stardom plot of 42nd Street: Twelve days after graduating from Syracuse University with a BFA in musical theater, Saxer became a replacement swing in Bullets Over Broadway, covering no fewer than eight female ensemble tracks. Saxer hasn't left the boards since, bringing her prodigious tapping skills and a charming liveliness to the ensembles of Honeymoon in Vegas, Holiday Inn, CATS, and now Mean Girls. But even Saxer's #blessed career hasn't come without struggle. "In the ensemble, you run around drenched in sweat, using your body so much that by the end of the week, there's nothing more you can give," she says. "Sometimes the hardest thing is just looking at the beast you have ahead of you and telling yourself to start."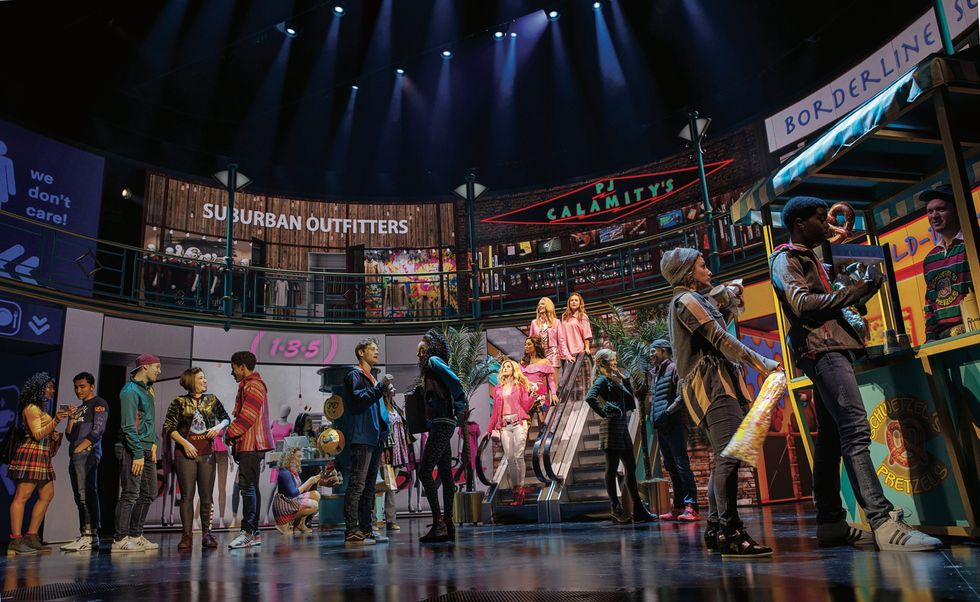 Jonalyn Saxer (at bottom of escalator, hand on hip) with the cast of "Mean Girls" (Joan Marcus, courtesy Boneau/Bryan-Brown)


Ahmad Simmons
Dream ensembles: Hamilton, Dancin'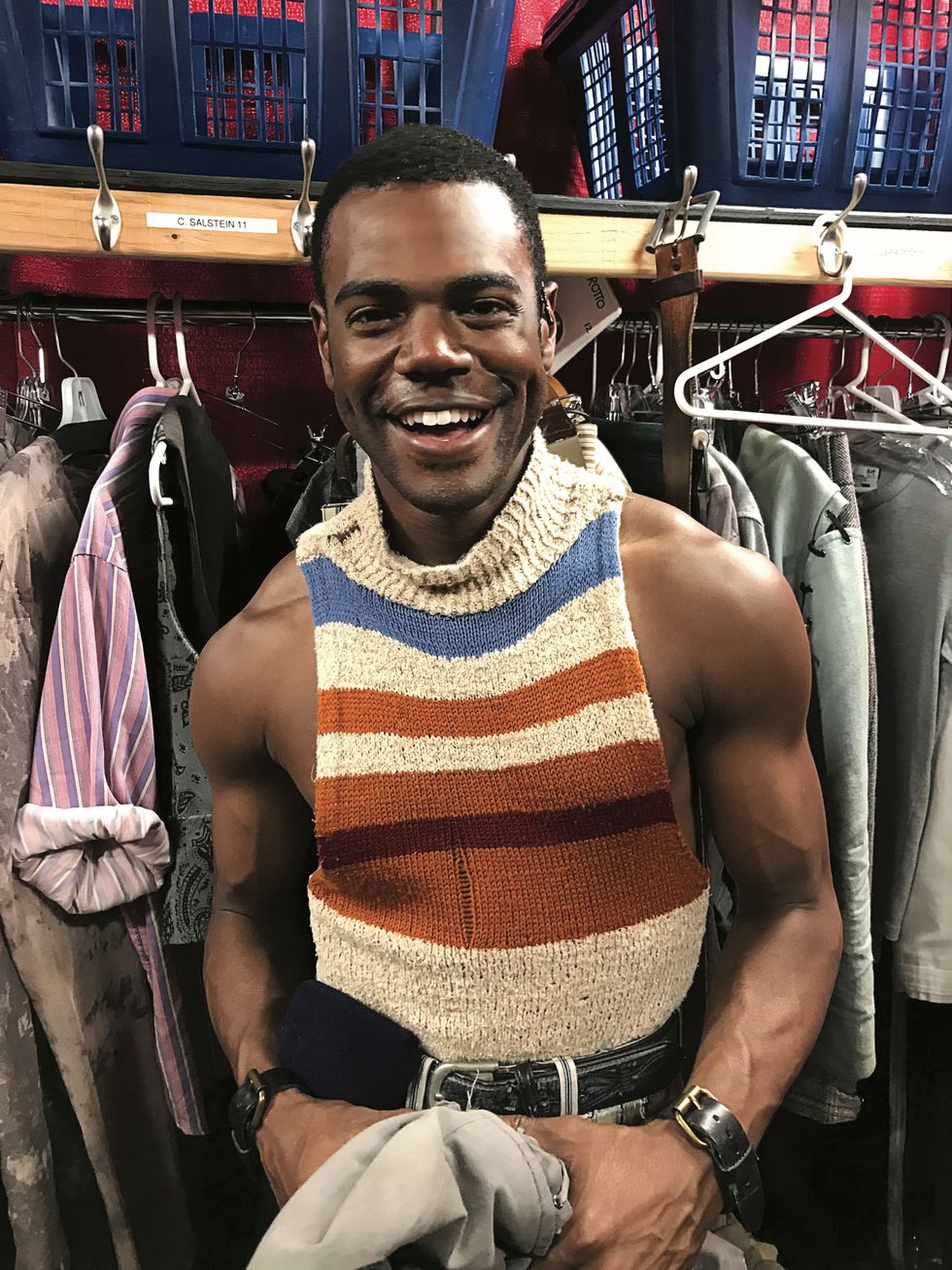 Ahmad Simmons in costume for "Carousel" (courtesy Simmons)
When it came time for Ahmad Simmons to attend college, he faced a rare dilemma: He'd gotten into both the dance and musical theater programs at Point Park University and was torn. Ultimately he chose dance, because the department offered more financial aid. Simmons went on to dance with River North Dance Chicago and Parsons Dance. Luckily for Broadway audiences, Simmons never quite let go of musicals: He booked CATS (his first Broadway audition) in 2016, danced Justin Peck's Tony Award-winning choreography in Carousel, and plays Fosse muse Ben Vereen in FX's "Fosse/Verdon" limited series. Currently in Hadestown's workers chorus, Simmons considers ensemble work to be the hardest on Broadway: "We're responsible for carrying the show's emotional heartbeat. Keeping the audience on the edge of their seats is tough—it separates the men from the boys and the women from the girls, so to speak."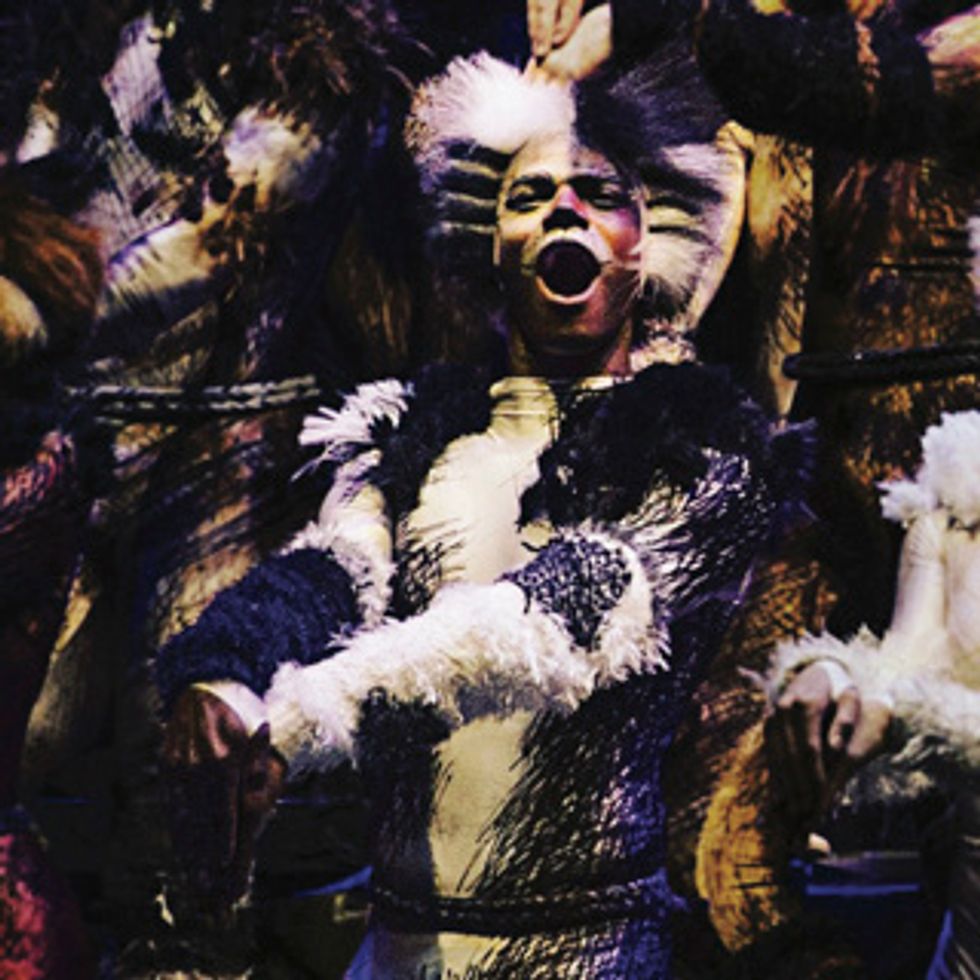 Simmons as Alonzo in "CATS" (Matthew Murphy, courtesy Simmons)


Lyrica Woodruff

Dream ensembles: An American in Paris, Oklahoma!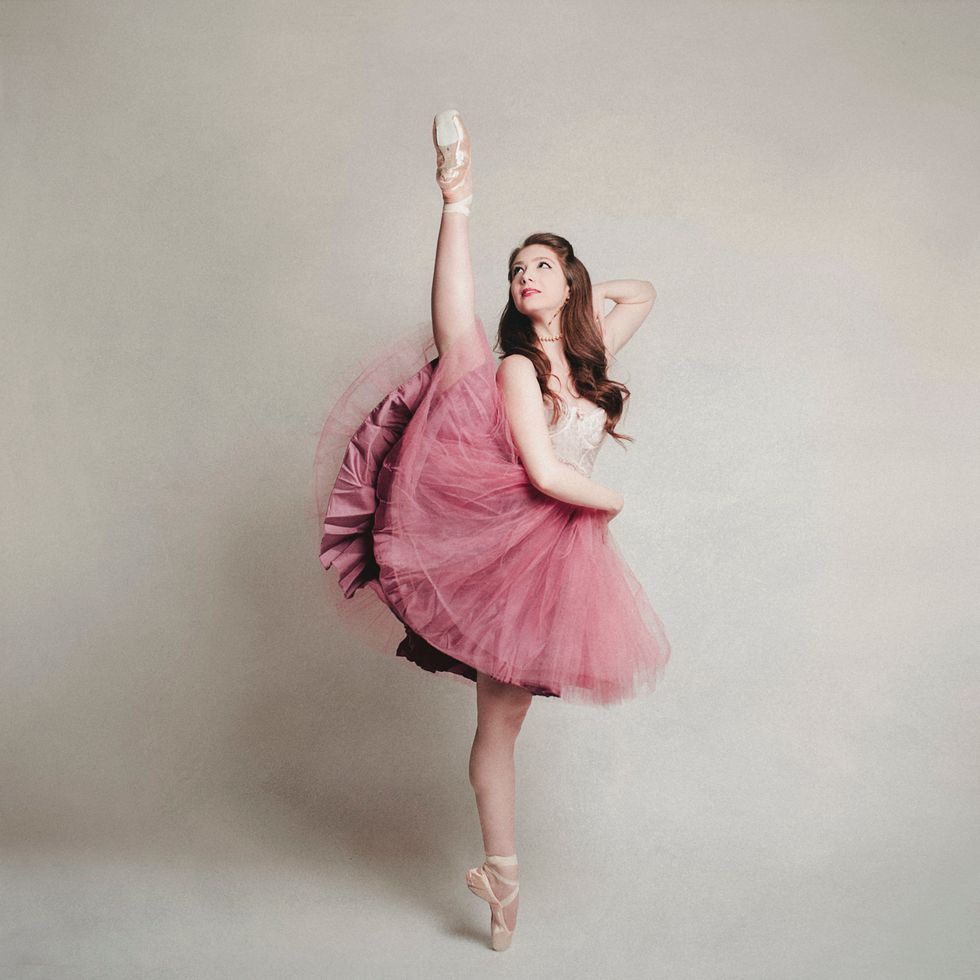 Lyrica Woodruff (Brandi Nicole, courtesy Woodruff)
"Growing up, I was obsessed with movie musicals, but never thought of them as a career," says the aptly named Lyrica Woodruff. Instead, she hoped to one day join a major ballet company, and moved to NYC at 14 to train at the School of American Ballet. Everything changed during her first summer break from SAB, when she joined the ensemble of Marie, Dancing Still (then called Little Dancer). Woodruff danced in the show throughout its entire workshopping process and, after graduating from SAB, in its two regional runs. Next came a Chita Rivera Award for playing Susan the Silent in Finian's Rainbow off-Broadway. Woodruff made her Broadway debut in Anastasia, where she danced as the eldest Romanov sister Olga, Swan Lake's Odette, and various other characters in the ensemble.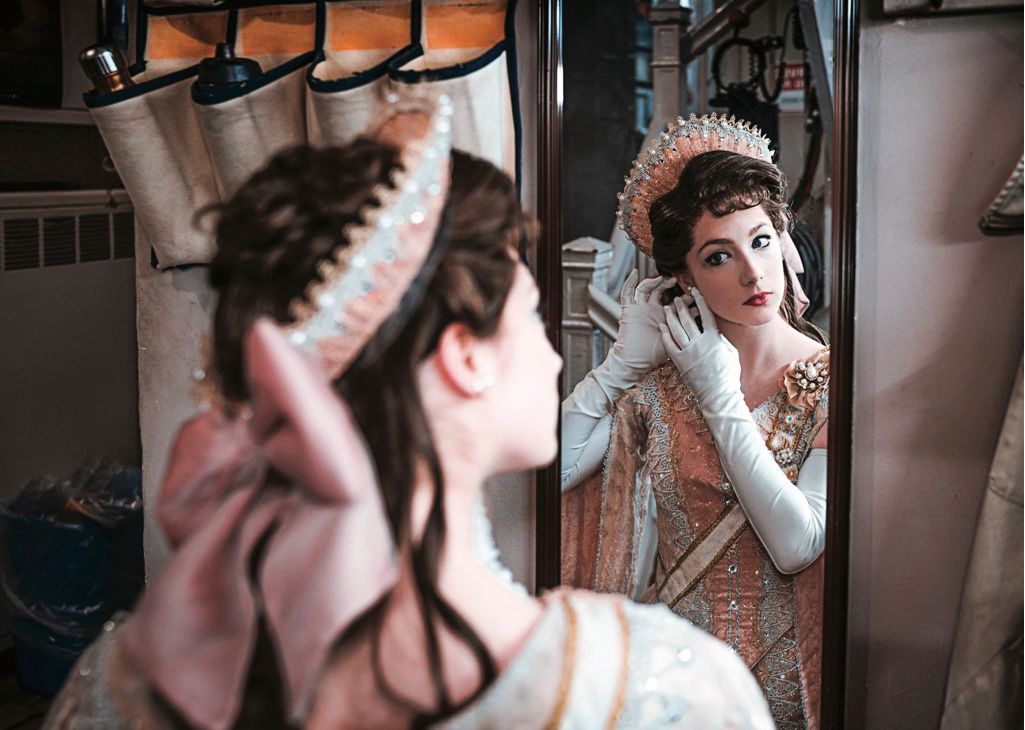 Woodruff as Olga in "Anastasia" (Dave Mack, courtesy Woodruff)


Garett Hawe

Dream ensemble: Hairspray ("You could do a long run of that in the ensemble and never get bored, because the message is so uplifting and positive.")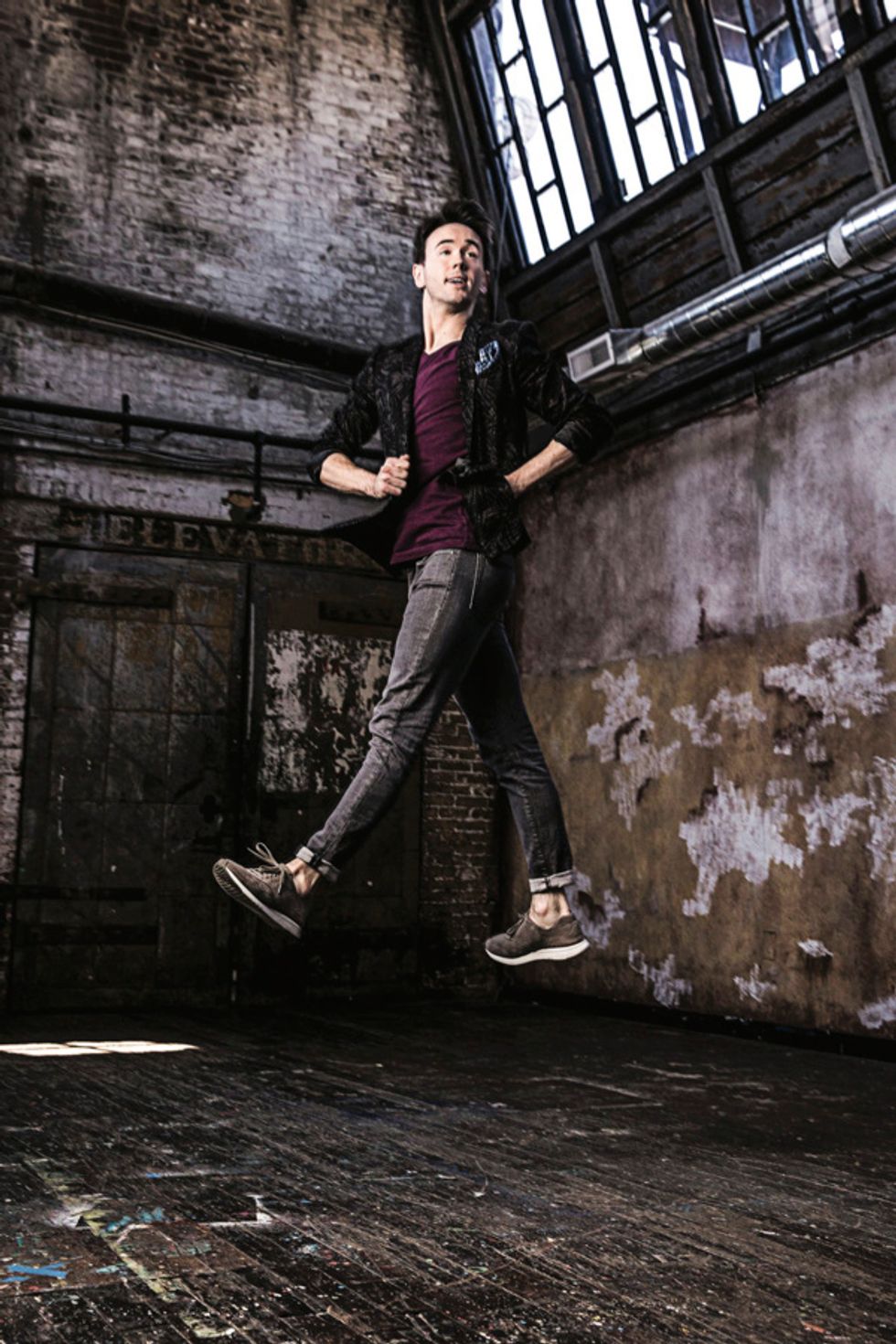 Garett Hawe (Matthew Murphy for Broadway.com, courtesy Hawe)
"I want to dance forever, or as long as my body will let me," says Garett Hawe, who just finished touring the country with Hello, Dolly! "I still get chills every time we finish a dance number and hear the applause." It might surprise you, then, to learn that Hawe didn't start dance training until he was 15. He's certainly made up for lost time since then. Hawe earned his BFA from the University of Cincinnati College-Conservatory of Music, then toured with Mary Poppins and Wicked and played a Lost Boy in Peter Pan Live!. He's danced in no fewer than four Broadway shows: Mary Poppins, Newsies, Matilda, and Carousel. Next, Hawe will be a Jet in Steven Spielberg's remake of West Side Story.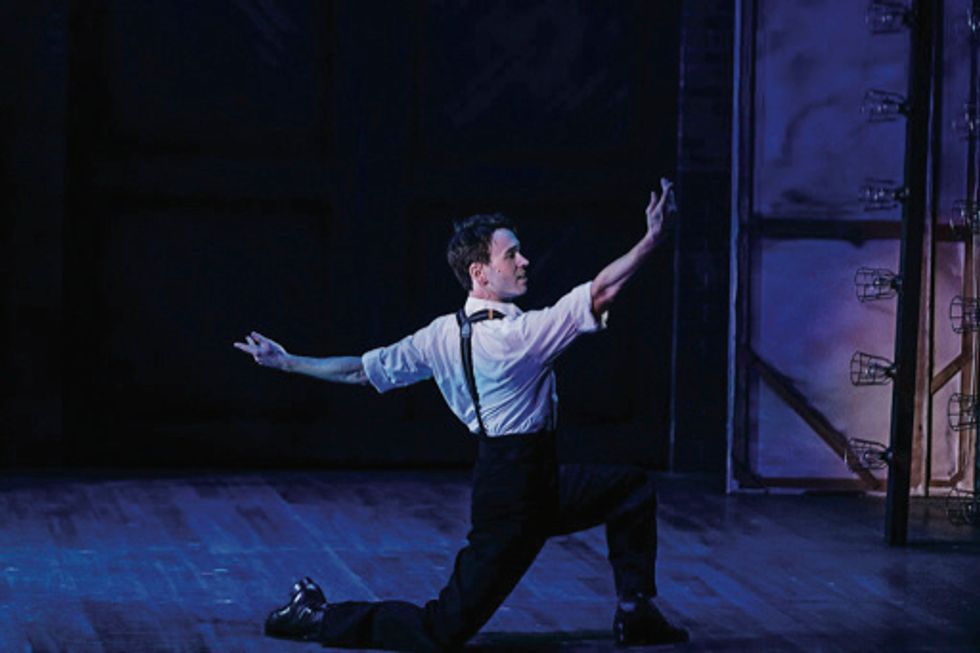 Hawe in "Gypsy" at the Cape Playhouse (courtesy Hawe)


Yesenia Ayala

Dream ensembles: Sweet Charity (which she performed in off-Broadway in 2016), or "any other Fosse show!"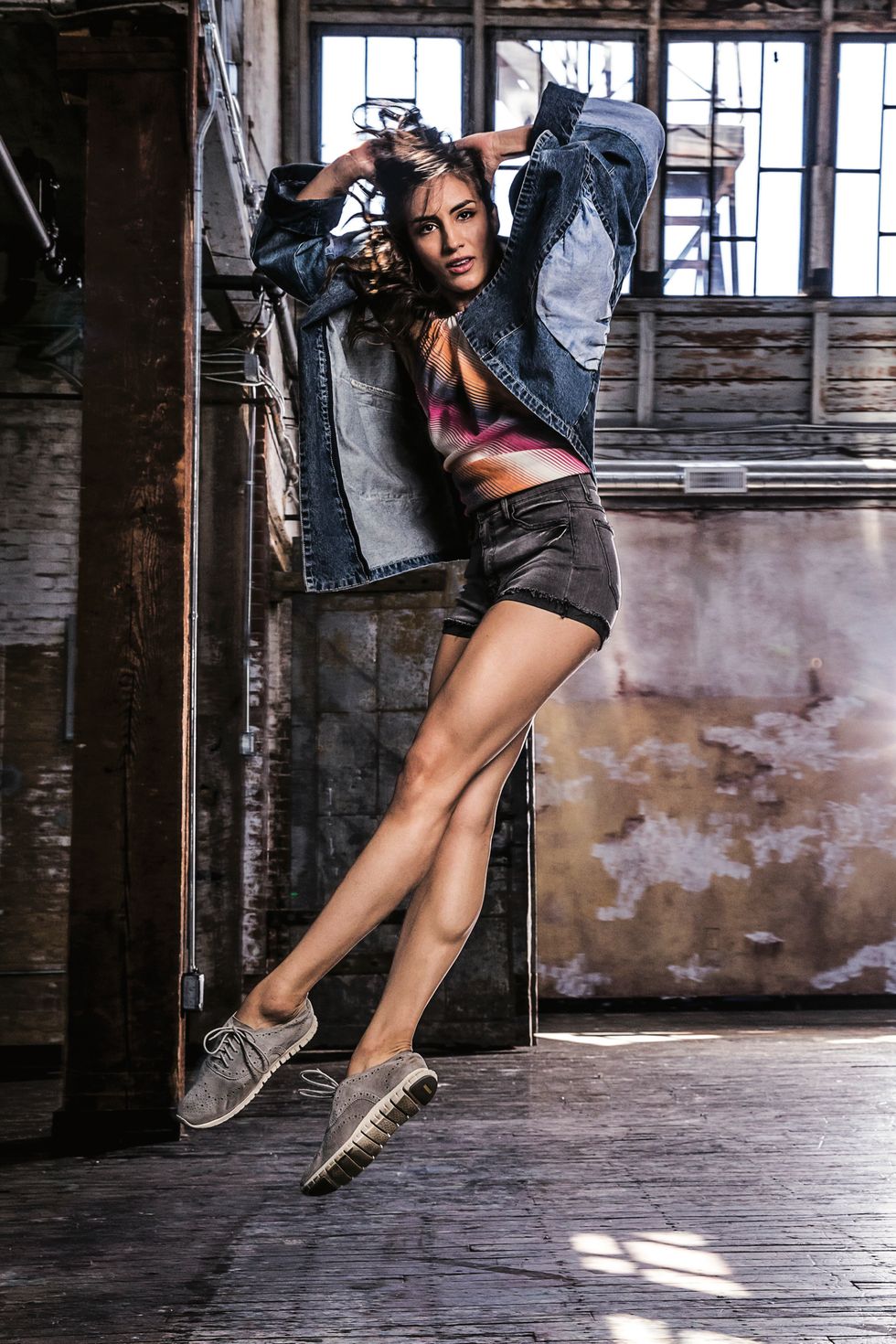 Yesenia Ayala (Matthew Murphy for Broadway.com, courtesy Ayala)
Yesenia Ayala's musical-theater career actually began after she'd declared a biology major at East Carolina University. Though Ayala grew up doing ballet, jazz, modern, and tap, her parents expected her to become a doctor or lawyer. Once at ECU, though, Ayala realized she couldn't leave dance behind, and eventually switched majors, joining the school's theater program. She's since graced the ensembles of Charlie and the Chocolate Factory and Carousel on Broadway. A three-time Chita Rivera Award nominee (and winner of one, as part of the Carousel ensemble), Ayala says ensemble life isn't for the faint of heart—or body. "Doing the same moves eight times a week can really affect your alignment. I do physical therapy and ballet to center and strengthen myself."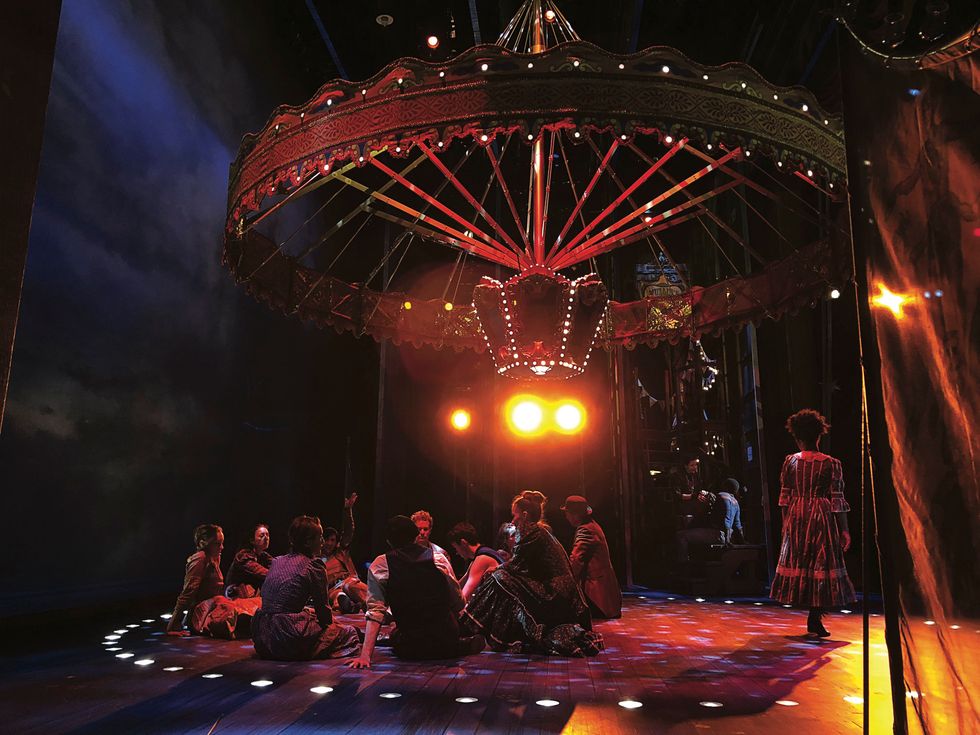 "Carousel" ensemble members onstage during tech (courtesy Ayala)


How to Give a Tony-Worthy Performance in the Ensemble
"You need strong technique in a lot of different dance styles. Most Broadway choreography nowadays combines several aspects of dance." —Garett Hawe
"Pay attention to what the director tells the principals, and watch everyone else go through their scene work. You'll begin to understand who you are in relation to other characters, and can then create your character(s) from there." —Yesenia Ayala
"It's not our job as ensemble members to steal attention from the principals. That said, every show I try to be one theatergoer's favorite. I don't care if all one thousand other people aren't looking at me. That's worth it for me, and all you can hope for." —Jonalyn Saxer
"Choreographer Andy Blankenbuehler taught me that you need intention and a point of view in every moment. I write full backstories for every number and scene, even if it's a brief crossover. Otherwise, you can't live it truthfully, much less reproduce it for a hundred performances." —Ahmad Simmons
"Make the most of each step you get to do. Give each performance the same effort and care you gave opening night. What makes a great ensemble dancer is the constant drive to be better than you were yesterday." —Lyrica Woodruff
A version of this story appeared in the May/June 2019 issue of Dance Spirit with the title "Stars of the Ensemble."