Nov. 16, 2016 05:50PM EST
Healthy, injury-free ankles require three things: mobility, stability and strength. But achieving this trifecta is easier said than done. That's why Dance Spirit turned to Abigail Bales, DPT, CSCS, for a series of exercises that'll strengthen, support and stabilize your ankles—and your dancing, overall.
Keep reading...
Show less
Sep. 15, 2016 11:52PM EST
We all know that girl who basically lives in crop tops and sports bras to show off her insanely chiseled abs. But strong stomach muscles aren't just amazing fashion accessories—they're also the key to everything from powerful jumps to proper technique. Dance Spirit spoke with Jessica Sander, a personal trainer in NYC, about the most effective exercises to help you score your dream core.
Keep reading...
Show less
Sep. 15, 2016 07:24PM EST
Christina Pazcoguin, a teacher at Pure Barre in NYC and a former ballet dancers, walks us through three stretching and strengthening exercises to help you achieve your best possible turnout. (Click the image to zoom!)
Want to see these exercises (and a bonus!) in real time? Check out the tutorial video here.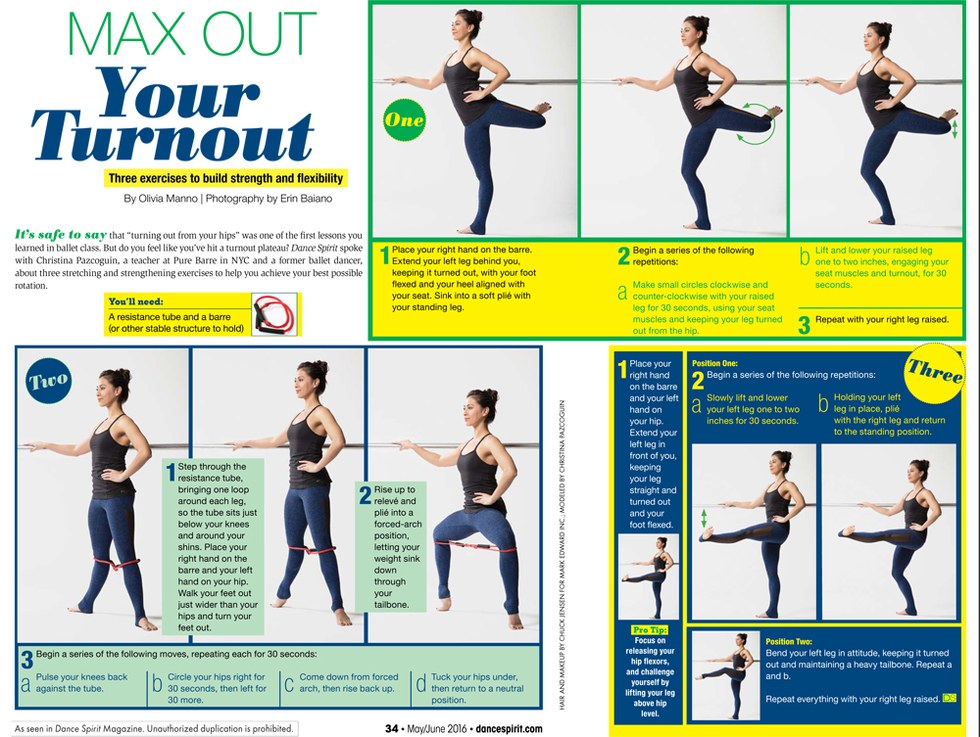 Apr. 14, 2016 03:48PM EST
Ah, feet—we point, stomp and crack them (and everything in between). And though dancing all day makes them strong, they need special attention to help prevent injury. DS spoke with former professional ballerina and conditioning expert Rachel Hamrick, who recommends these four exercises to keep your feet in tip-top shape—and improve their overall look, from arches to insteps.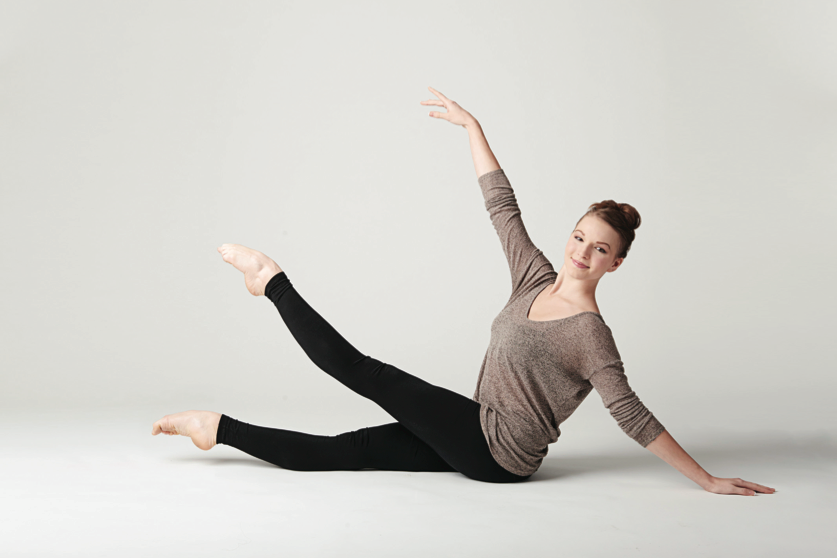 Modeled by Ashlyn Mae (Photo by Nathan Sayers)
You'll need: FLX ball (or small exercise ball), exercise band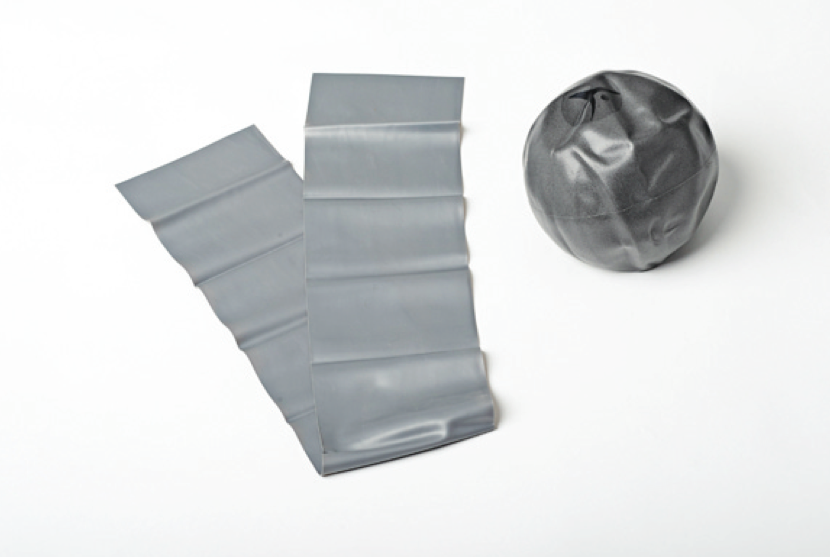 (Photo by Nathan Sayers)
Doming
Purpose: To stimulate and strengthen the core muscles of your feet
1. Begin by sitting with your foot planted on the ground.
2. Press your toes firmly down and pull them back into the floor, keeping them as straight as possible. Simultaneously raise the arch of your foot. Hold for 5 seconds. Repeat 10 times per foot.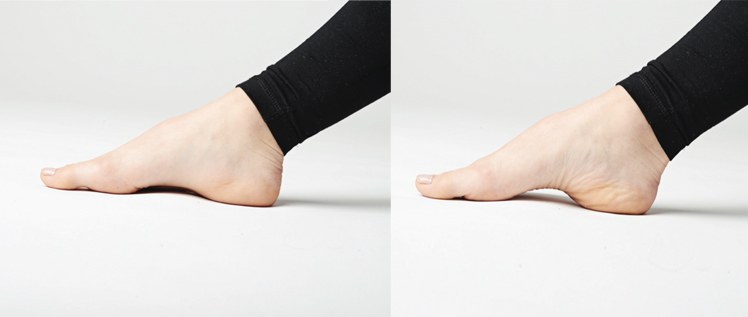 A relaxed foot (left), and a domed foot (right) (Photos by Nathan Sayers)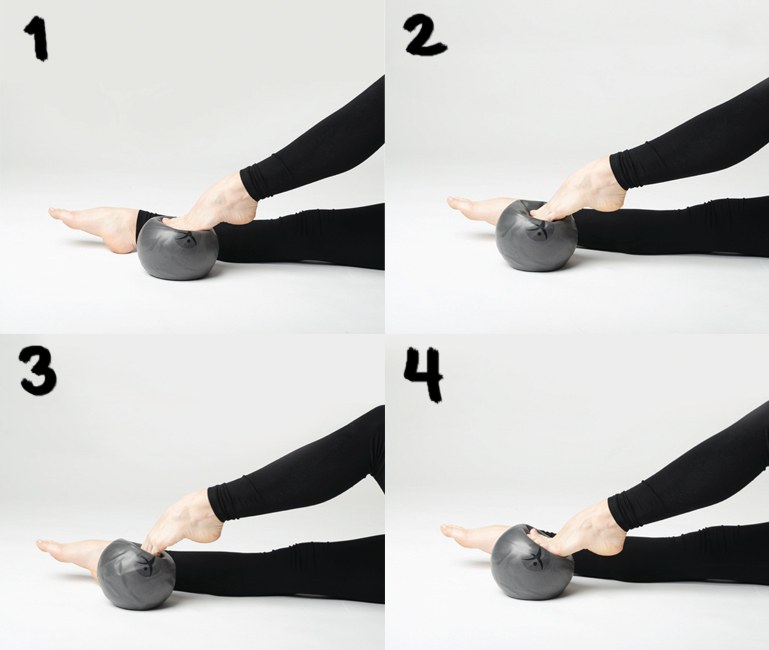 (Photos by Nathan Sayers)
Relevé with FLX Ball
Purpose: To improve your arch and discourage your toes from knuckling under. This exercise also strengthens the muscles that help you rise from demi-pointe to pointe.
1. Sit on the floor with your legs in front of you. Place your left toes flat on the surface of the FLX Ball.
2. Lift your heel while pressing your toes flat into the ball.
3. Point your toes, maintaining contact with the ball's surface.
4. Return to a high relevé position by flexing your toes, keeping your heel held high. Do two to three sets, repeating the exercise 10 times, then switch feet.
Toe extensions
Purpose: To promote stability on pointe by strengthening the toes
1. Sit on the floor and wrap the exercise band around the toes on your left foot. Place your right foot on top of the free ends of the band. Use your hands to pull the band ends away from your feet.
2. Flex your left foot towards you, focusing on maintaining neutral alignment.
3. Return to starting position. Repeat 10 to 20 times, then switch feet.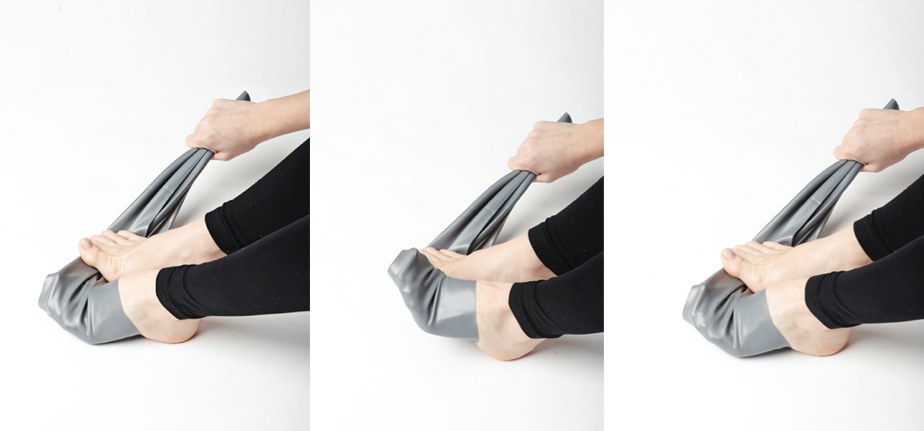 (Photos by Nathan Sayers)
Evertor strengthening
Purpose: To strengthen your ankle muscles and promote all-around stability
1. Sit on the floor with your legs straight in front of you, hip-width apart. Loop the exercise band around your toes, pulling the ends with both hands so that it's taut.
2. Keeping your arches pointed, wing your toes up and away from each other. Slowly return them to their original position—you should feel a slight resistance. Repeat 10 to 20 times.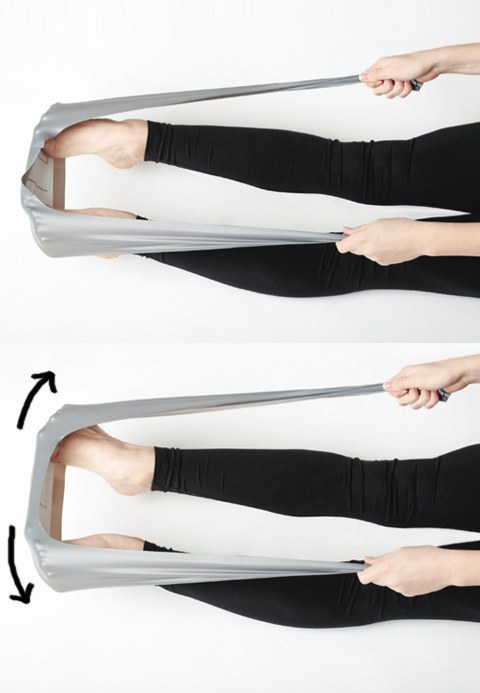 (Photos by Nathan Sayers)


Get Dance Spirit in your inbox