Jun. 13, 2018 10:58AM EST
"High Strung: Free Dance" Star Juliet Doherty Is Far from a Conventional Ballerina
Photo by Lucas Chilczuk
Click here to get the inside scoop on the film High Strung: Free Dance!
Juliet Doherty has been at home in the studio and the spotlight since before she could walk. The 21-year-old comes from a long line of dancers: She practically grew up at the school her grandmother owned, Fishback Studio of the Dance in Albuquerque, NM, and her mom was her longtime teacher. As a young student, Doherty competed at the world's toughest ballet competitions and performed as Clara in the Radio City Christmas SpectacularRadio City Christmas Spectacular. Eventually, she left Albuquerque to train at the San Francisco Ballet School for three years, and then she danced with Phoenix Ballet for two years.
Along the way, Doherty discovered another great love: acting. In 2014, she was part of the cast of the Susan Stroman–directed musical Little Dancer (alongside Tiler Peck). And in 2017, she appeared in her first film, On Pointe—playing, naturally, an ambitious young dancer.
Now, Doherty's on the big screen again, starring as Barlow in High Strung: Free Dance. Plus, she has a new city to call home: NYC. Doherty sat down with us to talk about the film, her transition into acting, and what's next.
---
Dance Spirit: Welcome to NYC! How's life in your new home?

Juliet Doherty: It's amazing. Even though I spent so many years on the West Coast, in the desert, and not in a big city, it's been a very smooth transition. I'm fortunate that I have so many friends here—ones I made when I was younger and working with Radio City. We kept in touch, so I came here feeling like I already had a community.
DS: So, you're transitioning into acting. Are you thinking of leaving dance behind?
JD: I'll always consider myself a dancer first. I still dance every day. I'm not with a company right now, but I've taken classes with smaller groups, and am still considering joining a bigger company. Mostly I'm just trying to make friends, see what everyone's doing, and get to know the rep at lots of different places. If I were to join a company, it'd definitely be a ballet company, though. Classical ballet is my love.
DS: Let's talk about High Strung: Free Dance! How'd you land the lead role?
JD: I was dancing with Phoenix Ballet at the time, but my agent in NYC texted me about a movie that was casting for just one more day. I was in the studio rehearsing for a show, but I was able to read some scenes and learn a short contemporary combo, film it all, and send it off quickly.
From there, I had a Skype call with Michael Damian, the film's director and producer, and his wife, Janeen Damian, the film's writer and producer. They flew me to Las Vegas, where they live, to run some scenes on camera. When I was at the airport waiting to board my flight home, I got the call saying I had the job!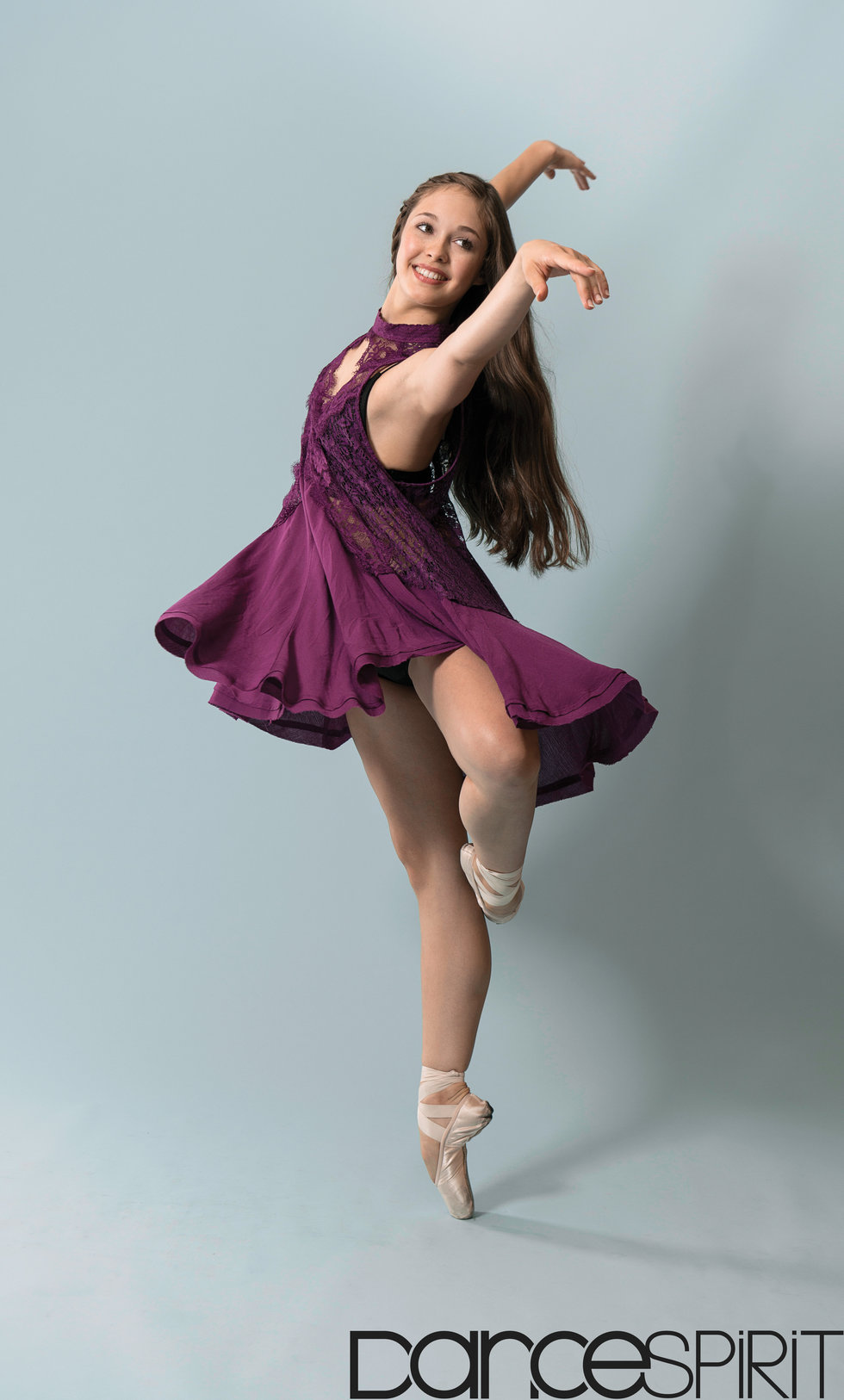 Photo by Lucas Chilczuk
DS: You play Barlow Bennet. What do you want audiences to know about your character?
JD: She's very ambitious and very naïve. She wants to prove herself not just as a ballet dancer—which is what her mom wants—but also as someone who can be on Broadway. She does get disillusioned, because she thinks people have her best interests in mind, but she finds out that artists can be selfish, and might use you to make their own work better.
DS: Drama! But does Barlow get a happy ending?
JD: Oh yes, she does! I'm very happy with the ending.
DS: You shot most of the film in Bucharest over the course of two months, and filmed more scenes in NYC afterward. What was that process like?
JD: We had some crazy-long shoot days. Sometimes we'd go for 16 hours, until 4 am. The finale number is 15 minutes long and took three consecutive 15-hour days to shoot! But it all moved very fast.
DS: How'd your body handle that kind of stress?
JD: The hardest part was staying warm continuously, and being ready to do a full run-through after standing around for a while. But I never felt too beat up, because they took really good care of us on set. They had someone there to check up on our bodies and give us massages. I think the hardest parts were actually all the exterior shots in NYC, when I was constantly running around in heels!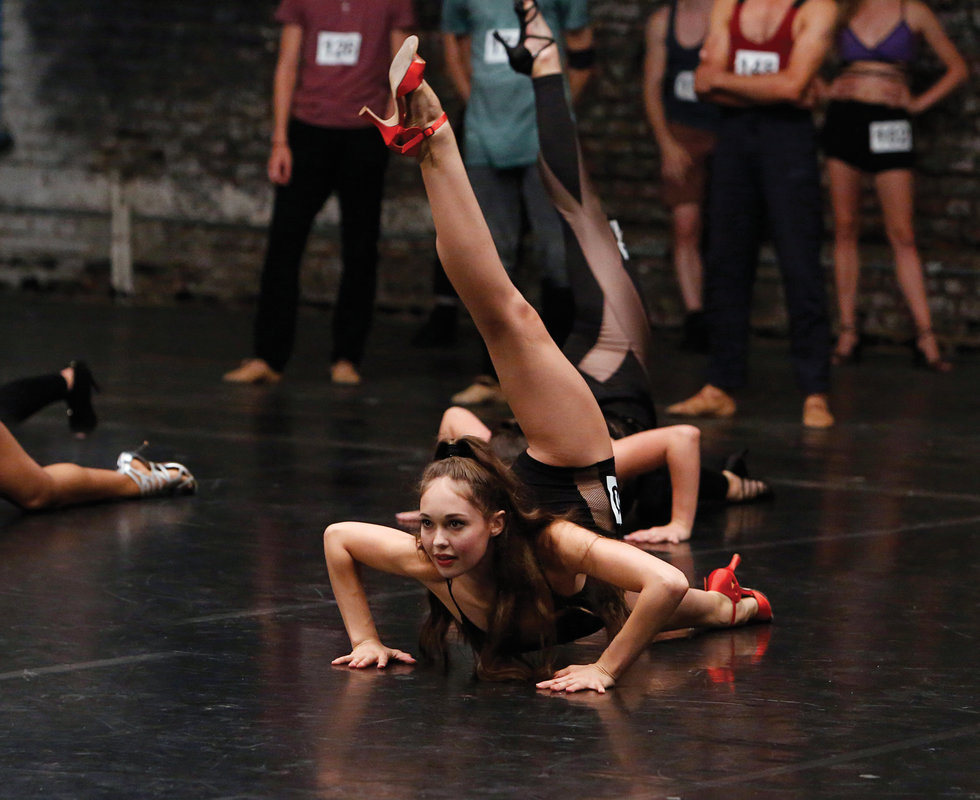 Doherty in "High Strung"'s audition scene (photo by Jo Bee, courtesy Michael Damian)
DS: What were your relationships with your castmates like?
JD: It's the coolest cast, filled with so many talented people. Some of the dancers were only 16 years old, and they were already so fully expressed. It was the most inspiring set to be on every day, because we were all constantly dancing and moving and singing.
DS: Barlow has some love interests in the film. What were those scenes like?
JD: Yes, Barlow auditions for a Broadway show, and the choreographer, Zander (played by Thomas Doherty—no relation), takes an interest in her. There's also Charlie (played by Harry Jarvis), the "nice guy" Barlow really likes—but she's mesmerized by this charismatic choreographer. Anyway, I kiss both of them.
DS: Details.
JD: I was so nervous because I'd never kissed anyone on camera! During one scene with Thomas, they let us keep kissing for a full minute. I think in both our minds we were like, "Are they gonna call cut sometime soon?!" But you just keep going until they do.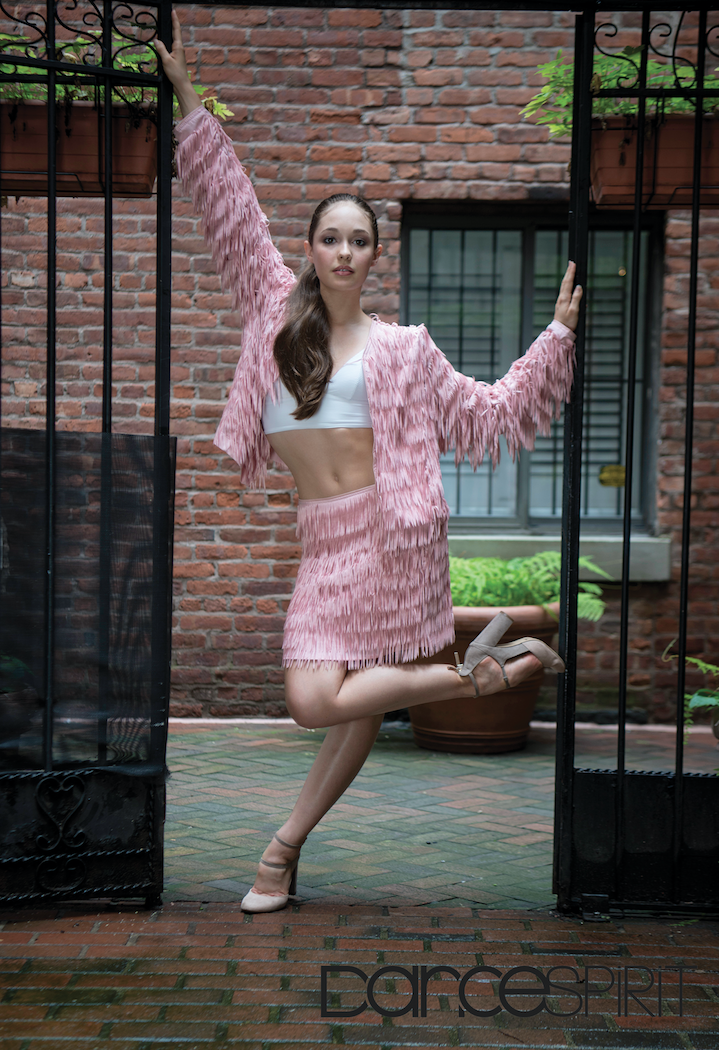 Photo by Lucas Chilczuk
DS: Let's talk about the dancing in the film. Were you on pointe for most of your scenes?
JD: Yeah, I was pretty much on pointe for the entire film, except for those few scenes in heels. I had never really danced in heels before, so I spent a lot of time watching the commercial dancers who trained in heels every day. It's definitely harder to dance in heels than pointe shoes.
DS: What was it like working with Tyce Diorio and Myles Thatcher, two of the film's choreographers?
JD: It was a dream. When I was at SFB School, Myles was in the company, so I would see him choreograph on the trainees and thought he was so cool. Getting to actually work with him was amazing. And Tyce is so much fun. He's crazy, and was joking all the time.
DS: How did the whole experience compare to your expectations going in?
JD: I think I expected it to be harder in a different way. I thought learning my lines would be hard, but I found that the words weren't as important as the intention behind them. Sometimes during the emotional scenes, my tears would be coming, but I'd still have 15 minutes before the cameras were ready to roll. I had to learn to channel that energy on cue.
DS: What has been the hardest part of transitioning from dancing to acting?
JD: The thing I love most about acting is also the thing I find the most challenging, which is learning to find and use my voice. As dancers, we only express ourselves through movement. With acting, there are so many other ways you can tell a story.
DS: What's your next big dream?
JD: I want to challenge myself to play characters that aren't so relatable. I loved Wonder Woman, so maybe an empowering, superhero-style role like that. I also love American Ballet Theatre, and it'd be incredible to dance with them, if I could. But I don't want to choose between acting and dancing. That may not be the conventional ballerina route, but I'm certainly not a conventional ballerina.
A version of this story appeared in the July/August 2018 issue of Dance Spirit with the title "Sky High."
Cover Story
Apr. 19, 2019 03:37PM EST
Gabriel Figueredo in a variation from Raymonda. VAM Productions, Courtesy YAGP.
This week, over 1,000 young hopefuls gathered in New York City for the Youth America Grand Prix finals, giving them the chance to compete for scholarships and contracts to some of the world's top ballet schools and companies. Roughly 85 dancers made it to the final round at Lincoln Center's David H. Koch Theater on Wednesday. Today, the 20th anniversary of YAGP came to a close at the competition's awards ceremony. Read on to find out who won!

Dance News
Apr. 19, 2019 07:00AM EST
After a string of ballet-company rejections, Jennifer Sydor (here in Laura Peterson's "Failure") found success in other areas of the dance world. (Stephen Delas Heras, courtesy Jennifer Sydor)
In her senior year at Butler University, Jennifer Sydor auditioned for more than a dozen regional ballet companies—and got a string of "no, thank you" responses. "I have an athletic build, and my movement quality isn't the typical ballet aesthetic," Sydor says. "But I'd been laser-focused on ballet. When I didn't get a ballet contract, I was heartbroken."
Her one job offer came from Kim Robards Dance, a small modern company based in Aurora, CO. After attending KRD's summer intensive, Sydor ended up accepting a yearlong position with the troupe. "I was relieved and happy to begin my career," she says. She's been working as a contemporary dancer ever since.
In the dance world, rejection is part of the package. That doesn't make it any more pleasant. But whether you didn't get the Nutcracker role of your dreams or you weren't picked for a job despite feeling like you aced the audition, you can emerge from even the most gut-wrenching "no" smarter and stronger.
Mind
Apr. 18, 2019 07:13PM EST
Ballet West principal Beckanne Sisk as Kitri (Luke Isley, courtesy Ballet West)
Guess who's baaaaack?! Your resident Dance Spirit astrologers! And on the eve of the Youth America Grand Prix awards ceremony, we thought it was the perfect time to pair each zodiac sign with a variation commonly seen during the competition. After many painstaking hours spent researching, consulting the stars, and staring wistfully into the sky, we compiled our data and present you with the definitive list of each star sign as a YAGP variation! As we said last time, don't @ us if you're not happy with your pairing—the stars don't lie, baby!
Dancer to Dancer