Jun. 13, 2019 02:20PM EST
How Madison Brown Rose to the Top of Both the Ballet AND Contemporary Worlds
Photo by Erin Baiano
Imagine attending American Ballet Theatre's prestigious NYC summer intensive, training among classical ballet legends. Imagine taking the stage at New York City Dance Alliance Nationals, competing against some of the country's best contemporary dancers. Now, imagine doing both—at the same time.
Welcome to Madison Brown's world. This summer, she's in her third year as a National Training Scholar with ABT, while also competing for NYCDA's Teen Outstanding Dancer title. (She's already won Outstanding Dancer in the Mini and Junior categories.) The logistics are complicated—ABT's five-week intensive overlaps with the weeklong NYCDA Nationals, which translates to a lot of cabs back and forth across Manhattan—but Maddie is committed to making the most of each opportunity. "I love contemporary and ballet equally," she says. "While I'm able to do both, I want to do as much as I can."
Maddie has an expressive face, endless extensions, and a quiet command of the stage. She dances with remarkable maturity—a trait noted by none other than Jennifer Lopez, one of the judges on NBC's "World of Dance," on which Maddie competed in Season 2. Although Maddie didn't take home the show's top prize, she was proud to be the youngest remaining soloist when she was eliminated, and saw the whole experience as an opportunity to grow. After all, she's just getting started. Oh, that's right—did we mention Maddie's only 14?
---
Discovering a Passion
Maddie began taking ballet and tap classes as a toddler. In first grade, she added lyrical, jazz, contemporary, and hip hop to her weekly roster. Although she also dabbled in gymnastics, tennis, and piano as a child, it wasn't long before she realized that dance was it for her. "I loved the way dance made me feel," she says. "Whether the movement is fluid or staccato, you can make it your own."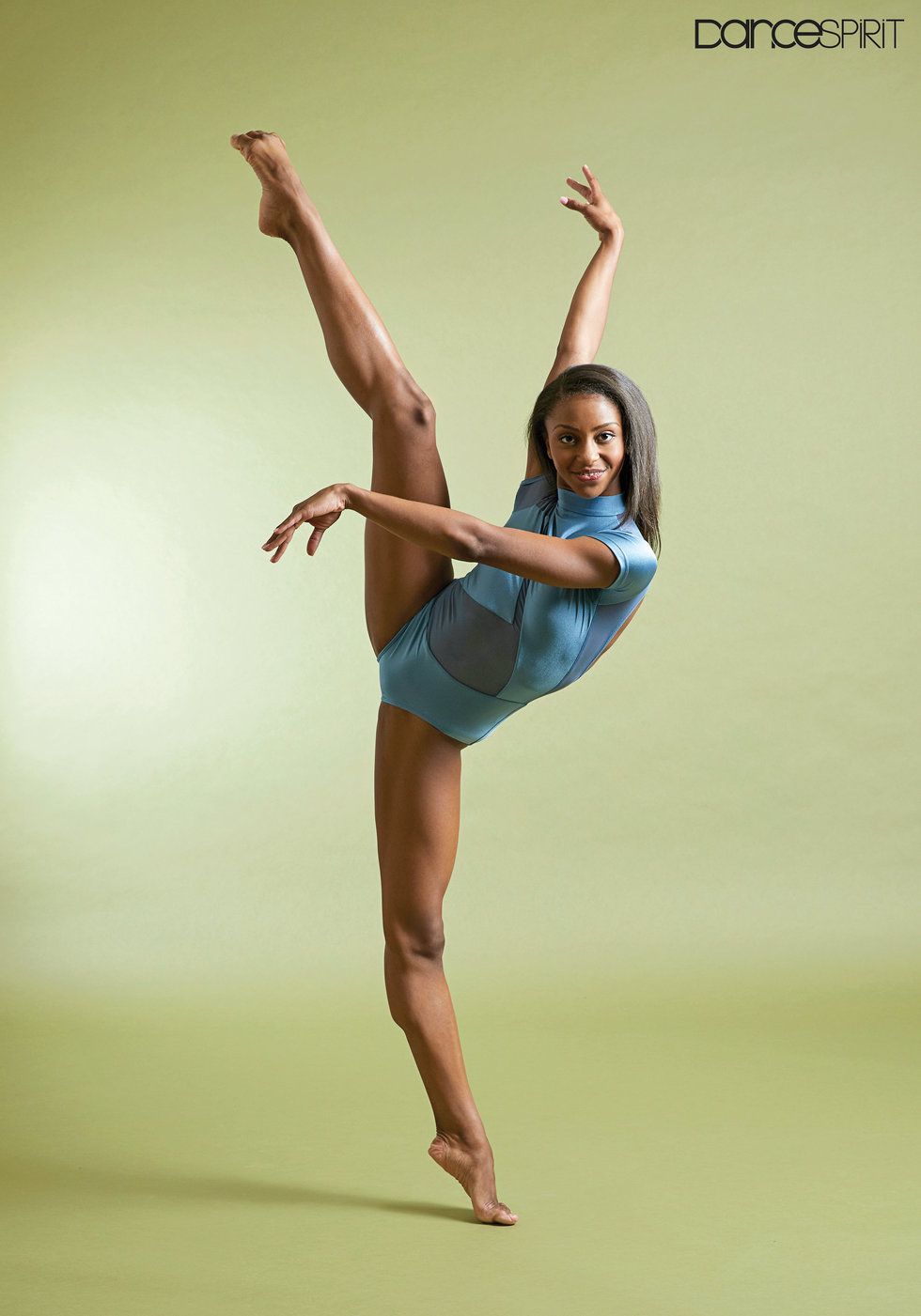 Photo by Erin Baiano
At 9, she came to Lents Dance Company in Boca Raton, FL. Director Brittany Lents saw Maddie's potential right away. "She had facility, focus, and drive," Lents remembers. Since then, Maddie has become the kind of performer choreographers dream of working with. "She's strong and acrobatic. She has amazing lines," Lents says. "Plus, she has an innate ability to feel music. That's her star quality."

Striking a Balance
What really sets Maddie apart? The fact that she's exceptional in both ballet and contemporary modes. She takes three hours of ballet each morning with Magaly Suarez at The Art of Classical Ballet, and tackles other dance styles—contemporary, modern, tap, lyrical, and hip hop—in the afternoons. She has private coaching with Lents for contemporary and Marina Saladino for ballet, and is also a member of Lents Dance Company's competition team. To accommodate that packed schedule, she's been homeschooled for the past two years and does schoolwork in the car on the way to the studio as well as during breaks between dance classes and rehearsals.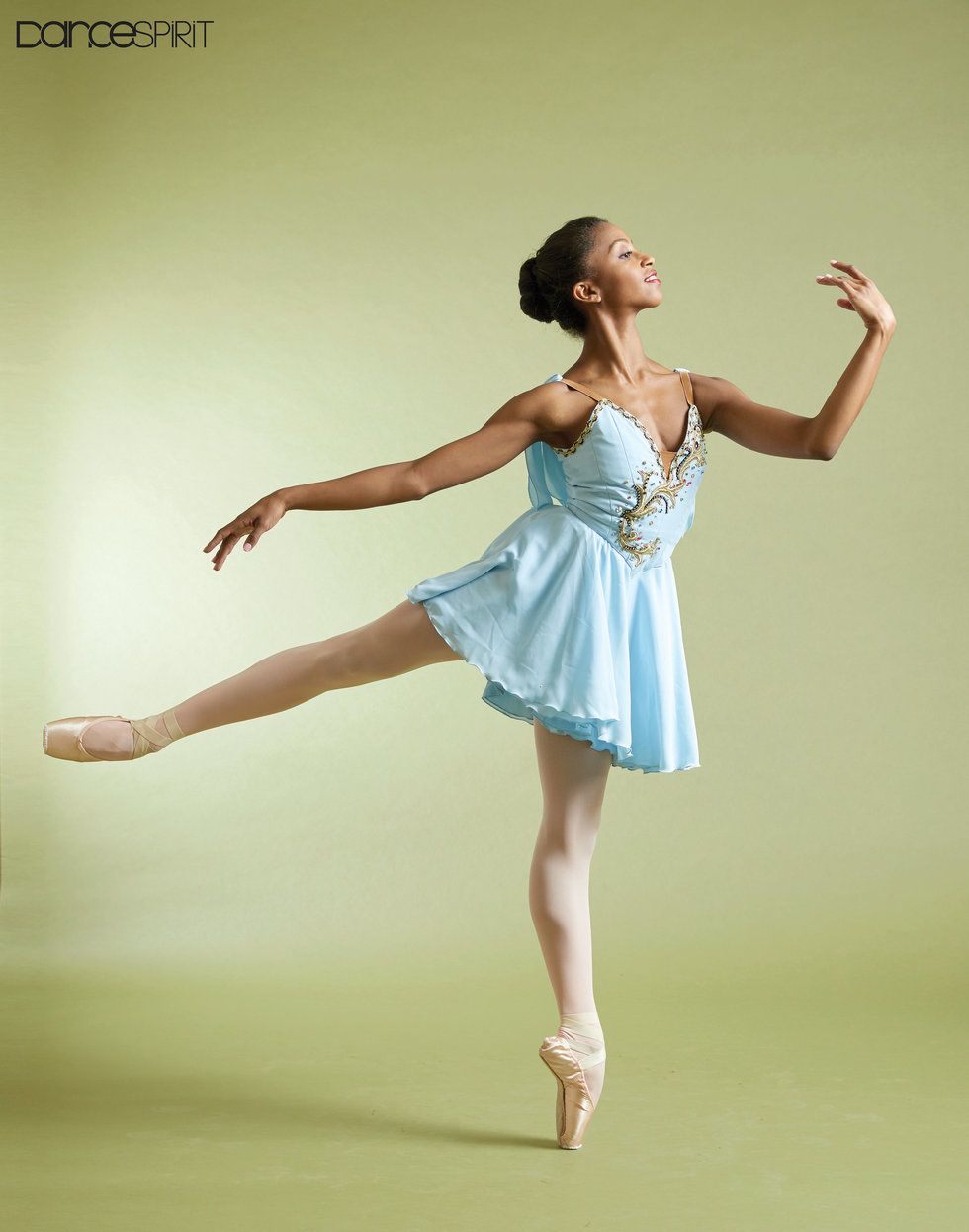 Photo by Erin Baiano
Why strive for greatness in two distinct genres? It's not only that Maddie is naturally competitive, always seeking to one-up her own past performances. "Ballet and contemporary help me as a dancer in different ways," she says. "In ballet, a tendu is a tendu. It has to look a certain way. In contemporary, you can change things up. There's a freedom to it." Even so, she loves the challenge of ballet's artistry: "You can watch 10 dancers do the same variation, and get a different feeling from each person. I want to tell a story with the way I dance."

Reaping the Rewards
Maddie's hard work continues to pay off. In February, she placed first at the Universal Ballet Competition in Miramar, FL, in both the classical and contemporary categories, and also received UBC's Legacy Award. In April, she won third place at Youth America Grand Prix's NYC finals, and performed her contemporary solo during the national gala.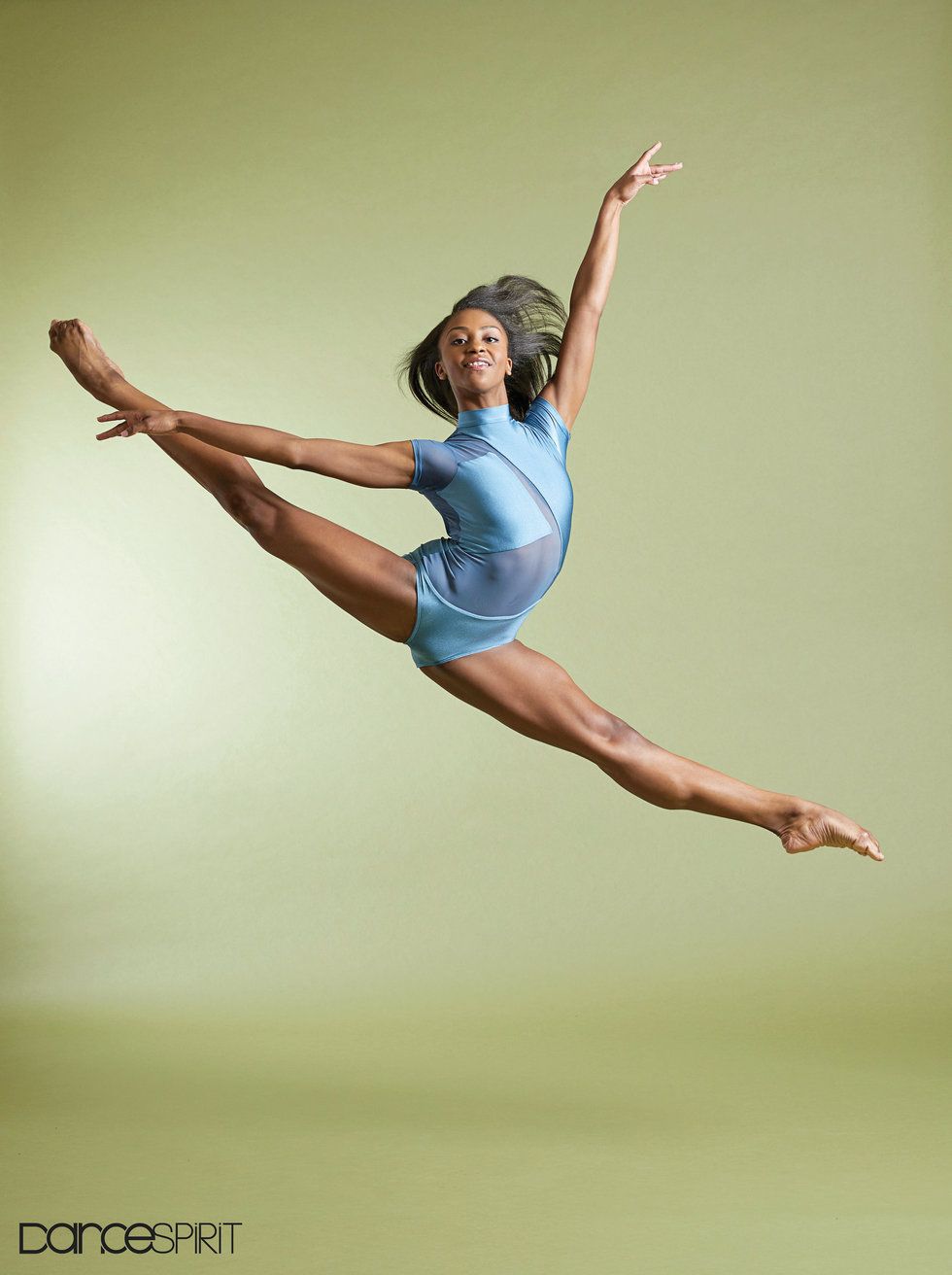 Photo by Erin Baiano
Meanwhile, as an ABT National Training Scholar, Maddie is able to attend the NYC summer intensive on full scholarship and receives a stipend to put toward any aspect of her training. Only 10 dancers are selected as National Training Scholars each year, out of all of ABT's summer program attendees. Past recipients include Misty Copeland, Catherine Hurlin, Skylar Brandt, and David Hallberg.

And then there are the perks that come with being featured on reality TV, on top of being a standout on the competition scene. Maddie now has more than 37.7k Instagram followers. She's a member of Team Capezio and a Jo+Jax JJGirl, and has been photographed by Jordan Matter, creator of the Dancers Among Us series. But some of Maddie's favorite moments involve being recognized by fans. When her first "World of Dance" episode aired last summer, Maddie was in NYC for the ABT intensive. "I went to Starbucks," she recalls, "and a girl in line behind me asked to take a picture! It felt so amazing that somebody could look up to me like that."
Facing the Future
Despite the trophies, scholarships, and fame, Maddie isn't resting on her laurels. She's always aiming to improve, and takes every opportunity to home in on her weak spots. "I'm shy and I get nervous, and that can make me lock up," she admits, adding that being on "World of Dance," which required her to speak as well as dance, pushed the boundaries of her comfort zone. "I also need to work on making my ballet look more effortless," she says, "but I know that comes with time."
Those limitations are minor compared to everything Maddie has going for her. "Maddie is a little bit of magic," says Kate Lydon, artistic director of ABT's summer intensives. "She's magnetic, she's fearless, and she genuinely loves dancing. Her soul comes out as she's performing. She's absolutely got what it takes to reach her dreams."
What are those dreams? Although she wouldn't rule out another TV gig, right now Maddie has her heart set on a ballet career. "My ultimate goal is to become a principal with ABT," she says. "I want to be Misty Copeland."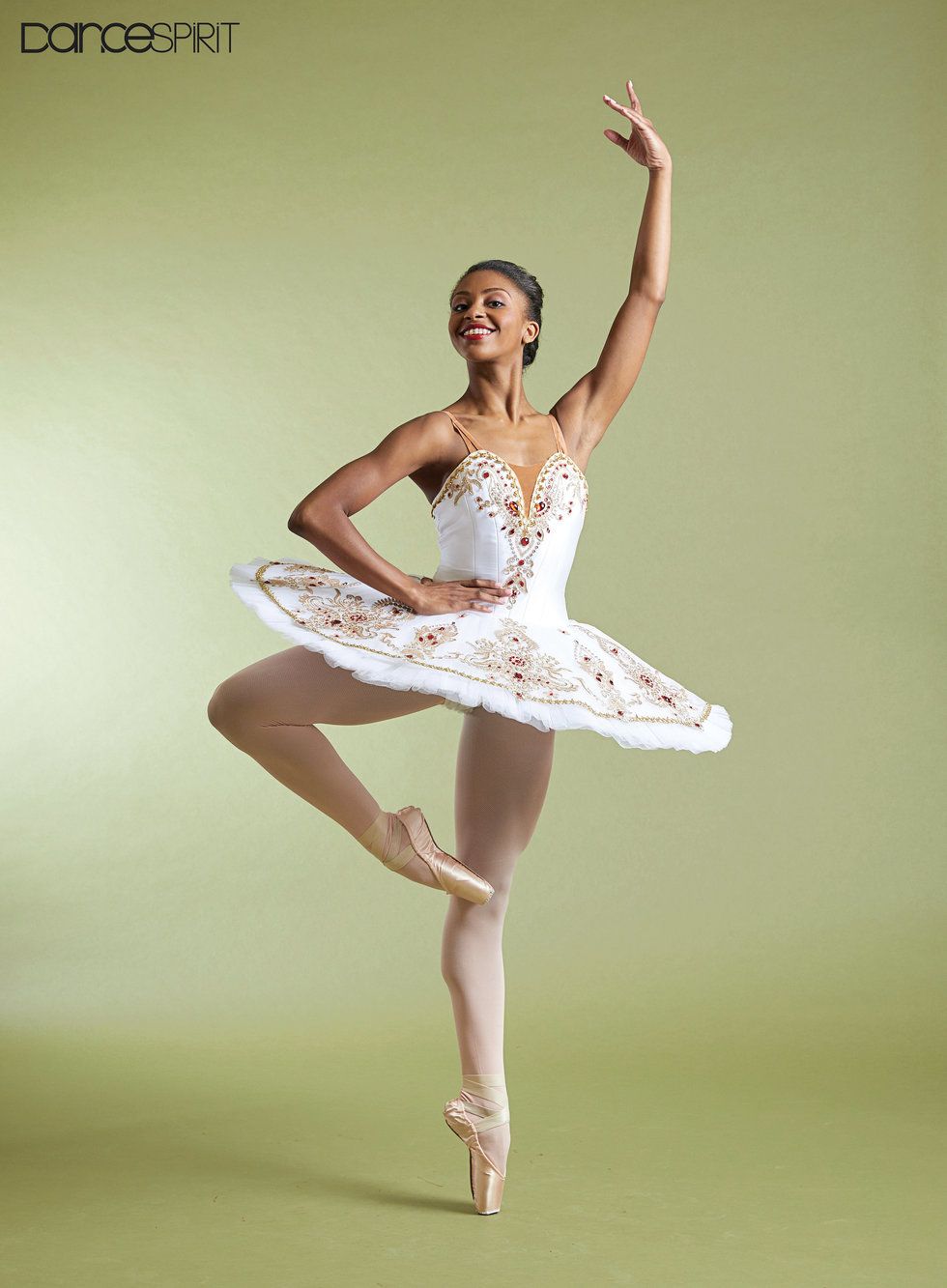 Photo by Erin Baiano
Fast Facts

Birthday: February 23, 2005
Favorite color: Blush pink
Favorite food: Hibachi
Favorite TV shows: "Grey's Anatomy," "A Million Little Things"
Dance idol: Misty Copeland
Dream roles: Juliet and Odile
Favorite dance step: "I love jumping. I feel like I'm flying."
Advice for Dance Spirit readers: "Being a dancer is hard! You have to keep a positive attitude and not second-guess that this is what you want to do. Focus on what you love."
Hair and makeup by Angela Huff for Mark Edward Inc. A version of this story appeared in the May/June 2019 issue of Dance Spirit with the title "The Best of Both Worlds."
Related Articles Around the Web
From Your Site Articles
Cover Story
Jun. 15, 2019 10:12AM EST
(From left) Darriel Johnakin, Diego Pasillas, and Emma Sutherland (all photos by Erin Baiano)
Congratulations to Dance Spirit's 2019 Cover Model Search finalists: Darriel Johnakin, Diego Pasillas, and Emma Sutherland! One of them will win a spot on Dance Spirit's Fall 2019 cover. Learn more about the dancers on their profile pages, and then vote for your favorite below. You can vote once a day now through July 15.
We also want you to get social! We'll be factoring social media likes and shares into our final tallies. Be sure to show your favorite finalist some love on Facebook, Instagram, and Twitter, sharing their profile pages and using the hashtag #DanceSpiritCMS.
Cover Model Search
Jun. 19, 2019 02:12PM EST
Isabella Boylston in "The Bright Stream" (Rosalie O'Connor, courtesy American Ballet Theatre)
Beloved by ballet fans for her lucid technique and onstage effervescence, by her Instagram followers for the deftly curated photos and videos she shares of her glamorous life, and by fangirl Jennifer Garner for all of the above, American Ballet Theatre principal Isabella Boylston is one of the rare ballet stars who's achieved mainstream fame. A native of Sun Valley, ID, Boylston trained at the Academy of Colorado Ballet and the Harid Conservatory before joining the ABT Studio Company in 2005. She entered the main company as an apprentice in 2006, and attained principal status in 2014. In addition to her successes with ABT, where she dances nearly every major ballerina role, Boylston has served as artistic director of the annual Ballet Sun Valley Festival, which brings high-level performances and classes to her hometown. And speaking of famous Jennifers: Boylston recently appeared as Jennifer Lawrence's dance double in the film Red Sparrow. Catch her onstage with ABT as Manon, Odette/Odile, and Princess Aurora during the company's Metropolitan Opera House season this summer in NYC. —Margaret Fuhrer
Dancers Dish
Jun. 19, 2019 10:43AM EST
Ashley McKoy in "Us" (screenshot via YouTube)
[Light spoilers for Us ahead.] Jordan Peele's bonkers/genius horror film Us uses dance in a terrifyingly effective way: Peele intercuts the big final fight scene with snippets of teenage Adelaide and her Tethered doppelgänger, Red, performing to music from The Nutcracker (specifically, the andante from the Sugar Plum Fairy's pas de deux). As choreographed by Madeline Hollander and danced by Ashley McKoy, the twisted ballet is chilling—even when seen in chopped-up bits.
But now Us is out on DVD and available on demand, and fans have been offered the complete version of Hollander's choreo as a bonus feature. Take a look:
Dance Videos