"SYTYCD: The Next Generation" Season 13 Recap: The Top 5 Perform
Happy 250th episode, "So You Think You Can Dance!"
The show marked a major milestone last night and celebrated with a fun format switch-up: The Next Generation dancers choreographed a duet for themselves and their All-Star partners to perform. We must say, it was really fun to watch the kids' rehearsal processes and see them take charge. (They loved having the power....a little too much at times!) The contestants also danced another pro-choreographed routine with their usual All-Star partner, in their own style. Tbh it was kinda refreshing not to have any new partner pairings or dancers dancing outside of their comfort zones. This new format was the perfect thing to shake up the season and make it really exciting again!
Take a look at our Top 5 highlights from the night: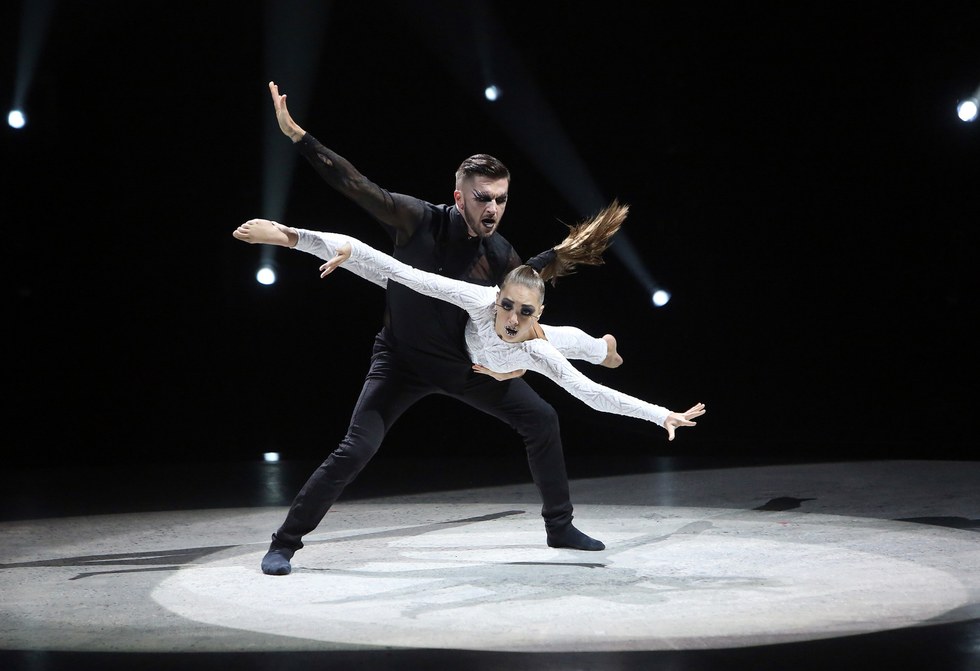 Maddie Ziegler and Travis Wall performing their duet. (Photo by Patrick Wymore via FOX)
1. Maddie Ziegler and Travis Wall's Duet
Also in honor of the show's historic 250th episode, our favorite judge, Miss Maddie Z, performed a fierce duet with Travis Wall. Choreographed by Wall, the dance was dark and kinda evil, but we loved everything about it. From Maddie's commanding stage presence to the awesome partnering and lifts, it was a win for sure. And it was so nice to finally see Maddie up on that stage proving why she deserves to be a judge on the show in the first place.
2. The Dances Choreographed by the Next Generation
It's really hard to call out just one or two of these pieces because every single kid-choreographed piece was a serious highlight last night. The Next Generation shined in their own choreography and quite frankly blew us (and the judges) away—as dancers and as mature choreographers. And you could just tell they were having so much fun creating their own visions and finding their own voices. Tate created a beautiful and powerful contemporary dance focused on masks; Kida choreographed a robotic-inspired hip hop routine; J.T. chose to highlight his and Robert's super-sweet relationship in a contemporary dance to "Count on Me" by Bruno Mars; Emma gave Gaby some bubbly (and super fast, per usual) tap choreo that also showcased their BFF status; and Tahani made Comfort a nerd in a sassy hip hop piece inspired by Grease.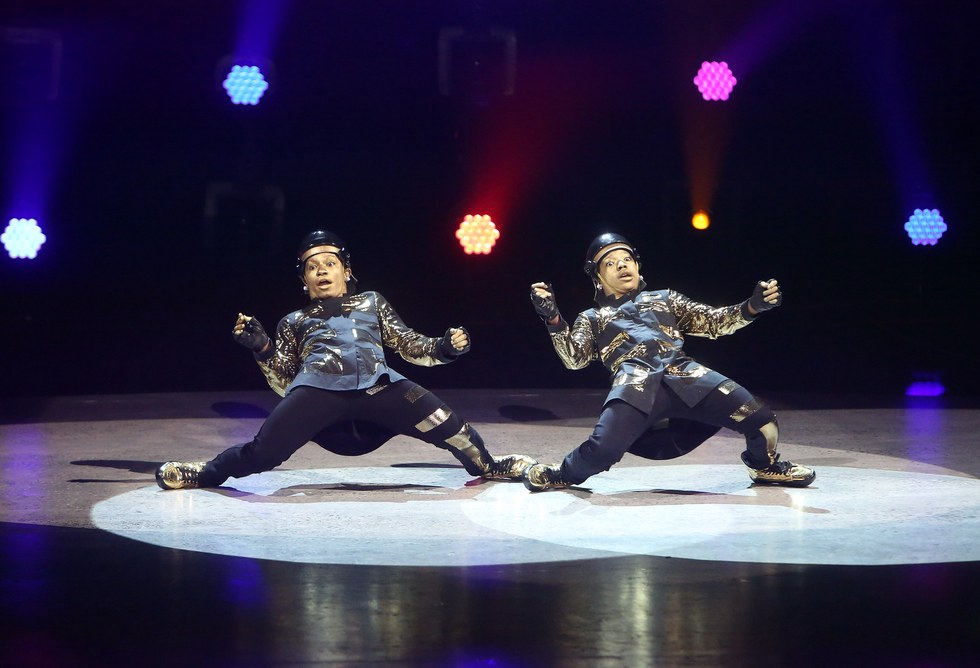 Kida and Fik-Shun in Kida's hip hop routine. (Photo by Patrick Wymore via FOX)
  3. Tahani and Comfort's Hip Hop Routine
We LOVED this incredibly fast and super high-energy tribal-inspired hip hop routine, courtesy of choreographer Dave Scott. And the story was really creative: Tahani and Comfort were tribeswomen in Nigeria discovering hip hop on the radio for the first time. They then realize they're already familiar with the beats and end up adding their own African spin. Tahani seemed to have a little trouble picking up Scott's intricacies in the rehearsal footage, but by the time they got on stage, both girls killed it. And they looked fabulous while doing so—they're hair and makeup was on point.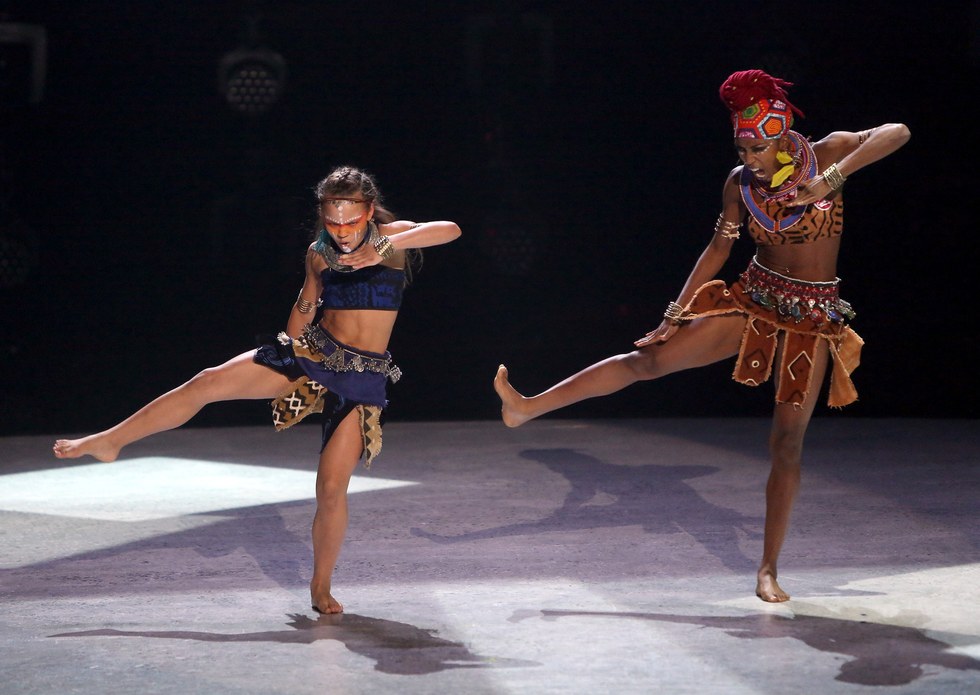 (Photo by Patrick Wymore via FOX)
4. Emma and Gaby's Savion Glover-Choreographed Tap Dance
It's not everyday that one gets to watch a tap legend's choreo on primetime television. But that's exactly what happened last night when the one and only Savion Glover made his first appearance on the show. It made us so happy to watch him work with Emma and Gaby—he gave them a slower, very musical number that was a throwback to old-school tappers like his mentor Gregory Hines. It was a beautifully elegant and classic tap piece, and the girls' sounds were incredibly crisp and meticulous, naturally.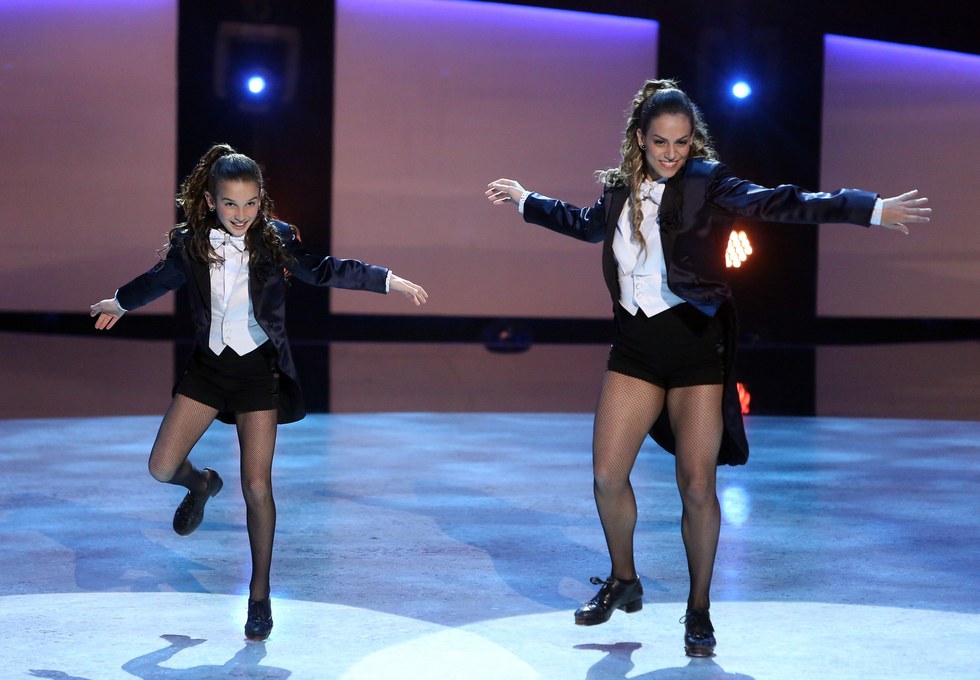 (Photo by Patrick Wymore via FOX)
5. J.T. and Robert's Father/Son Duet
You guys, this duo is pure magic and truly can do no wrong at this point. Their bond and connection gets stronger with every passing week, only making their pieces that much more powerful. Last night they danced a contemporary piece by Stacey Tookey that centered on a touching father and son relationship. The son had just received some devastating news and the father picks him back up and puts a smile on his face again. Cue, all the feels. And as adorable as J.T. is, his technique has been the subject of previous judge criticism, but last night it was noted that he's making strides in that department.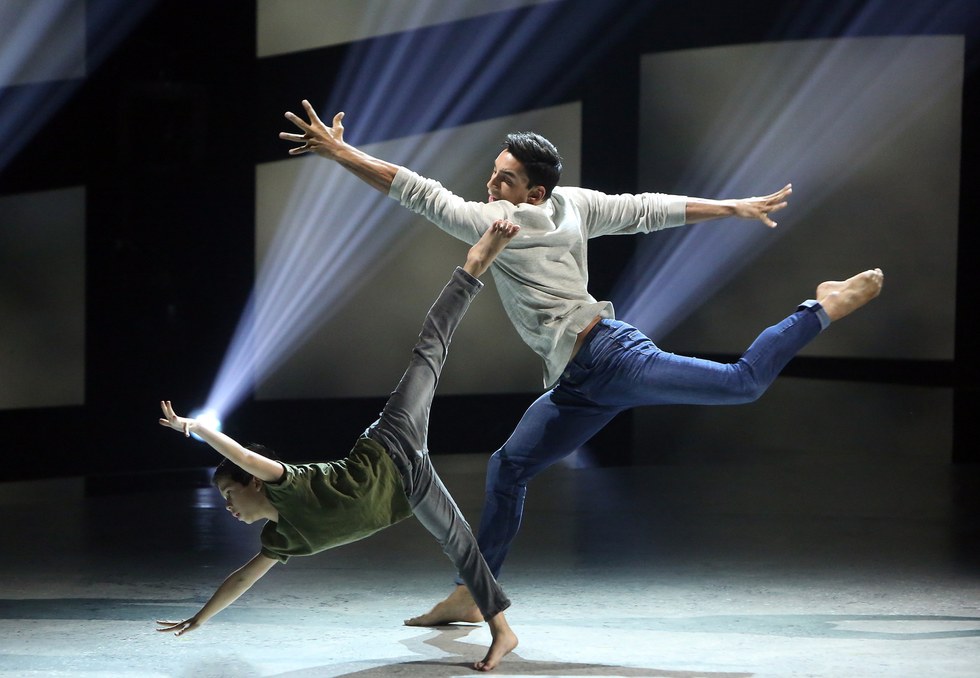 (Photo by Patrick Wymore via FOX)
Despite all the fun, though, an elimination still needed to be made and unfortunately it ended up being Tahani. We'll miss your spunk and your bows, girl!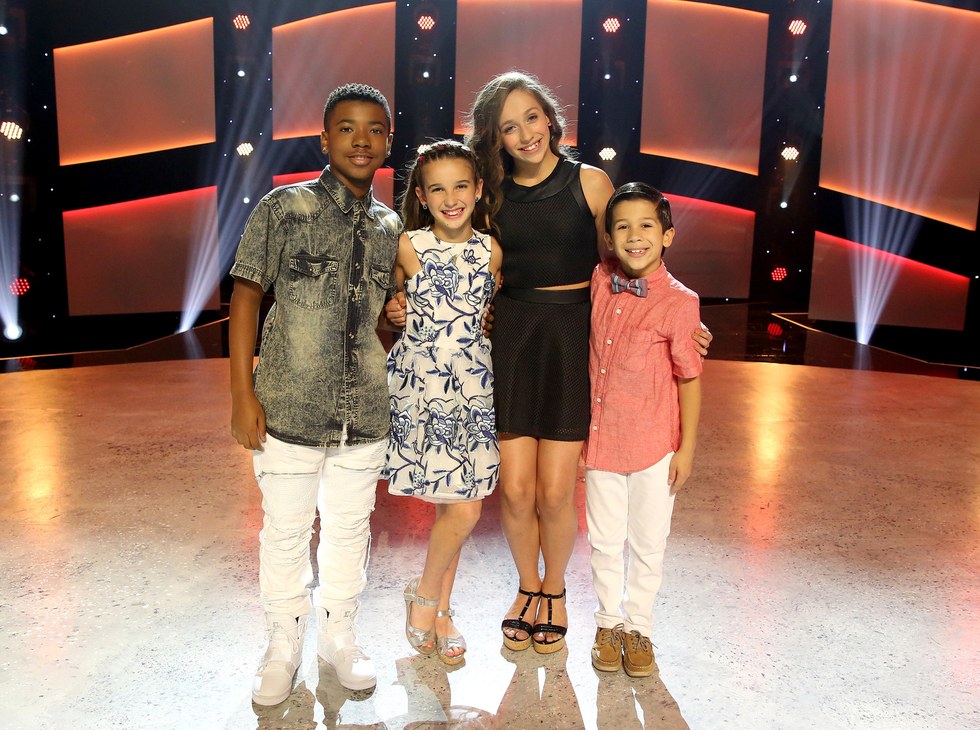 Your Top 4! (Photo by Patrick Wymore via FOX)
What did you think of this week's elimination? Was America right to send Tahani home? And who are you rooting for at this stage of the competition?
The Dirt
Feb. 22, 2019 05:07PM EST
Eric Politzer, courtesy Camille A. Brown
Camille A. Brown dancer Maleek Washington captivates audiences with his super-fluid, intricate contemporary moves and adept musicality. His exceptional technique and presence have also landed him gigs with artists including Sia and Rihanna. An NYC native, Washington grew up in the Bronx and trained at the Harlem School of the Arts, Broadway Dance Center, and LaGuardia High School of the Performing Arts. He attended The Boston Conservatory on a full scholarship before accepting a job with CityDance Ensemble in Washington, DC. He's also worked with Kyle Abraham and his company Abraham.In.Motion. for four seasons, and became the first African-American male to perform in Sleep No More. Most recently, Washington performed in NBC's "Jesus Christ Superstar" live. Catch him dancing with the Camille A. Brown company this month at The Joyce Theater in NYC and at University of Arizona in Tucson—and read on for The Dirt!
Keep reading...
Show less
Site Network
Feb. 22, 2019 03:39PM EST
The new ballet shoe emoji will be released later this year. Image via Emojipedia.
Imagine this scenario: You get a text from a friend just as you're heading into ballet class, and have to answer as quickly as possible. Now, if you were heading into a juggling class, or water polo match, or fencing practice, you'd be able to send a quick emoji in response. But alas, you're forced to type out a full sentence. Because, to the ballet world's collective frustration, There. Is. No. Ballet. Emoji. Until now...
According to Emojipedia, the site for all things emoji-related, a ballet shoe emoji is slated to come out later this year (the exact date hasn't been announced yet) as part of Emoji Version 12.0. The proposal came from Australia-based tech company manager and ballet fan Rüdiger Landmann. Landmann proposed three separate ballet emojis: a ballerina, a male ballet dancer and a pair of pointe shoes. Only the pointe shoe emoji was approved, and we'll be honest, it doesn't look like any pointe shoe we've ever seen. It's more like a pink loafer with ribbons attached. But we're trying not to complain, as this is definitely a (wobbly, given the shape of that shoe) step in the right direction.
Keep reading...
Show less
Just for Fun
Feb. 22, 2019 10:53AM EST
via joffreyballetschool.com
It's never too early to start thinking about your dream job. And summer intensives are an essential step down the road to achieving your dance dreams—whether you want to perform in music videos, ballet companies or Broadway shows.
With 19 programs across the U.S. (plus additional international programs) Joffrey Ballet School offers options for all types of dancers with all types of goals. Whatever you may be working toward this summer, there's a program that will help you get that much closer. We put together a guide to help you find the right one, based on your dream job:
Keep reading...
Show less
Mind
Feb. 20, 2019 07:00AM EST
Getty Images
Nadine Kaslow, a psychologist who works with dancers at Atlanta Ballet, says one of the most common questions she's asked is, "What should I do if I think my friend has an eating disorder?" Research shows that, compared to the general population, dancers are three times more likely to suffer from eating disorders. Experts agree that early detection and treatment is crucial. Unfortunately, while adults—like teachers and studio directors—should be keeping an eye out for warning signs, the people most likely to first notice a dancer's issues with food are her friends at the barre.
So what do you do if you suspect a friend is suffering? You don't want to be accusatory, but you know eating disorders are cause for great concern. At the very least, Kaslow advises you to trust your instincts and do something, whether it's confronting your friend directly or speaking to an adult. "If you're worried about someone, you should take it seriously," she says. "You can't be a bystander—the longer somebody waits to get an eating disorder under control, the harder it is."
Keep reading...
Show less
See photo credits below
What inspires you most as a dancer? What keeps you going on the days when the motivation just isn't there, and makes you feel like all the hard work, rejection and sacrifice is worth it for the pursuit of your dream? What makes you want to run into an empty studio and create something new?
Cindy Clough, executive director of Just For Kix and a studio owner with over four decades of experience, often hangs posters with dance-related quotes on the walls of her studio, on everything from creativity to the hustle to the importance of teamwork. Sometimes the right words from dancers who have been there are just the push you need to spark your imagination and remind yourself why you love what you do.
In that spirit, here are 10 inspiring quotes from dancers on what their art form means to them, and why it's worth fighting through the hard parts:
Keep reading...
Show less
How To
Feb. 19, 2019 07:00AM EST
San Francisco Ballet's Frances Chung in rehearsal (Erik Tomasson, courtesy San Francisco Ballet)
Even for natural turners, pirouettes from fifth can be a challenge. You need to take off from a small crossed position and stay straight over your supporting leg, from start to finish. "It's the hardest place to turn from, because you can't access your plié as much as you can from fourth," says Jennie Somogyi, former principal dancer with New York City Ballet and director of Jennie Somogyi Ballet Academy in Easton, PA. "I'm always telling my students to plié more!"
If you're struggling with pirouettes from fifth position or want to refine your approach, try these pro tips.
Keep reading...
Show less
Rising Stars
Feb. 18, 2019 07:00AM EST
Sykes Photography, courtesy Keisa Glover
At the tender age of 9, Destiny Wimpye moved cross-country with her mom so she could train at the Debbie Allen Dance Academy. The leap of faith paid off: Destiny's spent summers training at the School of American Ballet, the Ailey School, and Pacific Northwest Ballet; performed for Michelle Obama at the White House; and danced beside Mariah Carey in a TV special for Disney. Now she's a full-time student at the Colburn Dance Academy under the direction of former New York City Ballet principals Jenifer Ringer and James Fayette, and it seems fated that Destiny will one day dance her dream role, Dewdrop in George Balanchine's The Nutcracker. "I'm a jumper and a turner," Destiny says, "so I think it fits me pretty well."
Keep reading...
Show less
Get Dance Spirit in your inbox
Just for Fun
Feb. 22, 2019 10:53AM EST
Just for Fun
Jun. 29, 2018 10:00AM EST
Colder weather is (finally) here, which means it's time for a good dance movie binge. But which iconic films should you put on? To narrow your search, we went ahead and ranked 30 of the greatest dance movies of all time.
Of course, we know a list like this is bound to be controversial—so if you disagree with our lineup, have at it in the comments!
Keep reading...
Show less
#8: Red pointe shoes are EVERYTHING.
We're just going to say it: Center Stage is the best dance movie of all time.
Seriously, though, is there anything better than this oh-so-quotable classic? Not only does it star some brilliant dancers, but it's also chock-full of wisdom. If you're a die-hard Center Stage fan (which, like, c'mon, we know you are), you'll be familiar with these 8 life lessons straight from the movie.

Keep reading...
Show less
Dear Katie
Feb. 17, 2019 07:00AM EST
Erin Baiano
In our "Dear Katie" series, former NYCB soloist Kathryn Morgan answers your pressing dance questions. Have something you want to ask Katie? Email dearkatie@dancespirit.com for a chance to be featured!
Dear Katie,
I've been battling Achilles tendinitis for months—it never seems to get better. How can I deal with it? Could there be an issue with my technique that's causing the problem?
Fiona
Keep reading...
Show less
Getty Images
Ever since starting her professional career, Broadway dancer Amber Ardolino has cupped. Using the holistic wellness practice to improve performance and take care of her body, Ardolino cupped before it was cool—even beating the 2016 Rio Olympics' purple polka-dotted athletes to the punch. But Ardolino's only one dancer who has put this therapy to regular use. Dance Spirit asked Carrie Gaerte, PT, DPT, ATC, and performance rehab specialist with St. Vincent Sports Performance who works with Indianapolis' Dance Kaleidoscope; and Thomas Droge, Chinese-medicine doctor and founder of Pathfinder Institute in NYC, to explain the ins and outs of cupping therapy.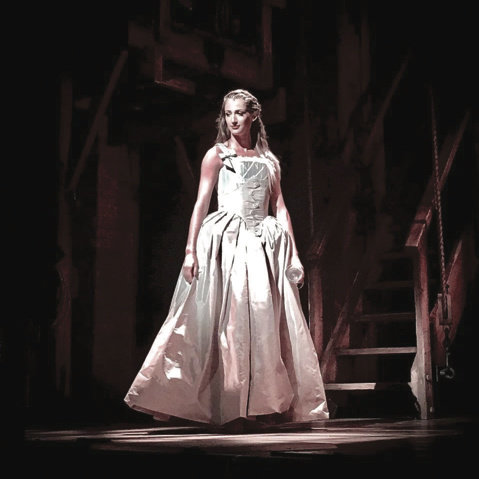 Amber Ardolino in "Hamilton" (courtesy Ardolino)
Keep reading...
Show less
Just for Fun
Feb. 15, 2019 02:40PM EST
Inside a Rockette audition (Amanda Schwab/Starpix)
Let's be real: Auditions can be rough. No matter how prepared you are, a lot of variables go into every audition—which means even the best of us mess up sometimes! Here are 7 audition fails every dancer has experienced at one point or another.
Keep reading...
Show less
Via YouTube
Oh, baby I'm a wreck (wreck) after watching Kinjaz's new music video.
Set to Post Malone's "Sunflower," the lead single from the Spider-Man: Into the Spider-Verse soundtrack, the vid features the dance crew's ever-fabulous men—who appear to have Spidey senses, because seriously, how else do they stay down-to-the-fingertips in sync?—performing Vinh Nguyen's super-tight choreography, with an overlay of comic-book-esque graphics by editor Jonathan Shih.
Keep reading...
Show less
Photo by Nathan Sayers
Chloe Misseldine has every reason to be nervous as she and her partner run through the challenging wedding pas de deux from Don Quixote. Their performance is just days away and the two American Ballet Theatre Studio Company dancers have only had a week to prepare. Add to that the fact that ABT principal Gillian Murphy, one of the world's most famous ballerinas, is at the front of the studio taking notes.
Keep reading...
Show less